325 Views
37+ Different Types of Lotus Flowers (with Photos)
December 9th, 2021 6:53 PM
Share
You can find Lotus plants everywhere from Southern Asia and Australia to the United States. The Lotus is the national flower of India, and there are 37 types of Lotus flowers that you can find all over the world. Whether it be the Celestial Lotus, Angel Wings Lotus, or Rosea Plena, let's take a look at why each type of lotus is unique.
There are many parts of the world that consider lotus flowers to be sacred. They are known for both their exceptional beauty and religious significance – particularly in Hinduism, Buddhism, and various Eastern cultures. Often referred to as the Flower of Life, the lotus is commonly associated with the cycle of life, death, and rebirth.
The lotus is an ancient flower, with some seeds that have been germinating for over 1000 years. In fact, it is one of the oldest flowers that has been documented in botanical and historical books. Fossil records indicate that the lotus flower has been around for millions of years, and is believed to have even survived the Ice Age.
Lotus flowers are floating aquatic florae, native to Australia and southern Asia. The plant grows in muddy swamp-like environments, emerging from the ground to reveal their fragrant and showy flowers, verdant green pads, plump rhizomes, and wide, rounded, and pricked seed pods.
The lotus family consists of two main species: Nelumbo nucifera and Nelumbo lutea, each of which contains countless variations of the lotus flower. This means that there are virtually endless different varieties of lotus flowers that can be found all over the globe. Though, some of the most common lotus flowers include the American Lotus, Vietnamese Lotus, King Lotus, Sacred Lotus, Royal Lotus, Cherry Lotus, Yellow Lotus of the Shine, Sunflower Lotus, and Lotus of the Golden Wheel.
With that said, let's take a look at our comprehensive list of 37 different types of lotus flowers to serve as enjoyment, inspiration, and enlightenment.
Types of Lotus Flowers
1. American Lotus (Nelumbo lutea)
Commonly referred to as yellow louts or Water Chinquapin, the American lotus is native to North America. It is an emergent aquatic plant that grows in swamps, lakes, and any other areas that are susceptible to flooding.
The flowers that emerge from the mud may be white or a pale yellow color, with approximately 20 petals on each. Its large tuberous rhizome is utilized as a food source and the seed is also edible – referred to as alligator corn.
2. Vietnamese Lotus
As the name suggests, this type of lotus can be found in various regions across Vietnam. In most cases, the flowers are pink in color but you may also see white variations. The lotus flower also happens to be the national flower of Vietnam and serves as a symbol of Vietnamese culture.
3. Angel Wings Lotus (Nelumbo nucifera)
The Angel Wings lotus is a medium-sized variety that has single pure, pointy white flowers. It is the ideal choice for container water gardens and small residential ponds.
This type of lotus can reach between 30 and 50 cm in height, with leaves that reach 15 cm across and flowers that extend to 10cm. Angel Wings lotus flowers bloom best between July and September. These flowers also don't require a significant amount of water to grow.
4. Momo Botan (Nelumbo)
Momo Botan lotuses can reach up to two feet in height. They are a fast-growing, dwarf type of lotus that features double petals which are rose-pink in color. This type of lotus also an exceptionally long blooming season, which makes them highly sought after. Their petals will remain open throughout the day, looking beautiful in container gardens and small to medium-sized ponds.
5. Sacred Lotus (Nelumbo nucifera)
The Sacred Lotus, as the name indicates, is considered a sacred flower across East India because it flourishes even in the murkiest of ponds. The leaves are stiff, strong, and very easy to keep clean. The flower petals of the Sacred Lotus are white and pink, reaching up to 13 inches in diameter.
Also referred to as the Indian Lotus or "Bean of India," all components of this plant are used in some capacity across Asia – the seeds, roots, stamen, and leaves.
6. King Lotus
The King Lotus is one of the largest types of lotus flower, reaching a staggering 15 inches in diameter. The plant also has a distinctive coloring – typically white on the outside and red on the inside. This type of lotus is known for being incredibly buoyant, which means it has the ability to stay afloat even if pressure or weight is applied. They can also self-regulate their temperature, which allows them to adapt easily to new environments.
7. Lavender Lady Lotus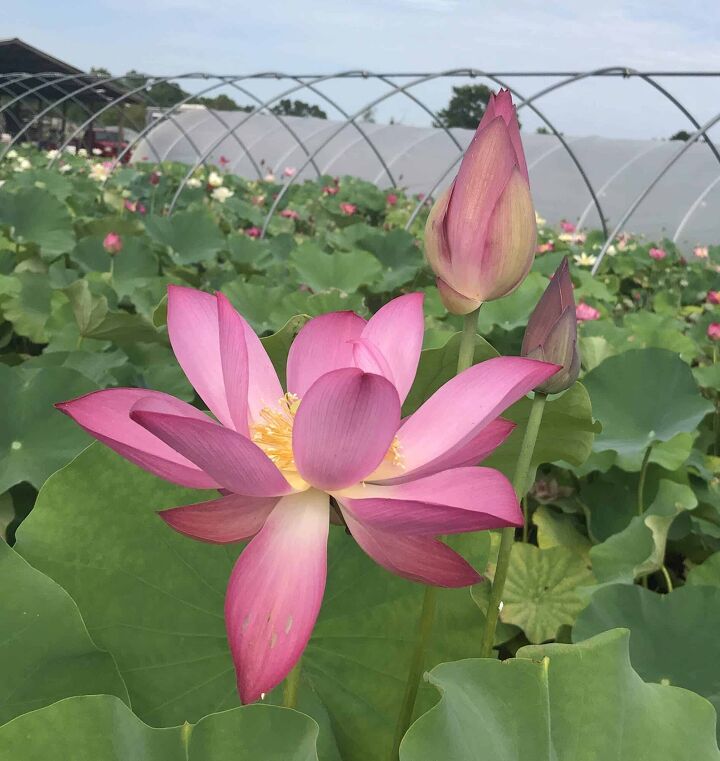 The Lavender Lady Lotus a large variety of lotus that can reach between 1.5 and 2 meters in height, with leaves that are 40cm across, and 25cm flowers. As the name suggests, they are lavender in color that, in some cases, transforms to pink. These types of lotuses perform best in humid climates.
8. Royal Lotus
The Royal lotus is an incredibly rare variety in Vietnam. It is only planted by a select few bonsai growers and lotus enthusiasts. This type of lotus comes in pink and white, which offers some options for lotus lovers. You can also plant the flower using both colors. When compared to other lotus types, the Royal lotus tends to be much smaller in size. They require little space to thrive, as they don't grow very tall.
9. Frankly Scarlet Lotus (Nelumbo nucifera)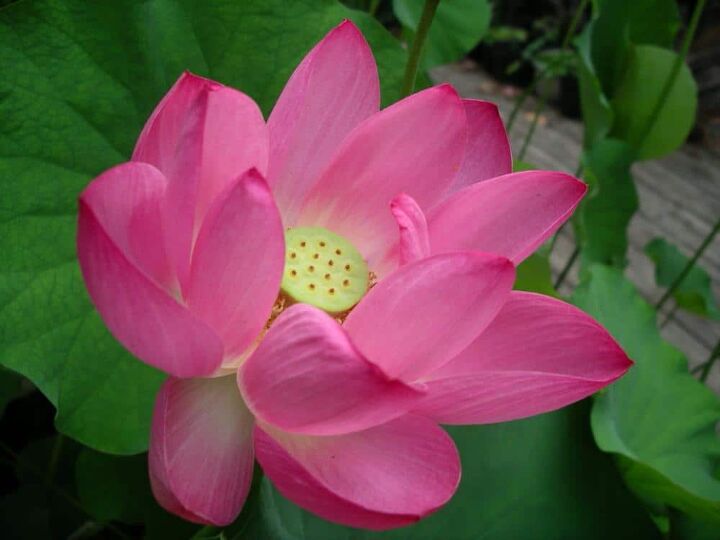 The Frankly Scarlet Lotus is a vibrant and fragrant variety, with petals that are bright pink. This type of lotus can grow to reach up to six feet high. It has very high moisture needs and is best suited for water gardens and bogs. When it comes to sun exposure, the Frankly Scarlet Lotus thrives best in full sun to partial shade conditions.
10. Mrs. Perry D. Slocum (Nelumbo nucifera)
The Mrs. Perry D. Slocum Lotus flower can reach up to four feet in height and is typically found in bright hues. The large double petals open to reveal deep pink color and then change to pink and yellow on the second day, and a creamy yellow hue on the third day.
These flowers are also known for being very fragrant. With its large leaves, this lotus flower will make a striking display when displayed in a large container or planted near the shore of a natural pond.
11. Carolina Queen Lotus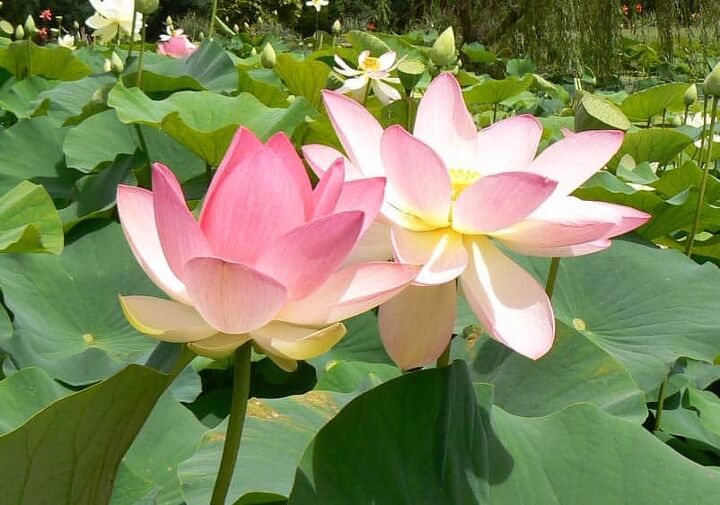 The Carolina Queen Lotus can reach up to six feet in height and often confused for tulips due to their striking resemblance when unopened. This type of lotus has gorgeous rose-pink petals that thrive best in full sun exposure. However, it's considered to be very hardy and tends to do well in deeper water. They are also a great choice for small to medium-sized ponds.
12. Tinh De Lotus
This variety of lotus is found in Trau Quy, Gia Lam District, Hanoi, Vietnam. It is very rare, with two flowers that grow on a single stalk. In the past, these lotus flowers were dedicated to the king. The two flowers on one stalk represent a couple in love, symbolizing purity and love. The Tinh De Lotus has white or pink flower petals that only emerge at certain times throughout the year.
13. Green Maiden Lotus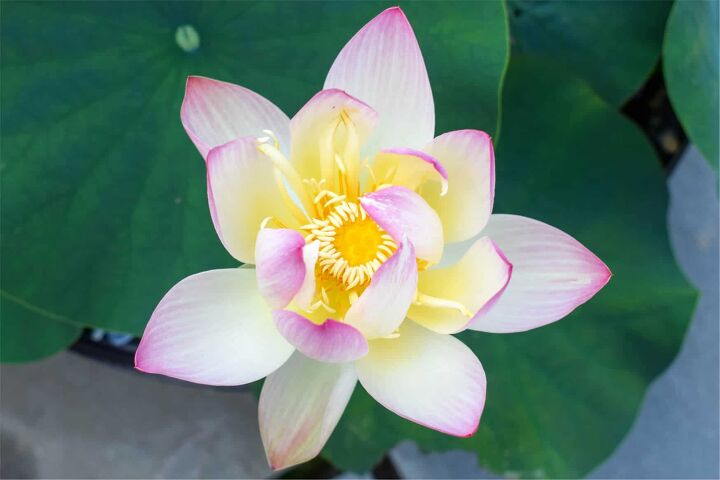 The Green Maiden is considered a dwarf variety of lotus, only reaching between 1 and 3 feet tall with flowers that are approximately 2 to 3 inches across. It is an early-blooming plant with flowers in pastel hues and typically green undertones. Like the Tinh De Lotus, this lotus also is known for producing double-headed flowers. This variety is ideal for small ponds and container water gardens.
14. Celestial Lotus
Often referred to as the Red Celestial Lotus, the Celestial Lotus is a medium-sized flower with single petals that consist of approximately 80 petals per bloom. It is a lovely light red color and soft leaves that cannot carry weight, unlike many other varieties. These flowers typically reach up to four feet in height, and bloom between mid-July and late August.
15. Chawan Basu Lotus
Another dwarf lotus species, the Chawan Basu can grow up to 35 inches high. They feature soft pink flowers, with dark pink borders on the outside. These flowers thrive in cold environments and are perfect for ponds and medium containers. Its name actually refers to a rice bowl, which the flowers of the Chawan Basu resemble.
16. Yellow Lotus of the Shine
Developed in 1968, the Yellow Lotus of The Shine is a crossbreed that consists of white petals, pink-red borders, and a vibrant yellow center. This variety will produce approximately two or three flowers every season, even when they're planted in a container or pot. The petals are approximately six inches wide and the leaves reach about a foot in height – which makes for a visually stunning lotus flower.
17. Sunflower Lotus
As you might expect based on the name, the Sunflower Lotus thrives when exposed directly to the sun. This lotus requires a considerable amount of time in order to bloom properly. It consists of dark pink petals with white centers and the leaves reach roughly 12 inches in diameter. Though the Sunflower Lotus prefers warm weather, it can withstand colder temperatures.
18. Chinese Red Shanghai Lotus
The Chinese Red Shanghai lotus is a striking flower with bright-red petals. It is a medium-sized hybrid lotus with single petals – approximately 20 petals per bloom. The brilliant red color of the petals is what attracts most to this variety. If you're looking for a lotus that will stop you and your guests in their tracks every time, you can't go wrong with the Chinese Red Shanghai.
19. Lotus of Golden Wheel
This type of lotus has petals that are white in color with a red border, producing about 20 petals per bloom. Its flower production is excellent and the striations are subtle. The leaves of the Lotus of Golden Wheel are very delicate and the center of the flower is bright red. This flower is also very easy to propagate and blooms from early July to early September.
20. Cherry Lotus
The Cherry lotus features about 18 petals per bloom that are a purple-red color and reach about eight inches in diameter. It has wide petals, coarse leaves and is a relatively common, yet beautiful type of lotus flower. The flower blooms from late July to late August.
21. Asiatic Lotus (Nelumbo – Alba Grandiflora)
Gorgeous beauty and stunning pure white petals are what describes the Asiatic Lotus. The flower is large, and fine, with a delicate fragrance. Its leaves are also large and pea-green in color. The Asiatic Lotus is a very popular white-flowered lotus, which produces numerous flowers in the growing season and even in winters in exceptionally cold climates. This flower prefers to have others growing with it so you'll likely see them grown in groups.
22. Blue Star Lotus
The Blue Star Lotus is a striking spectacle, with its violet-blue petals and red edges. Though, you may often find this variety in other shades such as white, purple, mauve, and fuchsia. These additional colors are what gave the Blue Star Lotus its nickname as the Red and Blue Water Lily. The flower features approximately 15 angular petals per bloom with leaves that are green, round, and have a darker green underside.
23. Sweetheart Lotus (Nelumbo)
The Sweetheart Lotus is another hybrid variety with double petals that are a combination of cream, yellow, and white. They are medium-sized flowers, which can adapt to virtually any kind of weather. This lotus flower is considered a semi-dwarf, is free-flowering, and ideal for any size pond. The Sweetheart also grows best in full sun exposure.
24. Red Scarf Lotus (Nelumbo)
Also called the Honglingjin flower, the Nelumbo Red Scarf lotus is a gorgeous dwarf with single bright pink petals and is perfect for a small pool or container. This type of lotus often blooms the first season to reveal beautiful six-inch crimson-pink flowers and a white center. For best results, grow this lotus in full, direct sunlight.
As an added bonus, the red color of the Red Scarf's flower petals will attract butterflies, dragonflies, and hummingbirds to your yard!
25. Shirokunshi Tulip Lotus
The Tulip Lotus, or Shirokunshi, features classic, white, single-petals that rest gracefully above bright green foliage. They are excellent bloomers, producing flowers all season long. The Tulip lotus can make a beautiful addition to any pond, container or tub garden, or water feature.
This type of lotus should be placed in a full sun – in an area that receives between 8 and 12 hours of sunlight a day. Another hybrid variety, the Tulip lotus will grow well in a variety of climates.
26. Lotus of the Clear Moon
Lotus of the Clear Moon is a very common variety in Asia. It produces about 26 petals per bloom, blooming from late July to late September. The petals are greenish-white in color and the leaves are very tall, reaching up to sixteen inches in height. In the center of the flower, you'll find an edible fruit that is similar in appearance to a pistachio. This type of lotus will grow well even in a small flowerpot.
27. Lotus of Lace Gem
This type of lotus resembles a peony, with its double petals and the fact that it produces around 120 of them per bloom. The petals also reach up to eight inches in diameter. The Lotus of Lace Gem grows from mid-July to early September and features large, attractive foliage that pairs well with the gorgeous deep red color of the flower.
28. Baby Doll Lotus (Nelumbo)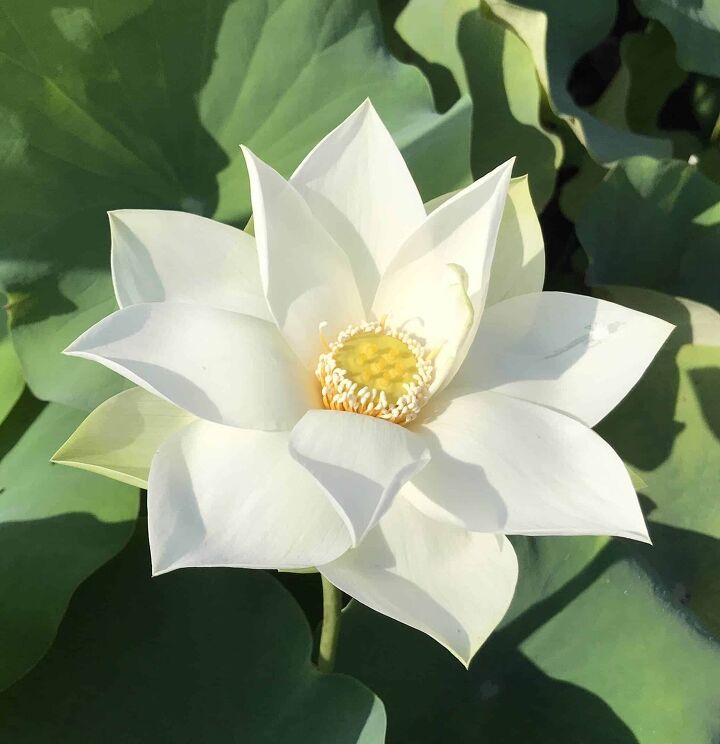 The Baby Doll Lotus is another hybrid type of lotus flower. It is an attractive, crisp-white lotus with bright yellow receptacles and vibrant green foliage. This lotus will look great in your water garden and can even grow between two and three feet tall in a wide container. Once established, the Baby Doll Lotus is a great bloomer.
29. Red Lotus of Tatsuta
The Tatsuta Red Lotus was first obtained during the Tenpo period by Ryuten – the head priest at the Yonan Temple in Tokura-cho – in the Omi Province of Japan. It carries a lot of historical significance and is one of the darkest lotus varieties. The petals are red, and the flower produces about 18 per bloom. They are also used as a spicy ingredient in many Asian dishes.
30. Lotus of the Absolute Reality
Featuring approximately 24 single petals per bloom, the Lotus of Absolute Realty is known for its wide stem and bright colors. The leaves are soft to the touch and, like the Red Lotus of Tatsuta, it is considered one of the ancient lotus varieties.
31. Lotus of the Wisteria Court
Consisting of about 20 to 25 petals per bloom, the Lotus of the Wisteria Court is one of the largest Japanese lotus varieties. The petals reach to be approximately 10 inches and diameter and the flower features leaves that are coarse to the touch. This type of lotus blooms from late July to mid-August and is known for its exceptionally large petals and unique striations.
32. Lotus of the Princess
This striking lotus produces about 18 petals per bloom and is red in color. The Lotus of the Princess has a distinct shape and coarse leaves. It is highly sought after due to the fact that it has excellent flower production.
33. Perry's Giant Sunburst Lotus (Nelumbo)
Perry's Giant Sunburst lotus is a gorgeous yellow type of lotus with large, single-petals in a sunny-yellow shade. The flower also features bright yellow stamens and receptacles to add to its sunny appearance. This type of lotus can reach to be five feet tall, or higher. Therefore, you'll need plenty of room to grow a Perry's Giant Sunburst lotus.
34. Rosea Plena (Nelumbo Roseum plenum)
The Rosea Plena is a gorgeous, hearty, and fragrant type of lotus. It is revered as one of the most elegant bloomers, producing large, unique, peony-like flowers. The flowers extend to be around 8 to 10 inches across, all summer long. The blooms are a lovely deep pink and fade to a paler shade as they age. Their color looks beautiful against the backdrop of its blue-green foliage. The Rosea Plena lotus thrives best in humid climates.
35. Sacred Pink (Nelumbo Nucifera Speciosum)
The Sacred Pink lotus is a remarkable plant that is commonly used for making tea, incense, wine, religious offerings, and as an aphrodisiac. It features pink and white petals and can reach to be up to four feet tall. This lotus grows best in cold climates, though, it has the ability to adapt to a range of other conditions.
36. Curious Lotus
The Curious lotus is a prolific bloomer, holding between 300 and 6,000 petals. It is known for its two-header blooms, with the bottom one featuring reddish-pink petals and the top bloom having a dark red color and shorter petals. This lotus blooms from early to late August and has leaves that are soft to the touch.
37. Parrot's Beak (Lotus berthelotti)
This evergreen perennial is a lotus hybrid that is native to the Canary and Cape Verde Islands. It is a gorgeous tropical plant that serves as both a trailing plant and a groundcover plant. The blooms are scarlet and gold, resembling "parrot beaks," and are positioned upright. This lotus hybrid looks lovely in rock gardens and, as an added bonus, is deer-resistant.
How to Grow Lotus Plants
Growing lotus plants, regardless of the type, require a certain level of diligence. If grown in soil, these plants have a tendency to spread quickly and easily. For this reason, it's best to grow lotus flowers in containers without drainage holes. The roots of lotus plants can easily escape and since the container will be placed underwater anyways, drainage is not a concern.
If you plan to grow a lotus plant from rhizomes, fill your container up with garden soil and cover the rhizomes lightly. Make sure to leave the pointed tips slightly uncovered. Then, immerse the container in water so that the surface of the water is only about two inches above the soil line. Though, you may need to place a layer of gravel atop the soil to prevent the container from floating away.
After just a few days, your first leaf should appear. As the plant grows, raise the level of the water to match the length of the stems. You can move the container outside once the outdoor weather reaches at least 60 degrees Fahrenheit and the stems of the lotus are several inches long.
Submerge your container into your outdoor water garden, so that it is no more than 18 inches from the surface. If needed, raise the container using bricks or cinder blocks.
Lotus Plant Care
While growing lotus plants can be pretty involved, caring for them once they have sprouted is pretty straightforward. Make sure that your lotus' are positioned in an area that gets full sun and fertilize them moderately. Lotus tubers cannot handle freezing. Though, if your pond doesn't freeze completely solid, your lotus should overwinter so long as its place deeper than the freeze line.
Though, if you're concerned about freezing, you can always move your tubers indoors to overwinter in a cool spot.
More Related Guides

Jessica Stone
Jessica considers herself a home improvement and design enthusiast. She grew up surrounded by constant home improvement projects and owes most of what she knows to helping her dad renovate her childhood home. Being a Los Angeles resident, Jessica spends a lot of her time looking for her next DIY project and sharing her love for home design.
More by Jessica Stone
Published March 25th, 2021 9:21 PM