24 Views
10 Questions To Ask A Home Inspector (For a Better Report)
November 29th, 2021 10:05 AM
Share
We're committed to finding, researching, and recommending the best products. We earn commissions from purchases you make using links in our articles. Learn more here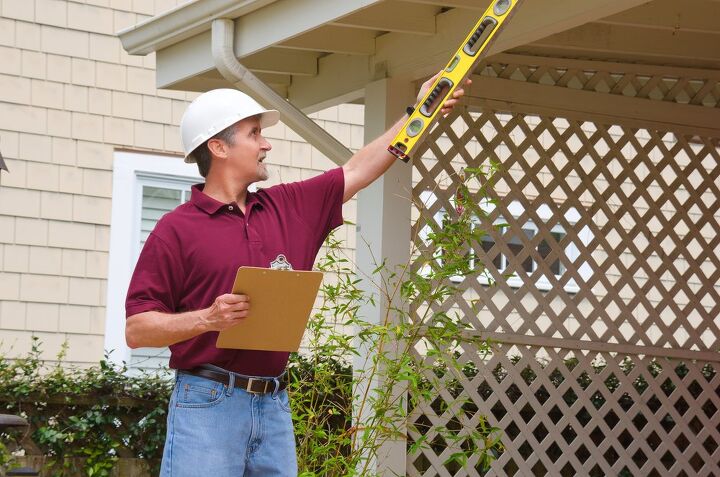 When you go to buy a home, one of the most important processes is the home inspection process. A home inspector is a third party who's brought in to—as you can expect—inspect the property, and they'll tell you everything there is to know about the property, both good and bad.
A home inspection is different than an appraisal, and for information on what this is, go here. Since the home inspection process is important, a lot of soon-to-be homebuyers have questions about it. In this article, the frequently asked questions that home inspectors get will be listed.
You should ask the home inspector about what they check, what they don't check, how much home inspections cost, and how long they've been in business. You should also see if you can tag along with them, and inquire about how long the process will take. A good home inspector will help you get the most out of their report, and you should find out how you can help the home inspector as well.
Do You Need Home Inspection Services?
Get free, zero-commitment quotes from pro contractors near you.
Brief Home Inspection Background
According to Claude McGavic, the executive Director of the National Association of Home Inspectors, a home inspector has 1,600 different items to look for when they are conducting an inspection. This means that the home inspector really doesn't miss a thing, and after they're done with their work, you'll know exactly what you're buying (should you continue on with the buying process).
And if there's a home inspection contingency in your offer, you will most likely be able to get the seller to fix certain problems or reduce their asking price. You should, however, walk away from a property if significant problems are detected, such as a crumbling foundation or a roof that's caving in. If there are significant problems, a good home inspector will indicate what these are and explain their significance in words you can understand.
Should you choose to walk away from a home after the inspection has concluded, you can still collect your deposit. This is one of the reasons why many refer to the home inspection process as a win-win for the homebuyer: they get to know much more about a home they're interested in while still retaining the right to walk away from the property should the inspection turn up unfortunate results.
First Question: "What Do You Check?"
As was noted above, a home inspection includes 1,600 items, but all of these won't be listed here. Instead, the most common and important things that a home inspector will look for will be listed and briefly discussed below.
Grounds
The home inspector will start at the outer perimeter of the property they're inspecting and work their way in; in other words, they'll inspect the grounds before they inspect the home.
When inspecting the grounds of a home, an inspector will look for current water issues as well as things that may cause water issues in the future. There may be puddles present, and grading might be faulty. Then there are the homes with downspouts that don't work properly.
A home inspector will also see what kinds of trees and shrubs are on the property, and they will note the condition of trees, shrubs, flowers, grass, etc. As far as the grounds are concerned, trees often present the biggest risk to homeowners, and this in part explains why an inspector may pay close attention to the trees that are around the property.
If you want to get a more detailed assessment of a home's grounds, then it's best to get in touch with a professional landscaper and/or an arborist. The home inspector will also evaluate pathways, retaining walls, sheds, railings, and many more fixtures. There is a lot to inspect during this stage, so it's normal for an inspector to take their time.
Structure
A home's foundation is considered by most to be the most important component, and such in part explains why the foundation is the first part of the physical home inspection. At this point, a home inspector will look for:
Structural problems related to the foundation.
Sides that are straight.
Square window and door frames.
While the foundation inspection is an important part of any home inspection, it's especially important when the home being inspected is older. After all, older homes have older foundations, and since these generally have more wear and tear, there are often more issues found with them.
Roof
The roof is another integral part of the home, and a home inspector will look for defects related to shingles, flashing, and facia. If there are missing shingles, such will be noted in the report.
A leaky roof can lead to leaking ceilings and many more issues, and leaks in crawlspaces are significantly problematic because they often lead to mold growth and other unwanted elements.
During this stage, the home inspector will also identify if there are loose gutters, chimney defects, or skylight problems. Some say that a home's roof is second in importance behind the foundation, and this in part explains why the home inspector will take their time when conducting this part of the inspection.
Exterior
During the exterior inspection, the home inspector will look at the siding to see if there are any defects present. They will also look for attic cracks, rot, and decay. If there are cracks and/or flakes present in the basement's masonry, these will be identified as well.
Additionally, stucco cracks will be identified if these are present, and so will bowing vinyl. The home inspector will check the condition of the home's paint—if it's painted—and note if there's blistering or flaking paint.
The distance between the home's siding and the ground will also be examined here. There needs to be adequate clearing between siding and earth, and if there isn't, such will definitely be indicated.
There should be 6 inches of clearing, and this gap helps the siding avoid damage from moisture. A cement foundation, on the other hand, is fine if it's touching dirt.
Windows, Doors, Trim
The windows and doors are important for a variety of reasons. Just think about how you strive to keep heat inside for the winter and cool air inside for the summer; the doors and windows play major roles here.
A home must have working doors and windows, and if there are any malfunctions or defects present, these won't be missed by the home inspector. They will also look at door and window frames to make sure these are secure.
If there's rot present or caulking that's chipping away, both will be noted as they indicate structural problems which could make the whole home unsafe.
Interior Rooms
When inspecting the home's interior, the inspector will look for leaning walls, as these indicate faulty framing. They will also look at ceilings to see if any stains are present, as stains usually indicate current or previous leak issues.
During the interior inspection, the insulation that's behind the walls will be inspected, as the insulation plays a major role in determining how well the home retains heat. If there are heating vents, the home may be susceptible to drafts, and if such is the case it'll be noted by the home inspector.
Of course there are many more things that get inspected during the interior portion of the inspection, but these are some of the main structural elements that one can expect the home inspector to look over.
Kitchen
The next stop will be the kitchen. The home inspector will make sure that the range or oven has proper ventilation to the outside, and they'll also make sure there are ground fault circuit interrupters (GFCIs) attached to all electrical outlets that are within six feet of the sink.
They will also look at the sink and its pipes to see if there are any spots where leaking occurs. If the system utilizes a reverse osmosis water filter, this will be examined as well. Garbage disposal present? This will be tested too.
Cabinet doors will also be inspected during this point, and so will the flooring. Some kitchen floors come into contact with water often, and if water isn't properly addressed at the time a spill occurs, then a variety of problems could result.
If there are a lot of core appliances present—like a refrigerator and a mounted microwave—then the kitchen portion of the inspection could take some time. A lot of the appliances in this area are connected to the water line while others are connected to the gas line. These appliances deserve special attention, as they play major roles in making the home functional. A good home inspector will give these appliances the attention they deserve.
Bathrooms
If your home has multiple bathrooms, the home inspector will inspect each one. They will inspect the toilets to make sure that they're working properly, and they'll also make sure that sink and shower drains are functional and free of obstructions. If the shower has a sprayer, the home inspector will see if this works as it's supposed to.
If you have a tub in any of your bathrooms, the home inspector will make sure it's properly fastened. If a tub is not properly fastened, it could move unexpectedly when you're entering or exiting it, and such could cause you to slip and hurt yourself quite badly.
They will also look for signs of mold, as this will indicate that there is not proper steam ventilation in the bathroom. If there are cracks present in the floor, these will be indicated, as they can lead to leaks.
If there are rusting pipes, there may be water discoloration, and this will be noticeable when you run the sink and shower; discolored water may also be observable in the toilet.
Bathroom lighting will be assessed as well, as this is an area of the home where lighting is important. And since a bathroom is full of water-based fixtures, the home inspector will pay attention to any electrical components and outlets that are present to make sure that there are no hazards here.
Plumbing
The home inspector will look at all the plumbing that exists in the home, and they'll pay special attention to pipes, drains, water heaters, and the dishwasher. They will make sure that water pressure is adequate and that hot water is available.
When examining plumbing, they will also look for water damage. In the course of the inspection, they may detect leaks, cracks, and other things that may lead to larger plumbing-related issues down the road.
A home's plumbing system is incredibly important and it must work well; this is why the home inspector may take their time when examining it.
Electrical Systems
The electrical system will also be examined. If there is visible wiring along with an electrical panel that isn't in good shape, both will be indicated. The home inspector will also make sure that the light switches work as they're supposed to.
If there's an HVAC system, this will be tested thoroughly to ensure that it works properly. There also needs to be the right amount of outlets in each room, and an inspector will make sure this is the case.
They will also check to see if required electrical safety measures are in place, and if measures are absent, this will be indicated on the report. The electrical system, like the plumbing system, is an incredibly important part of the home.
2. What's not included in the home inspection?
Since the home inspection includes 1,600 items, it's hard to say that really anything is missed. But what you shouldn't expect from a home inspection is anything that's really invasive. For example, a home inspector won't go knocking down walls to see how good the insulation is; there are other ways of assessing this.
They will also not dismantle components to assess how functional they are. What they will do is flag issues that exist in real time, and the homeowner is the one who has to get these addressed by the proper professionals.
For example, if you have a leaking roof, then you'll need to get a roofer to come address this. A carpenter can fix rotting frames, an electrician can ensure there's no faulty wiring, and a plumber can make sure everything that relies on or passes water works properly.
A home inspector is looking for what exists on the property at the moment they're conducting their inspection, and while they do possess a wide range of useful skills, they can't see into the future.
There are some problems that almost always precipitate larger ones down the road, and a home inspector will be able to point such problems out. But for the most part, the home inspector will just be pointing out what they see when they see it; professional tradespeople will have to find solutions to the problems which exist.
3. How much does a home inspection usually cost?
A typical home inspection will cost between $300 and $600, though the price largely depends on a few key factors, including the market (availability of inspectors), the size of the home, and who the inspector is. In general, inspectors are paid before their services are delivered, so you'll want to know in advance what you're paying them and what kind of payment is accepted.
Have your guard up if you run into an inspector who's charging well below the market rate. This could be indicative of a lack of experience or something more malicious. If an inspector is having trouble getting customers, they may charge a low price.
Spending on a good inspector is worth it in the majority of cases, as an inspector could very well save you from buying a house that has a lot of hidden issues. I'm talking about hundreds of dollars vs. tens of thousands; it's a no-brainer!
There are also inspectors who charge on an hourly basis instead of doing work for a flat fee; you'll want to know how an inspector is going to bill before you hire them.
If there are special requirements, the inspector may charge anywhere from $25 to $200 in additional fees to make sure these requirements are satisfied. For example, special equipment and/or lab testing may be required.
4. How long have you been inspecting homes?
While lacking experience isn't a bad thing in itself, hiring a home inspector who's been doing this work for several years is usually a safe bet. As has been said numerous times throughout this piece already, there are 1,600 items that a home inspector has to look for during the course of a home inspection, and one can assume that the more experienced inspectors know what they're looking for whereas the newer inspectors may be less familiar.
Often, you can get away with paying an unexperienced home inspector less than what you would pay a more experienced professional, but this is not a significant difference. And as was addressed above, it's not worth it to lowball during this phase, as it's such a crucial one.
When asking a home inspector about their experience, make sure you ask how many home inspections they've completed. Also, see if they've worked on a variety of homes. If they have, it's quite possible they are familiar with unusual circumstances. This experience may prove very valuable later on.
These days, it's quite easy to find experienced professionals on the internet. And with so many review sites and rating agencies out there now, the days of worrying about inadequate service being delivered are for the most part behind us.
5. Can I follow along for the home inspection?
A home inspector should be willing, and even excited, to take you around with them. If they are apprehensive in any way, such may warrant concern. A good inspector will want the potential homebuyers to be present during the inspection, and this is so they can explain their process in real time.
Interacting with the home inspector one on one will be more beneficial than reading their report alone. When you spend time with them, you'll be able to ask questions and clarify any responses.
If an inspector straight up refuses to not let you tag along for the inspection, this should be the reddest of red flags and you should cease contacting them immediately.
6. How long does a typical home inspection take?
Home inspections often take place during the week, and this is because home-sellers are typically working during this time. You should ensure you have plenty of time for the home inspection before you hire somebody; do this so you're not rushing to the appointment, unprepared and without confidence.
The time it takes to conduct a home inspection depends on several factors. In general, however, inspection of a two-bedroom apartment should only take a few hours, whereas inspection of a large, historic house may take days. If the time quote seems way off, then this can be an indication that the home inspector doesn't know what they're doing.
If you really want a ballpark time figure, call three to five home inspectors, give them brief details about your home, and see what their time quotes are. You should get a general consensus from doing this, and anyone that seems way off with their time could be up to something.
7. Do you have sample reports?
If you can get your hands on a sample home inspection report, this will be a game-changer. A sample report will keep you from panicking when you get your own report; compare your report to a report issued to a standing house and you'll probably see that there aren't many things wrong with the house you're looking to purchase.
Having another report will also help you understand what the home inspector is going to be looking at. If you're familiar with the home inspection report before the inspector begins their process, you'll be able to dialogue with them and understand more of what they're saying.
You can also get a report and study up on it so you're familiar with the different parts of the inspection. If you aren't able to get a sample report from a friend, colleague, family member, or online, ask the home inspector you intend to hire and they'll probably be able to set you up with one.
This is a process that is predicated on transparency, and a good home inspector will go out of their way to ensure their clients are adequately informed during the home inspection process.
8. How can I make the most of the home inspection report I receive?
A home inspection report is an important document, as this is an authoritative piece of proof which indicates the problems a property has at the time of the inspection. If a home inspection report turns up a lot of significant problems, then the home sale will likely fall through.
But if only some minor things are detected, then the home inspection report could be used as a basis to get the home seller to either fix these issues or reduce their asking price. In any case, the home inspection report is most valuable when it is thoroughly examined by someone who knows what they're looking at.
Having the Home Inspector Present for Negotiations
It would be even better if you could get the home inspector to come to a negotiating meeting, as they'll be able to explain the report to the seller. The home inspector's position as a third-party should not be called into question by you or the home-seller, and what they say should be looked at as objective.
What's done about their findings is up to you and the home-seller, and having a good home inspector who can explain things clearly—and also show the magnitude of certain problems—will help persuade the seller to either address the issues or reduce their asking price.
Mandatory Repairs vs. Cosmetic Fixes
During the home inspection, a good home inspector will distinguish minor fixes from major ones. A home inspector who's really on the ball might even include the cost of a repair next to a specific problem.
For example, a home inspector—after reviewing the kitchen sink—may find that a replacement will most likely be needed sometime in the near future, and they will give a quote for the plumbing work as well as a ballpark figure for the replacement cost. Of course not all home inspectors do this, as this is really going above and beyond and demands a lot of specific knowledge, but if you find someone who does this, you should know that they're clearly an expert.
The main thing is to know what's important and what isn't. This way you can know when you should walk away from a deal and when not to. Just keep in mind that the seller is most likely going to push their home regardless of what the report finds. You have to have the strength to walk away from a sale, even when some less-important draws keep your heart set on the home.
9. How can I help you during the home inspection?
If you really want to help out your home inspector, you should tell them about the problems you know about before they begin the inspection process. And when I say tell them all the problems you know about, I really mean every last problem you know about.
It's quite likely they're going to find these anyways, so if they don't have to do a lot of digging and instead know what they're looking for, this can make things go a lot quicker; it can also help them deliver a more thorough inspection. If the seller has disclosed damage, then you should let the home inspector know about this as well.
More Ways You Can Assist the Home Inspector
You can also assist the home inspector in other ways while they are conducting their home inspection. If they need you to get tools for them, do this. Something as simple as getting them a water bottle can even be really helpful. You'd be surprised at how much time little gestures like those can shave minutes off the home inspection process.
The home inspector may also show you things about the home that you did not know. They may show you how to work the electrical panel, and they may even teach you about air conditioning and proper ventilation. A good home inspector will also show you how to shut off the water valve.
Don't be afraid to ask a home inspector questions. After all, their business is predicated on helping homebuyers. Yes, they know when common residential systems and appliances are malfunctioning, but this doesn't mean they always know how to address these problems.
And if you bring the home seller along with you during the home inspection, which isn't normal practice, this could make things go smoothly too. This way everyone will be on the same page, both during the inspection and after the report is finalized.
Do You Need Home Inspection Services?
Get free, zero-commitment quotes from pro contractors near you.
10. Can you keep an eye out for health and safety hazards?
If you're particularly concerned about health and safety hazards, make this known to the home inspector before they begin the home inspection. They will keep an eye out for these concerns and highlight them, if they're found, in the report.
Health and safety concerns are exactly the kinds of things that cause potential homeowners to abandon buying plans. Forget about cosmetic repairs, for a moment, and instead look for fire hazards, water hazards, and other things that could not only be significant risks to your home but to your well-being as well.
If there's a gas leak or a water leak in the attic, both can be significant. And then there's mold growth, another unsightly and potential dangerous issue. There need to be working GFCIs and no loose wiring.
Health and safety concerns are especially important for potential homebuyers who would be moving in with children. You should make this clear, if it's your situation, to the home inspector.

Matthew Mountain
Matt loves everything DIY. He has been learning and practicing different trades since he was a kid, and he's often the first one called when a friend or family member needs a helping hand at home. Matt loves to work with wood and stone, and landscaping is by far his most favorite pastime.
More by Matthew Mountain
Published October 10th, 2021 3:11 PM