348 Views
The 10 Largest Cities in New York (By Area & Population)
October 13th, 2021 3:37 PM
Share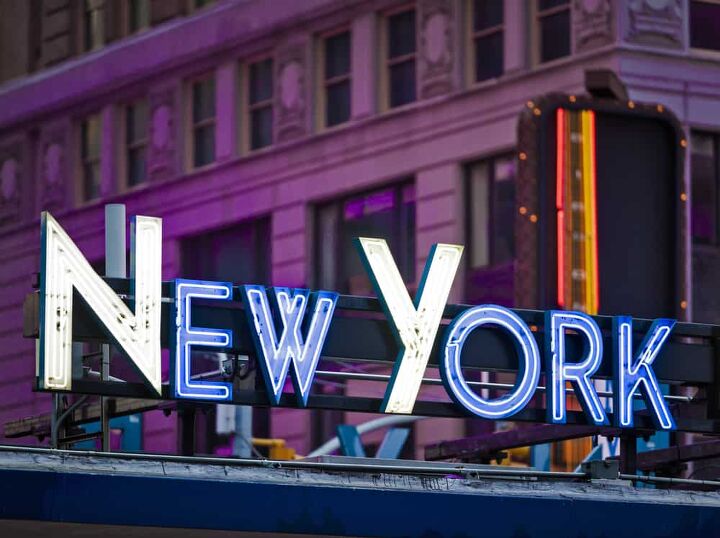 New York state is the fourth most populous state, behind Florida, Texas, and California. The Empire State is home to nearly 19.5 million people as of 2020. It is not only full of people though; New York is flooded with history, diversity, and fascinating places.
In many ways, New York state can be described as the "land of opposites." On the one hand, New York consists of some of the most renowned urban settings in the entire world, packed with pedestrians and dominated by public transportation. On the other, the state features rolling hillsides, forests, and many state parks. In fact, you may be surprised to hear that forests make up 61% of the entire state of New York.
Although New York is generally associated with Times Square, The Statue of Liberty, and all that NYC has to offer, there is so much more to this state. Whether you're relocating to New York or planning an extended stay, you're probably already aware that New York is home to some of the most diverse and beloved cities in the nation.
If you're having a hard time narrowing down which popular state to dedicate your time, you've come to the right place. Examine our list of the 10 largest cities in New York by population.
Ten Largest Cities in New York By Population
| | | | | | |
| --- | --- | --- | --- | --- | --- |
| Rank | Name | 2020 Population | 2010 Census | Change | Density (km²) |
| 1 | New York City | 8,323,340 | 8,190,360 | 1.62% | 10,699 |
| 2 | Buffalo | 255,244 | 261,301 | -2.32% | 2,441 |
| 3 | Rochester | 203,792 | 210,452 | -3.16% | 2,200 |
| 4 | Yonkers | 199,021 | 196,405 | 1.33% | 4,266 |
| 5 | Syracuse | 140,987 | 145,270 | -2.95% | 2,175 |
| 6 | Albany | 96,853 | 97,744 | -0.91% | 1,747 |
| 7 | New Rochelle | 77,912 | 77,220 | 0.90% | 2,906 |
| 8 | Cheektowaga | 74,026 | 75,178 | -1.53% | 1,126 |
| 9 | Mount Vernon | 66,955 | 67,388 | -0.64% | 5,897 |
| 10 | Schenectady | 66,107 | 66,153 | -0.07% | 2,365 |
1. New York City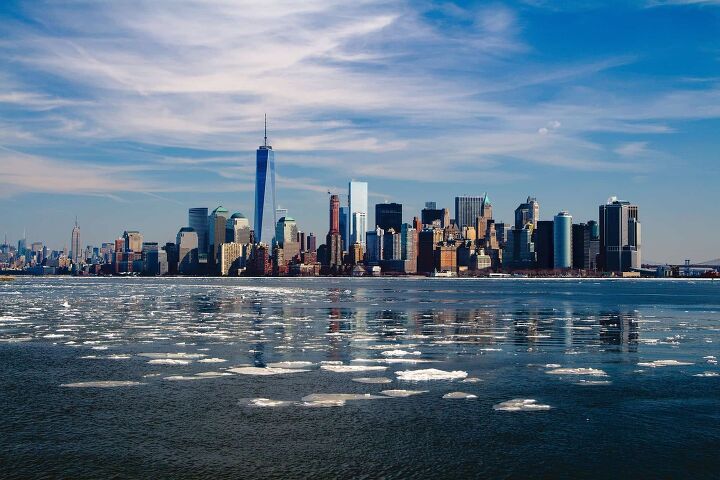 2020 Population: 8,323,340
Median Home Value: $675,000
Being one of the most famous and exciting cities in the world, in addition to a popular tourist destination, it's hard to imagine any other city topping this list. New York City is not only the largest city in New York state, it also has the highest population of any city in the nation and ranks as one of the largest in the world.
In addition to having an incredibly high population, New York City is also the world's largest metropolitan area, covering 4,585 square miles. In fact, there are so many people packed in such a small area that it is dubbed the most densely populated major city in the United States. From Manhattan to Wall Street, Times Square to Central Park, Broadway to Greenwich Village, superstars, presidents, world-class art museums, the 9/11 Memorial, and so much more, the diversity in New York is unmatched.
It's no surprise that NYC has been described as the financial, cultural, and media capital of the world. Positioned on the northeast coast of the U.S., New York City is situated on one of the world's largest natural harbors. Being the home of the United Nations, it is also an important center for international diplomacy.
2. Buffalo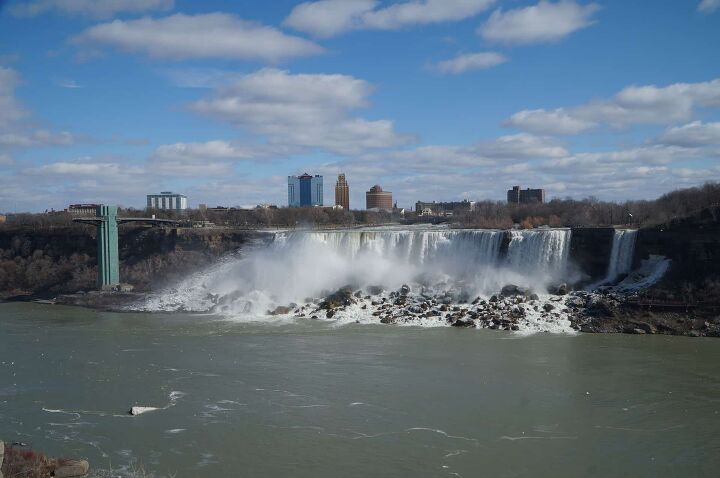 2020 Population: 255,244
Median Home Value: $140,000  
Located just south of the Canadian border, Buffalo is the second-largest city in New York by population. This western New York destination is a mere 20 miles from Niagara Falls and is situated right on Lake Erie. It is a popular gambling and shopping spot for both Canadians and Americans alike.
While Buffalo has faced a decreasing population in the past, it has recently experienced quite a resurgence. With growing businesses, a thriving job market, and increased development, the area has begun to attract families, students, and young professionals from all around the U.S.
3. Rochester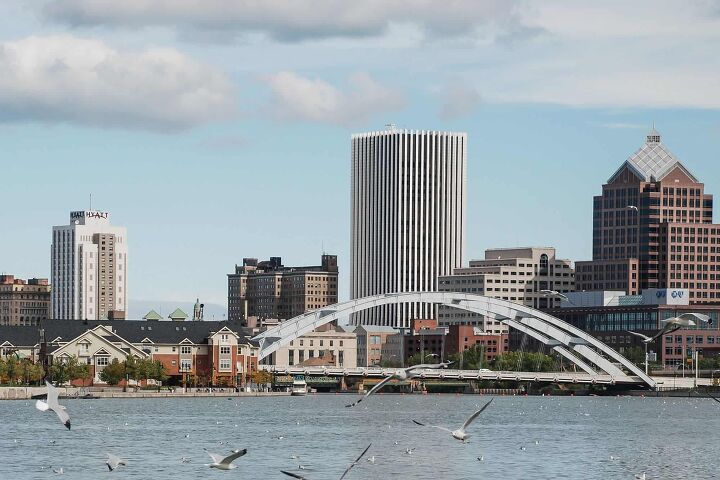 2020 Population: 203,792
Median Home Value: $129,000  
Despite its significant decrease in population since the 2010 census, Rochester still remains the third most populous city in the state of New York. Its low cost of living, extraordinarily affordable housing market, and highly rated school system make it one of the top places to live in America for students and families.
Although Rochester experiences some bitter cold winters, The Flower City (a nickname given because of the annual Lilac festival) is loved by its residents. Located on the edge of Lake Ontario, Rochester is known for its music culture, namely institutions such as the Eastman School of Music and the Rochester International Jazz Festival.
4. Yonkers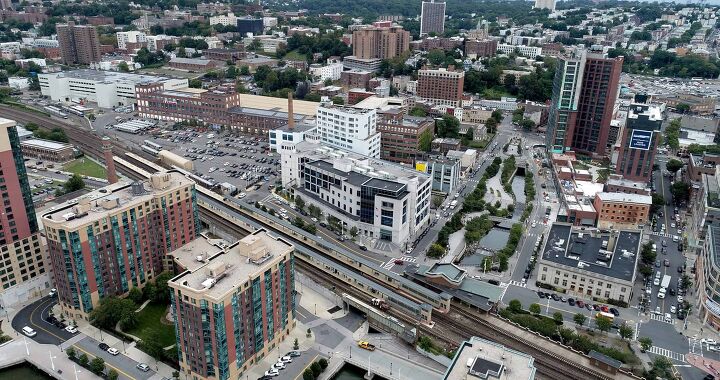 2020 Population: 199,021
Median Home Value: $539,000
Located along the Hudson River and less than an hour from Manhattan, Yonkers is the fourth largest city in New York by population. This suburb is popular for both professionals and families, as it offers a mix of small-town charm with all the top-notch amenities of a big city.
More and more people are being attracted to Yonkers due to its influx of new housing developments and booming downtown area. The city is home to a variety of cultural amenities including the Hudson River Museum, Untermyer Park and Gardens, prestigious colleges such as Sarah Lawrence, the arts, a planetarium, shopping centers, and a number of entertainment venues.
5. Syracuse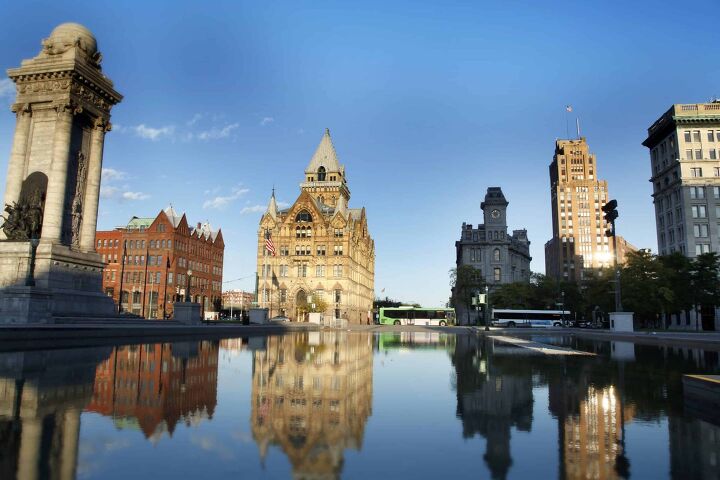 2020 Population: 140,987
Median Home Value: $107,250 
Known for its cold, snowy winters and educational institutions, Syracuse has the fifth-highest population in the state that has been steadily decreasing since the 1990s. Home to Syracuse University and Le Moyne College, Syracuse is considered the educational hub of Central New York. It also has some relatively well-known convention sites, with an extensive downtown convention complex.
Syracuse was nicknamed "salt city" in the 19th century, after the area's salt springs that were the pillar of a thriving salt industry on the southern end of Onandaga Lake. It is an affordable place to live, making it desirable for both families and retirees. The city was also named among the best 100 places to live in the United States.
6. Albany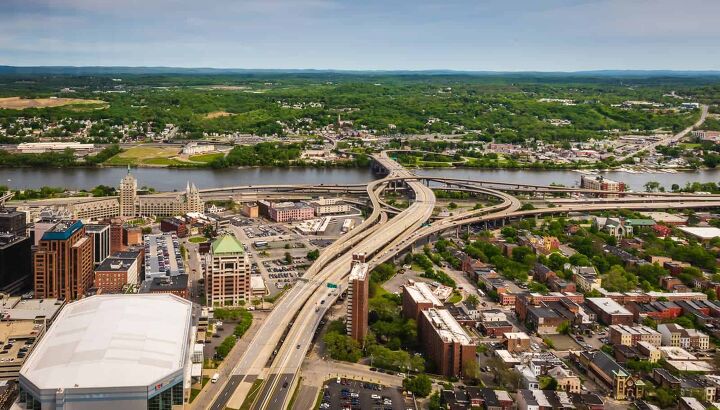 2020 Population: 96,853
Median Home Value: $207,280  
The capital city of New York is one of the most popular places to live in the state. Albany is one of the oldest remaining settlements of the original British thirteen colonies. The city is known for its commerce, rich history, architecture, culture, and numerous institutions of higher education.
It is centrally located, offering easy access to the Adirondack Mountains, the Berkshire Mountains, the Hudson Valley, and the Finger Lakes. Albany has some exciting cultural attractions including the Albany Institute of History and Art, The Egg, and the New York State Museum.
Despite the fact that much of New York has seen a decrease in population over the years, Albany and the Capital Region has managed to sustain a continuously-moderate growth rate.
7. New Rochelle
2020 Population: 77,912
Median Home Value: $735,020 
Located in Westchester County, on the Long Island Sound, New Rochelle is a vibrant, diverse, and bustling community that features a number of cultural attractions. Formed in 1688 by a group of Huguenot refugees, New Rochelle was named after La Rochelle, a seaport found on France's Atlantic coast. In fact, it is considered one of the most historic and oldest establishments in the Northeast.
Given its position within the state, New York City is easily accessible from New Rochelle, along with beaches, parks, and bike paths near the Long Island Sound. The city's downtown area also offers a variety of high-end dining experiences and some exciting nightlife.
8. Cheektowaga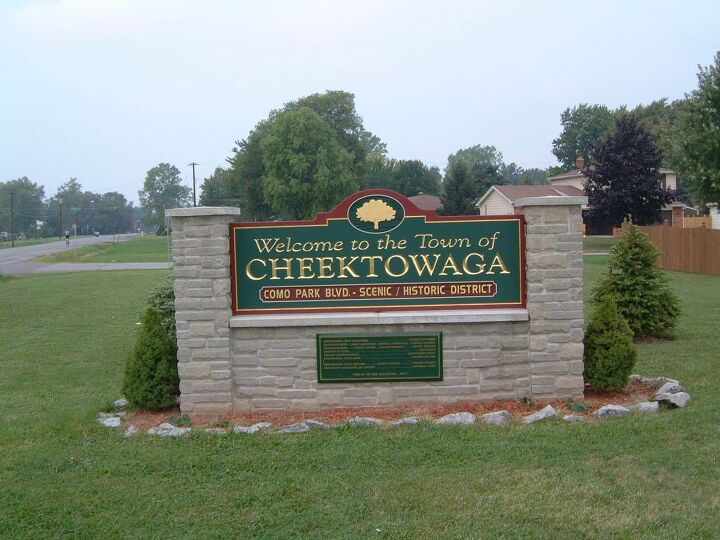 2020 Population: 74,026
Median Home Value: $136,100
Studies have found that this little Western New York town is the 'most livable small city in America.' This has to do with a number of factors including home affordability, a high percentage of residents with health insurance, a high concentration of local attractions, and more.
This town is located in Erie County and is considered to be a suburb of Buffalo. Cheektowaga gets its name from early settlers: the native Iroquoian-speaking Neutral people. The town has become, and remains, one of the most progressive townships in New York State.
9. Mount Vernon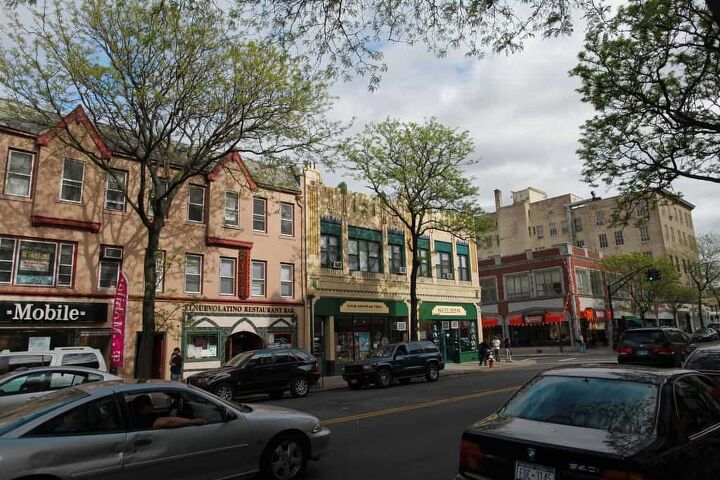 2020 Population: 66,955
Median Home Value: $358,000
Also found in Westchester County, Mount Vernon has the ninth-largest population in the state of New York. It located near both Yonkers and New Rochelle and is considered to be an inner suburb of New York City. Families and commuters are attracted to this area due to its many housing opportunities and urban ambiance.
Families who flock to Mount Vernon enjoy a number of parks, playgrounds, and after-school programs suitable for their school-aged children. The Mount Vernon Public Library is a popular attraction, as it is one of the largest libraries in the New York City metropolitan area and the entire state. The downtown area has a lot to offer as well, for its thriving business district and many shopping and dining opportunities.
10. Schenectady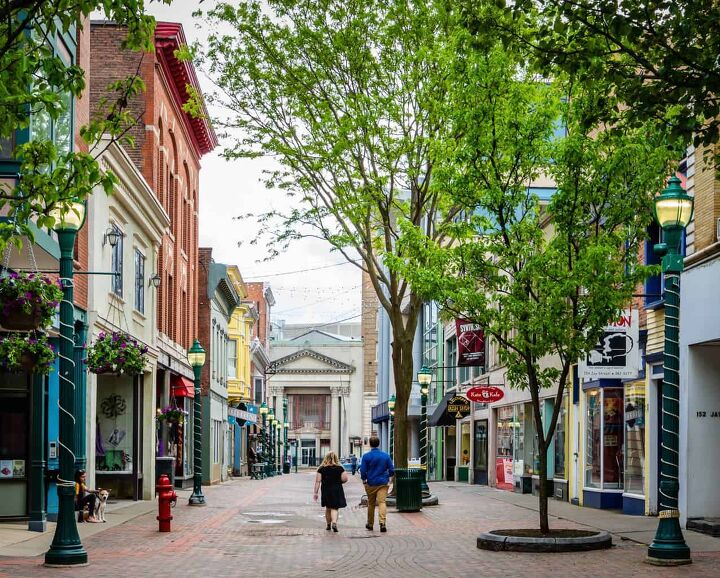 2020 Population: 66,107
Median Home Value: $175,000
Rounding out our list of the ten largest cities in New York State by population is the City of Schenectady. Once a manufacturing center nicknamed "The City that Lights and Hauls the World," Schenectady is still home to General Electric (once known as the Edison Electric Company), and the American Locomotive Company (ALCO).
The city's name comes from the Mohawk word skahnéhtati, or "beyond the pines." It was founded by Dutch colonists in the 17th century, many of whom were from the nearby Albany area. Nowadays, Schenectady is home to an energetic downtown business district, large farmers markets, and a slew of exciting dining experiences.
Residents of Schenectady enjoy many outdoor adventures including kayaking along the Mohawk River, exploring the nearby Blatnik Park, and biking the Mowhawk-Hudson Bike-Hike Trail.
Ten Largest Cities in New York By Square Miles
For comparison, the following chart outlines the ten largest cities in New York State by square miles. To help break it down and provide some perspective, we've also included the size of these cities in relation to both New York City and Albany (both considerably well-known cities).
| | | | | |
| --- | --- | --- | --- | --- |
| Rank | Name | Land in Square Miles | Size in "NYCs" | Size in "Albanys" |
| 1 | New York City | 302.64 | 1.0000 | 14.1500 |
| 2 | Rome | 74.79 | 0.2471 | 3.4968 |
| 3 | Buffalo | 40.38 | 0.1334 | 1.881 |
| 4 | Rochester | 35.78 | 0.1182 | 1.6729 |
| 5 | Saratoga Springs | 28.06 | 0.0927 | 1.3122 |
| 6 | Syracuse | 25.04 | 0.0827 | 1.1709 |
| 7 | Oneida | 22.05 | 0.0728 | 1.0308 |
| 8 | Albany | 21.39 | 0.0707 | 1.0000 |
| 9 | Yonkers | 16.76 | 0.0595 | 0.8421 |
| 10 | Utica | 16.76 | 0.0554 | 0.7836 |
---
Related Questions
What is the most dangerous city in New York State?
Most recent polls put Buffalo in the top spot for the most dangerous city in the state of New York. The city is followed by Binghamton, Niagara Falls, Watertown, and Rochester. Buffalo earned this spot based on a poll that analyzed a number of crime statistics from the FBI. The categories included Murder, Motor Vehicle Theft, Rape, Arson, Burglary, Robbery, Larceny, and Aggravated Assault.
What is the safest city in New York State?
As of 2020, Lewisboro Town is considered the safest city in New York State. It has received this ranking for three consecutive years, reporting zero crimes to the FBI in 2018. The top three safest cities (Lewisboro, Sleepy Hollow Village, and Kirkland Town) experience no reported violent crime, so their rankings were based solely on property crime in the area. Lewisboro has a population of 12,823 residents with a median income sitting at $141,477.
Where should I avoid in NYC to be safe?
When you're traveling or based in New York City, it's important to be aware of where not to go. These areas include Soundview, Brownsville, and the majority of the Bronx. You should instead stick to some of the safest areas in NYC, such as Beekman, Battery Park City, Sutton Place, Carnegie Hill, Roosevelt Island, and Tudor City.
Is it expensive to live in New York State?
Not surprisingly, the average cost to live in the state of New York is above the national average. However, New York City is partly to blame for the considerably higher price range. In fact, two of New York's major cities, Albany and Buffalo, actually fall below the U.S average cost of living. If you're planning on moving to New York City, you can expect to have to fork over some big bucks. When it comes to the rest of the state, home costs are generally substantially lower than the national average, and you'll still get to enjoy the quintessential New York city life.
When is the best time to move to NYC?
If you're planning on relocating to NYC, you'll notice that rent prices tend to be considerably higher in the summer months. While this can be a great time to move to the city because temperatures are up and there's more housing availability, you will pay more. If you aren't already aware, the winters in New York City can be harsh, and hurricane season is unpredictable.However, apartment rental prices and broker fees are much less expensive during the winter. Also, since renters are more motivated to rent and fill vacancies during this time, you'll have more bargaining power when signing a lease. According to Curbed New York, February is considered to be the cheapest month to rent in New York City.
Related Guides

Jessica Stone
Jessica considers herself a home improvement and design enthusiast. She grew up surrounded by constant home improvement projects and owes most of what she knows to helping her dad renovate her childhood home. Being a Los Angeles resident, Jessica spends a lot of her time looking for her next DIY project and sharing her love for home design.
More by Jessica Stone
Published October 10th, 2020 5:56 PM