281 Views
How Much Does Hydroseeding Cost? (Pricing Per Acre & Square Foot)
July 13th, 2021 11:03 AM
Share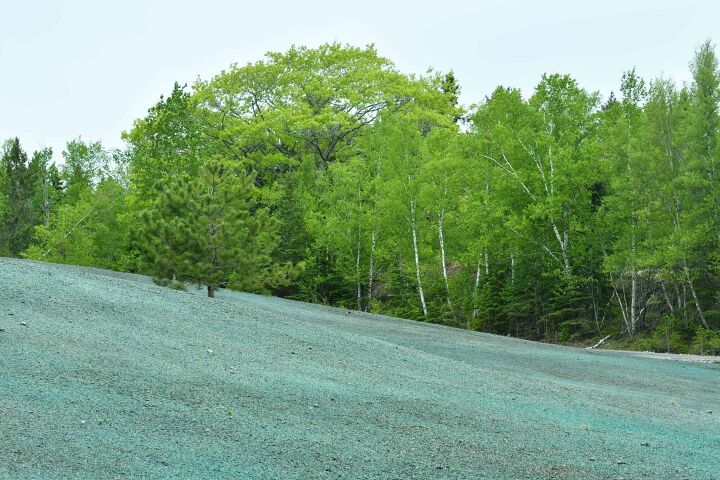 Being a homeowner means you not only have to care for the house's interior, but you must also give some attention to your curb appeal! Who doesn't want to come home to a lush, green lawn?
When you're ready to plant new seed on your lawn, you've got a few options to choose from. Each technique will come with its own advantages and drawbacks—including the costs.
Hydroseeding, or hydro mulching, is one of the most advanced methods for planting new grass seed, as it enhances the new grass seed with added nutrients from the second it's applied.
The average hydroseeding cost is between $0.06 to $0.20 per square foot of yard plus labor costs. Depending on the size of the yard and labor costs, homeowners pay an average of $1000 total to pay for hydroseeding. For larger yards, the cost can run upwards $3,000.
Read on to learn more about the true costs of hydroseeding, which factors will impact your final price and the benefits of this technique for growing a beautiful lawn.
Do You Need Landscaping Services?
Get free, zero-commitment quotes from pro contractors near you.
How Much Does Hydroseeding Cost?
Before starting any home improvement project, it's important to weigh the costs and plan a budget for your services. Fortunately, the cost of hydroseeding is actually pretty affordable for most homeowners. It's less expensive than laying sod, and often more effective than broadcast seeding.
Hydroseeding costs are determined by the square footage or acreage of your lawn. The bigger the project, the larger the expense. The mulch mixture for hydroseeding can cost around $0.06-0.20 per square foot of yard.
However, your final cost will also include the cost of labor and the required equipment to complete the job.
Costs of Labor for Hydroseeding
In addition to the cost of your seed mulch mixture, you must consider the cost of hiring a team of professionals to complete the job. Hydroseeding is an incredibly difficult task for the average homeowner to complete by themselves. That's why it's beneficial to hire a professional to help you out.
They'll have the necessary equipment for the job, as well as the knowledge and expertise to get the application done efficiently. Hydromulching requires the service person to know how to apply the product evenly and work quickly.
Professionals who offer hydroseeding services may charge an additional $0.10/square foot for their work. This price will vary depending on the state you live in, as well as local prices for fertilizer, water, and other materials.
Hydroseeding Cost Calculator
To hydroseed a lawn, homeowners may pay anywhere between 6-20 cents per square foot, plus the additional cost of labor. To estimate your potential costs, start by calculating the square footage of your lawn by multiplying the length times width.
You may need to use more complicated formulas to determine this measurement if your lawn is round or triangular-shaped. During a consultation, a professional contractor can work out measuring your lawn to give you an accurate estimate for services.
Homeowners can pay anywhere from a few hundred dollars to a few thousand for hydromulching. Use our hydromulching cost calculator to estimate your cost—like the cost to hydroseed a ¼-acre yard, or roughly 10,000 square feet. Check it out:
Lawn Size

(square footage)

Minimum Average Price

($0.06 per sqft)

Maximum Average Price

($0.20 per sqft)

500
$30
$100
1,000
$60
$200
5,000
$300
$1,000
10,000 (¼-acre)
$600
$2,000
21,000 (Half-acre)
$1,260
$4,200
43,000 (Acre)
$2,580
$8,600
If you have a smaller lawn that is under 500 square feet, you may be charged by the hour instead of by square footage. Hydroseeding service providers may charge between $24-30 per hour of work. This may also be true if you have a difficult-shaped lawn.
If your home sits on an uneven or particularly odd-shaped yard that requires more delicate attention, it can impact your costs and the amount of time needed to complete the job.
More Factors That Impact the Price of Hydroseeding Your Lawn
In addition to the factors listed above like the cost of labor, there are a few other things that may have an impact on the final cost of hydroseeding.
You may also have to consider the following:
Square footage or acreage of your lawn: The bigger the lawn, the higher the cost.
The cost of materials: This will include the additives in the mulch mixture, like fertilizer.
Equipment: Consider the cost to rent a water tank or hire a professional with the necessary lawn equipment
Type of grass seed you choose
Complexity of lawn shape: Having a large slope or a yard with areas that are difficult to access may cost more than a traditional flat, square yard.
Consultation: Some service providers may charge for an initial consultation to take a look at your lawn and give you a quote for services.
Water: Hydroseeding requires a tank-full of water (or two).
Take a look at some details of the most important cost factors for hydroseeding.
Cost of Water for Hydroseeding
The cost of water is a crucial part of determining the cost of hydroseeding. The tanks used by professionals can be filled with up to 1,000 gallons of water. During your seeding job, your contractor may ask to refill their tank at your home. Depending on the size of the lawn, they may need to refill the tank at least once.
If you do not allow them to refill with your home's water supply, they'll have to return after getting a refill elsewhere. This can add on mileage and material costs. It may be cheaper to allow them to use the home's water, but you can, of course, talk about your options when you consult with the contractor.
Hydroseeding Materials and Equipment
As for hydroseeding materials, one of the main things you'll need is the grass seed. Some seed types are more expensive than others. Also, certain grasses will thrive better in certain environments, so it's important to know which your region uses.
The states with hot summers and cool winters will grow different grass than states with not-so-hot summers. Your local service provider can give you the best recommendation for the proper seeds to grow in your lawn.
Seed density is another factor to consider. This measures how dense or thick your mulch mixture is. This can have an impact on how strong or thick your grass grows. If your lawn has weak soil, your contractor may recommend using a mixture with a higher level of fertilizer.
Do-It-Yourself Hydroseeding
Do I need to hire a professional to hydroseed my lawn? While this task is certainly possible to do on your own, it can get pretty expensive. Taking the do-it-yourself route means you may pay $1,500-3,000 just to buy the machine necessary to get the job done. You can also search for a hydroseeding rental in your area (which amounts to around $500 per day).
Doing a job like this alone can get expensive and complicated. In the long run, hiring a professional (who already has all the equipment and tools needed) means that you do not have to spare the expense for the costly machinery needed for the job.
Also, professionals will often purchase their supplies wholesale and can get things like seed and fertilizer for a cheaper rate than regular homeowners. And, of course, they have the experience necessary to complete the job safely and efficiently.
Other Methods for Seeding Your Lawn
Homeowners have countless options for laying grass seed and improving the look of their lawn. To decide which method is best for you and your home, it's important to consider factors like the size and shape of your lawn, the climate where you live, and how fast you'd like to see results.
Hydroseeding is often used as an alternative to laying sod or broadcast seeding. Learn more about some of the options homeowners have for growing new grass:
Laying Sod
Sod is a grass seed that has already been grown and is sold in sections to homeowners. These squares are manufactured to include grass, fertilizer, and soil, all held together by the roots. This method for planting grass is a great way to achieve a healthy lawn almost immediately.
Laying sod on your lawn is one of the easiest, most hands-off approaches. Additionally, it can be done in any season throughout the year, as it does not require as much water as other methods.
However, when you compare the hydroseeding cost vs. sod, you'll see that sod can be much more expensive than planting traditional seeds. Homeowners can pay between $1,000-2,700 for laying sod, depending on the contractor you work with and the size of your lawn.
Broadcast Seeding
With broadcast seeding, dry seeds are placed onto the ground, watered, and then covered with hay. This is often the cheapest option for planting new grass but can come with many drawbacks.
Why not choose broadcast seeding? If you live in a particularly windy area, the wind can blow away a large amount of your seeds—half of them in some cases. So, it's recommended to cover your seeds with straw to ensure healthy growth after application.
Unfortunately, depending on the quality of the hay you use, you could encourage weeds to grow in your lawn. Also, birds and other animals may be interested in the hay or the seeds you leave behind on your lawn.
Overseeding
Overseeding is a method in which you apply grass seed on top of existing grass in your lawn. This is often a method chosen by homeowners who wish to fill in or remedy dry, dying spots of grass within a mostly healthy lawn. This technique can also help you bulk up your grass during weak growing seasons like winter or cool falls.
Why Hydroseed Your Lawn?
When it comes to choosing a method to plant new seed on your lawn, which do you choose? Hydroseeding is one of the fastest methods for growing a lush, beautiful lawn. And, it's often pretty affordable for most homeowners when you take into consideration the time you would save compared to traditional seeding.
Here are some more benefits to hydromulching your lawn:
Grass will start growing around a week after your application, and you can expect lush, green grass begin to thrive within 20-30 days.
Hydroseeding works great to cover large areas, so it's a good option if you have a larger-than-average lawn.
It's also helpful if you have an uneven lawn with slopes that make it difficult to plant new seed.
Contractors for new construction often use hydroseeding, as this method allows you to start with bare soil.
Grass seeds are less likely to blow away, as the water and mulch mixture helps the seed stick to the soil.
How Does Hydroseeding Work?
Also known as hydraulic mulch seeding or hydro-mulching, hydroseeding uses a tank to pump a mixture of seeds, mulch, and other ingredients all over the ground.
This mixture can include fertilizer, and some professionals even include a green dye to make your lawn appear lush (even before your grass is fully grown). Also, the green color of the product helps the service people to see which areas have already been treated as they work.
The mulch mixture, combined with the moisture within the soil, will protect your seed from the sun, wind, and erosion. When it meets the soil, it will undergo a natural decomposition, as well as more nutrients being delivered to your lawn.
Hydroseeding often requires little to no prep work, especially if you are working from a bare plot of land. If you are not working on virgin soil, however, you will need to clear away any dead grass or other organic debris. Remove rocks, sticks, and other objects that can disrupt your new lawn.
You can either lay fresh topsoil, or work the existing soil if it's in good condition. Use a rototiller to loosen the soil and get it ready to accept the new seed, making sure it's free of weeds. Once your working surface is smooth and level, you're ready to apply your hydroseed.
After application, it's important to make sure the area dries for 24 hours. Try to plan your hydroseeding project on a relatively dry weather day. After about a month, it will be safe for you and your family to walk comfortably across your grass, and maybe even mow it for the first time!
Pros and Cons for Hydroseeding Your Lawn
If you're still undecided about the technique you'll use to seed your lawn, take a look at some pros and cons. Comparing the advantages and disadvantages of hydroseeding can help you determine if it's the right method for your home:
Pros
Cons
Helps you achieve lush grass faster than traditional seeding

Seed is less likely to blow away

Affordable option, compared to laying sod

Great option for large, angled, or sloped lawns

Requires some prep work to the lawn before application

Requires some maintenance to keep the lawn healthy after planting

Uses a large amount of water

You must stay off the lawn for a while after application
---
Related Questions
Will hydroseeding introduce dangerous chemicals into my yard?
Most professionals who offer hydroseeding services will use products and materials with low toxicity ratings. This means these products are safe for humans and pets to be near, but it is still recommended to avoid ingestion. Fortunately, however, pets and other animals may be deterred by the non-appetizing smell, and thus lose interest in it.
When is the best time to hydroseed my lawn?
As hydroseeding is an advanced method of seeding, homeowners have plenty of opportunities to get it done throughout the year. Spring and fall may be the most ideal seasons, as you can save money and conserve water. These seasons are usually not as hot or dry as summer, so it often means less water will be required.Summer is a good choice if you want your grass to grow quickly. This season's heat helps the seeds to germinate and grow faster than they would in cool temperatures. Talk with your local provider to hear their recommendations for which season is the best for hydroseeding in your neighborhood.
Is hydroseeding worth the cost?
While hydroseeding can be more expensive than traditional broadcast seeding, it can be more cost-effective. In many areas, wind and water can cause seeds to blow away, and in turn, not complete its germination process. However, hydroseeding helps the seed to stay put on the soil and become healthy grass even faster.
Do You Need Landscaping Services?
Get free, zero-commitment quotes from pro contractors near you.
Plan Your Next Lawn Care Project
Hydroseeding is an advanced method for laying new grass seed on your lawn. It's more labor-intensive than broadcast seeding, but less expensive than laying sod.
You can expect to pay anywhere between a few hundred dollars to $3,000 depending on the size of your lawn and the materials needed for the job. However, hydroseeding presents many benefits to homeowners, like the fast, efficient growth of healthy grass.

Upgraded Home Team
We are a team of passionate homeowners, home improvement pros, and DIY enthusiasts who enjoy sharing home improvement, housekeeping, decorating, and more with other homeowners! Whether you're looking for a step-by-step guide on fixing an appliance or the cost of installing a fence, we've here to help.
More by Upgraded Home Team
Published August 20th, 2020 2:29 AM