101 Views
How Much Does Mudjacking Cost? [Price Per Square Foot]
August 24th, 2021 6:05 PM
Share
We're committed to finding, researching, and recommending the best products. We earn commissions from purchases you make using links in our articles. Learn more here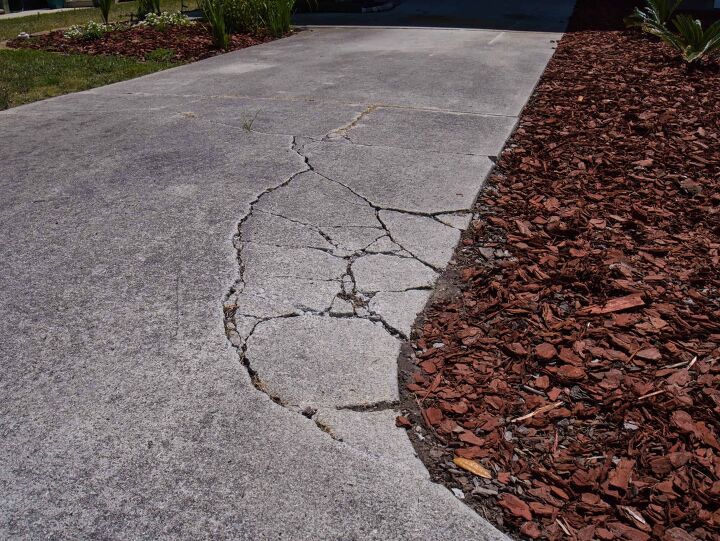 Over time, it's common for a foundation to begin slipping. This can happen with any surface, whether it be your garage floor or your sidewalk. Although, when this does happen, you may find that mudjacking comes in handy. This is why you need to know how much it will cost you.
The average cost of mudjacking is $965, and it costs $4.50 per square foot. Homeowners generally spend $350 on labor for a mud jacking, and it takes 1 ½ hours. Mudjacking saves you $37 compared to replacing a slab, and polyjacking is more expensive at $15 per square foot.
This cost guide will walk you through every situation possible so that you can budget adequately. After reading this guide, you'll better understand the prices and all of what's included. You will then know more about what to expect overall, to make the process a bit easier.
Do You Need Concrete Foundation Repair Services?
Get free, zero-commitment quotes from pro contractors near you.
Average Cost Of Mudjacking
Average Cost Of Mudjacking

Low

Typical Range

Average

High

$300

$546 – $1,383

$965

$2,200+
The foundations of any structure are fundamental to its integrity. Flawed or damaged foundations create risks of damage to walls and roofs, which becomes a significant safety issue. One of the most severe issues that a homeowner can face is a problem with their house's foundations.
For a concrete slab to support the structure above it, it needs to be level. Various techniques can be used to achieve this, each with its own pros and cons.
The average cost of leveling, or mudjacking as it is known, is $965. Although, the actual cost can range between $300 and $2,200. The work overall typically costs between $546 and $1,383.
Mudjacking Labor Costs
The average time it takes to complete a concrete leveling job is only about 1 to 2 hours, no matter the method chosen. This includes the time needed to prepare and spread the material. This also consists of any drilling and patching of holes required to complete the mudjacking process effectively.
Most companies will include labor costs in their quotations, which will come to around $350. Expect the total cost of mudjacking a 100 sq ft slab to be about $850, or $450 if a self-pouring compound is used.
Mudjacking Cost Per Square Foot
Mudjacking typically costs between $3 and $6 per square foot, representing a savings of 25% to 50% on the cost of replacing the slab.
It is typically used for areas such as:
Driveways and walkways
Patios and terraces
Pool decking
Steps
The mudjacking leveling process normally lasts between 5 and 10 years. Although, lasting 5 to 10 years assumes that the surface doesn't continually have to support a heavy, uneven load.
Polyurethane Foam Concrete Raising Cost
Another option to level your foundation is polyjacking. This process involves the pumping of polyurethane foam under the concrete surface. It is a better choice for basements, garages, and foundations, which are load-bearing. Longer-lasting than mudjacking, it's also more convenient as it only takes around 30 minutes to cure.
The cost of polyjacking will range from $5 to $25 per square foot. The main reason for the variation in price is the different formulas used by brands such as Polylevel.
Why Put Foam Under Concrete?
With changes in temperature and humidity, concrete expands, and contracts. This cycle can result in cracking. However, since the invention of polyethylene, contractors have used it to protect slabs from water vapor, which rises from the earth below.
In colder areas, to prevent damage, a layer of rigid foam is often installed horizontally under concrete slabs, especially in a home's foundation. This protects the concrete, warmed by the house's ambient temperature, from being damaged by the cold air beneath.
Foam Foundation Repair Cost
It can cost between $10,000 and $25,000 to repair a foundation with foam jacking. This price works out at $5 -$25 per square foot, according to how much foam is required, and the product selected. As a comparison, it typically costs $4,500 to $9,000 if mudjacking is used to level a slab of the same size. However, the results of mudjacking will not be as strong, stable, or long-lasting.
Mudjacking vs. Foam Cost
Mudjacking vs. Foam

Method

Price

Mudjacking

$2 – $4 per sq ft

Foam

$10 – $25 per sq ft
The total cost of your leveling project will depend, to a great extent, on your chosen materials. Expect to pay about $2-$4 for cementitious grout per square foot of concrete. For residential projects, polyurethane foam will typically cost around $10-$25 per square foot.
The choice isn't only about cost. If your priority is to get the job done quickly with as little disruption as possible, foam repair is the better option. Thinking longer term, the effects of injecting polyurethane under the slab will last longer than mudjacking. This will save money on future repairs.
Project Price Comparisons
The total cost of your concrete leveling project will vary according to the type of project, as well as the technique and materials you select. Do you want to sandjack or mudjack? These terms, although used interchangeably, mean something slightly different.
Projects And Prices

Method

Price

Sandjacking

$3 – $7 per sq ft

Slabjacking

$3 – $16.70 per sq ft

Driveway

$1,400 – $4,700

Foundation

$4,500 – $25,000

Sidewalk

$300 – $1,800

Level Concrete Floor

$550 – $1,400

Self-leveling concrete

$1 – $5 per sq ft

Garage Floor

$300 – $2,200
Sandjacking Cost
Sandjacking is the same as mudjacking, except a sand-based slurry is used. (Usually dry limestone sand). It's most appropriate in locations where the earth below the concrete remains humid.
An advantage is that it can be pumped in from below, rather than through holes drilled in the slab. Sandjacking cost ranges from $3 to $7 per square foot, depending mainly on the slurry composition.
Slabjacking Cost
Contractors often refer to mudjacking as slabjacking, if the work involves raising a solid slab of concrete in areas such as foundations, driveways, and walkways. Slabjacking costs can be anything from $3 to $16.70 per square foot. The price varies according to the:
Type of surface to be lifted,
Slab's size being raised
Load it will need to bear
Whether loads will be static or moving.
Mudjacking Cost for a Driveway
The most common reason for a driveway to start sinking is rainwater from downspouts sitting on the slab. Since a driveway doesn't need to bear a constant load, mudjacking is an appropriate solution.
Mudjacking a complete driveway of 450 square feet will cost between $1,400 and $2,700.However, for a partial driveway, mudjacking will cost from $600-$1,200. Foam jacking a full driveway will cost from $3000 to $4,700 and $1400 and $3000 for a partial.
Foundation Jacking Cost
Foundation jacking is used to address severe issues by increasing structural support and correcting uneven concrete surfaces. Mudjacking a 1,500 square foot foundation will cost between $4,500 and $9,000, or between $3 and $6 per square foot. Foam jacking the same area will cost anything from $10,000 to $25,000, or between $6.70 and $16.70 per square foot.
Sidewalk Jacking Cost
Mudjacking a sidewalk of 100 square feet costs from $300 to $600, while foam jacking the same area will come to between $800 and $1,800. These costs don't consider the additional cost incurred by obstructions such as trees or bushes, which add to the time needed to complete the work. Price may also be increased if there are voids of more than one or two inches under the sidewalk.
Cost To Level Concrete Floor
This typically ranges from $550 to $1,400. Several factors influence cost. In addition to materials, the warranty length and terms are also a factor. Prices vary enormously depending on the choice of leveling technique, and the time required will also impact labor costs.
Self-Leveling Concrete Cost
This costs $1 to $5 per square foot. Providing your slab hasn't slumped more than 1 inch, this is considerably cheaper than mudjacking. It isn't recommended for basements, and any repairs due to erosion damage or other significant issues with foundations must be solved before it can be used.
Garage Floor Leveling Cost
The cost of mudjacking the floor of a 2-car garage will range from around $1,100 to $2,200. Alternatively, if the majority of a garage floor is in good condition, a section can be mudjacked for around $300.
However, it's essential to know the reason for any collapse before embarking on the work. For example, severe erosion at the garage side may suggest that structural work, other than mudjacking, is required.
DIY Mudjacking vs. Hire A Concrete Lifting Professional
The critical factors in deciding whether this is an appropriate DIY project are the size of the area and the slab's weight. A slab of 4 square feet is probably the maximum size to be handled by a DIYer. Larger slabs need professional contractors. Unless the correct weight-bearing equipment is used, there is the risk of cracking the high-density concrete slab.
Mudjacking Equipment Cost
Unless you plan to start a mudjacking business, there is absolutely no need to purchase mudjacking equipment. The equipment alone can cost a whopping $25,000 to $100,000.
However, if you rent the equipment you need, you will cost you about $50 to $300 per day, depending on the tools. Some of the higher-end pumps are not required for smaller projects. You can go into Home Depot and ask a home improvement specialist about the best products for your personal project. That way, you get the best price for your rentals.
Any home improvement store will have equipment that you can use for mudjacking. Be sure to check places such as:
Lowes
Home Depot
Any local home improvement or hardware stores
Do You Need Concrete Foundation Repair Services?
Get free, zero-commitment quotes from pro contractors near you.
---
Related Questions
When does mudjacking not work?
Mudjacking isn't recommended for load-bearing slabs, as concrete is too heavy to fill fine cracks. Structural walls or other architectural features close to the slab may also mean that mudjacking is impractical.
How much does it cost to level a house on a slab?
The price can range from $6.70 to $16.70 per square foot. This project is more costly than other concrete leveling jobs due to the need for the slab to support a constant load.
What types of surfaces can be leveled?
Surface leveling is typically only carried out on the concrete. If the surface is non-load bearing, mudjacking is most commonly used. Foam jacking is preferable for leveling load-bearing surfaces.
What's the difference between mudjacking and foam jacking?
The key difference lies in the material used to provide support for the concrete slab. Mudjacking involves a concrete mixture pumped under the slab, while, with foamjacking, polyurethane foam is injected. Foam jacking also needs more pressure to propel the foam under the slab.
How do I know if my foundation needs to be leveled?
If you notice that cracks in the concrete slab seem to be growing larger, you should take immediate action. Also, doors and windows which will not close easily could also indicate that your slab is no longer level.

Heather Robbins
Heather is a passionate writer who loves anything DIY. Growing up, she learned everything from home repairs to design, and wants to share her tips with you. When she's not writing, she's usually hiking or searching for her next DIY project.
More by Heather Robbins
Published September 28th, 2020 1:11 AM