390 Views
How To Build Deck Steps Without Stringers (Do This!)
October 13th, 2021 5:26 PM
Share
We're committed to finding, researching, and recommending the best products. We earn commissions from purchases you make using links in our articles. Learn more here
Many homeowners opt to use stringers when building steps for their deck, but it isn't always necessary. The best alternative to using stringers is to build box frame steps for your deck. Whether it be materials for the job, dimensions, or working time, let's take a look at how you can build deck steps without stringers.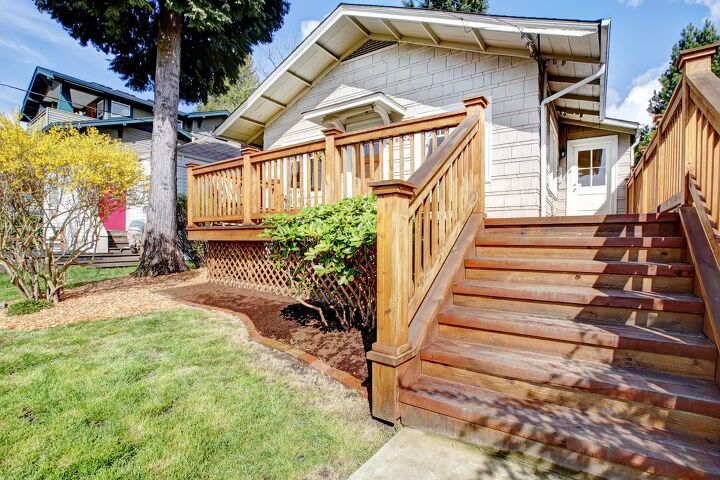 Your new deck is all finished and ready for your first barbeque of the season. Then you realize that you can get to your deck from your home but not down to the yard. You need to add some steps or stairs to the deck. How do you build deck steps without resorting to using stringers?
The easiest way to add custom steps to your deck without cutting stringers is to build box frame steps. Box frame steps allow you to create dramatic steps to your deck. You can create wider steps, steps with less rise, or steps that fit into odd-shaped spaces.
There is no special secret or skills necessary to build box frame steps for your deck. If you successfully built the deck, you have all the skills and tools necessary to build box frame steps. By following a few simple steps, you can soon have a set of stylish custom steps leading to your deck.
Do You Need a Deck or Porch Contractor?
Get free, zero-commitment quotes from pro contractors near you.
Why Box Frame Steps?
There are several problems with using stringers to build steps to your deck.
Stringers can be hard to layout and cut if you aren't extremely skilled at the job.
Stringer layouts use a standard set of measurements that may not fit your needs.
Pre-cut stringers can get expensive, especially when you need several to build a complex set of steps.
On the other hand, box frame steps are easy to layout, cut, and build. If you built your deck, you already understand most of the concepts for building box frame steps. Each step in your project is nothing more than a smaller version of the deck you just finished.
Box frame steps use the same methods as building a deck.
You use the same tools to build box frame steps you use to build your deck.
You can customize the sizes of your steps and easily fit them into different shapes or spaces.
Practical Considerations for Deck Steps
Before you start to build your box frame deck steps, there are some considerations about which you should think. Taking the time to think about and investigate these factors can save you time and money.
Check your local building codes for the minimum requirements. You certainly don't want to build your steps and tear them out because they don't meet building codes.
The distance from the top of one step to the top of the next step is called the rise. Most building codes set the maximum rise of each step at seven and three-quarters of an inch.
The depth from the front of the tread (the place where you put your foot) to the front of the next step must be at least ten inches. There is no maximum tread depth in most cases.  However, the tread depth should be the same from the top to the bottom of your steps.
Materials and Tools – Getting it All Together
Before you start, it is good to make sure that you have all your materials and tools gathered and ready. A little preparation will reduce the frustration that can occur if you must make frequent stops to get screws, nails, or more wood.
The Materials
If possible, you should choose materials for your deck steps that match the material from which you built your deck. In many cases, this is two by six-dimensional lumber. Using two by sixes is convenient because it makes the rise on your deck steps fit the code requirements perfectly.
Some decks use manmade material such as TREX. You can easily build your box frame deck steps out of these manmade materials. The downside is the extra cost involved. However, using manmade materials for your deck steps' treads can give a finished look to your deck and steps.
We always recommend using framing and deck screws to assemble your box frames deck steps. Screws ensure long life and tight joints. Deck screws have a coating that prevents them from rusting and staining your deck.
The Tools
If you built your deck yourself, you already have all the tools you need to build box frame steps. To be sure, you should have these tools ready before you start your steps project.
Measuring tape
Framing square
Pencils or markers
Carpenters hammer
Level
Circular saw
Impact driver and bits
Getting Started – The Step by Step Approach
Step 1 – Put it On Paper
Any project should begin with a plan. Building box frame steps for your deck is no different. Take some time to layout your box frame step design on paper. Make the drawing to scale so you can accurately work from your plan.
Use your plan to estimate how much building material you need for the frame structure and the decking. Don't forget to include any bracing. The bracing under the step decking should be on 16" centers to give the box frame steps the needed strength. The last thing you want are steps that feel bouncy or spongey.
Step 2 – Build the first Step Box Frame
Box frame steps are a smaller version of your deck frame. Begin by building the first box frame for the lowest step in your plan. You have two options about the box frames at this point.
Make each box frame the full depth to the edge of the deck. And attach the frame to the deck supports.
Make each box frame only as deep as the tread depth you want and attach the box frames where they meet.
The first option takes more material and is more expensive. The second option uses less material for the box frame construction but requires additional material to attach and support the box frames.
Step 3 – Assemble the Box Frame
Assemble the box frame. Don't forget to put the braces on sixteen-inch centers along the length of the box frame. We suggest that you cut the outer ends of the box frame the full depth. Using this method means cutting the long frame members to be shorter than the frame's actual length. This method will leave you with a finished look on the box frame's ends with no exposed end-grain.
Step 4 – Place the Box Frame
With the frame built, place it in the proper position with your deck. Make sure the box frame is square. You can use your framing square for this or measure diagonally across each corner of the frame and adjust the frame until the diagonal measurements are equal.
When the box frame is square, use your bubble level to ensure that the frame is level in all directions. Use stakes or other suitable supports to hold the box frame in position.
NOTE: For long steps or very deep steps, you should consider adding concrete supports under the steps. Concrete piers or supports will ensure that your steps don't shift, sag, or settle over time.
Step 5 – Build Another Box Frame
Repeat the steps above for each subsequent step leading to your deck. Adjust the measurements accordingly but don't forget that the tread's depth and the height of the rise should remain consistent for all the steps.
Continue building box frames until you reach the height of your deck. Make sure that each deck frame is square and level. Attach the frames securely and support them adequately to the ground. You want to avoid any springy feel to the steps.
Step 6 – Attach the Decking to the Box Frames
Cut your decking material to the proper length for each step tread. If the length of your steps requires a joint, make sure the joint falls squarely on one of the braces.
Step 7 – Step Back and Admire Your Work
Put the finishing touches on your new box framed deck steps. Additions to your deck steps may include applying stain to the wood or adding some handrails to the sides. Another popular addition is step lights to enhance the look of your new deck steps at night.
Do You Need a Deck or Porch Contractor?
Get free, zero-commitment quotes from pro contractors near you.
Steps Without Stringers – More flexibility and Easier Construction
Adding steps to your new deck or replacing steps on an older deck doesn't require stringers' complexity. Building much simpler box frame steps remove the calculations and cutting issues of stringers. Box frame steps also give you more flexibility in designing your steps to add a unique look to your deck.
We hope that this article has given you some new ideas about adding or replacing the steps on your deck. Sometimes thinking about the box gets you out of the box when designing deck steps. As always, work safe and have fun.
Related Guides

Dennis Howard
Dennis is a retired firefighter with an extensive background in construction, home improvement, and remodeling. He worked in the trades part-time while serving as an active firefighter. On his retirement, he started a remodeling and home repair business, which he ran for several years.
More by Dennis Howard
Published February 24th, 2021 3:55 PM