336 Views
How Safe Is An Apartment During A Hurricane?
January 24th, 2022 11:37 AM
Share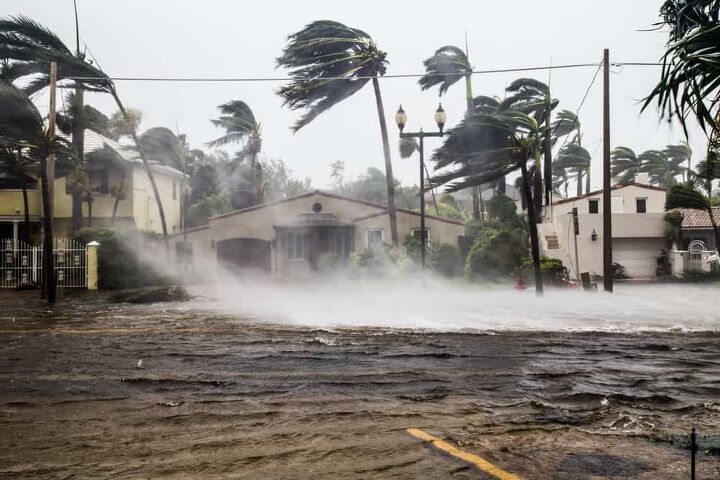 Natural disasters affect 160 million people worldwide each year. While things like tornados, wildfires, and hurricanes are inevitable for some regions, it's a good idea to prepare your home. If you live in an apartment, it can make these events seem a lot more frightening.
So, how safe is an apartment during a hurricane? Well, it depends on where you are in the building. Units that are on the outside wall of the building are much more susceptible to damage. The same is true for those living on the lower levels of the building.
It's natural to be afraid when severe weather hits. Thankfully, there are things you can do to prepare your home to keep you and your family safe. We'll be discussing everything there is about what you can do when a hurricane occurs while you're living in an apartment.
It's a Group Effort
When you're living in an apartment building, you're sharing walls with other people. This means that being prepared is everybody's duty. If everyone plays their part, you'll all be much safer in the long run.
Another thing to mention when living in a building with multiple people is a buddy system. It may seem childish, but having a severe weather buddy can be the difference between life and death. You should know who your neighbors are, have their contact information, and ensure no one is riding out the storm alone.
There may be people in the building who are elderly or in need of assistance. This is another reason why the buddy system is so important. Consider talking with your landlord or property manager about making an official list.
A few other things the building owner will want to do are:
Assigning captains to help share information and check on residents with special needs.
Gathering residents' emergency contacts.
Providing administration and management contacts for residents.
Informing residents how access gates will operate in case of a power outage.
Making a communications plan for residents in case phones are down.
Ensuring the generator maintenance is up-to-date with extra supplies available (filter, oil, fuel).
Scheduling waste pickups and sewer cleanups.
Parking is a Big Deal
Something not a lot of people think about when they're inside during a hurricane is where they're parked. Depending on your apartment building, you may park in a lot on the ground, a garage, or a car park. Wherever your car is, consider whether or not it could be damaged by floods or falling debris.
If you're preparing for an upcoming hurricane, you could move your vehicle to a safe location for the time being. The higher off the ground, the better. The two top floors of a parking ramp are great options if they're available.
Make Sure You're Insured
It can seem a bit premature but knowing that you have everything insured before severe weather hits can save you a ton of money. This includes insurance on your car, apartment, and yourself. You can look at your lease to see what's covered by the owner of the building.
What Should You Stock Up On Before a Hurricane?
No matter what your plan is for severe weather, it's essential to stock up on certain supplies. Even if your building doesn't get damaged, it doesn't mean that the city you live in will be left unharmed. Things like trees and debris in the road can delay grocery trucks and other important deliveries.
If you're not sure about what you should pick up to stay prepared, here's a generalized list.
One gallon of water per day, per person and pet
An emergency kit with First Aid supplies
Mosquito repellent
Necessary medications for anyone in the apartment, including pets
Extra batteries
Candles
Matches stored in a sealed location to prevent them from getting wet. 
A portable, hand-crank radio is also a bonus
A backup phone and charger with important numbers saved.
A solar-powered battery that can charge up your devices
Canned goods
Dried fruit and jerky
Toilet paper
Paper towels
Clean towels
There's no denying that living in an apartment comes with limited space. If you can, store these items in your kitchen cupboards, entryway closet, or even your linen closet. It's also a good idea to fill up your bathtub and washer with water before the storm hits.
This allows you to have access to a way to clean yourself and your clothes. Stay away from any windows, especially when the hurricane is in full force. Keep your curtains drawn as a slight, but extra barrier to catch any flying glass or debris.
The National Hurricane Center suggests that people don't use tape across their windows. This can make glass shards larger and cause more of a threat.
Protecting Your Apartment
Making sure your apartment is prepared for the storm is always a good idea. There are certain things you can do to stay a bit safer during a hurricane. You may even want to suggest your landlord hand out flyers with these tips for other residents as well.
Bring inside any outdoor furniture, planters, and other items from patios and balconies.
Get shutters or panels for your sliding glass doors and windows. Your building's manager should know if there's a specific style needed. You may get lucky and have a landlord that offers to provide and install them for you. 
Identify the safest room in your unit. This is likely an interior bedroom, bath, or hall. Shelter in place there when windy conditions become threatening.
If you have the option, shelter on a lower level to ensure your safety. 
Keep Important Documents in a Safe Place
When you're preparing for a hurricane, it may slip your mind to keep important papers near you. This is an extra step to make sure the aftermath all goes smoothly if you happen to need any of these documents. You can take photos or get copies of things like:
Car insurance
Driver's license
Health insurance
Passport
Medical documents 
Immigration papers
Your lease 
Birth certificate 
Social security card
Getting Your Finances Together
Even during a hurricane, we've got to talk about money. Having an emergency fund can make a massive difference. If your apartment is leveled and you have nowhere to go, you might need to stay in a hotel for a while, and that can add up.
This is why having an emergency fund is so important. In the event that your apartment building was hit, you might need to replace more expensive items, like furniture or electronics. We all know how expensive medical bills can get, which can also come quickly after a hurricane.
What Are Mandatory Evacuations?
When storms pose an increased threat to human life, some cities will have mandatory evacuations for residents. When a government official places a mandatory evacuation, you do not have to leave.
If you stay, you're agreeing to not needing or expecting emergency services when things hit the fan. Some counties will offer hurricane shelters in school gyms and other buildings for those with nowhere to go.
Leaving when an evacuation is announced is a great way to move to a safer place before things get rough. It's important to leave as early as possible to beat as much traffic as possible. This still means you should prep your apartment for damage before you head out the door.
---
Related Questions
Is it safe to be in a high rise during a hurricane?
One of the scariest parts about being in a high rise during a hurricane is you will feel the building sway. If you're feeling uncomfortable in your unit, the safest place to be is the stairwell. This way, you'll also have an easy to access escape route if the worst happens. 
Can a tornado take down an apartment building?
Any structure that's above ground is considered dangerous during a tornado. The safest place to go in an apartment building during a tornado will be the lowest level. Go to the most interior point as possible to ensure your safety. 
Can a hurricane destroy a skyscraper?
The danger hurricanes pose to skyscrapers is unusually high winds. These winds can not only cause damage but destroy just about any building in their path. It depends highly on the design and the construction of the structure to know whether or not it will survive the storm. 

Kirstin Harrington
Kirstin is a passionate writer who loves helping people learn new things when it comes to home improvement. When she's not behind a keyboard, she enjoys DIY projects, crafts, spending time with her pets, and making videos. She hopes that with all she writes, someone is finding a solution to their home improvement needs.
More by Kirstin Harrington
Published October 1st, 2020 7:33 AM