220 Views
How Much Does a Refrigerator Weigh? (Plus Moving Tips)
December 23rd, 2021 12:41 PM
Share
We're committed to finding, researching, and recommending the best products. We earn commissions from purchases you make using links in our articles. Learn more here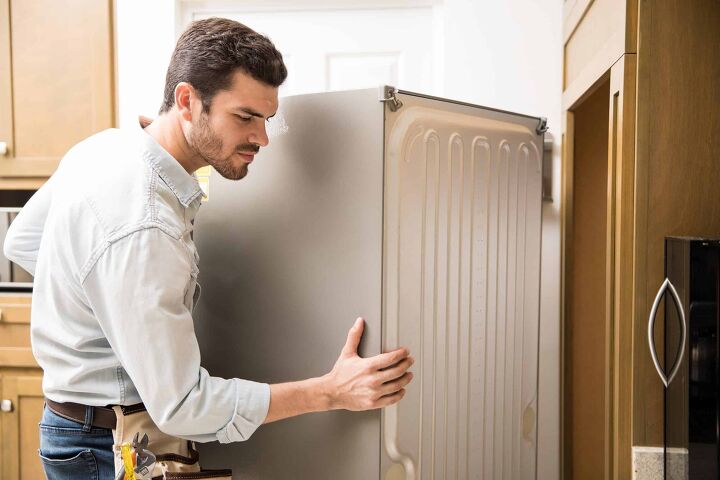 Refrigerators have a wide range of weights depending on capacity and conveniences. A refrigerator is one of the heaviest standard appliances in the home, and for many residents, it has gotten larger and larger. But before purchasing your fridge, it's important to know how much a refrigerator weighs.
The average refrigerator weighs 250 pounds, but depending on the size and model can weigh between 200 and 400 pounds. Smaller refrigerators measure closer to 100 pounds, while larger ones with French doors weigh 300-400 pounds. A family of four uses a refrigerator that has a capacity of 14 to 24 cubic feet.
When choosing a fridge for your kitchen, you have a lot to think about, including the refrigerator size. Although you might not think the appliance's weight is a big deal, think again. Besides having to move the fridge, you need to know how much the refrigerator weighs so you can make sure you have the right support.
Refrigerator Styles
There are four styles of freestanding refrigerators, the newest being the really popular French door refrigerator, which reviewers refer to as luxurious. A number of these French door models certainly have a luxurious price tag.
The other models are the more traditional side-by-side, top freezer, and bottom-freezer refrigerators. A fifth top-of-the-line model is a built-in refrigerator, professionally installed in kitchen cabinetry. Each style comes with its own features that influence how much the refrigerator weighs.
Capacity And Configuration Determine How Much A Refrigerator Weighs
When buying a new or used refrigerator, buyers want to consider how much capacity the family really needs. In today's refrigerator models, capacity is a major factor in the weight of the unit. With advancements in technology, refrigerators are not as heavy as comparable units from thirty years ago.
However, many of today's refrigerators have much larger capacities and many more weight-adding features, such as door-in-door. Your fridge will be heavier if has lots of features and conveniences that can add to the weight of the unit.
For example, extra doors, extra partitions, fancy ice makers, water filters, and specialized shelves and bins all contribute to how much the refrigerator weighs. Plus, consider all the mechanical stuff to efficiently operate these extra features and cool a larger refrigerator.
The capacity and configuration, or style, is important to enjoying the refrigerator for years to come. The pros and cons of a previous refrigerator should generate a list of what is essential in a new refrigerator.
Too Much Capacity Is A Waste Of Money And Food
Buying more capacity than is really needed or the wrong style of refrigerator can be expensive in the long run. The large capacity refrigerator tends to get overstocked, and food may go unused. Likewise, an inconvenient refrigerator configuration can also lead to wasted food. You can lose sight of what you have in the fridge and eventually need to throw it away.
Also, the refrigerator is an appliance that is constantly operating. While the new refrigerator models are energy efficient, they are still running 24 hours a day, 7 days a week.
Ideally, if you live alone or with just one other person, a fridge with a capacity of 4 to 13 cubic feet works well. If you have a household of 3 to 4 people, consider getting a fridge that has 14 to 24 cubic feet. Larger families with 5 or more people likely need a much larger fridge, over 25 cubic feet.
Alternatively, some larger families opt for two refrigerators. They keep their primary fridge in the kitchen, and then they have a spare in the garage or even on a back patio.
How Much Does A Refrigerator Weigh And Why Is It Important?
A typical modern refrigerator weighs approximately 220 pounds, but less sleek models can weigh closer to 250 pounds. If you choose a larger capacity fridge with extra compartments, etc., it can weigh as much as 400 pounds.
There are two major reasons why the weight of a refrigerator is important. The first is the area in which the refrigerator is placed, and the second is moving the refrigerator.
Can Your Floor Support How Much The Refrigerator Weighs?
Buyers often do not consider weight when they see that beautiful French Door refrigerator on the showroom floor. They may only consider whether or not the refrigerator will fit in their kitchen space.
However, floors are designed to hold only so much weight. Wooden floors are still the most popular floor structure in residential homes. No matter what your flooring material is, it's important to know what it can hold safely.
In residential building codes, a floor has a dead load and a live load. These are measures of how much weight a floor can support. You'll need to determine these measurements in addition to knowing how much the refrigerator weighs.
Dead Load Measure
A dead load refers to the materials used in the construction of the floor and any permanent floor covering such as vinyl or carpet. For a wood floor, the dead load is generally between 8 – 9 lbs. per square foot (psf).
This figure varies depending on other factors, such as materials other than wood used for the flooring. Another factor may be materials attached to the underside of the flooring, as in a multi-story structure.
Live Load Measure
A floor's live load refers to human occupancy, furnishings, non-fixed equipment, and anything else not permanently fixed to the floor. Most local residential building codes require the International Residential Code for live loads. This uniform code specifies a load of 40 lbs. per square foot (psf) for wood flooring.
The uniform code calculation will vary with other types of flooring, such as concrete, which supports a much higher live load. Live loads are further defined as evenly distributed weight on the floor area.
Floor Support In The Area Occupied By A Refrigerator
Using the International Residential Code as reference, you can calculate how much weight can be safely applied to an area. Below is a table showing some of the top-rated freestanding refrigerators.
The third column in this table shows the unit weight in pounds of each refrigerator model. The next column shows in inches the width and length dimensions of each refrigerator on the floor.
Based on those dimensions, the next column shows the total square footage that each refrigerator occupies on a floor. The last column shows the building code live load a wooden floor can safely support in the square footage area.
Refrigerator Weight vs. Live Load Area Weight
Below are breakdowns of different popular fridge models. You can see how much a refrigerator weighs, along with its dimensions and necessary live load weight.
How Much Does A Refrigerator Weigh? French Door Refrigerators
French Door Models
Model Number
Unit Wt.

(lbs.)

Dimensions

W" x D"

Total Sq. Ft. (sqf)
Code Live Load Wt. (40lbs. per sqf)
Samsung 25.5 cu. ft. (3-Door)
RF260BEAESR
306
36 x 36
9
360
Frigidaire Gallery 21.8 cu. ft. (4-Door)
FG4H2272UF
335
36 x 30
7.5
300
Kenmore Elite 29.9 cu.ft. (4-Door)
72483
397
36 x 38
9.5
380
Samsung 27.8 cu. ft. (4-Door)
RF28R7351SG
391
36 x 34
8.5
340
LG 30 cu. ft. Door-in-Door (3-Door)
LRFVS3006S
341
36 x 34
8.5
340
LG 26 cu. ft. Wi-Fi enabled (3-Door)
LFXS26973S
284
36 x 33
8.25
330
GE Profile 27.7 cu. ft. WI-FI enabled (3-Door)
PFE28PSKSS
370
36 x 36
9
360
Maytag 25 cu. ft. (3-Door)
MFI2570FEZ
328
36 x 33
8.25
330
Samsung 22 cu. ft. Family Hub (4-Door)
RF22N9781SG
342
36 x 30
7.5
300
Bosch 21 cu. ft. (3-Door)
B36CT80SNS
332
36 x 28
7
280
GE Cafe 23.1 cu. ft. (3-Door)
CWE23SP4MW2
333
36 x 29
7.25
290
Haier 15.3 cu. ft. (3-Door)
HRF15N3AGS
201
28 x 27
5.25
210
How Much Does A Refrigerator Weigh? Side-By-Side Refrigerators
Side-by-Side Models
Model Number
Unit Wt.

(lbs.)

Dimensions

W" x D"

Total Sq. Ft. (sqf)
Code Live Load Wt. (40lbs. per sqf)
Frigidaire 22.1 cu. ft.
FFSS2315TS
285
33 x 32
7.33
293
LG 26.1 cu. ft. Door-in-Door
LSXS26366S
304
36 x 34
8.5
340
GE 25.3 cu. ft.
GSS25GSHSS
320
36 x 33
8.25
330
Whirlpool 21.4 cu. ft.
WRS321SDHZ
243
33 x 32
7.33
293
Samsung 25 cu. ft.
RH25H5611SR
305
36 x 34
8.5
340
How Much Does A Refrigerator Weigh? Fridges With Top Freezers
Top Freezer Models
Model Number
Unit Wt.

(lbs.)

Dimensions

W" x D"

Total Sq. Ft. (sqf)
Code Live Load Wt. (40lbs. per sqf)
GE 17.5 cu. ft.
GIE18GSNRSS
165
28 x 33
6.5
260
Frigidaire Gallery 20.4 cu. ft.
FGTR2037TF
220
30 x 32
6.67
267
LG 24 cu. ft.
LTCS24223S
224
33 x 34
7.8
312
Samsung 17.6 cu. ft.
RT18M6215SG
181
29 x 30
6
240
Frigidaire 13.9 cu. ft.
FFHT1425VV
130
28 x 30
5.83
233
Magic Chef 10.1 cu. ft.
HMDR1000WE
117
28 x 26
5
200
How Much Does A Refrigerator Weigh? Fridges With Bottom Freezers
Bottom Freezer Models
Model Number
Unit Wt.

(lbs.)

Dimensions

W" x D"

Total Sq. Ft. (sqf)
Code Live Load Wt. (40lbs. per sqf)
Whirlpool 18.7 cu. ft.
WRB119WFBM
200
30 x 34
7.1
284
Kenmore Elite 22.1 cu. ft.
79023
231
30 x 33
6.9
276
Kenmore Elite 24.1 cu. ft.
79043
249
33 x 33
7.6
304
LG 24.1 cu. ft.
LDCS24223S
235
33 x 35
8
320
Kitchen Aid 20.9 cu. ft.
ABB1921BRW
525
36 x 25
6.25
250
Eight of the refrigerators shown exceed the uniform code live load for the square foot area. But, it's important to remember you can't just consider the weight of the refrigerator by itself.
Add 50 lbs. of food, and seven more refrigerators are over the live load limit. In some larger capacity refrigerators, food can add one hundred pounds or more.
The newest French Door refrigerators are very popular. However, all but one of the ten models shown here, either empty or with 50 lbs. of food, exceed the live load specification. Top freezer models are the most compliant with the uniform code specification. For almost all shown here, their unit weight allows for a stocked refrigerator that is still within code specification.
Generally, the larger the refrigerator, the less likely it will be within code specification for wooden floors. This is especially true when stocked with food.
Condition Of The Floor In The Designated Refrigerator Area
The condition of the floor is another factor with the weight of the refrigerator. The uniform code live load refers to a newly constructed floor. If the floor is not new, there are other things to consider before moving a refrigerator into an area.
Over time, a wooden floor suffers fatigue. The floor may show signs of sagging, especially in the area that you want to replace a refrigerator.
There may be water damage, perhaps from a previously leaking refrigerator. Warped vinyl or cracked tiles in the designated area may also indicate water damage.
If the floor is over a crawl space, a lack of or a deteriorating vapor barrier in the floor will allow damaging moisture. The floor will be degraded and likely can no longer safely support the uniform code live load.
Termites cause damage similar to water damage and can thrive on an already moisture-damaged floor. Other insects also feast on moist wood.
These are just some of the possible conditions for the wooden floor to no longer support the live load. Checking the entire kitchen floor for wood fatigue or moisture may prevent a later more costly construction project.
So, before you move that luxury Kitchen Aid bottom freezer (525 lbs. empty) into your home, make sure you know how much the refrigerator weighs. You want to determine what your floor can support. You also want to check on the current condition of your floor, especially where the refrigerator will be.
Tips For Moving A Refrigerator
If moving a refrigerator, size and weight might determine whether or not you can do it yourself. You may be hauling the refrigerator to a garage or storage area while remodeling. Or, you might be hauling it to a new home across town.
Either way, knowing how much a refrigerator weighs is critical when prepping to move it. While it can be done, you might consider leaving the move of a heavier French door refrigerator to the professional movers. The prospect of damaging the refrigerator or yourself in the move is real.
To move a refrigerator yourself, you need a plan and the right equipment for the move. The larger the refrigerator, the more complicated moving it might be. Most refrigerators are heavy, bulky items. If you have the manual, look for the unit weight of the refrigerator. Or you can go online and find the unit weight in the specs for your refrigerator model.
Moving Equipment And Planning The Move
A tape measure
Adhesive tape for taping interior shelves, grilles, covers, and any other fixed items that may come loose in transport
A heavy blanket or furniture padding
An appliance dolly capable of hauling the weight of the refrigerator
Straps for fastening the refrigerator to the dolly
A van or truck with a ramp if moving the refrigerator elsewhere
If remodeling, for example, map the route the refrigerator will be taking through the house, out of it, and back into the house. You want to measure doorways, hallways, entry ways, and any turning corners for fit.
If you don't know the measurements (width, depth, height) of your refrigerator, do those also. You may need to remove doors from the refrigerator and/or doors in the house. Add the half-inch or so of the blanket or padding used to protect walls, furnishings, and the refrigerator itself.
If moving to a new home, the same kind of measuring needs to be done. Also, stairways and possible outdoor impediments to the moving path need to be considered.
Before Moving The Refrigerator
Turn the refrigerator off ahead of time, but don't unplug it yet. Allow it to defrost for a couple of hours to avoid mold and excess water in transport. Left turned off overnight is a good idea.
Remove all food while the refrigerator is defrosting. Wipe down the empty interior before transport.
Unplug the refrigerator. Disconnect any tubes.
Use a strong no-residue tape to secure the interior's loose items. These may include shelves, grilles, covers, and any other fixed items that might come loose in transport. You can also remove any loose parts and box or bag them for transport.
Use tape to secure any loose cords, wires, or tubing to the back exterior of the refrigerator. You may also want to tape exterior doors and drawers.
Apply the blanket or furniture padding, especially to protect the exterior of the refrigerator from damage in transport. You may want to lightly secure the blanket or padding with straps or tape.
Moving The Refrigerator
Hopefully, the refrigerator has casters or wheels to move it out from the wall. You may want to put cardboard down to protect the floor. Pull the refrigerator straight out. Do not jostle it from side to side.
Using the dolly, do not try to load the refrigerator from the front of the unit. The dolly should be applied only to the side of the refrigerator.
Wrap the heavy-duty straps around the refrigerator midway from the top and bottom of the refrigerator. Then secure the straps to the dolly.
Pull the refrigerator on the dolly as you move it through the house; don't try to push it.
The refrigerator will travel on the dolly at a tilt, never more than a 45-degree angle. Have another person help you steady and guide the refrigerator from the front.
It is important to keep the refrigerator upright to avoid damaging the sealed system. French door and bottom freezer models, according to manufacturers, should always remain upright in transport. They can be tilted some to get through doorways, up stairs, and into moving vans.
Use the ramp to load the refrigerator into a van or truck. With another person guiding, pull the dolly into the van or truck. When exiting, with help, carefully push the dolly out of the van.
Side-by-side and top-freezer models can be laid carefully on their side for loading if unavoidable. The main concern in this position is the doors coming open during transport. However, if the doors have been secured, this should not be a problem.
Be sure the refrigerator is secured in the moving vehicle. It should not be able to roll or move.
After The Move
Consider cleaning the refrigerator coils while the refrigerator is not yet in place. This is routine maintenance that will keep the refrigerator running efficiently. You may want to put some added moisture-barrier protection on the floor underneath the refrigerator. Moisture is a primary factor in wood deterioration.
If the refrigerator was on its side for transport, it needs equal time standing upright before being plugged in. This procedure is to protect the critical cooling system. However, it is a good idea to do this even if the refrigerator traveled upright.
After plugging in the refrigerator, depending on the refrigerator model, it will take time to return to its temperature settings. You may want to wait a day before putting food back in it. Moving a refrigerator is not an easy task, but it can be a more efficient task with the necessary planning, equipment, and help.
---
Related Questions
Do I have to unplug and move the refrigerator to clean the condenser and coils?
Unless there is easy access to the back of the refrigerator, you have to move it out from the wall to clean. If you have an icemaker, you need to detach the water supply line for the move.The move and cleaning will take more than 30 minutes. So, the perishable foods in the refrigerator will also have to be moved to a cooler or another refrigerator.This cleaning maintenance should be done about once a year. When done, the refrigerator will operate more efficiently.
What is the correct temperature for my refrigerator?
Just above freezing – around 35F to 38F degrees. This temperature range is above freezing and yet below the temperatures that cause foods to spoil. Use a refrigerator thermometer to get an accurate reading in your fridge.
Related Articles
UpgradedHome has many useful articles on kitchen remodeling. Here are just a few:

Upgraded Home Team
We are a team of passionate homeowners, home improvement pros, and DIY enthusiasts who enjoy sharing home improvement, housekeeping, decorating, and more with other homeowners! Whether you're looking for a step-by-step guide on fixing an appliance or the cost of installing a fence, we've here to help.
More by Upgraded Home Team
Published July 27th, 2020 1:19 AM