165 Views
Do I Need To Anchor My Backyard Shed? (Find Out Now!)
April 28th, 2022 5:00 PM
Share
No matter how sturdy a shed may seem, it never hurts to put in extra work to protect it from the elements. You should always anchor your shed so that it doesn't take on excessive wind damage. Whether it be the wind or freezing temperatures, let's take a look at why you should anchor your shed.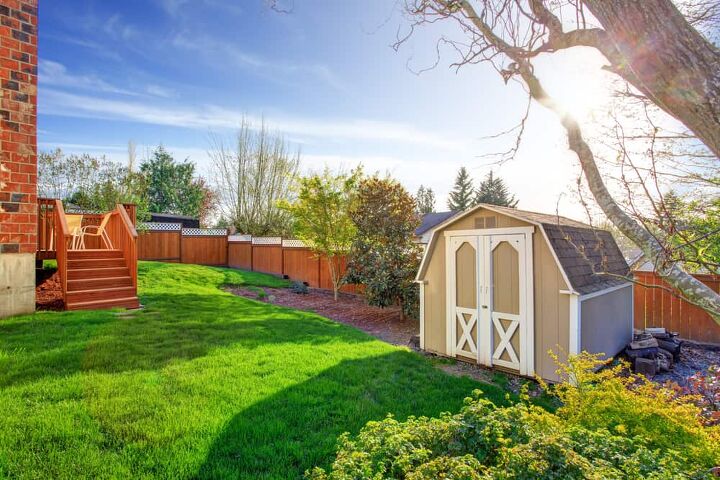 It is both a luxury and a convenience to have a shed in your backyard. Like any other structure, a shed is susceptible to inclement weather and strong winds. So, do I need to anchor my backyard shed?
Anchor your backyard shed so that it doesn't come loose from the foundation or blow away. Winds that measure 70 miles per hour or stronger are enough to damage a shed and the foundation. Some local building codes won't grant you a permit unless you anchor your backyard shed.
Concrete expansion anchors are a great option because they fit into your existing foundation. You should always anchor your backyard shed even if building codes don't require it in your area. Follow along as we explore why you need to anchor your backyard shed.
Do You Need Handyman Services?
Get free, zero-commitment quotes from pro contractors near you.
Do I Need To Anchor My Backyard Shed?
You need to anchor your backyard shed to protect it from the wind and shifting soil. An anchor can also increase the stability of a shed within the foundation itself. Local building codes don't always require you to anchor your backyard shed.
Anchoring a shed is more a matter of protecting the items you have in storage than complying with code. You can also protect your home and property if you anchor your shed. A shed can fly with the wind and damage your home, car, and personal property.
The wind during a storm can exceed 70 miles per hour which is enough to uproot a small shed. Winds as fast as 100 miles per hour will almost surely damage or shift your shed if you don't anchor it. Anchor your backyard shed to increase its stability and it may even help with your insurance premium.
What Happens if You Don't Anchor Your Shed?
Winds can damage your shed and its foundation if you don't anchor it. Strong winds may shift the foundation which will require expensive repairs. Foundation damage weakens the structural integrity of a shed which leaves it vulnerable to further damage.
A shed can fall over or even lift out of the soil during a strong storm or tornado. The average shed can only resist winds up to 70 miles per hour. Tropical storm winds often reach 75 miles per hour and higher which is more than enough to uproot a shed.
Some plastic sheds can withstand up to 120 miles per hour, but that doesn't protect against climate factors. Temperatures change between seasons and change the quality of the ground that you post your shed in. That is why you should always install a shed into a cement foundation with anchors to protect again shifting soil and strong winds.
Steps in Anchoring Down Your Shed
There are different ways people anchor down their sheds, but it all comes out working the same. Before anything is done, you have to know what type of anchors you want to use. The size and the material of the shed make a significant difference.
These are the different types of anchors:
Cable anchors.
Metal Straps.
Galvanized connectors.
Twist in Anchors.
Chain anchors.
Concrete tie-downs.
Step 1: Find out the Regulations and Codes for Anchoring Sheds
Go through the local ordinances and the National Building Codes to see the current regulations for sheds. With every natural disaster, these codes change, so it is better to be on the safe side. Amendments to codes happen unannounced to the public annually.
There are two types of regulations and codes. One is the logical and helpful one which goes into detail about materials and sizes. The other one is how much cash they can collect with fines in new zoning permits.
Step 2: Put the Anchors in the Ground
You will have to dig a hole for some anchors, put the anchor in, and fill it with concrete. Others require a powerful impact drill to drill the anchors into the ground. It depends on which ones you purchase and whether the shed sits on blocks or a concrete slab.
Step 3: Connect All Four Connections to the Anchors
Whether you are using a chain, cables, or any other strap, tie-down the shed firmly. If you are using the skids or frame, grooves should cut into 2x4s where the strap or chain goes. Each corner should have its tie-down to the anchor to hold the shed down from the floor.
For straps or chains, going over the roof, strap one to the front and go over the top. On the same side of the building, tie the back half the same way as the anchor in the front. Follow the same procedure on the other side of the shed.
Step 4: For Other Straps
The Metal straps have a different setup on the anchor. They have a bolt that the strap wraps around as you turn the bolt. When it reaches the end, it locks itself into place for a firm hold.
The rest of them all work the same. They all go on one side, wrap around the board or top, and come back into the same loop. For the ones that are anchoring the roof, the anchor in the back will connect.
Other Reasons to Have Your Shed Tied Down
Tieing down your shed will add stability and strength to the building. You will notice the shed will not vibrate or shake when you open the door. It will also not have the rocking effect when the wind blows, or you walk across the floor.
Safety is Always a First Reason
If the wind takes away your shed, one thing is a life-threatening hazard. Most sheds have electricity going to them. If yours has electricity, it is safer knowing the electricity stays connected if your shed remains in place.
Another reason tieing it down keeps everyone safe. The last thing anyone would want is a shed rolling over chasing them. If it is headed to destroy other people's property, the homeowner and shed owner are responsible for the damages.
About the Top Four Anchors of Choice
Construction workers and those who anchor down buildings for a living have their favorite methods to anchor down. These are the top four choices the professionals say work the best.
Concrete Expansion Anchors: They are bolts used within an existing concrete slab. They work best if the shed and concrete are already built.
Anchor Bolts: These are designed for the concrete right before it dries completely. When it is soft, it is easy to put in place. When the concrete cures, it firmly holds the bolts in place for a reliable anchor.
Foundation Straps and Anchor Plates: This type of anchor is used for temporary or permanent. It is for foundations and sheds that are already in place.
Shed Anchors Auger Style: These are rods with screw discs to screw in the ground with a powerful industrial or impact drill. These are very challenging to screw into the ground, especially when it is hard ground. The ring at the top is where the cables or chains go to tie down to the building.
Securing the Different Types of Sheds
There are three different types of sheds that you may have to take into consideration when anchoring. Each one is a different scenario, and using the wrong anchor can damage the shed.
Wood
Wood is one of the sturdiest materials used in making sheds. All of the items used for anchoring are good choices. It is the only shed you have this option to choose between all of the listed anchors.
Plastic
Plastic is among the weakest to hold its own in anchoring. It would be best if you secured it to the ground with cables or straps. Screws will not hold, and chains will damage the shed.
Metal
The same applies to the metal sheds as the wooden sheds, even though the metal sheds are lighter.
Do You Need Handyman Services?
Get free, zero-commitment quotes from pro contractors near you.
---
Related Questions
What is the best method to secure a shed?
Concrete is the best method. All others will deteriorate or rust over time.
Since wooden sheds are heavy, do they still need to be anchored?
Yes. It does not matter how heavy the shed is or what it is made of in material. Water will make it float away, and the wind can blow it away if it is not anchored.
How much do sheds cost?
It depends on the size and material of the shed, but the prices range from $400 to $17,000.Aside from your shed, you should also look into How To Secure Patio Furniture From Theft. 
Summing It Up
Local building codes don't always require you to anchor your backyard shed. However, it is a code idea to anchor your shed even if it's not required for safety purposes. Anchor your backyard shed to protect the structure and the things inside of it.
Check to see if your local Building Department requires you to anchor your shed to avoid penalties. Your shed can blow away or shift in the foundation during strong winds if you don't anchor it. Auger-style shed anchors and concrete expansion anchors are the best way to secure a backyard shed.
Related Guides

Upgraded Home Team
We are a team of passionate homeowners, home improvement pros, and DIY enthusiasts who enjoy sharing home improvement, housekeeping, decorating, and more with other homeowners! Whether you're looking for a step-by-step guide on fixing an appliance or the cost of installing a fence, we've here to help.
More by Upgraded Home Team
Published March 25th, 2021 11:00 AM