140 Views
What Are The Top 7 Ceiling Fan Brands?
November 1st, 2021 6:25 PM
Share
We're committed to finding, researching, and recommending the best products. We earn commissions from purchases you make using links in our articles. Learn more here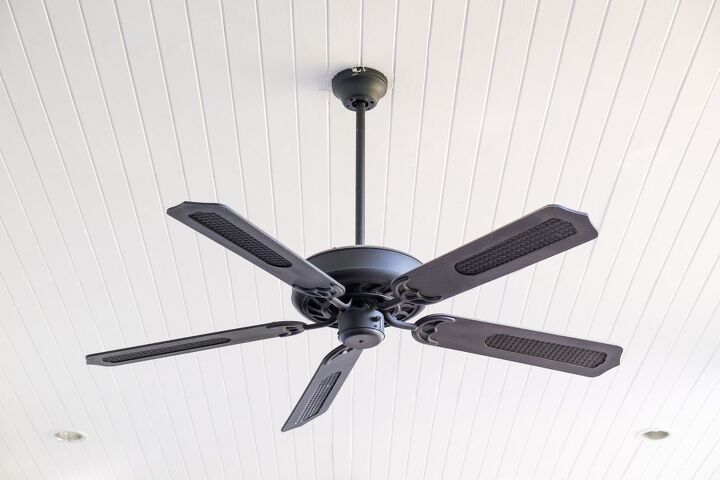 There are some items and some types of equipment that we don't mind changing every once in a while, even once every few years like a toaster or trash can. Then there are some things in the home that we hope we never have to fix or replace. Sometimes these are more expensive items, or they can often be things that can be a bit more difficult than buying a new one and plugging it in. These are items like ceiling fans. And this is also why it is important to buy from dependable and proven ceiling fan brands.
The following list of ceiling fan brands are Minka-Aire, Craftmade, Kichler, Matthews, Monte Carlo, Hunter, Casablanca, and Quorum Fans. Also, brands like CARRO, Ashby Park, and Hampton Bay are leading brands some at Home Depot. These fans are generally easy to install and use, and have a sleek design that homeowners love.
Ceiling fans do more than add an aesthetic touch to a room. They offer more benefits than helping to keep rooms cool. Ceiling fans provide more advantages than merely circulating the air. The truth is, ceiling fans deliver many benefits and advantages, so finding good ceiling fan brands is the place to start.
1. Minka-Aire
In addition to being one of the leading ceiling fan brands, Minka-Aire also offers homeowners a plethora of ceiling fan options and styles. A big reason for the success of Minka-Aire is its sheer size as it is regarded as the largest of the ceiling fan brands. That size enables many options for consumers too when it comes to choosing the right ceiling fan for their home or business.
From remote control ceiling fans and ceiling fans with lights to indoor and outdoor ceiling fans, Minka-Aire has an entire selection. That means customers can not only get ceiling fans from a reliable and proven ceiling fan business, but they also can get a great selection.
While ceiling fans offer many benefits everyone has their own specific reasons for choosing a fan. Finding the type of ceiling fans to meet those needs is the big Minka-Aire advantage. So from keeping cool to finding ceiling fans that work with the decor, Minka-Aire has you covered.
2. Craftmade
Many ceiling fan brands offer help with installation and even design, but the Craftmade ceiling fan company made it their mission. That mission has led to Craftmade also becoming one of the top ceiling fan brands, and not only for custom and seamless installations. Craftmade is also a recognized leader in home lighting and for home accessories.
When it comes to ceiling fans though, Craftmade offers more than the most helpful and customizable ceiling fan options. Another area where Craftmade gets high marks is in providing exceptional customer service. And if there is one factor that goes a long way in being considered reliable, it is the willingness to stand behind and support your product.
Homeowners and businesses today that are looking for a good ceiling fan brand can trust and rely on Craftmade ceiling fans. And they can depend on having the help, service, and support for their ceiling fans too.
3. Kichler
When people hear the name Kichler, they often first think of lighting. There is also a good reason for that because Kichler Lighting has been in the lighting business for more than 80 years. So, it is also understandable when people are surprised, and usually pleasantly, to discover that Kichler is also a leading ceiling fan brand.
Kichler has found its success in keeping to its small business practices, despite its global growth. That means putting an emphasis on customer relationships and delivering the best in customer service. It also doesn't hurt to back those strong principles with proven products and more than a little bit of experience.
If you are looking for a quality and experienced ceiling fan brand, don't forget to consider Kichler because they do more than lights. And if you are looking for a company to grow with or that will treat you as much like a neighbor as a customer, then it could be time to look up the nearest Kichler Lighting location near you.
4. Matthews
The Matthews Fan Company proudly touts being a business built on the strength of American labor and the quality of American-made parts. It is that same level of commitment to staying American that can also be found in the ceiling fans produced by this Illinois-based company. That quality and that commitment are also a couple of reasons why Matthews is one of the most reliable ceiling fan brands in the Midwest and beyond.
From ceiling fans to wall fans and portable fans, when it comes to fans, the Matthews Fan Company is also a leader in fans. That leadership is evidenced in areas like design where Matthews is noted for delivering aesthetically pleasing fans of all types.
If you are looking for ceiling fan brands that offer quality, decorative value, and effectiveness, then the Matthew Fan Company is on the shortlist. Customers of the Matthew Fan Company may know the brand as either Matthew-Gerber" or "Atlas." Regardless of what brand name they are using though, when it is Matthews it spells quality, commitment, and one of the leading ceiling fan brands.
5. Hunter
The Hunter ceiling fan brand is one of the leading ceiling fan brands and can be found at common retailers such as the Build with Ferguson company. The Hunter ceiling fan company is also reputed for its quality combined with its many ceiling fan lighting options. This is also beneficial for homeowners needing help with ceiling fans with want lighted ceiling fans.
The Hunter ceiling fan brand is built on principles such as delivering great quality service along with the highest quality and most dependable products. Those principles are put into every Hunter ceiling fan and have also made Hunter a name recognized as one of the best ceiling fan brands.
Homeowners who are looking for reliable and effective ceiling fans will find that and more at Hunter. In addition to getting a quality ceiling fan customers will also discover a range of ceiling fan options, types, and styles. That includes lighted decorative ceiling fans, affordable ceiling fans, and more than likely the right ceiling fan for your home too.
6. Quorum International
The value of ceiling fans has not gone unnoticed by Quorum International. That is also why they create ceiling fans with a focus on function. From improving air circulation, improving heating and cooling airflow, saving energy, and even providing light Quorum International ceiling fans are built to do the job. And when it comes to choosing from the best ceiling fan brands, Quorum is firmly in that conversation.
Quorum International did not leave appearance to the wayside, however, as there are also many styles and designs to choose from. Those styles and designs also come in an entire array of color schemes to match the decorum of virtually any home or business. In addition to those benefits, this leading ceiling fan brand is also continually innovating and improving. Those efforts result in designs and styles that make Quorum ceiling fans even more efficient and cost-effective.
Homeowners looking for the most practical ceiling fans, that also provide aesthetic qualities and efficiency value will be pleased with the Quorum International ceiling fan brand. In most cases, Quorum ceiling fans are shipped in boxes, and can typically be constructed without much effort. Form and functionality have made Quorum International a leading ceiling fan brand, and are only a couple of reasons to consider Quorum the next time you need a ceiling fan.
7. Vaxcel
Like a few of the leading ceiling fan brands, Vaxcel has been working in the ceiling fan business for quite some time, for more than 30 years to be more precise. And that equates to more than three decades of building, designing, and improving their ceiling fans. Not unlike a few of the other top ceiling fan brands too, Vaxcel has also been dealing with home lighting for years. So, if it is ceiling fans or ceiling fans with lights, Vaxcel knows a thing or two.
All that experience in ceiling fans also means that Vaxcel has learned a thing or two about creating beautiful ceiling fans. For homeowners, that looks like having many choices in the distinctive and attractive line of Vaxcel ceiling fans. And Vaxcel also offers a customer support line to help customers with everything from choosing a ceiling fan to getting help.
These are a few of the reasons that Vaxcel has earned the right to be considered one of the leading ceiling fan brands. And those reasons have also been enough for Vaxcel ceiling fans to have found a place in the rooms of many homeowners.
Related Guides

Upgraded Home Team
We are a team of passionate homeowners, home improvement pros, and DIY enthusiasts who enjoy sharing home improvement, housekeeping, decorating, and more with other homeowners! Whether you're looking for a step-by-step guide on fixing an appliance or the cost of installing a fence, we've here to help.
More by Upgraded Home Team
Published October 29th, 2021 5:08 PM