30 Views
What Are The Pros And Cons Of Living In Salt Lake City?
July 24th, 2021 6:51 PM
Share
We're committed to finding, researching, and recommending the best products. We earn commissions from purchases you make using links in our articles. Learn more here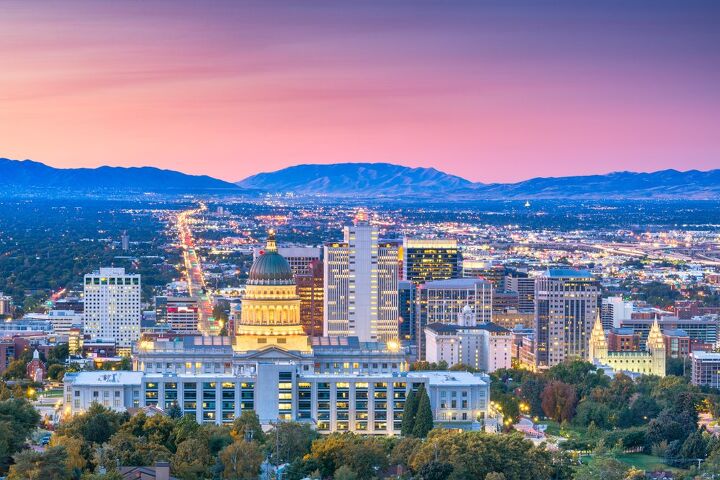 Utah is widely recognized as one of the friendliest states in the USA. With its proximity to several major players in the vacation destination game like Nevada, California, and Colorado, Utah is quickly becoming one of the most desirable places to live.
The state boasts a thriving economy, affordable cost of living, easy access to sports like skiing, hiking, and camping, and an array of stunning landscapes. Whether you're a city slicker or a fan of country living, Utah will have something to offer! And if you're looking for the best of both worlds, Salt Lake City is the place for you.
Salt Lake City has been a destination for Americans all over since 1847. Beautifully nestled in a mountain valley at the foot of the Wasatch Mountain Range, it is the capital of Utah. With its booming job market and low crime rates, Salt Lake is a wonderful place to either start a family or settle in for comfortable retirement living.
The pros of living in Salt Lake City include a booming job market, low crime rates, and beautiful scenery with class 2-5 rivers, breath-taking mountains, lakes, and parks. The cons include lack of public transportation, expensive real estate, lack of shopping malls, and downtown housing. Finally, if you're not a Mormon, religion and cultural differences can be an additional challenge.
Read on to find out if Salt Lake City is worth the move!
Do You Need to Hire Movers?
Get free, zero-commitment quotes from pro contractors near you.
What Are The Pros Of Living In Salt Lake City?
There is a lot to unpack about how great SLC living could be. Let's find out if it's worth it for you to unload that Uhaul and set up shop on the western shores of The Great Salt Lake.
Easy Access To 5 National Parks
Utah is home to five (you read that right— five!) National Parks:
Zion National Park
Bryce Canyon National Park
Capitol Reef National Park
Canyonlands National Park
The Arches National Park
People travel from all over the world to visit these monolithic parks with their stunning rock formations and scenic overlooks. Imagine living close enough to hit all five in a long weekend!
Arches National Park
The closest park to Salt Lake City is The Arches with a drive time of 3 hours and 30 minutes, depending on whether or not you've got a lead foot (more on Utah driving later).
Located in Moab, The Arches boasts over 2,000 natural sandstone arches. With a generous mixture of challenging and easy-to-tackle trails, this national park is great for the elderly and the young. The beauty and wonder of nature is on full display and only a short drive away from Salt Lake City!
National Parks Within Driving Distance of Salt Lake City Include:
Craters of the Moon National Monument and Preserve, Idaho
Yellowstone National Park, Wyoming, and Montana
Grand Tetons National Park, Wyoming
Mesa Verde National Park, Colorado
Great Basin National Park, Nevada
Grand Canyon National Park, Arizona
Sawtooth National Forest, Idaho
These popular parks are not in the state of Utah, but still within a manageable driving distance. It takes less than a day to reach these parks in Nevada, Colorado, Wyoming, and Arizona.
National parks are an easy addition to anyone's bucket list and are great destinations for families looking for an affordable vacation.
Perfect For Outdoor Living
Salt Lake City is an outdoor paradise. With easy access to hiking trails, campgrounds, and fishing, skiing, and snowboarding, the place is a hub for lovers of the great outdoors.
Because the city sits ensconced by mountains, you have your pick of outdoor activities. Mt. Olympus is one of the most recognizable and sought after sites for hiking in Salt Lake City. A 6.3 mile hike, you get some of the most stunning views of the Salt Lake Valley from Mt. Olympus. Pack a sturdy pair of hiking boots, though— this trek packs a punch!
The Outdoors In Your Backyard
Because everything is so central, there is no pressure to spend the night in the wild wilderness surrounding Salt Lake City. For the city slickers out there, living in Salt Lake City allows for a day of Mother Nature without the overnight commitment.
Amazing Camping
For those of you who enjoy sleeping under the stars with the wind on your face, the area surrounding SLC is flush with campgrounds great for stargazing on warm summer nights. If you're looking to escape the hustle and bustle of the city in search of some peace and quiet, Stansbury Island will more than deliver. Surrounded by the salty waters of — you guessed it— the Great Salt Lake, this diamond in the rough is rarely crowded and allows for camping just about anywhere.
If you're a fan of fishing, there are hundreds of spots for you to explore, including the Weber River, famous for its trout and only a thirty-minute drive from Salt Lake.
Nearby Skiing At Its Finest
Winter sports are no joke in Salt Lake City.
If you love to ski or snowboard, Salt Lake City's surrounding mountains have more than enough slopes to satisfy. There are a plethora of places 30-45 minutes away from downtown SLC, including Alta Ski Area, Park City Mountain, Snowbird Resort, and Brighton Ski Resort.
Skiers from all over the world come to Utah to enjoy the snow. Residents of Salt Lake City can ski or snowboard to their heart's content without breaking the bank by staying at an expensive ski resort. You can pack up your car for the day and be back home before it gets dark!
Booming Job Market
Nicknamed the Silicon Slopes, Salt Lake City is in the midst of a technological boom. College graduates and young professionals are flocking to SLC. With an unemployment rate below 4%, the city boasts one of the strongest job markets in the country.
There has been steady job growth (even through the Coronavirus pandemic) in the areas of healthcare, education, and retail. The city had a lower business shut-down rate than other major cities, pulling ahead of places like Austin and Denver when it comes to having a strong, robust job market. Experts say the city is economically sound, back to where it was pre-pandemic. Not many cities in the U.S. can say the same.
Excellent Education
Utah is known for its excellent educational opportunities. Almost every school district in the state exceeds expectations when it comes to grade point average, Salt Lake City included.
There are also a plethora of higher education opportunities in Salt Lake City itself. The University of Utah in SLC is ranked #97 in the 2021 edition of Best Colleges.
Salt Lake City Community College is the best of its kind, recognized nationally for the quality of education it provides to its students. SLCCC provides over 30 different fields in which students can earn degrees and certificates.
What Are the Cons of Living in Salt Lake City?
While Salt Lake City is certainly an appealing place to live, there are a few drawbacks to consider.
Housing Shortage
Even though the cost of living in Salt Lake City is relatively low, Utah as a whole is experiencing a housing shortage. With so many young professionals flocking to SLC, the price of housing has seen a definite uptick in the last few years.
In-demand neighborhoods and surrounding communities are on par with other desirable places to live in the country like Denver, CO. The average cost of a house in Salt Lake City is around $400,000, having risen 7.4% over the last few years.
Reasonable Rents
While purchasing a home falls on the more expensive side of things, renting is actually on par with the national average. Renting in Salt Lake City is a viable option and extremely affordable with an average cost of around $1,000 a month for a moderately sized apartment.
Many Businesses Are Closed On Sundays
Because Salt Lake City is a religious hub for members of the Church of Jesus Christ of Latter-day Saints, many businesses are closed on Sunday.
Just know that it may take you a hot minute as a new resident to figure out which businesses are open on Sundays, and you may have to wait until Monday for that thing you really need.
Liquor Laws
Compared to the rest of the states in the U.S., Utah's liquor laws are decidedly behind the times. The state is still operating under a 3.2% definition for liquor. This means that any alcoholic beverages you would purchase at the grocery store would have a lower alcohol content than what you might find at the liquor store. Restaurants follow the same protocol.
Additionally, any bar, club, restaurant, or tavern that sells liquor is required to shut down by 1 a.m. statewide.
Lead Foot Drivers
Because Utah has a lot of open space, natives are prone to speeding between cities. You can literally drive for 100 miles between towns and not pass a single soul. Hence the lead foot, pedal to the metal dilemma. An insurance quoting tool called QuoteWizard ranked Salt Lake City drivers 6th in the nation for worst drivers! You can almost certainly expect your car insurance cost to rise when moving to Salt Lake City.
Do You Need to Hire Movers?
Get free, zero-commitment quotes from pro contractors near you.
Our Final Take
No city is absolutely picture-perfect, though Salt Lake City comes pretty close. When weighing the pros and cons of moving to the capital of Utah, it's important to consider what kind of lifestyle you're looking to create. Luckily, Salt Lake City has something for everyone!
Related Articles

Paige Hanawalt
Paige is an elementary school librarian with a passion for writing. Her hobbies include reading an exorbitant amount of fantasy, slowly teaching herself to draw, and home decor. While she isn't the most talented artist or interior designer, what she lacks in skill she more than makes up for in enthusiasm. When she's not curled up with a book, you can certainly find her curled over the keyboard.
More by Paige Hanawalt
Published June 22nd, 2021 4:46 PM