273 Views
How To Get Rid Of A Couch
June 22nd, 2023 8:25 AM
Share
We're committed to finding, researching, and recommending the best products. We earn commissions from purchases you make using links in our articles. Learn more here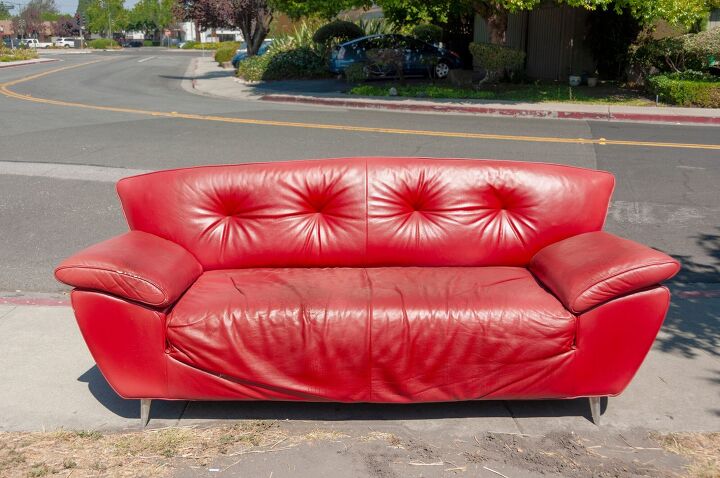 Maybe your sofa is old and tattered or maybe you just don't like the color anymore. Whatever the reason, if you're wondering how to get rid of a couch, there are plenty of ways to do it.
Sell your sofa on online marketplaces or at a garage sale. Certain charities will pick up donatable items or you could put a "FREE" sign on the couch and place it on your curb, depending on where you live. If purchasing a new sofa, some stores will dispose of your old one. If all else fails, haul it to the dump.
Sometimes, people hang onto a couch they don't want just so they don't need to deal with getting rid of it. Sure, it can be a hassle if you have to move such a bulky item by yourself. But with so many available options these days, this scenario would be an unlikely last resort.
Is It Time To Get Rid Of Your Couch?
Before you decide to let go of your couch, is there a way you can give it new life? You could steam clean it, reupholster it, or try a slipcover if it's in good shape and you simply want a different look.
If not, a few things influence how you should get rid of a couch. Primarily, consider its condition, size, and how fast you want it gone. For example, giving it away for free or donating it will be the fastest option. If it's in awful condition, you won't have any choice but to trash it.
Here are the top five ways to get rid of a couch.
1. Sell Your Couch
If your couch is in good shape, consider selling it to snag some cash for your new sofa. Make sure the furniture is free of mold, mildew, bed bugs, and other issues. If it has any of these things, you need to trash it.
However, if it only has minor damage, it's still sellable. Many people will gladly reupholster or make repairs to get a new-to-them couch at a budget-friendly price.
Nowadays, it's easier than ever to sell used items thanks to online options like Craigslist or Facebook Marketplace. However, be wary of scammers and arrange safe pick-up terms. Another possibility is asking friends or family if they know anyone who would like to buy a gently used sofa. Make buyer pick-up a part of the sale terms and you don't have to worry about transporting a bulky couch.
If you have multiple items to sell, a garage sale could be a good option to unload all of your stuff at once. Of course, this only works if you're prepared to put in the effort a yard sale entails. Also, there's no guarantee everything sells, so afterward, you may still need to deal with getting rid of your couch.
2. Donate Your Sofa
If nobody offers to buy your sofa (or you don't care about getting money for it), donate it. Once again, make sure it's in good condition. Start with family or friends that are willing to pick up the couch, since they get it for free. Spread the word to anyone who might know a college student, someone starting out in a new place, etc.
You can also try a more unconventional approach by calling local schools, theatres, etc. that might be interested. Many will gladly pick it up from you when they know they can get it for free.
If you can't find any takers, post it for free on online marketplaces or sites like Freecycle.org. Otherwise, call a local charity such as the Salvation Army or Goodwill and see if they will pick up large items.
Many places have designated days when they will come to you and take things off your hands. Other places will schedule a specific date and time with you. Other options are organizations like Habitat for Humanity Restore, The Furniture Bank Network, Vietnam Veterans of America, and AMVETS.
If no charity or thrift shop in your area does pick-up, make arrangements for dropping the couch to them. The easiest way is to bribe a friend with a truck. Offer them lunch or return the favor by helping them out with a project.
3. Check With Furniture Stores
If you're planning to buy a new sofa, ask the furniture store if they'll take your old couch. Some stores include disposal of your old sofa in the purchase price.
Stores may also offer trade-in programs. They'll give you a percentage off the purchase price in exchange for your old couch. These stores either fix it up to sell, donate it to a charity, or recycle it.
Before deciding where to buy your new sofa, ask around to find a store that offers one of these options. Also, verify that they accept any sofa, as some only take brands they carry. Flexibility with where you buy your couch will provide a much more hassle-free experience.
4. Put It On The Curb (Maybe)
Never underestimate the concept of one person's trash being another person's treasure. Before you try any other methods of ditching your couch, start at your curb. (Unless you're set on selling.)
First, if you have an HOA, this might not be an option for you. Check with them first, unless you want to end up paying a fine. Next, check with your county about any restrictions pertaining to placing large items on the curb.
In many cases, local trash pick-up won't pick up large items like a sofa. However, you could place it on your curb with a sign on it that says "FREE" to entice passersby to scoop it up.
You could luck out and an eager "dumpster diver" or "trash picker" will solve your couch disposal problem. However, if your sofa's still sitting there after a few days, you may need to move on to your plan B.
5. Take Your Couch To The Dump
Unfortunately, if your couch is in poor condition, your only option may be to trash it. Call your local county or landfill to find out the rules and guidelines for disposing of large items. Some places only accept specific items on certain days. In some cases, you may need to pay a fee to dump your sofa.
What if your sofa is too big to haul away by yourself? Depending on the style of your sofa, you might be able to break it down into more manageable pieces for transport.
If you have no means to get your couch to the dump, call a junk removal service to take it off your hands. Do a Google search for options in your area or ask friends and family for recommendations.
Final Thoughts On Getting Rid Of A Couch
Sofa sizes make them a tricky item to get rid of when you're ready to upgrade. But luckily, you have many options, from donating to selling to dumping. For the most hassle-free method, try sticking the couch on the curb for someone to scoop up for free. Or see if any friends or family want it or post it for free on online sites.
If your couch is in good shape, sell it or donate it. Look for local charities, schools, or local theatre organizations that will pick up the sofa. When you buy a new sofa, the store might even take your old one as a trade-in.
But if your couch is in bad shape, your only option is to trash it. Check with your local dump to verify the proper guidelines or call a junk removal service. Ditching your old couch doesn't have to be as daunting as it first appears. Today, it's much easier to say farewell to your old sofa and make room for your new-found comfy couch.
Related Guides:

Stacy Randall
Stacy Randall is a wife, mother, and freelance writer from NOLA that has always had a love for DIY projects, home organization, and making spaces beautiful. Together with her husband, she has been spending the last several years lovingly renovating her grandparent's former home, making it their own and learning a lot about life along the way.
More by Stacy Randall
Published June 22nd, 2023 8:25 AM