1K Views
Mixed-Use Building Plans (with Drawings)
October 16th, 2021 3:40 PM
Share
We're committed to finding, researching, and recommending the best products. We earn commissions from purchases you make using links in our articles. Learn more here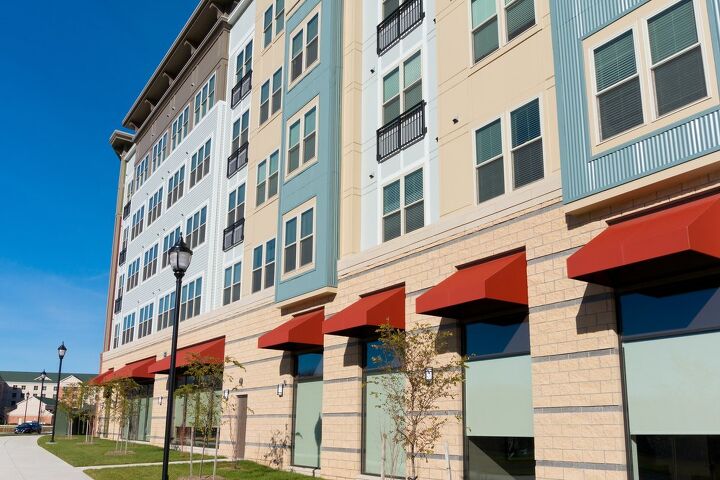 Typically the place where you live, shop, and work are all separate locations. However, mixed-use buildings are becoming more popular in which everything you need is under one roof. These buildings have started a catalyst into creating neighborhoods and town centers that create more efficiency for everyday living.
A mixed-use building is categorized depending on the purpose of the building and by whether it's vertical or horizontal. Popular types of mixed-use buildings are main streets, shopping malls, walkable neighborhoods, compact or residential office spaces, and mixed-use hotels. Residences in mixed-use buildings are typically above or behind the commercial space, depending on the setup, and vary in number.
What Is a Mixed-Use Building?
Mixed-use properties are building or land developments that include both residential and commercial space. These buildings often have office space on the ground floor and apartment units on the top, thus mixed-use buildings.
Mixed-use buildings have become more popular because of the changes in the work world as well as in consumer behavior. There is a growing demand for apartments and condos, as owning a house is no longer the dream for everyone.
People prefer the convenience and walkability that mixed-use buildings offer. Plus, these developments typically perform better in cities during economic downturns, unlike single-use properties.
It's very rare to find ample amounts of available real estate in big cities. Mixed-use buildings are a solution to utilizing resources and space within a city. These neighborhoods are then integrated into a place where citizens can work, shop, and live.
You'll commonly find mixed-use buildings located in big cities like Manhattan, Brooklyn, and Philadelphia.
Types of Mixed-Use Buildings
All mixed-use buildings fall under two categories, vertical mixed-use or horizontal mixed-use.
A vertical mixed-use building is part of a broader category when describing mixed-use developments. Vertical mixed-use buildings can house businesses, restaurants, coffee shops, government offices, and even transit facilities on the lower floors. Residential units, condos, and hotel rooms are on the top floors of the building.
A horizontal mixed-use building is a property that combines several single-use buildings into one space. This allows businesses and dwellings to transform into a walkable community or neighborhood. In urban areas, developers often repurpose abandoned buildings into mixed-use buildings.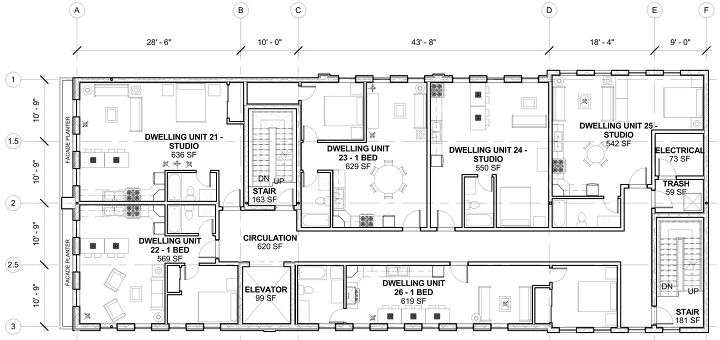 There are many different types of mixed-use buildings. While they all house commercial and residential units, they will vary slightly in design depending on their use.
Main Street Mixed-Use Building
The main street model of mixed-use buildings is the oldest mixed-use model in existence. These properties are two or three-story buildings with residential units on the top floors and commercial units on the ground floor. Both the residential and commercial units face the street.
The purpose of the main street model of mixed-use buildings is to revitalize urban communities in big cities. These buildings are the modern version of mom-and-pop shops. They feature entertainment venues, restaurants, and other services while apartment units are above or behind the storefronts.
Mixed-Use Walkable Neighborhood
A mixed-use walkable neighborhood combines vertical and horizontal mixed-use buildings into one area. Within this area, everything is typically a 5 to 10-minute walk from each other.
These types of mixed-use neighborhoods are similar to the main street model. It gives you the feeling that you're part of a distinct community with a small-town feel.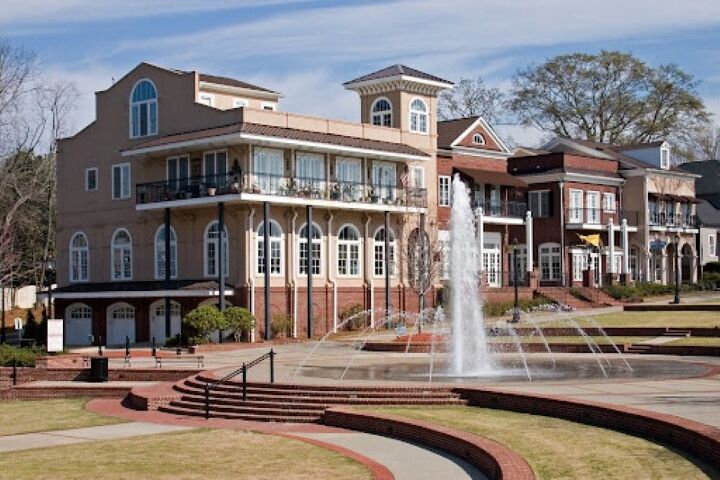 Shopping Mall or Department Store Mixed-Use Building
As many brick-and-mortar retail stores have begun to close down due to the rise of electronic commerce, mixed-use buildings have risen. Shopping malls and department stores have repurposed their space to feature residential units as well as businesses. These types of developments have resurfaced throughout the United States and across the globe.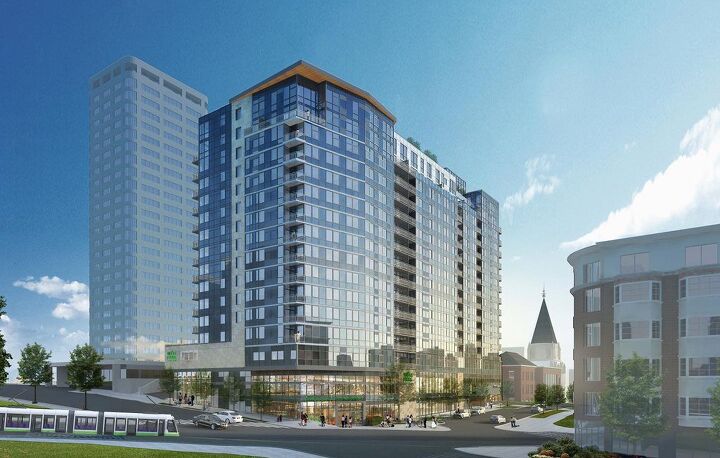 Compact Office Space With Amenities
The desire to live where you work has become popular in the last year with the ability to work from home. Whether this is generational or not, small office units within mixed-use residential communities are here to stay. These are multi-floor commercial structures that feature retail and professional service companies with office floor plans.
These buildings cater to businesses that need office space but have a small footprint.
Office and Residential Space
It's common to find office and residential unit combinations in metropolitan areas. However, they are also becoming more prevalent in suburban areas too. Mixed-use office space is primarily a commercial structure that coexists with apartments in the same building.
This image from Ideal Properties gives you an idea of possible layouts for a residence within a mixed-use building.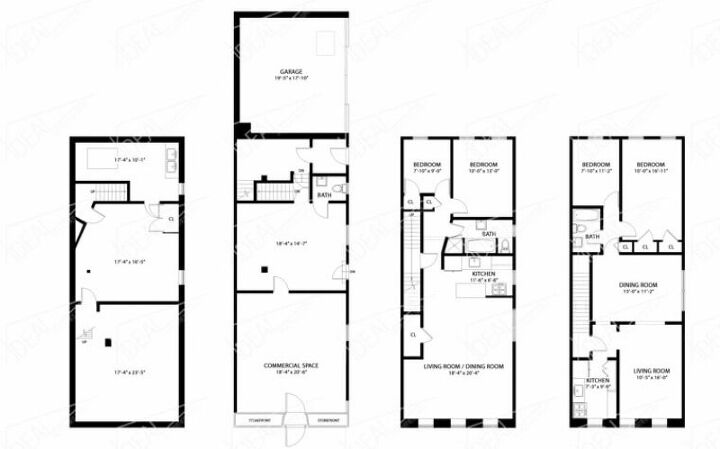 Mixed-Use Hotel
The most recent trend in mixed-use properties is within the hotel sector. Mixed-use hotels combine hotel rooms, condos, and retail space. Some mixed-use hotels even have office space, a perfect example of the live-work-play model.
Advantages of a Mixed-Use Building
Whether you are looking to buy, build, or live in a mixed-use development, consider these benefits.
Appeal to a Wide Variety of Consumers
Mixed-use buildings appeal to a wide variety of consumers. Whether you are a young professional or a senior, both groups enjoy the benefits of a mixed-use building. The comfort of having shops, restaurants, and other services at your doorstep is comforting for anyone.
If you're environmentally conscious, you will enjoy the sustainability aspect of a mixed-use building; you'll rarely have to use a vehicle. All groups also prefer the proximity of amenities, on-site maintenance, and affordable rent.
Sustainability of Commercial Tenants
Commercial tenants rely on their relationships with community members to stay in business. Because of this, commercial tenants often favor locations where their customers have easy access to their products or services. Furthermore, commercial tenants are incentivized to keep their leased space in good condition because they want to attract customers.
Once you have a tenant, they don't want to leave. In some metropolitan areas, some tenants even go on a waiting list to secure commercial property. Business owners soon realize their high success rate being located in a mixed-use building and want to stay.
From a resident standpoint, you get to have familiar businesses at your doorstep. When there isn't a lot of turnover, you can build better relationships with various shops, etc. You might even be able to snag some better deals due to your residency status.
Commercial Leases Bring In More Income
Net lease agreements allow the landlord of the building to hand down several costs to their tenants. This includes property taxes, building insurance, and maintenance fees. In exchange, the tenant gets lower rent prices.
Commercial leases can bring in more income. Commercial properties typically offer an annual return of 6% to 12% of the purchase price.
Brick-and-Mortar Shops Can Thrive
Most consumers have embraced the online retail space, but mixed-use buildings offer an advantage for brick-and-mortar shops. Salons, movie theaters, restaurants, and clinics will always need a consumer's presence. Because of this, mixed-use buildings are the perfect location for those retail stores.
Convenience
Of course, a big advantage of living in a mixed-use building is convenience. You could get a lot of things done without ever having to leave the building.
Disadvantages of a Mixed-Use Building
While the advantages of a mixed-use building are plenty, there are some disadvantages.
Larger Responsibility
The most significant difference between mixed-use and residential landlords is the amount of responsibility. Having a business as a tenant can be nice because they have long-term leases. However, if you must evict a commercial tenant, this can bring on a host of issues, especially if they are food-based.
Complicated Financing Options
Acquiring the financing to purchase a mixed-use property can be difficult. Some borrowers believe that they have to look to commercial lenders because it is partly a commercial property. However, if at least 51% of the building is residential, non-commercial loan options are available.
Commercial and Residential Conflict
There can be conflict if the mixed-use property isn't developed with both the tenant and business owner in mind. Commercial tenants and residential tenants should have the same interests and goals.
More Noise
Living right above restaurants and shops has its perks, but it also has its drawbacks. Depending on how close you are to the commercial space, you could deal with a lot of noise.
You Might Spend More Money
When you have so many places to eat and shop right outside your door, you might spend more than you want. It's easier to grab a coffee here, a snack there, or pop into a shop when you're bored.
Increased Traffic
Traffic can increase in suburban areas where mixed-use buildings are present. This is especially true when public transportation or parking lots are not available.
Marketing Challenges
Service, retail, and restaurant tenants may realize limited profits if they don't have the right marketing. Of course, customers who live within the property are easy to obtain. However, there may be some difficulty drawing customers in from outside the community.
---
Related Questions
What are popular examples of mixed-use properties?
Mixed-use properties started becoming popular in the United States in the early 2000s. More cities and their outlying suburban areas have increased mixed-use space for lease. There are several notable mixed-use properties throughout the United States. The most prominent mixed-use spaces are Port Covington in Baltimore, The Gulch in Atlanta, and Schuylkill Yards in Philadelphia. Water Street Tampa, River District in Chicago, Riverton in Sayreville, New Jersey, and Highpoint on Columbus Commons are also popular. The goal of the developers of these properties was to combine urban living and suburban communities within walking distance. 
How much does it cost to rent retail space within a mixed-use building?
Your retail space rent costs will depend on your location, the type of building you're renting in, and the size of the space you want to rent. For a more modest space in a less popular area, expect to pay $15,000 to $42,000 per year. This equates to $1,250 to $3,5000 per month. Renting a more popular space or in a nicer area of the city costs more per square foot. A storefront in a sought-after shopping spot is about $25 per square foot, per month on average. A storefront in an area with less demand can range from $10 to $11 per square foot per month. 
Related Guides

Stacy Randall
Stacy Randall is a wife, mother, and freelance writer from NOLA that has always had a love for DIY projects, home organization, and making spaces beautiful. Together with her husband, she has been spending the last several years lovingly renovating her grandparent's former home, making it their own and learning a lot about life along the way.
More by Stacy Randall
Published August 25th, 2021 2:55 PM