466 Views
What Are The 10 Worst Neighborhoods In Raleigh, NC?
June 1st, 2022 11:07 PM
Share
We're committed to finding, researching, and recommending the best products. We earn commissions from purchases you make using links in our articles. Learn more here
Raleigh, North Carolina is a beautiful and historical city, but not every neighborhood is safe or welcoming. The 10 most dangerous neighborhoods in Raleigh include Central, South Central, and Mordecai. Many residents still call these neighborhoods home, but let's take a look at the 10 most dangerous neighborhoods in Raleigh that you should avoid.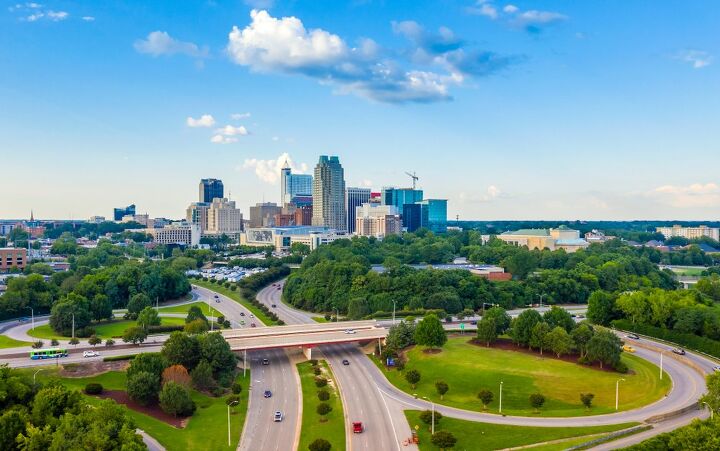 Moving to or visiting another place is a normal part of life. However, when doing so, safety should be at the very forefront of your mind. If you're thinking of visiting Raleigh anytime soon, we've included a list of 10 of the worst neighborhoods, so you know which ones to steer clear from. You can also read up on the Top Abandoned Places In Raleigh, North Carolina.
The neighborhoods of Raleigh, North Carolina, that you need to look out for include:
South
Southwest
South Central
East Raleigh
Southeast
Central
Northeast
West
North Central
Mordecai
In this article, we will discuss each of these neighborhoods in detail and explain how we determined which communities were the worst. That way, you can plan your vacation or your move accordingly. Let's get to it!
Do You Need to Hire Movers?
Get free, zero-commitment quotes from pro contractors near you.
Determining The Worst Neighborhoods Of Raleigh
Important critical elements were examined in order to arrive at a judgment on which neighborhoods are the worst. For the most part, all of these communities had minimal employment possibilities and worse school competence compared to other schools in the vicinity.
The Raleigh Police Department had a ten percent rise in crime in early 2020. They argue that drug activity is on the rise. As you can see, there's a common theme of decay across this collection.
Factors Used To Determine The Worst Neighborhoods In Raleigh
The primary major areas that we used to support our results are as follows:
Unemployment Rate: The capacity of a family to provide is critical to the health of a community. When it comes to the number of jobless inhabitants in these areas, this is a critical figure.
Density: Is the location a popular tourist destination? If there isn't a lot of traffic in the region, it's likely that it won't get fixed. People who live in areas with a lack of environmental care are more likely to commit crimes.
Real Estate Cost in the Area: When a property is sold for an undervalued price, it's an important issue to examine. The fact that the neighborhood is not habitable is a significant concern.
Median Income: What is the current state of the business? Are businesses doing well? The income of a neighborhood is an essential factor in determining its value.
Crime Rate: When choosing the worst neighborhoods, this is a critical issue to consider. Accurate data for this component were acquired after extensive investigation.
The Worst Neighborhoods In Raleigh NC
Here are the worst neighborhoods in Raleigh. Make sure if you visit, you're careful as some of them are high in violent crime.
1. South
Violent Crime: 2,003 per 100k people
Property Crime: 12,498 per 100k people
Average Income: $21,001
South Raleigh is perhaps the worst neighborhood within the city, but officials don't exactly know why this neighborhood is such a high target for crime. It is thought that since it's so close to the freeway, a lot of the crimes happen from people passing through.
This area also has a significant homeless issue and violence among the homeless and a poor education system, high poverty, and crumbling buildings. There's not enough money to put into restoring buildings which makes it dangerous as well.
Gang activity has increased by 23% since 2018, but officials hope to stop it from becoming even more of an issue. We suggest you steer clear of south Raleigh if possible, at least for the time being.
2. Southwest
Violent Crime: 850 per 100k people
Property Crime: 4,001 per 100k people
Average Income: $22,109
As a general rule, the Southeast quadrant of Raleigh is the poorest, and while this does not always imply "crime," it is the area of town you should avoid in most towns. The City-Data Raleigh website contains a map with income colored from purple (poor) to yellow (rich).
When you go to "options" (above the map) and set the Opacity to 100%, the map becomes darker and easier to identify where the most "purple" patches are.
Low income does not equal "more crime," but it is a contributing factor. In general, crime is lower in suburban regions north and west of downtown and nearby towns like Cary and Apex than in older districts close downtown, mainly east/south of downtown.
3. South Central
Violent Crime: 712 Per 100k people
Property Crime: 3,745 per 100k people
Average Income: $25,637
Southcentral Raleigh has a significant policing problem, as the gang warfare sort of throws the police force off balance. The gangs are notorious for gun violence, as well as selling and promoting drugs. But it seems like no one is doing anything about it.
Moreover, it's almost impossible to land a job in this neighborhood, and even if you do, you'll find yourself trying to scrape by on minimum wage. With the average income at just a little over $25,000, this is a high-poverty area with transient issues.
4. East Raleigh
Violent Crime: 842 per 100k people
Property Crime: 3,387 per 100k people
Average Income: $42,542
A few areas in East Raleigh were constructed by whites for whites. In the 1950s, Worthdale, for example, was a predominantly white community. However, since the 1970s, "white flight" has rendered Worthdale black due to the repeal of racial housing restrictions.
This area is still highly racist and prone to many more race wars. Here, it's a crime to be black, and it's a crime to be black. You don't want to get caught at the wrong time by the wrong person. So, we say it's a better idea for everyone to stay away.
5. Southeast
Violent Crime: 1,992 per 100k people
Property Crime: 9,770 per 100k people
Average Income: $31,339
Southeast Raleigh makes up a fourth of Raleigh's total area. There are around 85,000 individuals that reside here; however, they are not all the same. Although it is one of Raleigh's fastest-growing areas, several of its communities are in disrepair. It has a shady reputation.
There is criminal activity. And there's the issue of poverty. You don't need to look very hard to see it. There is, however, optimism even in the most desolate corners of Southeast Raleigh. There is very little violence in much of Southeast Raleigh.
6. Central
Violent Crime: 1,865 per 100k people
Property Crime: 9,621 per 100k people
Average Income: $31,463
Surprisingly, the poorest of the districts, particularly those close downtown, are beginning to gentrify, with investors or the city buying slum buildings for a price and cleaning them up or, more commonly, ripping them down and rebuilding.
In Southeast Raleigh, gentrification is a touchy issue among community leaders. They don't want black folks to be forced out of their communities in the name of progress because they're impoverished.
7. Northeast
Violent Crime: 290 per 100k people
Property Crime: 2,252
Average Income: $56,500
Cities and neighborhoods that aren't on any alert lists might pose an additional risk of robbery or violence. While much of Raleigh's northeast quarter is safe for visitors, it is advisable not to go too far outside the municipal boundaries.
While Raleigh is no more hazardous than other large cities, it has pockets of tough hoods, some of which are unsettlingly near tourist attractions. It's a good idea to research the better neighborhood to visit before traveling here. And if a place you want to visit happens to be in the hood, then use the necessary precautions.
8. West
Violent Crime: 224 per 100k people
Property Crime: 3,552 per 100 people
Average Income: $34,608
Raleigh is on a quest to rehabilitate the city's most depressed areas. The city's immediate priority in this neighborhood has been to destroy condemned and hazardous structures. A resident was murdered not long ago when a deteriorating brick building crashed on him while he was walking past on the sidewalk.
It's a very hazardous area, so you need to be on the lookout when you're walking through the southern part of the west quadrant of Raleigh. While violent crime isn't as prominent here, the numbers are expected to climb as the other areas are cleaned out.
9. North Central
Violent Crime: 466 per 100k people
Property Crime: 3,220 per 100k people
Average Income: $35,632
Between 2019 and 2020, the crime rate in Raleigh fell by roughly 13%. Shutdown orders are the root of the problem, according to all evidence. The following is an example of how the stay-at-home directives influenced crime: Last year, fewer persons were charged with impaired driving, owing to less traffic and fewer people going out to pubs and restaurants.
The weekend of April 9-11 was the most recorded crime so far this year, with 436 occurrences. The most common offenses were assaults, drug-related crimes, vandalism, and stealing.
10. Mordecai
Violent Crime: 220 per 100k people
Property Crime: 3,413 per 100k people
Average Income: $54,564
All of the pet owners who let their dogs crap in natural areas, grassed areas, and public walkways and do not pick up after their pets have made the entire Capital Park neighborhood smell like dog crap. It's so awful on a dewy morning or after a storm that you can't utilize your porch.
Can the city do anything to prevent pet owners from not cleaning up after their pets now that CAD has been unable to solve the problem? I'd want to be able to sit on my own porch without being enticed inside by the scent of dog feces.
Due to the uneven slope of the roadways, water pools on the intersection of Clifton and Drew. It forms a water collection that may reach a depth of 4 to 5 inches and can stretch 20 feet or more around the corner. This causes a mosquito breeding issue and emits an unpleasant stench if left unattended for long enough.
Do You Need to Hire Movers?
Get free, zero-commitment quotes from pro contractors near you.
---
Related Questions
How dangerous is Raleigh, NC?
According to our analysis, Raleigh has a higher rate of violent crime than most U.S. communities regardless of population size.It is 1 in 385 likely that a person will be a victim of a violent crime in Raleigh, such as an armed robbery, an aggravated assault, a rape, or a murder.
Where should I not live in Raleigh, NC?
Neighborhoods, such as Chavis Heights, Walnut Terrace, South Saunders Street, and just about any neighborhood in South-East Raleigh, Southern North-East Raleigh, and parts of South West Raleigh are ones to be more cautious in. Robberies, carjacking, and violent crimes do occur.
Is moving to North Carolina a good idea?
NC's housing market is affordable. Retirement costs are 3.7% lower in North Carolina than they are in the United States, and Social Security income is no longer taxed. North Carolina has other low taxes as well, making it an excellent place to retire. This guide will inform you on The Best Neighborhoods In Raleigh For Young Professionals.
Related Articles

Heather Robbins
Heather is a passionate writer who loves anything DIY. Growing up, she learned everything from home repairs to design, and wants to share her tips with you. When she's not writing, she's usually hiking or searching for her next DIY project.
More by Heather Robbins
Published June 15th, 2021 4:24 PM