1.3K Views
Window Glazing Putty Vs. Caulk: Which Is Better For Closing Gaps?
November 2nd, 2021 3:11 PM
Share
We're committed to finding, researching, and recommending the best products. We earn commissions from purchases you make using links in our articles. Learn more here
Window frames are fantastic for providing natural light, but if they have gaps between the frame and the siding, then you may be letting in cold air. When it comes to filling those gaps with seal, you may have to choose between glazing putty and caulk. Follow along as we explore the cost and effects of each to help you decide.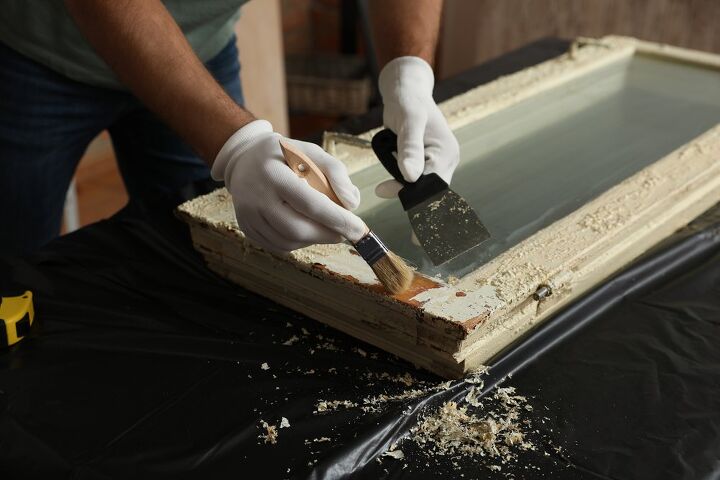 Both window glazing putty and caulk can be used to form a strong seal and close gaps, but they are not the same thing. In general, window glazing putty is used to seal a glass window and frame. Caulk can seal and fill spots around doors, vents, and almost any opening in the house. But, which one is better at closing gaps?
When it comes to closing gaps, overall, caulk is the best product to use. However, if it's gaps around a window frame, then the window glazing putty would be the better choice. These are both not interchangeable products, although you can use caulk for a wider variety of projects than you can use window glazing putty.
Window glazing putty and caulk serve a similar purpose of boosting energy efficiency by sealing any potential air leak. With that said, they each have their own benefits that make them better suited for specific purposes. Follow along, and we will explore the differences between window glazing putty and caulk.
Do You Need Handyman Services?
Get free, zero-commitment quotes from pro contractors near you.
What Is Window Glazing Putty?
Window glazing putty is commonly made out of a mixture of linseed oil with either ground chalk, calcium carbonate powder, or even polybutene. The primary use for window glazing putty is sealing a window to a wooden frame. By applying window glazing putty to a wooden frame, you create a seal that keeps air from getting out and air from going in.
Ways To Use Window Glazing Putty
Cure time. You apply window glazing putty with a putty knife and allow it to cure. The cure time for window glazing putty can take up to several days. In those several days, the putty will become hard, forming a tight seal.
Wait for it to dry before applying paint. If you want to paint over the window glazing putty, it is critical that you wait until it has hardened. You can apply window glazing putty to be 1" wide.
Clean the surface before application. Before you can apply glazing putty, you need to make sure that the surface is completely clean. That way, when dragging the putty knife across the surface, there will be no obstacles, and you will form a tight seal.
Use it for energy efficiency. Window glazing putty secures the window to the frame, which in turn promotes energy efficiency. It can last indefinitely, so your window putty is at no risk of going anywhere anytime soon.
What Is Caulk?
Caulk is a waterproof material used to fill gaps preventing leakage of both air and water. Because it is waterproof and durable, caulk is used in plumbing applications, filling gaps in doors and windows, and sealing pipes. When compared to window glazing putty, caulk is more versatile as it can be used for more than just sealing windows. Generally, caulk is made out of acrylic latex or silicone.
A caulking seal typically only lasts for roughly ten years. Depending on the application, you may need to choose one form of caulk over another. For example, for "tile and tub" applications, acrylic and latex caulk is often recommended.
Ways To Use Caulk
Use pure silicone for plumbing jobs. For heavy duty plumbing jobs, however, pure silicone caulk is your best bet. That is because pure silicone caulking offers the most in water resistance.
Use refractory caulk for gaps exposed to heat. For sealing gaps exposed to heat, refractory caulk is the only real option. Refractory caulk is often used for sealing gaps in or near fireplaces because it is heat resistant.
Make sure you have a caulking gun. There is a wide variety in caulk types, but it is always applied using a caulking gun, for the most part.
Are Window Glazing Putty and Caulk Interchangeable?
No, window glazing putty and caulk are not interchangeable, and substituting one for the other can cause problems. For example, if you went to seal the gap between a window frame and glass using acrylic latex caulk, it just would not work.
The acrylic latex caulk may hold for a brief time, but the difference in elasticity and texture would prevent a proper seal. Likewise, you wouldn't want to use window glazing putty to seal around plumbing fixtures as it doesn't have the same water resistance as caulk.
Primarily, you can't seal a window with acrylic latex or silicone caulk because of the size of the grooves in window frames. Caulk is best used in gaps up to or under ¼". The gaps in window frames are typically larger. With that said, some people use butyl rubber caulk for window frames if the gap between the glass and frame is over ¼". Generally, it is best to stick to window glazing, putting for sealing windows and caulk for everything else.
How Long Does Each Take to Cure?
Window glazing putty can take between 5 and 15 days to cure, whereas caulk can generally cure within 24 hours. For caulk, it should be dry within 12 hours of application but not fully cured until at least the 24-hour mark. When it comes to window glazing putty and caulk, drying and curing are not the same things. Drying refers to the process of the solvent evaporating, whereas curing refers to the coating becoming firm and hardened.
The 5-15 days that glazy putty takes to cure sounds like a long time, and it is, but it can be sped up slightly. To speed up the curing process for window glazing putty, there are several things you can do, including:
Use a hairdryer
Choose latex-based putty over linseed oil-based putty
Use a drying compound
If you are located in a hot, dry environment, the heat will help speed up the window glazing putty cure time. For caulk, acrylic latex is one of the fastest curing options. Considering the fast dry and cure time offered by caulking, however, there is no need to try to speed up the process.
The Difference Between Window Glazing Putty And Caulk
If window glazing putty is applied correctly, it can last literally hundreds of years, whereas caulk derived from latex or silicone will last up to about ten years. They're both made from different ingredients, and they have different uses while aiming to meet the same type of goals. Yet, the project that you have underway will determine the product that you use.
How To Apply Window Glazing Putty
Window glazing putty can be applied in a few easy steps. Make sure that you have a putty knife and the actual window glazing putty ready itself.
Clean the surface. Make sure you remove any dirt or debris from the area you are applying the glazing putty.
Insert the glass. Set the glass in place and make sure it is firm and placed correctly. This is because you are about to fill the gaps, and you want to ensure you're doing it in the correct spot.
Fill the gaps. Use the putty knife to spread the putty to completely fill the gaps that need to be sealed. Be sure to scrape any excess away as you go.
Smooth out the putty. You can use your fingers to knead the putty, or use a lubricated putty knife to smooth the surface out.
Carefully remove the excess putty. Make sure you remove the excess putty when you're finished spreading it out.
Applying window glazing putty is that simple. It is important to remember that you should not use caulk for the same kind of application. Not only will it not make the proper seal but caulking a window like that won't last you long.
There are a few things to avoid when applying window glazing putty, such as:
Cold putty
A cold putty knife
Humid environment
Leaving old putty in place
Besides that, there is not much that can go wrong when applying window glazing putty.
How To Caulk A Window Frame
Caulk is best for putting in a full window frame and can be done easily.
Remove dirt and debris. Clean the surface and remove the old caulk, and take care to scrub in between the cracks. Before setting the caulk, you will want to
Dispense the caulk. Set the caulking gun where the old caulk was and drag a straight line with the caulking gun while dispensing
Smooth out the caulk. Take a flat object and smooth the caulking out.
Allow it to dry and cure. This step is crucial, especially when you want to paint over the surface. Never, ever paint over wet caulk or wet window glazing putty.
Within 12 hours, it will be dry, and within 24 hours, the caulked frame will be cured.
Do You Need Handyman Services?
Get free, zero-commitment quotes from pro contractors near you.
What Did We Learn?
Window glazing putty is best for sealing glass to a wooden frame, and caulk serves a wide range of purposes. The two are not interchangeable, but both window glazing putty and caulk are invaluable resources to be used in and around the house. Whatever goal you have in mind will determine which product you are going to use. If you're looking for something long-lasting, then window glazing putty will be the best for you.
Related Guides

Upgraded Home Team
We are a team of passionate homeowners, home improvement pros, and DIY enthusiasts who enjoy sharing home improvement, housekeeping, decorating, and more with other homeowners! Whether you're looking for a step-by-step guide on fixing an appliance or the cost of installing a fence, we've here to help.
More by Upgraded Home Team
Published July 9th, 2020 4:00 PM