262 Views
Which PEX Manifold Is The Best?
November 16th, 2021 2:38 PM
Share
We're committed to finding, researching, and recommending the best products. We earn commissions from purchases you make using links in our articles. Learn more here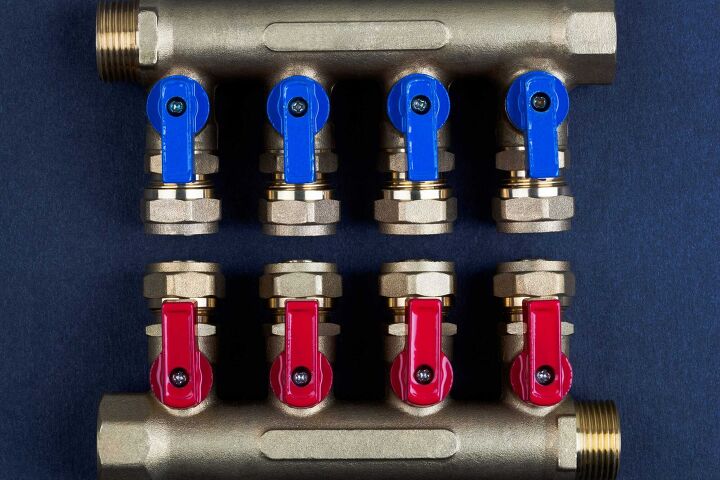 Pex manifolds are a fairly new way of running plumbing in your home. Pex is an acronym for cross-linked polyethylene. Rather than using the typical old rigid piping system, the Pex tubing is a more forgiving and flexible material that has a variety of incentives for using it over copper pipes.
Some of the best Pex manifolds are the Viega 50243, Vivo Loop, and Apollo Pex 690784CP, and other popular brands are CMI and SharkBite. MANABLOC Pex manifolds are also popular because you can buy them pre-assembled and they're easy to install. Pex Press plastic manifolds are compatible with most standard ASTM Pex pipes and feature reliable fittings.
With the basic Pex manifold, you have the special Pex plastic piping that runs to the manifold, which is the control system for all of the plumbing in your house. Each fixture in the house has its own shutoff so that if any problems arise, you can shut off just that one section without having to shut off all the water.
With so many different Pex manifolds on the market, it can be difficult to know what the best choice is for your home. All manifolds are similar, but some have differences that can help you figure out which type you need.
Do You Need to Hire a Plumber?
Get free, zero-commitment quotes from pro contractors near you.
Types Of PEX Manifolds
The manifold is the system that supplies water into the lines throughout your home. Each one has a variety of different fittings, end caps, and adapters to customize the manifold the way you need it. But there are certain things to look for that you may need to know.
Pex Press plastic manifolds are compatible with any Viega or standard ASTM size Pex pipe. The fittings are reliable and professional without having the need for a plumber. The plastic is light as well as durable and can be maneuvered into whatever configuration you need.
Compression manifolds are easy to install without the need for additional tools or special fittings. They have multiple shut off valves and are a reliable distribution point for many types of installations.
Push-Fit manifolds are faster and easier to install when using multiple water lines. The branches have simple push-on style connectors that are not difficult for even the most inexperienced DIYer. And they reduce leaks because of fewer connections.
ProPEX manifolds are more difficult because you need a special expander tool and ProPEX rings to secure the tubing. They are available in plastic or copper and come in different sizes from three to 12 outlets.
Crimp Style manifolds are copper and require crimp rings and a crimp tool to attach. They are available in valveless or valve configurations. In fact, you can even have both.
MANABLOC comes in press, crimp, and compression styles with port outlets in ½-inch, 3/8-inch, or a combination of both. You do not need an expensive Pex tool for installation. These manifolds are always pre-assembled and include all connections, templates, and a faceplate. But you have to get the caps, supply adapters, and mounting brackets separately.
How Much Does PEX Manifold Cost?
Depending on your needs and the type you choose, most PEX manifold units range between $27-$200 in cost. The pricing will also depend on if you're buying just a few smaller units or the entire Manabloc with several ports.
Comparing The Top Five PEX Manifolds
This manifold has the most comprehensive tubing system, fittings, and accessories. Another plus for this manifold is the ease of installation. According to users, you can do it yourself, no plumber needed. Replacing all the pipes in the house with Pex can be done in one day. Be ready for no corrosion and less noise as well as a much nicer looking system.
The tubes are color-coded with blue for cold and red for hot for easy reading. It also includes both Pex press and Pex crimp.
The patented MANABLOC distribution system helps you see less water waste, which means more money in your pocket.
With 15 cold ports and nine hot ports, this one has the most ports out of all the manifolds.
Poly Alloy adapters allow for a much better fit as well.
This CMI manifold comes in five different sizes from two ports to eight ports depending on your needs. The two-port manifold can handle 800 square feet while the eight-port manifold can cover about 1,800 to 2,000 square feet. It is already pressure tested and pre-assembled so all you have to do is mount it and connect the hoses.
Made of stainless steel, it resists corrosion and rust.
Each tube has a flow meter to monitor the GPM (gallons per minute) to each branch.
Pump or fill the system with ease since it has a hose connection and cap on each one.
The balancing valves regulate the flow of water so you can save money and energy.
Installation is easy and fast for anyone who can read directions.
The Vivo Pex-M12 is made of stainless steel and has two outlets with two flow indicators/meters that adjusts the flow rate of each loop and monitors the GPM (gallons per minute). The half-inch adapters also convert to ¾-inch and the heavy-duty mounting brackets are pre-installed for easy installation. The isolated ball valves have temperature gauges and one-inch NPT connections.
The drain valves each have a cap for easier draining and filling of the system when needed.
The Vivo also has an automatic air vent to purge the air as needed.
It comes in different sizes and has the ability to work with radiant heating.
Vivo is much less expensive than the Viega and the CMI.
It works for any size home and can be installed without the need for a plumber.
The Apollo has 16 valves that have cold and hot lines to connect directly to each fixture. That way you can shut off a single fixture if needed. Each manifold has a set of eight hot and eight cold half-inch valves.
The inlet sizes are one-inch with adapters to reduce to ¾-inch if needed.
This system is heavy-duty and will work just as well in a large home or a small apartment.
It has been tested to work in a large building where the water is flowing almost all the time.
It can be mounted to any surface with the special mounting brackets.
This is the one you should choose if you have a tight budget and a limited ability for DYI plumbing projects. It installs easily in minutes. This is a simple, 8-port design that can handle a lot of pressure. It is completely made of copper and is stronger than most pipes already installed in homes. The best part? This is the least expensive at less than $30!
The copper piping is 100% free of lead so no worries about that.
The one-inch trunk can adapt to ¾-inch or ½-inch as well.
It complies with all building codes.
The fittings are manufactured so that they grab onto the tubes when you hook them up. Like a shark bite.
You can use any Pex or CPVC as well as copper tubing on this manifold.
Is a PEX manifold worth it?
The flexibility in PEX piping makes it a better insulator than copper is. Also, it is corrosion proof, so it won't rust over time. The manifold systems also save you on your energy bill because hot water makes its way through the tap faster. You can speed this process up even more when you add a ring or a loop to the system.
---
Related Questions
Which brand of PEX is best?
The PEX-A, Engel method is the best type of PEX because it exceeds all international standards that have been set for performance. The Sharkbite is what invented a push-fit fitting, this helps the consumer connect the PEX tubing without needing any additional tools to do it.
Should I use PEX A or PEX B?
If you're looking for the most flexible choice, then PEX-A is ideal for you. It is able to be fastened using cold expansion, and allows each end to be fluted before inserting the fitting. However, the PEX-B is not expandable and you shouldn't try to expand it. PEX-A is resistant, while PEX-B isn't.
Can Blue PEX be used for hot water?
The color of the tubing doesn't change the PEX ratings. Therefore, there is no problem if you use the blue PEX for hot water, and the red ones for cold. They are designed for use in potable water systems. Everything can be interchangeable as far as the cold and hot water go pertaining to the color of the tubes.
Do You Need to Hire a Plumber?
Get free, zero-commitment quotes from pro contractors near you.
Summing Things Up
The main thing you should do before purchasing any manifold system is to figure out what you need. Since they come in so many different port outlet configurations, you need to do your homework to determine what is best for your home.
And most importantly, learn the building codes before starting any plumbing work on your home.

Patricia Oelze
I am a DIYer who loves writing about anything home-related. When I am not writing, you can find me studying for my PhD in Psychology, photographing nature, and swimming at the lake with my grandkids.
More by Patricia Oelze
Published August 7th, 2020 7:36 PM