377 Views
Where Are Milwaukee Tools Made? (hint: It's Not Just the USA)
February 1st, 2022 8:20 PM
Share
We're committed to finding, researching, and recommending the best products. We earn commissions from purchases you make using links in our articles. Learn more here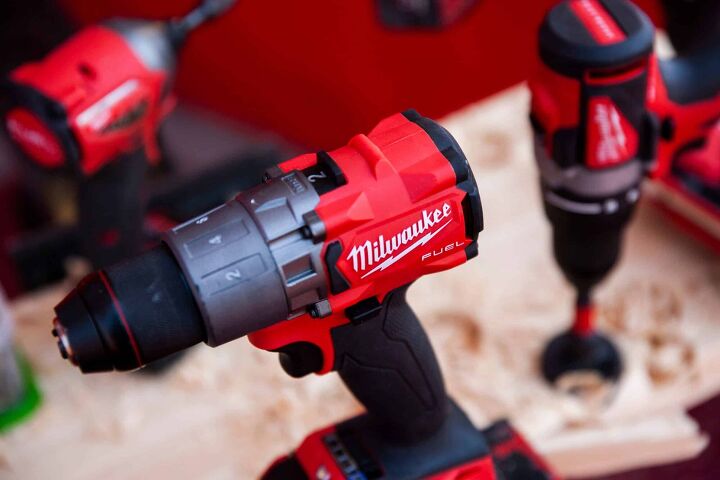 The name Milwaukee Tools sounds distinctly American, but as with many big brands, that isn't entirely the case. Milwaukee is one of the biggest tool brands today, so it makes sense that their large-scale production exists beyond the United States. So, where are Milwaukee Tools made?
Milwaukee makes tools in the United States in Wisconsin and has 3 facilities in Mississippi. They manufacture tools in Europe and China as well, but Milwaukee has increased its U.S. presence in the last 9 years. As of 2021, the city of Milwaukee, Wisconsin granted Milwaukee Tools $12.1 million so that the company will bring at least 1,200 jobs to the area.
The United States is home to many Milwaukee Tool plants, and their job infusion seems to be on the rise. Milwaukee Tools have a history that dates back to 1918, and they have had manufacturing sites all over since then. Follow along as we take a look at where Milwaukee Tool produces their tools.
History of Milwaukee Tool
The history of Milwaukee Tool is an interesting one. It is filled with advances, setbacks, and ownership changes. But through it all, Milwaukee Tool has still been able to remain strong.
Milwaukee Tool-Before It Began
The story of Milwaukee Tool begins in 1918. Automotive legend Henry Ford was looking for someone who could change the ¼" capacity power drill into a compact, lighter-weight version. This challenge was accepted by a gentleman by the name of A.H. Petersen.
As a result of this challenge, Petersen developed what would end up being known as the Hole-Shooter. At only five pounds, this tool was so lightweight it could be operated with only one hand. The tool used a Westinghouse series-type motor and could handle tough workloads.
In 1922, Peterson teamed up with business partner Albert F. Siebert. Together, the two men founded the A.H. Petersen company. Sadly, their manufacturing facility was destroyed in a fire in 1923. This resulted in a financial setback that the company could not bounce back from and they had to close their doors.
Milwaukee Tool-In the Beginning
In 1924, Seibert purchased at auction the company's remaining assets. Seibert then reopened the company. The company's name was changed to Milwaukee Electric Tool Corporation. The company was headquartered in Milwaukee, Wisconsin.
One of the main business goals during this time was to improve upon the Hole-Shooter. Another goal was to not only repair the tools from other manufacturers but to gain ideas in what could be changed to increase the longevity of the tools.
Using this method, the company could establish their customer's needs. The tool company could also which parts of the marketplace needed to be filled. Using this vital information along with much research and analysis led to a Hole-Shooter that was now stronger and more durable.
Milwaukee Tool-The 1930s
In the 1930s, the federal government gave Milwaukee Tool an equipment specification rating. The tool manufacturer then began producing tools to the US Navy standard of equipment. During this time, Milwaukee Tool also developed their own electric hammers, sanders, polishers, and hand grinders.
The tool company then produced a ¾" electric hammer drill. The drill was handheld and could also act as a standard drill. Shortly after, a more manageable hammer drill that was shorter and lighter was introduced due to the previous hammer's success.
By the late 1930s, Milwaukee Tool had a strong reputation among welders. The tool company was asked to use their expertise to improve already existing lines of metalworking tools. These improvements would concentrate more on sanders/grinders, which were more heavily used.
Milwaukee Tool accepted this challenge. Designers were able to produce an improved sander/grinder. This tool was easy to handle. The sander/grinder used a single horsepower and weighed only fifteen pounds. But this sander/grinder could withstand any abuse it received.
Milwaukee Tool-World War II
During World War II, Milwaukee Tool was a major supplier to the US Navy. There was a manufacturing boom during this time. And one item in high demand was power tools.
Milwaukee Tool worked to produce tools that were more powerful than previously made. The Hole-Shooter was an important tool for the manufacturing of military aircraft. Since the tool company already had many products manufactured to Navy standards, the United States Navy placed a vast number of orders with the company.
Also, during World War II, a spring clutch was added to Milwaukee Tool's sanders and grinders. The addition of this clutch caused a dramatic reduction in recoil in the units. This spring clutch was later added to their line of circular saws.
Milwaukee Tool-The Late 1940s and The 1950s
In 1949, Milwaukee Tool invented and introduced the first ½" right angle drill. This invention would let electricians and plumbers drill holes even the tightest of spaces.
In 1951, the company saw a great advancement when they introduced the Sawzall, or reciprocating saw. This was the first industry where the reciprocating mechanism was added to a portable hacksaw. Milwaukee Tool also developed a line of blades to go with the new saw which would cut different materials.
Milwaukee Tool-The 1960s and The 1970s
Milwaukee Tool grew steadily throughout the 1960s and 1970s. The company expanded its product lines during this time. They also transitioned into larger facilities.
In 1965, the company moved from its headquarters located on State Street in Milwaukee, Wisconsin. The new headquarters would now be a 212,000 square foot facility in Brookfield, Wisconsin.
In 1974, the company made its first move outside of the state of Wisconsin. This was in response to new and large demand in the Southeast for their products. In addition to their Brookfield facility, the company opened another manufacturing plant of 60,000 square feet in Jackson, Mississippi.
The 1970s also saw a significant burst of product development from the tool company. During this time, the Hole Hawg was introduced. This drill was the first of its kind. The drill was designed to drill large holes for the studs and joints used in new home constructions.
Not long after the introduction of the Hole Hawg, Milwaukee Tool introduced Magnum Hole-Shooter. This was their first ½ inch professional pistol drill. The company was also the first manufacturer in the United States to produce a 4-1/2" angle grinder.
The company has been sold several times. They were first sold to Amstar in 1975. In 1986, they were sold to Merrill Lynch. In 1995, Atlas Copco took the reins. Finally, in 2005, Techtronic Industries took over.
Milwaukee Tool-The 1990s and Beyond
Milwaukee Tool put their Super Sawzall on the market in 1991 after two years of testing. This tool came not only with a built-in counterbalance, but a gear-protecting clutch, along with five different patents. The Super Sawzall became the standard for saws that were not only fast but vibration-free as well.
During the 1990s, the company developed a new line of miter saws. They also began manufacturing a line of 18-volt Contractor Cordless tools. These tools could be powered through the use of the same battery and charger system.
The year 2008 saw the development of Ice Hardened strengthening technology by the tool giant. This technology is a cryogenic hardening process which allows the company's accessories to last up to 50% longer versus their competitors.
In 2017, the company announced further expansion in the United States. The expansions would occur in the company's three Mississippi facilities located in Greenwood, Jackson, and Olive Branch. This expansion will be the company's fourth since 2012.
---
Related Questions
What Company Makes Milwaukee Tool?
Milwaukee Electric Tool Corporation is an American company responsible for the development, manufacturing, and marketing of power tools. It is a subsidiary of Techtronic Industries. Techtronic Industries is a Chinese company.
Does Milwaukee Tool Own DeWalt?
Milwaukee Tool is owned by Techtronic Industries, which also owns the brands Ryobi, Dirt Devil, and Oreck. Stanley Black & Decker, the Connecticut-based Company, owns companies such as CribMaster, Lenox, Irwin Tools, Craftsman, and DeWalt.

Upgraded Home Team
We are a team of passionate homeowners, home improvement pros, and DIY enthusiasts who enjoy sharing home improvement, housekeeping, decorating, and more with other homeowners! Whether you're looking for a step-by-step guide on fixing an appliance or the cost of installing a fence, we've here to help.
More by Upgraded Home Team
Published September 3rd, 2020 7:21 AM