961 Views
Where Are DeWalt Tools Made? (Hint: It's Not Just The USA)
February 2nd, 2022 8:08 PM
Share
We're committed to finding, researching, and recommending the best products. We earn commissions from purchases you make using links in our articles. Learn more here
Tracking down the manufacturing of your favorite power tools can be tricky, and DeWalt is no exception. DeWalt doesn't produce all of their tools in a single location, and they manufacture products everywhere from Brazil to China. Let's take a look at which DeWalt products are made in which country and see why it matters.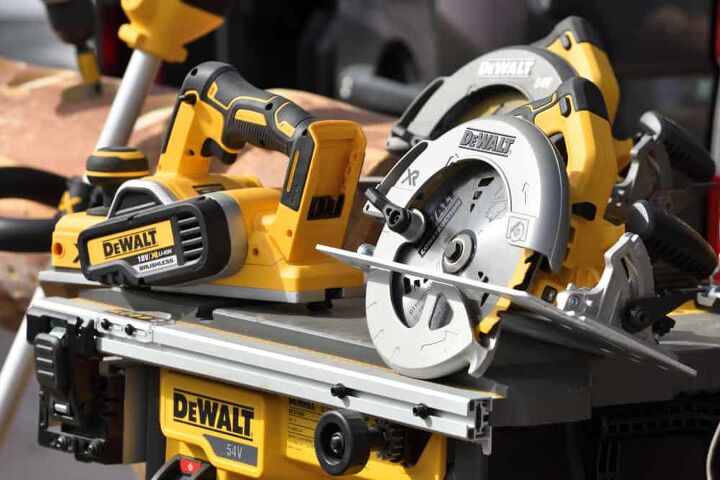 When it comes to building high-quality tools, few companies have as big a name as DeWalt. This is a company that built its entire name on being as all-American as apple pie, beer, and the 4th of July. Lately, much of the tool manufacturing world has been switching its factory locations from the US to other countries. Is DeWalt buckling to that pressure, though?
DeWalt's tools are made in the United States, China, Brazil, the United Kingdom, Italy, and the Czech Republic. Tools assembled in DeWalt's seven US plants have a label that says, "Made in the USA with global materials." The components and raw materials for these American-made tools are sourced internationally based on availability, quality, and price.
If you are a conscientious buyer who wants to help support American workers, it's totally understandable why you might want to look into DeWalt's manufacturing processes. In fact, some even suggest that it could have an impact on your tools' durability. We did the research and found out the truth about DeWalt's all-American image.
Understanding DeWalt's Push For American Manufacturing
If there's one thing DeWalt has made an effort to do in recent years, it's to show the company's patriotism in terms of manufacturing. During the 2000s, DeWalt was one of many companies that faced a backlash from consumers as a result of its manufacturing outsourcing. To help fix the situation, the company issued a 2013 press release stating they'd start manufacturing tools with foreign parts stateside.
Since 2013, the selection of tools that are made in the United States has increased dramatically due to the success in the PR campaign. However, not all tools are made in the United States, nor are all the materials made here, either. You will need to check the status of the specific tool that you want to buy.
Who Owns DeWalt?
While there was a point when DeWalt was its own entity, it was eventually bought by toolmaking megacorp, Stanley Black & Decker. Today, DeWalt acts as a subsidiary of Black & Decker. More specifically, DeWalt is noted for being the subsidiary that's in charge of providing upscale and professional-grade tools to users.
How Can You Tell If Your DeWalt Tool Was Made In America?
DeWalt makes it very easy to figure out where your tool was made. The company now has a nifty label that denotes American manufacturing participation which can be found on the site as well as on the tool itself. You can also shop for items that are exclusively American-made on the DeWalt site.
The first label has a "Made in the USA" emblem with "With Global Materials" written in smaller lettering below. As this suggests, the tool was assembled in America but uses materials that were sourced from abroad. In the future, it's possible that DeWalt may make another label showing items made entirely stateside.
How Many Tools Does DeWalt Make In America?
At the time of this writing, DeWalt makes well over 100 different products in the United States, including a nice range of power tools, hand tools, and accessories. The number of tools and accessories that will continue to be made in upcoming years remains to be seen, but it appears to be promising.
Some of their more popular American-made tools include their Flexvolt 2.5-Gallon Cordless Air Compressor Kit, their 4-Piece Max XR Combo Kit, and a number of their impact driver kits. Several of their most popular hand tools, including their tape measures, utility knives, and their handsaws, also have American roots.
Are All DeWalt Tools Made In America?
DeWalt was founded in the United States and is still based there. As the company explains, its seven plants throughout the US are dedicated to creating American jobs.
However, DeWalt does source various components and raw materials from around the world. This decision is made when the necessary components aren't available in the United States.
Sometimes, the company also sources materials from other countries when it's not viable to purchase them in the US. This can be due to availability, quality, or cost.
DeWalt does not make all of its tools in America. Some of its most popular tools that aren't made in the US include the mid-range cordless impact wrench, the drywall screw gun, and the sliding miter saw. There's also the FlexVolt table saw, the FlexVolt 60V max grinder, the FlexVolt circular saw kit, and the died cable crimping tool kit.
Which DeWalt Tools Are Made In The USA?
The DeWalt tools made in the USA are the ones that have the aforementioned label on them. The label reads "Made in the USA with global materials." Although DeWalt may have sourced the materials and components of these tools from other countries, the tools themselves were assembled in one of the company's seven US plants.
How Many Factories Does DeWalt Have In The United States?
Currently, DeWalt has seven different factories in the United States. These facilities are located primarily in the South and the Midwest. More specifically, you can find them in the following cities:
Charlotte, NC
Cheraw, SC
Greenfield, IN
Shelbyville, KY
Jackson, TN
Hampstead, MD
New Britain, CT
Are DeWalt Tool Parts Made In China?
Some of them are, but that's not the only place DeWalt makes their materials. Some of the other plants in charge of manufacturing DeWalt items can be found in the Czech Republic, Italy, the United Kingdom, Brazil, Korea, Thailand, and Japan, just to name a few. Since it is a multinational company, it can be very difficult to fully trace where every little part is made.
DeWalt has been hush-hush about where every little part is made, primarily because it could be construed as a trade secret. However, the company has regularly emphasized that all manufacturing plants are held to the same standard of excellence as the plants in the United States.
Are American-Made Power Tools Better?
This, in and of itself, could probably make for a good power tool article all of its own. There are several reasons why many people believe that American-made tools are better. The most commonly-cited reason is that there will be better oversight as a result of stricter manufacturing laws and more stringent manufacturing quality guidelines.
However, the evidence that comes with this statement is flimsy at best. Anecdotally, tools that are made in certain countries do seem to have a lower rate of long-term success. However, when it comes to the actual statistics, there isn't enough evidence to fully support the "American made" statement.
Why Did DeWalt Start Making Tools In America?
There were a number of reasons, but the biggest one dealt with bad press. Like many other mega-corporations, DeWalt was experiencing a decline in popularity as a result of its outsourcing. Also like other companies, DeWalt was experiencing a serious decline in the overall quality of their tools—or, at the very least, the perception of their tools' quality.
Knowing that many of DeWalt's customers felt that American-made offered a higher guarantee of quality, the company moved a portion of their tool manufacturing stateside. This also allowed corporate to have a better command of quality when it comes to the company's top-rated tools.
Are DeWalt Tools Worth It?
It all depends on what you're looking to accomplish with them and what you expect. DeWalt still stands by its work, to a point. While their warranties are not as long-lived as they once were, the tools still generally come with a three-year manufacturer's warranty at a bare minimum. However, there definitely are other companies that have a higher price.
The good thing about DeWalt tools is that you get a decent amount of reliability without having to shell out the highest price for that quality level. That's why most construction crews tend to invest in them and pick them as their go-to brand.
Did DeWalt's Tool Quality Improve?
The jury is still out on this one. DeWalt still remains one of the best tool brands in the world, which is why most professional crews trust the name. Ratings-wise, DeWalt is just under Milwaukee and Makita, which places them in the top three major brands for tool reliability and trustworthiness. That's not a bad thing, no matter how you look at it.
Even so, if you're looking for a longer warranty, then you should go with Milwaukee or Makita. Their tools tend to have a marginally longer warranty across the board. In terms of anecdotal evidence, many DeWalt tool users claimed that the move to stateside manufacturing did help improve tool quality.
What Other Companies Make Tools In America?
If you are concerned about making sure that your tools are US-made, then you have other options that you can pursue alongside DeWalt…or just aside from them. However, due to the crunch in manufacturing, the truth is that you may struggle to find tools that are made in the United States. The most well-known companies that create tools in America include:
Wright Tool
Sait
Malco
Kraft Tool Co.
Klein Tools
Johnson
Flange Wizard
Vantage
Conclusion
DeWalt does create many American jobs with its seven US-based plants. However, DeWalt does not make all of its tools in the United States. Some are made in the Czech Republic, Italy, the United Kingdom, Brazil, and China.
Tools made by DeWalt in the United States have a special label. The label reads, "Made in the USA with global materials." This means that the tools were assembled in the US. However, DeWalt sourced the raw materials used to make the tools from other countries.
Related Guides

Ossiana Tepfenhart
Ossiana Tepfenhart is an expert writer, focusing on interior design and general home tips. Writing is her life, and it's what she does best. Her interests include art and real estate investments.
More by Ossiana Tepfenhart
Published October 10th, 2020 7:04 PM