143 Views
What Kind Of Curtains Can Be Used For A Traverse Rod?
December 6th, 2021 9:01 PM
Share
The curtains are important elements of your home. They beautify your home while simultaneously offering privacy, light control, and even some level of insulation. Placing curtains over your windows and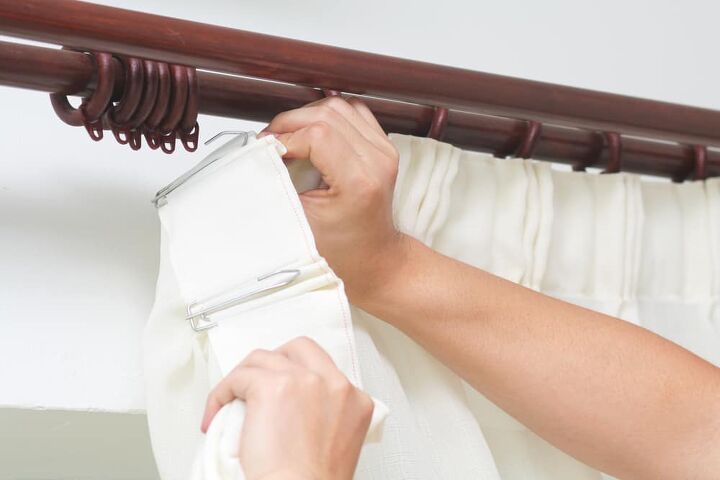 The curtains are important elements of your home. They beautify your home while simultaneously offering privacy, light control, and even some level of insulation.
Placing curtains over your windows and leaving them be is an option. If you want to continually tinker with your curtains though, using a traverse rod is advisable. Pair the right curtains with your traverse rod and you can transform your home interior into a more dynamic space.
Curtains that will be used together with a traverse rod must feature adjustable curtain pins. The adjustable pins may be built into the curtains or you can add them yourself. Often, the curtains must also be twice as big as the traverse rod to ensure a proper fit.
A traverse rod can prove to be a good addition to your home, especially from a functionality standpoint. Get the most out of it by pairing it with the right set of curtains. Learn more about how to choose the right curtains for your traverse rod and other relevant topics by reading on.
Do You Need an Interior Decorator?
Get free, zero-commitment quotes from pro contractors near you.
What Is a Traverse Rod?
Before we talk about the curtains you need to use, it helps to first understand what a traverse rod is. Upon taking a closer look at a traverse rod, you'll see that it's quite different from a typical curtain rod.
Traverse rods feature a track that is then positioned inside a slot carved into the body of the rod. That track is responsible for accommodating clips that allow the traverse rod to work as expected. Check out the track and you'll notice that it has openings. Those openings are designed to hold adjustable curtain pins. The number of openings present on a traverse rod can vary depending on how long the rod is.
Aside from all those components, you'll also find a cord present inside the traverse rod. The cord is an important component of the system because it's responsible for opening or closing the attached curtains. The cord manages to open and close the attached curtains with some help from a nearby pulley.
The number one reason why homeowners like traverse rods so much is because of how easy they are to use. Instead of having to constantly open or close the curtains by hand, you can just control the cord and make adjustments. It's a real time-saver, especially if you have many windows spread throughout your home.
When to Use Traverse Curtain Rods
Traverse curtains and traverse curtain rods are ideal for the following situations:
Frequent usage and functionality. Traverse curtains rods are excellent when you have curtains that will be opened and closed frequently throughout the day. They are much more convenient than having to pull your curtains by hand over and over again. Traverse rods and curtains are also great for those who desire curtains that function more like blinds.
Large windows. For windows that are larger than 35 inches across, a support bracket is required in the middle. However, this means that your drapes won't be able to move past this bracket and you can never fully close your curtains. In this case, you'll want to opt for a traverse curtain rod so that your curtains will effortlessly slide across the entire length of the rod.
Complex, layered window treatments. If your windows have drapes, valances, or other window treatments, you should probably opt for traverse curtain rods instead of double standard rods. They avoid having to stagger where your drapes are hung or hang multiple rods to achieve the look you want. With traverse rods, you can combine different window treatments without things looking too bulky.
Minimalistic look. Traverse curtains rods do a wonderful job of displaying the fabric of your curtains rather than the rods, pins, and clips. So, if you prefer a clean, minimalistic look or simply want your curtains to stand out, you should strongly consider traverse rods.
Traverse curtain rods offer the best of both worlds wherever a covering is needed, but you still want to be able to easily open and close a door.
What Are the Different Types of Traverse Rods?
Homeowners can choose from three different types of traverse rods. They bring their own strengths and weaknesses to the table so it's important to consider your choice carefully.
Standard Traverse Rods
Standard traverse rods, as you might have guessed, are the most prevalent options. They don't do anything special, but they are capable of concealing the hardware used to hang the curtain. Use them if you want to showcase the curtains you selected more effectively.
Double Traverse Rods
Double traverse rods are what you'll need if you're looking to hang two sets of curtains. You can also use them to pair some curtains with a valance.
Decorative Traverse Rods
Decorative traverse rods are also available. Decorative traverse rods are different because they themselves can work as stylish additions. Make sure you pair them with curtains that complement their appearance in order to maximize their potential.
Is there a clear best option among the traverse rod options available? It's hard to say that's the case. Still, if you want to use multiple sets of curtains, you definitely have to go with a double rod.
The bottom line here is that all three options can work great inside your home. It's just a matter of figuring out which one best meets your preferences.
How Do You Select Curtains to Hang on a Traverse Rod?
It's important to note that not all curtains can immediately be paired with traverse rods. You have to be a more discerning shopper and look beyond the color options if you want to avoid wasting money. Let's discuss the factors that determine whether a specific set of curtains can be used together with a traverse rod.
The Presence of Curtain Pins
To put it simply, the curtains won't hang on your traverse rod if they don't come with curtain pins. Traverse rods are not designed like a typical rod. You cannot just hang the curtains on them and expect them to stay put. In order to keep the curtains in place, you have to connect the curtain pins with the corresponding pins. As long as the pins are well designed, you should have no trouble getting the curtains in the right spot.
Your selection is limited somewhat by the fact that you need pins to be present on the curtains. However, there is a workaround for that problem. You can add pins to the curtains you like and apply other adjustments to make them compatible with the traverse rod.
It will obviously take more work to create custom curtains that work with traverse rods. Even so, all that work can be worth it given the beautiful end result.
The Appropriate Size
A common mistake homeowners make when buying curtains to hang on traverse rods is choosing sets that are too small. Pinch pleat curtains are the type of curtains that are meant to be used with traverse rods. The issue with pinch pleat curtains is that they don't cover as much space as regular curtains.
Homeowners may purchase curtains that are the same size as their traverse rod and not realize their mistake right away. Because they didn't account for the pinch pleat design, the curtains may only be able to cover most of the window. You need to avoid making that same mistake. The move here is to search for curtains that are about twice the size of the traverse rod.
Another option is to look for curtains that are thrice as big as the traverse rod. That basically guarantees that the curtains will cover the windows completely.
How Do You Hang Curtains on the Traverse Rod?
After choosing your curtains, you can now proceed to hanging them. While these types of curtains look very intricate and sophisticated, the process of attaching them to the traverse rod is simple enough. Plus, when properly hung, they will consistently look neat and elegant, whereas, most traditional curtains require constant adjusting and fluffing when moved.
The steps outlined below will help you successfully complete the process of installing traverse curtains.
Step 1: Prepare the Curtain
Most traverse curtains come with the pins already installed. Start by folding the curtains. Fold them in such a way that you follow the pleats, similar to an accordion fold. Arranging the curtains in this manner makes them easier to work with. Once this step is complete, you're ready to start hanging!
Step 2: Attach the Curtains to the Master Carrier
Locate the master carriers on the traverse rod and start by reaching for the one on the far left side. Connect the first pin to the hole in the master carrier. Continue by connecting the second pin to the final hole on the master carrier.
Step 3: Connect the Curtains to the Openings along the Traverse Rod
After you're done with the first master carrier, you can now attach more of the pins. Keep moving along the length of the traverse rod and attach the pins to the openings as you go. However, you'll want to hold off on connecting the last two pins for the moment.
Step 4: Link the Pins and the Traverse Rod
The two pins you didn't connect to any of the openings must be linked to the rod itself. You'll find the spots for those two remaining pins at the front and the side of the traverse rod. Since these pins attach to the rod and not the clips, the front of the curtains can look uneven.
In some cases, you may have to pull out the pins and reinsert them slightly higher to ensure that the drapes hang evenly.
Step 5: Adjust the Placement of the Curtains
With the curtains now attached to the traverse rod, you can make adjustments until they hang properly. Adjust the pleats that rest in front of the rod and work on the sides of the curtains too. Continue tweaking the positioning of the curtains until they give you the kind of privacy you want.
Do You Need an Interior Decorator?
Get free, zero-commitment quotes from pro contractors near you.
---
Related Questions
Why Should You Choose a Traverse Rod over the Other Options?
There are a number of ways in which a traverse curtain rod makes the most sense, including if you frequently open and close your curtains, have big windows, desire more functionality, have layered window treatments, or simply desire a more minimalist look.
Can You Use Regular Curtains Together with a Traverse Rod?
Hanging regular curtains from a traverse rod is possible provided that they feature certain qualities. You first have to check if the curtains can be customized. See if you can add pins that can then be connected to the openings in the traverse rod.You should also consider how big the curtains are. If the curtains already fit your window perfectly, they cannot be used with a traverse rod. By the time you're done customizing those curtains, they will no longer fit the window so choose a different set instead.
Can You Use Back Tab Curtains With a Traverse Rod?
Technically speaking, no you cannot use back tan curtains with a traverse curtain rod. However, it can work with some modifications. You'll need to adjust the curtain to accommodate drapery pins so that the it folds into a pinch pleat.

Upgraded Home Team
We are a team of passionate homeowners, home improvement pros, and DIY enthusiasts who enjoy sharing home improvement, housekeeping, decorating, and more with other homeowners! Whether you're looking for a step-by-step guide on fixing an appliance or the cost of installing a fence, we've here to help.
More by Upgraded Home Team
Published January 1st, 2021 6:00 PM