31 Views
What Is The Best Water Heater Brand? (Find Out Now!)
August 27th, 2021 2:23 AM
Share
We're committed to finding, researching, and recommending the best products. We earn commissions from purchases you make using links in our articles. Learn more here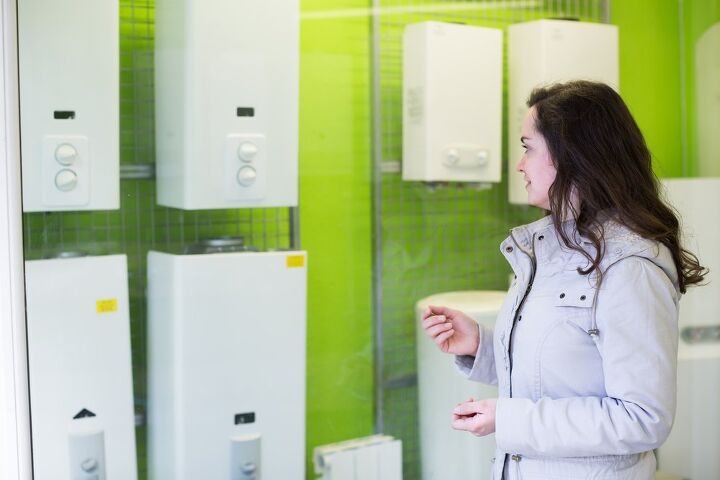 There are few appliances that are as central to your lifestyle and comfort as a water heater. Everything from your daily chores, to your hygiene, to your level of comfort, is affected by how well (or not well) your water heater supplies hot water to your home.
The best water heater brands include Bradford White, Rheem, and A.O. Smith. When choosing the best water heater for your needs, consider the energy efficiency, form factor, and capacity proposed by each brand. Also look for special features such as water usage alarms and smartphone connectivity available in some products.
Do You Need Water Heater Installation or Replacement?
Get free, zero-commitment quotes from pro contractors near you.
How to Choose the Best Water Heater?
There are quite a few aspects to water heaters that should be considered before you purchase a water heater for your home.
Power Source and Energy Efficiency
The first is how the water heater will heat the water. Water heaters can be powered by electricity, gas, propane, heat pumps, condensing, or solar systems. There are some pros and cons involved with each of the power sources available, and many of those are related to how much water the heater can supply and how energy efficient the water heater is.
Some of the most efficient water heaters available are condensing water heaters, as well as those running on solar power, natural gas, and heat pumps. With efficiency often comes limited outflow, however. So, if your requirements for hot water production are high, it is worth it to weigh efficiency with effectiveness.
Form Factor
Another important factor is the type. Water heaters come in several form factors. Both tankless water heaters and those with water storage tanks are quite popular. You can also opt for a smaller, point-of-use water heater for specific taps or rooms.
Capacity
If you opt for a water heater with a tank, selecting the correct capacity for your needs is essential. Residential water heaters range in size from 30 to nearly 100 gallons. Capacity can wither describe how much hot water a water heater can deliver within one hour or how much hot water a tankless water heater can produce each minute during operation.
To decide on the best capacity for your home, there are a few things that you should consider. The first is how many people live in the home. Each person can potentially use a set number of gallons per hour and that projected usage should be calculated.
The flow rate of any appliance that requires hot water should also be taken into consideration. Dishwashers and washing machines, for example, use the hot water and can draw very different amounts of water from the water heater, depending on the make and model.
Size
The size of the water heater also plays a crucial role in your decision-making process. Once you decide where the water heater will be, you will have to measure the space and make sure that the water heater that you are interested in fits nicely.
Special Features
Apart from the basic form and function of a water heater, there are also numerous other features that set certain water heater apart from the pack. Some water heaters feature water usage alarms, internet and smartphone connectivity, and much more.
Best Water Heater Brands
Let's take a look at the best water heater brands available today. All of these water heater brands have made it onto our list because of their quality and innovation. Each brand has unique features that help drive the name of the brand to the top of the industry.
Read on to learn more about what makes these brands special. While you do, keep in mind that this list is not arranged based on quality or ranking. Each brand will be more or less suitable for different purposes and situations.
Bradford White
Bradford White is one of the oldest water heater companies in the US, as well as one of the most respected. The company is employee-owned and based in Pennsylvania. Bradford White's primary competition in the water heater space are giants such as Rheem and A.O. Smith.
Included in the Bradford White brand are Laars Heating Systems, NST Steel Tanks, and a Canadian subsidiary by the same name.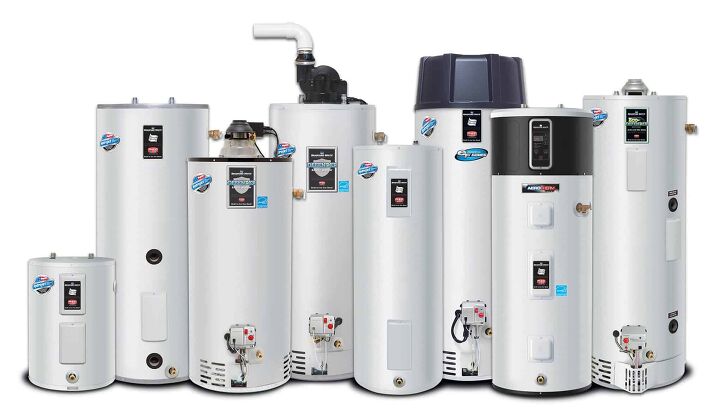 Models
Between the various companies operating under the Bradford White name, the number of water heating solutions available to the homeowner is nothing short of outstanding. The most popular models are the Defender Series, the Eco-Defender Series, the eF Series High Efficiency, Electric water heaters, Infinity Tankless, and AeroTherm.
Product Highlights
Bradford White water heaters provide something for everyone, and they do it quite well. Bradford White water heaters come with several special features. These are features that not only improve the efficiency and effectiveness of the water heaters themselves but also add safety measures to keep your family safe.
For example, to combat limescale buildup and other corrosive effects, Bradford White water heaters are lined with enamel for added resilience. There are also systems built into the gas models that both control the rate of flow powering the water heater and ensure fuel vapors never ignite.
There are a similar set of special features built into the tankless systems as well. So, no matter which type of water heater best suits your needs, you can rest assured that the water heater will last for years.
Rheem
When it comes to names that are synonymous with water heaters and HVAC systems around the world, Rheem will always come to mind. Rheem (AKA Ruud) has been producing high-quality water heaters since 1925 and supplies products globally. Based out of Atlanta, Rheem is also one of the largest manufacturers in the US.
Rheem features products focused on both residential and commercial use, and there are multiple choices for both applications. The most popular models for residential use are the ProTerra and the Prestige Series.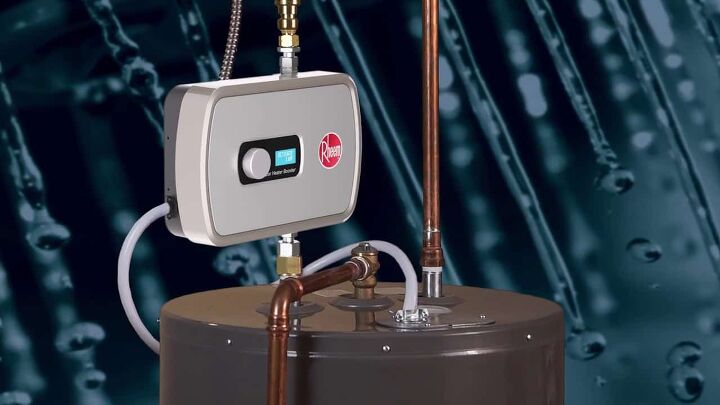 Hybrid (With Tank)
The ProTerra is a hybrid electric heater that supplies more than enough hot water while using only a fraction of the energy that a traditional gas-powered or gas water heater does. As advertised, the ProTerra is a 4x more energy efficient than many of the direct competitors of the model.
Tankless Options
The Professional Prestige and Performance Platinum lineups are tankless water heaters that come in different sizes and power levels. These are popular for many reasons. Using a recirculation pump, it is possible to have on-demand hot water, with absolutely zero waiting times.
Other benefits from the tankless systems include hot water that lasts, energy savings, space savings, smart control connectivity, and much more. There are also many different tankless systems, each featuring a different set of unique features.
A.O. Smith
Like Bradford White and Rheem, you cannot talk about water heaters without mentioning A.O. Smith. After getting its start all the way back in 1874 as a bicycle part manufacturer, A.O. Smith has transitioned many times. The company is now one of the largest producers of water heater systems in the US.
A.O. Smith also enjoys a vast global presence and has factories in several countries throughout the world. The influence of A.O. Smith on the water heater and HVAC industry can also be seen by how many other brands operate under their umbrella. Popular water heater brands, such a John Wood, Takagi, Reliance, and many more, are all part of the A.O. Smith lineup.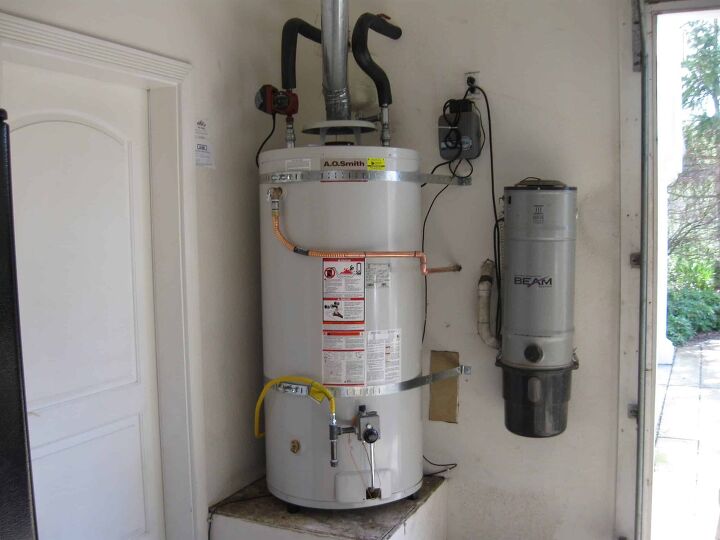 Top Models from A.O. Smith
The most popular A.O. Smith water heaters are from the ProMax line. The GCR-40 and GCG-50 (ProMax Atmospheric Vent), GPVL-40 (ProMax Power Vent), and the FCG-75 (High Recovery Atmospheric Vent) are each highly regarded as the best of the A.O. Smith lineup.
ProLine
While there are certainly plenty of options within the Signature Series that will suit homes of every size, some may wish to opt for a commercial water heater. From A.O. Smith, you will find a whole lineup of professional water heating systems that are available from contractors in your area.
Industrial sized water heaters in various form factors, Boilers, Storage tanks, rack systems for multiple tankless water heaters, and more. While it may not make sense for the average homeowner to consider a major heating solution like those found in the ProLine, they are perfect for small apartment buildings and large homes.
Signature Series
The Signature Series is built for residential use and you will likely find a great fit for your home and lifestyle within the Signature Series. There are tank and tankless water heaters available in the Signature lineup and whether you are looking for tank or tankless, you will also have your pick of how the water heater will be powered.
You can also choose a water heater belonging to one of the three tiers available: Signature, Signature Select, and Signature Premier.
Rinnai
Another important brand in the water heater space is Rinnai. Based out of Japan, Rinnai has been producing world-class water heater systems for a global market since the early 1900s. In 1974, Rinnai began operating within the US and still produces a well-varied and popular lineup.
Rinnai is one of the most affluent brands in the industry when it comes to tankless systems. The lineup includes several different series of water heaters, each series focused on a particular technology with varying size and power capacity.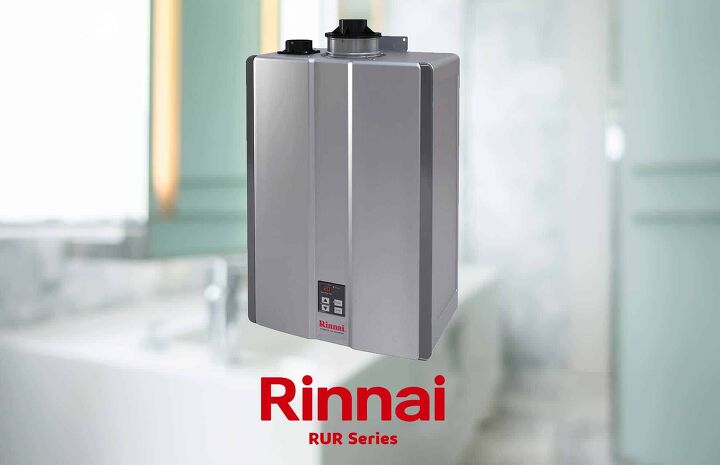 Top Models for Rinnai
One of the best water heaters that you can buy is the compact Rinnai RUR98iP, capable of a 9.8 GPM flow rate. Not only is this model perfect for homes of various sizes, but it looks great and is small enough to be installed just about anywhere.
The HE Series
The HE Series is the most basic of the bunch but still very good. This series provides continuous hot water in a tankless format and has an energy efficiency rating situated between .79-.82.
The HE+ Series
A step up from the HE Series is the HE+ Series. In this lineup, you will find a slightly better energy rating which is set a .81-.82. Still not enough to qualify for an Energy Star rating but it is quite close. The HE+ also comes with connectivity options for recirculation and Wi-Fi controllers.
SE Series
The SE series is the entry-level Condensing tankless water heater. It has a slightly higher efficiency rating from that of the HE+ Series but shares none of the bells of whistles. For that, we should look at the Sensei Series.
Sensei+ Series
The Sensei+ Series is the top of the line as you may have guessed from the name. These tankless systems are condensing units and have a very high rate of efficiency. The high-efficiency rating not only helps these models qualify for the Energy Star rating but also significantly cuts electricity costs over time.
State Water Heaters
State Water Heaters is a subsidiary of A.O. Smith and shares the same great reputation. State has been producing water heaters since 1954 and was the first water heater company to apply the use of foam insulation and also made with waves within the industry for its innovations involving limescale control.
Although the company was acquired in 2001 by A.O. Smith, State Water Heaters has been able to maintain the same great product lineup that it was always known for. You may not see many advertisements for State, but the company produces some solid choices when it comes to solving your water heater needs.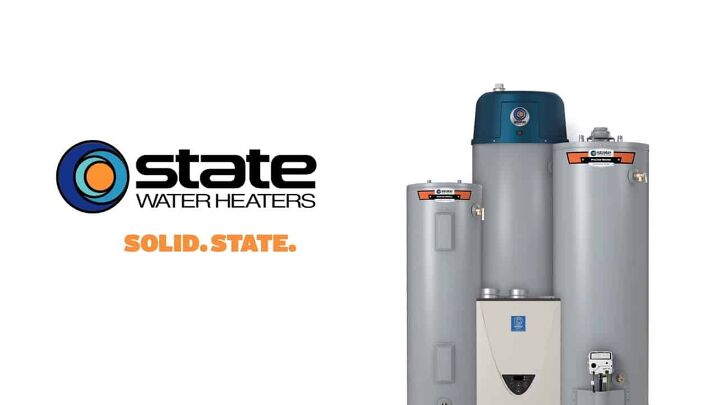 Top Models from State Water Heaters
State Water Heaters provides plenty of excellent value. If you are looking for the best that they have to offer, you should look no further than the ProLine XE line. One of our favorites is the ProLine XE Polaris High Efficiency GHX 50.
Tank
There are three tiers to the gas-powered tank options: ProLine, Proline Master, and ProLine XE. Features that you will find among those tiers are powered anodes, Energy Star ratings, LCD displays, and self-cleaning mechanisms, to name but a few.
Water heaters in this lineup also range from 29-75+ gallons of storage space, requiring anywhere from 39,999 to 65,000 BTUs input. You will also find electric options available for the same tank water heater lineup, along with some point-of-use options and hybrid electric heat pump models.
Tankless
The tankless water heaters that run on gas feature different technology depending on the product that you choose. There are both condensing and non-condensing units available.
The technology used has an impact on how much energy is used to run the water heater which is why the non-condensing units are Energy Star rated for efficiency. The flow rate that you can expect from these units ranges from 1.5 gallons per minute to 10+ GPM.
Tankless systems running on electricity offer the same great features as their gas-powered counterparts. Models are available in 22-240V and draw anywhere from 10-30+ KW of energy to supply a home with continuous hot water.
Stiebel Eltron
If you are a fan of BMW, Volkswagen, and Zwilling J.A. Henckels, the Stiebel Eltron name might strike a chord with you. Stiebel Eltron is a water heater brand that got its start in 1924, in Germany. Since then, the company has gained a reputation for producing high-quality water heaters that are optimized for hot water production and energy savings at the same time.
Stiebel Eltron is known for bringing technological innovation to the water heating world. With a focus on tankless water heaters, there are a large number of available models to choose from. There are electric tankless water heaters made for the whole house, multi-point of use electric tankless water heaters, single sink point of use electric tankless water heaters, mini tankless water heaters, and much more.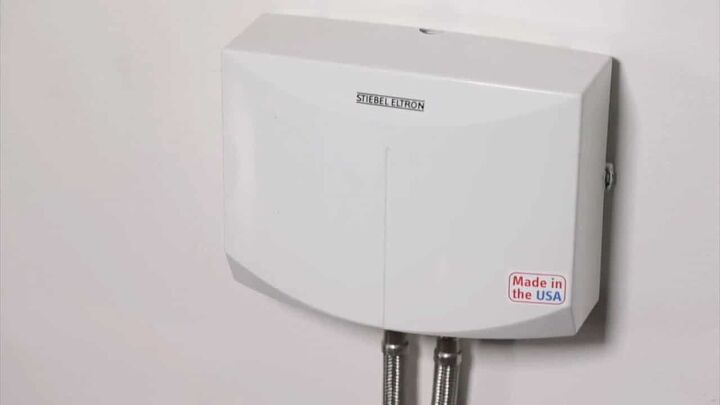 Top Models from Stiebel Eltron
Stiebel Eltron water heaters come with a range of unique features and advanced technologies that many other companies will not offer. That puts almost all their water heaters a step above the rest if tech is what you are after. At the top of the Steibel Eltron lineup sits the Stiebel Eltron Tempra 29 Plus.
There are even systems designed to capture naturally occurring energy sources, such as solar and geothermal. Hydronics are also used, as are hybrid systems comprised of multiple technologies. With so many form factors and technologies to choose from, there is a Stiebel Eltron water heater suitable for just about every home.
Navien
Navien is a water heater brand that is often suggested for those looking for condensing tankless water heaters. Since 2006, the company has been producing a range of high-tech water heating solutions that have become well known within the HVAC industry. For many, the name KD Navien will likely ring a bell as it has been in operation for more than 40 years now.
Top Models from Navien
When a tankless, non-condensing water heater fits your needs anything from NPN Series at Navien will fit the bill perfectly. The main difference between the various models in the NPN lineup is the amount of hot water they can produce. The NPN-U is our top choice.
This water heater company is more limited than many others in terms of how many products they offer. However, the tankless water heaters, combi-boilers, and boilers provide households of different sizes with an endless supply of hot water.
Noritz
Noritz may not be a name that you hear every day, but it is certainly one of the best producers of tankless water heater systems available today. In fact, Noritz was the first company to produce a tankless water heater (in 1981) and continues to develop and expand on that innovation.
As with many other companies within the water heater space, Noritz concentrates on a select number of water heaters. They do this in order to maximize the quality and attention to detail that their products are known for.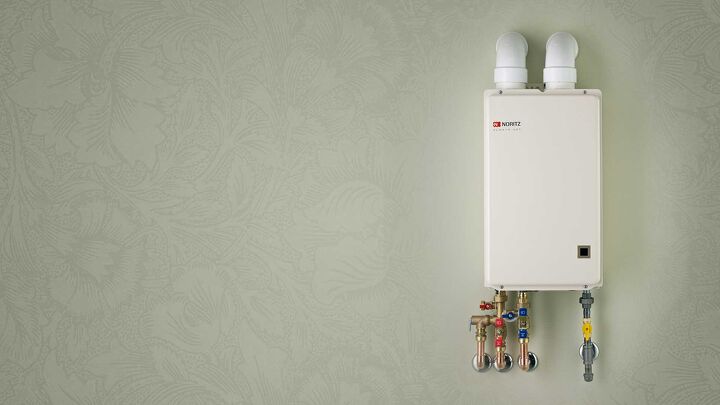 Top Models from Noritz
If you are looking for a good balance between hot water capacity and efficiency, the EZ111DV-NG is a fantastic choice. This model runs on natural gas, can be used in both indoor and outdoor settings, and can easily replace a much larger tank water heater.
Noritz makes tankless water heating systems for both residential and commercial use. There are units designed for indoor use as well as outdoor, and they come with a rating for either mid or high-efficiency operation.
Whether you are looking for a tankless water heating solution for a home with one bathroom or more than five, Noritz can certainly provide.
Kenmore
Kenmore is a name that many will be familiar with. Developed for Sears, Kenmore water heaters can be purchased either from Sears or from the Kenmore website. The Kenmore brand has been around since the mid-1920s and now produces a wide range of household appliances, including various types of water heaters.
Top Models from Kenmore
With such a solid lineup, picking one model that stands out is a little tricky. For that reason, here are a few of our top recommendations from Kenmore. The Kenmore 57250, Kenmore 33136 Power Vent, and the Kenmore Elite 59250, cover the range of entry level to advanced.
Kenmore does not manufacture its own products, however. Kenmore's products are manufactured by Whirlpool, LG, and Electrolux, to name but a few. Having been in the home of Brian's business for as long as Kenmore has, it is not surprising that they have as many water heating solutions available as they do.
Whether you are looking for natural gas water heaters, LP gas water heaters, hybrid water heaters, electric, or even water heaters designed for specific jurisdictions (such as those designed for California), you'll certainly find a lot of choice at Kenmore.
Takagi
Takagi has produced water heaters for 70+ years and is one of the most popular brands to choose from when it comes to tankless systems. The company is known for water heaters designed for both home and industrial use, and the product lineup is certainly varied enough to suit a wide range of use case scenarios.
For the past ten years, Takagi has been owned by water heating giants A.O. Smith and now operates under the umbrella of the larger company. Despite the acquisition, Takagi has held on to its distinct line of water heaters, to the delight of many satisfied customers.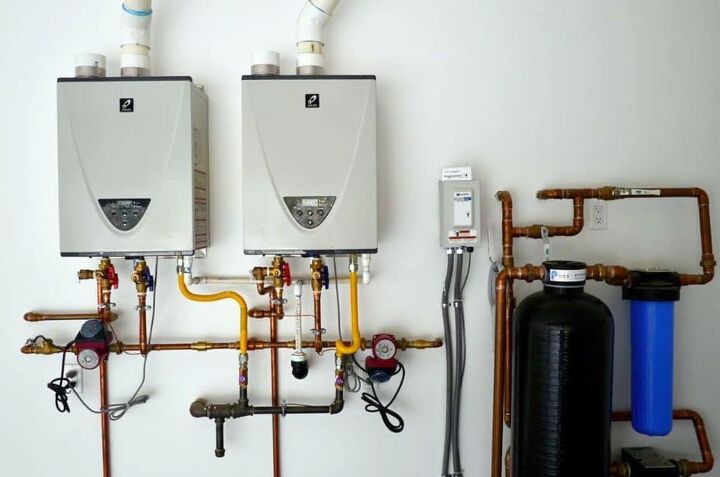 Takagi tankless water heaters come in various shapes and sizes. Choosing the perfect model for your home comes down to the size of the water heater as well as how many gallons of hot water per minute the water heater can produce.
Top Models from Takagi
Should you choose Takagi for your water heating needs, some of the top models in the lineup are Takagi TH3SDV, Takagi TK-U310-E, and the Takagi T-H3-OS.
With some models designed to output up to 7.5 GPM and others more than 10 GPM, the amount of hot water you require will guide your decision as to which of the models is best for you.
There are also various features to choose from, such as remote-control operation, easy Link, and multi-link technologies. Some models also are energy star rated which can help save the environment while also driving down operating costs.
American
American Water Heaters (not to be confused with American Standards Water Heaters) got its start in the water heater industry as late as the mid-1970s. Since then, American has become a well-established brand that is trusted by contractors and homeowners alike.
In 2002, American was acquired by A.O. Smith. However, American still provides its own lineup and brand identity. For many, American water heaters are even more preferable than those produced directly by A.O. Smith.
The water heater line up at American water heaters is quite extensive and should provide ample choice to anyone interested in the company and its products. For residential use, options available include water heaters that are gas, electric, and solar-powered. There are also numerous form factors, such as tank water heaters and tankless water heaters.
Top American Water Heaters
As with many of the other choices on our list, American Water Heaters supplies their customers with plenty of options. Depending on whether you want to go with tankless, electric, or gas options, the most popular models are the GT-510C-NI, the HPHE10280H045DVN – ProLine XE 80, or the PG10-50-199-3NV Polaris High Efficiency, respectively.
The product lineup at American is very similar to that of State Water Heaters and A.O. Smith. Being that the three companies share manufacturing processes, you get the same great quality no matter which company you go with.
For many, the deciding factor merely comes down to which of the water heater companies operating under the same umbrella is more readily available and one area or another.
American Standard
American Standard is a company focused on supplying large amounts of hot water to residences and commercial properties alike. The company also produces a diverse range of products such as fixtures, bathtubs, showers, toilets, sinks, and more.
The quality and service that come with American Standard products are part of what makes the company as successful as it is today. For anyone looking for a serious water heater capable of providing plenty of hot water for large residences, hotels, B&Bs, and other heavy-use situations, American Standard is a good place to start.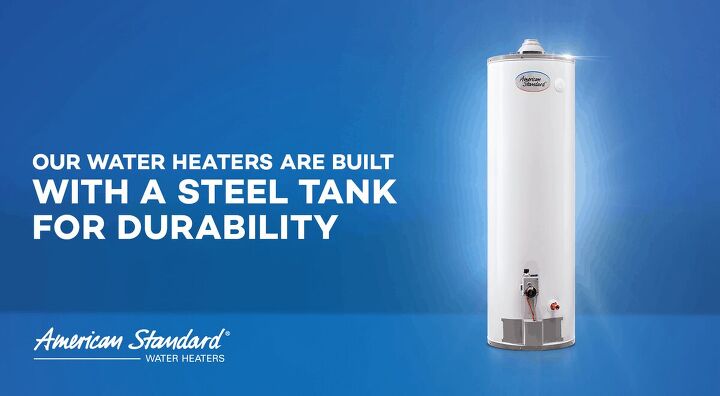 Top Models from American Standard
One of the best water heaters from American Standard is the RU 75-76-AS, but the GN-Ultra Low NOx is a close second. Both options run on natural gas and come with several unique features.
The residential product line from American Standard is broken into five categories. you can choose from low NOx natural and LP gas water heaters, ultra-low NOx natural gas water heaters, tankless condensing water heaters, electric water heaters, and electric point of use models.
The low NOx natural and LP gas water heaters are available from 40 to 100-gallon models, with some models qualified for energy star ratings. The ultra-low NOx models include features like glass liners, powerless atmospheric events, self-cleaning technology, and much more. These also come and gas and electric models.
American Standard's Water Heater Types
American Standard offers two versions of electric water heaters. The specs are basically the same for both models, as each utilizes from 30 to 46 amps and comes with a 50-gallon capacity.
The points of use of electric water heaters are small and provide a viable solution for anyone looking for hot water, especially in places where a traditional water heater would prove to be impractical. While American standards electric water heaters in this category are not as compact as a tankless model would be, they are still quite small.
For the ultimate never-ending hot water supply and compact form factor, American standards tankless condensing water heaters provide the best of both worlds. These eco-friendly models utilize less electricity and provide more hot water than many other traditional water heaters on the market today.
GE
GE Appliances (recently acquired by Haier) produce GE water heaters. GE Appliances has been around for more than 115 years and has remained a household name throughout that duration. GE is well known for its water heaters as well as many other appliances.
GE Appliances is based in Louisville, Kentucky and maintains its original branding, despite now being a part of a new parent company. Interestingly, GE Appliances also still maintains a distinct 'Made in America' theme, although Haier is a Chinese company.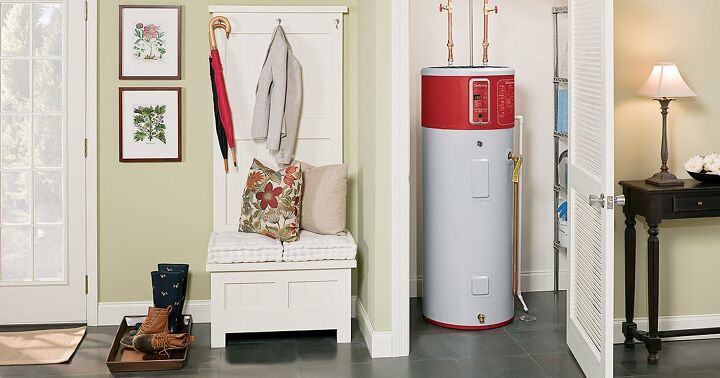 Top Water Heaters Models from GE
There are many reasons to choose a water heater from GE Appliances. Our all-time favorite from this brand is the GE GeoSpring (model GT50C10BAM), but the more economic GE Smart 50 gallon (GE50S10BMM) is definitely a close second.
GE Appliances have several different models for homeowners to choose from. There are water heaters as small as 24 gallons and some more than 50. For power options, choices include either solar-powered or electric. For anyone looking for a gas-powered water heater, GE is not your best pic.
One unique feature that GE provides that many other companies do not is the number of different sizes and shapes that their water heaters come in. Although the water heaters provided by GE are all tank water heaters, they are all designed with different use case scenarios in mind.
Whirlpool
Finally, and most certainly not least importantly, we have Whirlpool Corporation. Whirlpool has come a long way since the founder of the corporation began selling washing machines in the early 1900s. Whirlpool is now one of the most notable home appliance manufacturers both in the US and abroad.
Whirlpool water heaters are among the best in the industry, along with those from many of the other brands that operate under the Whirlpool umbrella. Whirlpool water heaters come in many form factors, including electric models, natural gas water heaters, and water heaters powered by liquid propane.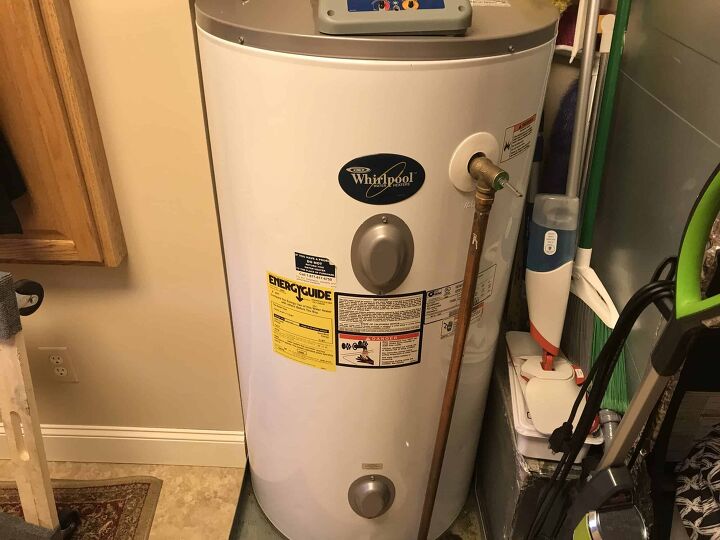 Top Models from Whirlpool
The most popular water heater for residential use is the Whirlpool 50-Gallon Tall Ultra Low NOx Natural Gas Water heater. This water heater is large enough to supply a busy household with plenty of water and it runs efficiently enough to keep the monthly bills at a reasonable level.
The Electric hot water heaters in Whirlpool's lineup come in several shapes and sizes. For tight spaces, the 28-gallon Lowboy is a popular choice. For larger homes with a high demand for hot water, there are several 40 and 50-gallon options to choose from. There are also electric water heaters available for mobile homes, as well as point-of-use options.
Gas-powered water heaters at Whirlpool come in 40- and 50-gallon variants. They come in tall and short formats and some offer Energy Star certification.
Do You Need Water Heater Installation or Replacement?
Get free, zero-commitment quotes from pro contractors near you.
---
Related Questions
What size water heater do I need?
The size of the water heater that you need depends on how much water will be used and how often the hot water will be drawn from the water heater. The size of the water heater that you purchase also depends on the type of water heater.To properly size a water heater, you can determine how much hot water you will use during the busiest time of the day. This includes appliances such as dishwashers and washing machines, as well as showers, hand washing, shaving, etc. Each device and activity will have a flow rate that can be multiplied by the number of minutes each is active.The resulting number from your calculation will be a set number of gallons. It is best to purchase a water heater that can match the number of gallons that you intend to use during your busiest hour.
Can I install a water heater in an RV?
The short answer is yes. You can install a water heater in an RV. You can install a small water heater with a tank – usually with a storage capacity of approximately 10 gallons – or you can opt for a tankless system.Tankless water heaters are preferred among many RV owners because of the energy efficiency of the units. In addition to being great at saving power, tankless systems can also provide longer sessions of continuous hot water.
Do water softeners damage water heaters?
Water softeners can damage water heaters. More specifically, the sodium content in softened water can lead to the anode rod (which attracts the minerals that make water hard) to fail sooner than it should. If using a water softener with a water heater, be sure to check the anode rod periodically to avoid costly mistakes.On the other hand, hard water can also damage water heaters due to the continual limescale buildup. Although water softeners can have a negative impact on the anode rod (which can be easily replaced), they can also save a water heater from more serious – and costly – problems.

Benjamin Wright
Benjamin is a proud homeowner who loves to write about DIY projects and home improvement projects. Traveling, perfecting his home, and spending time with his family are just a few of the many things that keep him inspired.
More by Benjamin Wright
Published October 18th, 2020 8:39 AM