819 Views
What Constitutes A Finished Basement For Tax Purposes?
August 23rd, 2022 10:36 AM
Share
We're committed to finding, researching, and recommending the best products. We earn commissions from purchases you make using links in our articles. Learn more here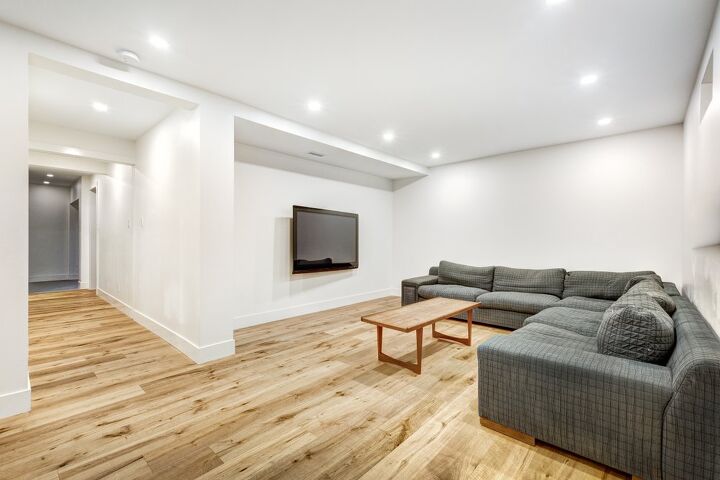 Finishing your basement is a renovation that adds both living space and value to your home. But just because a basement appears to be finished doesn't mean it counts as a finished basement on your taxes. So what is it that constitutes a finished basement for tax purposes?
A finished basement must be complete with an electrical system, heating and air conditioning, and finished floors, walls, and ceilings. Finished basements are required to have an accessible stairway or entrance, and bedrooms need a closet and an egress window. Property taxes go up with your home's property value, but they won't increase as much as the property value does.
In this article, we'll explain what a finished basement is and how it compares to an unfinished basement. We'll also cover the specific questions you need to ask to figure out if your basement is considered finished. Finally, we'll talk about the benefits of finishing a basement and how it will impact the value of your home.
Do You Need Basement Remodeling Services?
Get free, zero-commitment quotes from pro contractors near you.
Why Is It Important To Know If The Basement Is Finished?
Before we get into what constitutes a finished basement for tax purposes, let's cover why it's important. Knowing whether your basement is finished is crucial because it can significantly increase your home's property value.
However, you can't determine whether or not a basement is finished just by looking at it. For instance, many homeowners assume that utilizing their basement as living space means it's considered a finished basement. This isn't always true, so it's good to study up on exactly what constitutes a finished basement for tax purposes.
What Is A Finished Basement?
For a basement to be finished, it must be complete and very similar to the upstairs living area. This includes having an electrical system, heat and air conditioning, and finished floors. In addition, a finished basement must have an accessible stairway or other entrance. Level ceilings and finished walls are required as well.
Note that if you want to designate any rooms in the basement as bedrooms, there are some specific parameters to follow. All basement bedrooms must include both an egress window and a closet.
What Is An Unfinished Basement?
Unfinished basements frequently have exposed beams and pipes as well as concrete walls and floors. A common feature in an unfinished basement is a water heater. Usually, with finished basements, the water heater is kept in the garage instead.
An unfinished basement may also have a washer and dryer, a large secondary freezer, and a workbench for tools. In general, unfinished basements don't have a homey or complete feeling to them. They're generally not a living space or a place where you would want to entertain.
How To Determine Whether A Basement Is Finished
Here are a few questions you can ask to figure out whether your basement is considered finished.
How Do You Enter The Basement?
A finished basement has direct access, such as permanent stairs. If you have to enter the basement using a ladder or other temporary form of access, it's not a finished basement.
Another stipulation is that a basement is typically considered unfinished if it only has an exterior basement-level door. This is most common with older houses, since the majority of newer houses have interior stairs to the basement.
Does The Basement Align With the Setup Of The Rest Of The House?
Compare the basement with the rest of the house. Does the upstairs have finished walls, but the basement has painted concrete? That would mean the basement is not finished.
The floor of the basement has to be entirely covered with an installed cover. This could be carpeting, tile, wood, or any other flooring of your choice.
Two materials that will cause your basement to be considered unfinished are concrete and plywood. Even if you paint the surfaces of concrete and plywood, they don't count as being finished.
In addition, the walls and ceiling must have drywall. Any exposed beams or poles will deem the basement unfinished.
What Type Of Heating And Cooling System Does The Basement Have?
To be considered a finished basement, the basement must have the same heating and cooling system as the rest of the house. Using a window air conditioning unit or an evaporative cooler does not constitute a finished basement.
Instead, a finished basement should have electricity, an HVAC system, and natural gas, a permanent propane tank, or heating oil.
Benefits Of Finishing Your Basement
Finishing your basement comes with many advantages. You're increasing your living space and can even rent out your basement for additional income. The property value of your home will increase. You'll also be less at risk for issues like water damage and mold in the basement.
A finished basement is versatile, and it offers a space for storage and organization. You can make it into mother-in-law quarters, a home office, an Airbnb–the options are endless. It's also a fun renovation because you have full creative reign over the interior design from top to bottom.
Will Property Taxes Increase If You Finish The Basement?
Many homeowners decide to finish their basements for the convenience and added living space. But another great benefit of finishing your basement is that this home renovation can significantly increase your house's property value.
In fact, finishing your basement has a return on investment between 70 and 75%. This means that for every $1000 you put into renovations, you'd get between $700 and $750 back.
But with an increased property value can come an increase in property taxes. Unfortunately, there are so many factors involved in the amount of increase that it's hard to provide an estimate. Depending on your location and the type of work done on your house, the increase in taxes can vary greatly.
However, it's important to note that the property taxes won't increase by the same percentage as your home's value did. Still, you don't want to be saddled with property taxes you can't afford after completing your renovations. Therefore, be sure to check and see how much they will increase before finishing your basement.
How Do You Determine The Value Of Your House?
Determining the value of your house isn't something you can do yourself. Instead, a county assessor will need to go through your house and follow the state's guidelines to calculate its value. In most cases, the value of your home is based on the market price or fair market value.
Your home's property value is determined based on the ongoing value and the sales record for properties in the area. The assessor will take some exemptions into account as well. These most frequently affect the economically disadvantaged, the disabled, and the elderly.
Do You Need Basement Remodeling Services?
Get free, zero-commitment quotes from pro contractors near you.
---
Related Questions
Is a finished basement included in square footage?
In general, finished basements aren't included in square footage. This is especially true for finished basements that are completely or partially underground or below grade.
Is a finished basement considered living space?
Whether a finished basement is considered living space depends on which state you live in. However, a finished basement does count as living space when it comes to its property value. When talking about square footage, though, finished basements usually aren't included.
Is a finished basement a good investment?
In the US, finishing your basement typically results in a return of 70 to 75% of your investment. Experts consider it a good investment in most cases since it adds significant value to your property.

Jessica Allen
With a lifelong passion for writing plus strong enthusiasm for home improvement and DIY projects, joining the team at Upgraded Home was an easy choice. Jessica Allen likes to share helpful information with current and aspiring homeowners. Aside from writing, Jessica loves doing yoga, playing the piano, and dabbling in graphic design.
More by Jessica Allen
Published September 21st, 2021 3:01 PM