16 Views
What Color Rug Goes With A Grey Couch?
December 22nd, 2021 4:26 PM
Share
We're committed to finding, researching, and recommending the best products. We earn commissions from purchases you make using links in our articles. Learn more here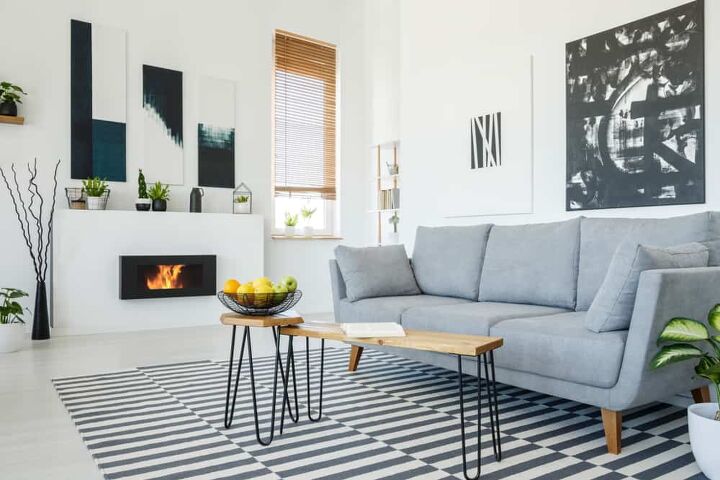 Whether you just bought your first home or you're renting an apartment, it's always fun to decorate. You can really make a place your own by the colors and style you use in each room. While you can always add a pop of color with the furniture in your living room, it's still a safe bet to opt for a neutral option.
If you have a beautiful grey couch, you may be wondering what color rug would go best with it. A good rule of thumb to follow is if the sofa is a solid color, go with a patterned rug and vice versa. When it comes to a specific color, take into account the color of your walls and accents.
Today we're going to dive in everything there is to know about color pairing with furniture in your living room. I've included some helpful tips to make it easy to create a cozy space. Before you know it, you'll be shopping around for cute rugs that pair perfectly with the rest of your decor.
Do You Need an Interior Decorator?
Get free, zero-commitment quotes from pro contractors near you.
How Can I Pick the Perfect Rug Color?
The color of your rug depends on many factors:
Your color scheme: Do you want your room to follow a particular color scheme? If so, the color of your rug depends on the colors of other items in the room, including the couch.
Your personal taste: This is the most important factor when choosing a rug color to go with your couch. Everyone has colors, color schemes, or patterns they simply don't like. Think about your favorite color combinations and patterns.
Room Décor Style: If you have a specific theme or style in your room, then the rug color depends on that.
How To Find The Right Color Of Rug
When you start with a neutral color like grey, the possibilities are simply endless. And no one will know which color works best better than you! So here are some different methods that will help you decide which rug to pick to match your couch:
Use a Patterned Piece to Help
If your couch has any patterns or accent colors on it, use one of those colors to choose a rug color. You can also use any other patterned, colorful piece of furniture or large painting.
Just choose one of the main colors from those pieces, and base your rug search on that color. If your room is fairly plain or subdued so far, your rug can be your main patterned piece. This gives you free rein to choose whichever colorful, patterned rug speaks to you most.
Decorate from Dark to Light
One popular, safe design idea is to decorate your room from dark to light. This means that you will have your darkest colors on the floor, and gradually work your way up to the lighter colors. So, if your walls or ceiling are lightly colored, you could follow this design idea.
Use the Color Wheel
A more traditional way to decide would be to use the color wheel to help you choose a rug color. Simply choose a color that is next to the color of your couch on the color wheel. You can find color wheel generators online where you can select the color of your couch.
Pick a Color that Pops
By selecting a grey couch, you're already in line with one of the most popular style trends today. If you're into neutral colors with a pop of color, go for a bright green or yellow rug.
The Rule of Three
This is a tried and true, "if all else fails" kind of design strategy. It's exactly what it sounds like – limit your color palette to three colors. You can follow it loosely, too – just choose several items of each color to feature in the room.
If your couch is grey, and your room features other colors, pick one those colors for your rug. For example, grey, yellow, and blue would achieve a fun, modern look. Or grey, olive green, and tan would be a great neutral combination to focus on.
Color Pairing Options For Rugs
The best thing about working with a grey couch is that it's a neutral color. You can go with just about any rug color, and it should look great. The thing you really need to consider is the colors around the room, including the walls.
Rich Colors
If you want something more sophisticated, opt for rich colors. These are deep and dark, giving the room a classy feel. If you have a light grey couch, this is a great option, especially if you have light walls as well.
A deep red or dark blue would look perfect with a grey sofa. The same could be said for the color of curtains and throw blankets as well. Rich colors make a house feel cozy and warm.
Light Colors
If your space has dark walls, opt for a light rug color. Even if the walls are lighter, but the couch is on the darker side of grey, a white rug would fit perfectly. Since white rugs are intimidating, you might want to go with a beige or tan rug.
Contrasting Shades
Well-known interior designers are suggesting that muted shades blend flawlessly with any couch color. If your living room has a warm paint color, buy a cool-toned rug. It creates a balanced look that isn't commonly seen in many homes today.
Speaking of contrast, if you have a solid grey couch, consider buying a patterned rug. On the other hand, if the sofa is patterned, opt for a solid-colored rug. Working with contrasting colors can make your home look luxurious and upscale.
Cool Colors
Bringing in cooler colors to your space is an excellent way to bring in a calming vibe. Colors like blue and purple are known to lower heart rate and help people feel at ease. If you've ever been nervous going over to someone's house for the first time, these colors will help.
Let's say you're a super creative individual who has loud walls. Maybe you have wallpaper or a unique paint design. Bringing in cool tones can bring everything together and add a stress-free element.
Darker Colors
Lastly, don't shy away from dark colors. No matter what shade of grey your couch is, darker colors will always pair well. One thing you should consider when thinking about dark colors is the lighting in the room.
If there isn't a lot of light that comes into the room, the area can look dull and depressing if you add a black rug. Working with a room that has plenty of natural lighting can look modern by laying down a dark-toned rug.
What Colors Go With A Grey Rug?
Below are some color options for grey rugs.
Other Shades of Grey
Using other shades of grey is always an option. On that note, adding in splashes of white and black could give a modern and minimalist look. A fluffy white rug would pair perfectly with a grey couch.
Navy
Adding navy can bring your living room to life, especially with a dark grey couch. It won't overpower the space and provides a vibrant splash of color.
Electric Blue
There's nothing wrong with using a rug to add a splash of color. I think a patterned rug with specks of electric blue would look stunning. You can accessorize by adding in blue throw pillows as well.
Gold
To achieve a more contemporary look, consider using gold. While you likely won't buy a real gold rug, a deep yellow can mimic the element. No one expects to see a gold run, and it really makes a statement.
Dark Green
If I personally had to give my favorite color to pair with grey, it'd be dark green. I think there's something so elegant of a deep green. It can make a space feel open, clean, and earthy.
This is a great option if you have white walls or a lot of plants in the room. It's essential to get the right colored green, as some can be off-putting.
Pink
Pink is a classic color to pair with grey. It can add a bit of romance or softness to the room. I'd suggest going for a blush pink and to stay away from anything too bubblegum pink.
Red
Believe it or not, red and grey pairs really well together. It adds a fiery element to the room and can give a passionate or energetic vibe. If you have earth-tone walls, this is a great choice.
Can I Use Color Scheme Generators To Pair With My Grey Rug?
The internet is a fantastic tool for interior decorators and homeowners alike. With just a few keystrokes, or by uploading a picture you can generate a beautiful color palette. Color scheme generators are a great way to help you coordinate any room.
Most of these tools are geared towards helping you find paint palettes. But even if that's not your objective, they will give you an idea of which rug colors would look best with all of the colors in your room. Here are a few of our favorite color scheme generators on the web:
This site can generate random color palettes for you repeatedly, just by pressing the space bar. You can also pick a color to start with, and the tool will generate a palette based on your color choice. Another great feature is the option to upload a photo and create a color palette based on the picture.
Coolers is free to use and doesn't require you to create an account. There's also an app, which makes it convenient for bringing to the store and plugging in colors you see.
This tool was made by Sherwin-Williams. The main purpose of the website is to upload a picture, which the tool then turns into a color palette. The colors are generated with over 1500 Sherwin-Williams paint colors.
The drawback is that unless you download the app, you need to access it from a laptop or desktop. And when you use your computer, you have to download a browser extension to use the tool.
This site lets you upload a picture of your room, and creates a color palette that's suited for your home. You do not have to register or download anything to use it.
Do You Need an Interior Decorator?
Get free, zero-commitment quotes from pro contractors near you.
---
Related Questions
What color should I paint my living room with a grey couch?
If you have furniture that's grey, it will be in your best interest to opt for a neutral color wall. You can stick with white, beige, or navy. These colors can help make a living room feel more put together while still giving off cozy vibes. 
Does grey have a complementary color?
One of the main colors that has been used with grey for ages is pink. For example, if you have a grey sofa, pink throw pillows would be a great addition. Since pink is a strong color that can turn some people off, there are more sophisticated options.Consider a burgundy or brown that has gray undertones. I'm a sucker for an emerald green and dark grey pairing. Search for the two colors online to see images of what they could look like in your home. 
How far should a rug go under a couch?
Where a rug should go totally depends on what other furniture you have in a room. Let's say you have two couches across from each other. You'll want to put the rug directly in between, pairing with a coffee table over it. If you just have the one sofa, you can experiment with putting the rug about ¼ under the couch. Something else to keep in mind is which direction the rug is going. If you're running it vertically out from under the couch, you can get away with just tucking it under the feet.
Which color carpet makes a rug look bigger?
Many interior designers have said that a light-colored rug makes a room look brighter, more inviting, and more spacious. Colors like shades of pastel, soft neutrals, and off-white are great choices to help make your space look bigger.

Kirstin Harrington
Kirstin is a passionate writer who loves helping people learn new things when it comes to home improvement. When she's not behind a keyboard, she enjoys DIY projects, crafts, spending time with her pets, and making videos. She hopes that with all she writes, someone is finding a solution to their home improvement needs.
More by Kirstin Harrington
Published October 1st, 2020 8:17 AM