43 Views
How Much Does a Wet Room Bathroom Cost?
November 23rd, 2021 4:09 PM
Share
We're committed to finding, researching, and recommending the best products. We earn commissions from purchases you make using links in our articles. Learn more here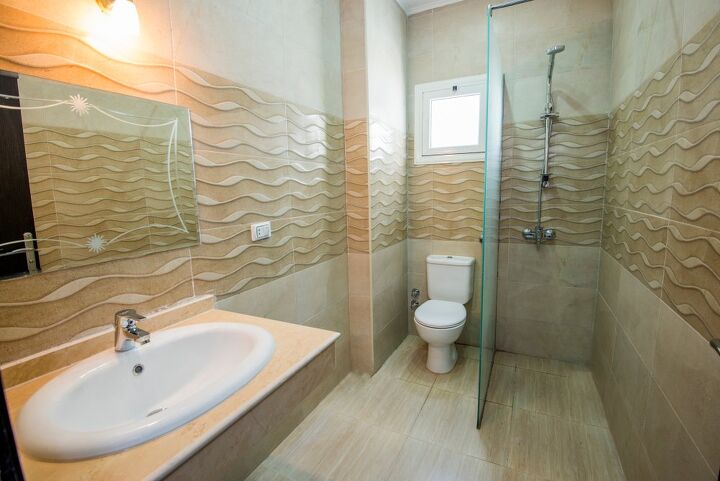 Bathroom remodels are one of the most popular upgrades homeowners choose for their property. One consideration that any anticipated bathroom remodel should include is a conversion to a wet room bathroom. Often, the advantages of converting your traditional bathroom to a wet room bathroom far outweigh the major disadvantage, cost.
Building professionals estimate that an average bathroom conversion to a wet room bathroom will cost between $11,000 and $18,000. Typically, a wet room remodel costs 20 to 30 percent more than a traditional bathroom remodel. Overall, professional remodelers advise homeowners to estimate a wet room conversion to cost about $125 per square foot.
Do You Need Bathroom Remodeling Services?
Get free, zero-commitment quotes from pro contractors near you.
| | | |
| --- | --- | --- |
| Wet Room Bathroom Costs | Low End of the Cost Range | Upper End of the Cost Range |
| Existing Bathroom Conversion | $11,000 | $18,000 |
| Adding a Wet Room Bathroom | $21,600 | $73,000 |
| Cost to Convert an Existing Space to A New Wet Bathroom | $6,000 | $24,000 |
A wet room bathroom conversion brings more than just a feeling of luxury and convenience to your bathroom. A well-planned and executed wet room bathroom conversion can add value to your home and create a more livable space for your family. Your bathroom remodel planning should consider all these additional advantages and disadvantages before making any final decision.
What is the Difference between a Wet Bathroom and a Traditional Bathroom?
The difference between a traditional bathroom and a wet room bathroom can be blurry in some instances. A traditional bathroom with a large walk-in shower may resemble a wet room bathroom. Most experts don't consider this a true wet room bathroom. In general, a wet room bathroom has these features that distinguish it from a traditional bathroom.
Different Looks
Wet room bathrooms look different than traditional bathrooms. Wet room bathrooms are designed to eliminate barriers between bathing areas and the rest of the bathroom. There are typically no shower curtains or shower doors. Shower facilities may be separate from a bathtub in a larger space with no walls or screens.
More Space for Easier Movement
Generally, wet rooms make movement in the wet room area easier and safer. There are no shower pans or floor transitions to create trip hazards. Creative designs in wet rooms allow built-in seating space and storage space for essential items.
Traditional bathroom with separate shower facilities often has large lips or steps that create hazards for anyone with limited mobility. Small shower enclosures can make bathing for some people and exercise in flexibility in tight spaces.
The Hard to See Differences
Traditional bathrooms usually are finished with wallboard or sheetrock in areas where water exposure is limited. More durable materials are used to back tile or tub surrounds where water contact is an issue, such as showers and bathtubs. Showers may be step-in but typically have a shower pan with its own drain. Most of these styles of shower have an enclosure to contain the water.
Wet room bathrooms are built with waterproof barriers behind all the walls and the floor. The room essentially becomes one large tank and features a floor drain rather than a shower pan. In some cases, even the ceiling is waterproofed, especially if the space contains a sauna addition.
Wet Room Bathroom Component Costs
Many homeowners considering converting an existing bathroom to a wet room bathroom wonder why this conversion costs more. The component costs give you some idea of why there is a 10 to 20 percent additional cost factor to a wet bathroom conversion.
| | | |
| --- | --- | --- |
| Wet Room Conversion Component Cost | Low-Cost Options | High-Cost Options |
| Plumbing and Fitting Costs | $800 | $1,400 |
| Drains and Piping | $2,000 | $5,500 |
| Waterproofing | $2,700 | $4,000 |
| Wall Finish Materials | $10 Per Square Foot | $15.00 per square foot |
| Floor Finish Materials | $2,000 | $5,500 |
| Labor | $700 | $4,000 |
| Bathroom Fixtures | $750 | $5,000 |
Plumbing and Fitting Costs
Typically, renovating an existing bathroom into a wet bathroom will involve moving at least some of the rough-in plumbing to fit the new design. You may also face adding additional plumbing for new fixtures or options. Since you will probably have the space opened to the framing, the addition of rough-in plumbing runs is relatively easy and quick. You should expect this portion of the job to cost between $800 and $1,400.
Drain and Underfloor Piping
Relocating drains for a wet bathroom conversion is an entirely different matter. If your house has a basement or a pier and beam foundation that accesses the underfloor area, the costs may run as little as $2,000. However, homes build on concrete slab foundations pose bigger expenses. Breaking out concrete to lay new drainpipes is time-consuming and labor-intensive and can cost $5,500 or more.
Waterproofing
To create a true wet room, all the wall coverings finish and wall coverings must be removed. The process of creating a true waterproof barrier on the walls can be expensive. Usually, a waterproof backer board is applied and sealed. Next, a vapor-proof barrier is applied to the backer board.
Tile or stone is then put over this vapor barrier for the final finish. This multi-step process can cost between $2,700 and $4,000. The cost is dependent on the size of the bathroom and the complexity of the installation.
Wall Finish Materials
Most wet bathroom installations feature covered with tile or stone. The nature of a wet room requires wall finishes and floor finishes that are waterproof and easily cleaned. Hard surface finishes such as ceramic or porcelain tiles are the usual choices.
Some homeowners opt for more exotic materials such as granite or soapstone. Depending on the type of wall finish you choose, the cost can range from $10.00 to $15,00 per square foot for tile. Exotic materials are much more expensive, and costs are so variable it is hard to estimate.
Floor finish Materials
Most homeowners choose to finish the floors in their wet room bathroom remodel with the same materials they use on the walls. This adds continuity and can help control costs. However, using a contrasting or different material is a design consideration.
Some homeowners whose homes have concrete slab foundations opt to have the existing concrete polished and stained as a floor finish. In any case, expect this part of a wet bathroom conversion to cost between $2,000 and $5,500.
Labor Costs
Typically, labor costs are one of the biggest factors in any remodel or construction job. As you begin taking bids for jobs, the bidder usually includes the labor costs in the bids. However, if you purchase wall or floor coverings directly, you may need a professional to perform the installation. Additional labor costs of this kind can run from $700 to $4,000.
Bathroom Fixtures
Most homeowners who go to the trouble to convert an old bathroom to a new upgraded wet room bathroom don't want to re-install the old fixtures in the new space. The cost of bathroom fixtures such as toilets, sinks, and vanities are all costs of such a project. In general, you can expect to pay $750 to $5,000 for the new fixtures in your upgraded bathroom.
How Much Will It Cost to Add a New Wet Room Bathroom to my Home?
Overall, adding a new wet room bathroom to your home will cost about $21,000 to $73,000. The cost varies depending on the size of the space you add and the complexity of the design. In general, the major expense of adding a wet room bathroom to a home is the cost of constructing the new space.
On average, construction of a new bathroom addition to your home costs about $18,000 to $50,000 plus the cost to finish out the wet room bathroom. The finish out may be less costly than a wet room bathroom renovation since most features can be installed without much difficulty during construction. You also save on the demolition costs associated with remodeling an existing bathroom.
What is the Most Requested Addition to A Wet Bathroom Conversion?
Contractors report that the most requested special feature in a wet bathroom conversion project is underfloor radiant heating. Underfloor radiant heating systems create a much more pleasant atmosphere in your wet room bathroom than other heating systems. The shock of stepping into a cold tile bathroom floor can be unpleasant. Underfloor radiant heating creates a warm and comfortable sensation.
Overall, radiant heating can be installed under the floor tile or stone for $6 to $24 per square foot. The cost is dependent in some respects on the style of heating you install. Hot water systems typically run from $6 to $20 per square foot. Electric systems cost between $8 and $24 per square foot. Additional costs for electrical work are often required to run a circuit for the electrical heating system.
Do You Need Bathroom Remodeling Services?
Get free, zero-commitment quotes from pro contractors near you.
Make the Leap to A Wet Room Bathroom
Most homeowners have no regrets about converting their traditional bathroom to a wet room style bathroom. The advantages of space, convenience, and luxury reportedly far outweigh the additional costs of the construction.
In addition, the conversion or addition of a wet room bathroom can add value to your home, increasing your return on your investment. Whether your decision rides on lifestyle and livability, or financial considerations, make your choice wisely.

Dennis Howard
Dennis is a retired firefighter with an extensive background in construction, home improvement, and remodeling. He worked in the trades part-time while serving as an active firefighter. On his retirement, he started a remodeling and home repair business, which he ran for several years.
More by Dennis Howard
Published September 14th, 2021 7:30 PM