779 Views
20+ Different Types of Paints (and Their Uses)
October 28th, 2022 2:48 PM
Share
We're committed to finding, researching, and recommending the best products. We earn commissions from purchases you make using links in our articles. Learn more here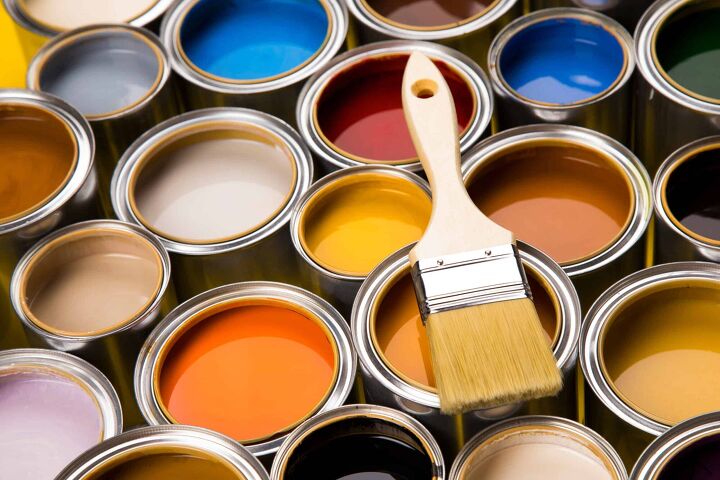 Although a good paint job requires proper technique, it's equally important to have the right material in the first place. If you're unsure which paint is best for your specific project, never skip out on doing the necessary research. The type of paint that you select is just as significant as the color, and can actually have a major impact on the quality of the paint job, the vibe you're trying to achieve, and the overall character of the room.
Before you decide on a type of paint, you must understand your options. Paint can be categorized by its base, with oil-based, water-based, and latex-based paints being the main variations. However, paint also comes in a number of finishes, including but not limited to, flat, matte, satin, eggshell, and gloss.
When you're determining the right paint for your particular project, there are a number of factors that you must take into consideration. Where the room is positioned in the house, how it is used, how small or large the space is, and the overall look you're trying to accomplish are just some of the factors that can subtly influence things like the saturation or sheen of the paint.
With that said, continue reading for our comprehensive guide on the different types of paint available to you. Before you break out the rollers and brushes, we're here to help you decide which paint is best for your purposes.
Types of Paint by Base
There are a number of great paint options to choose from. Before you decide on a particular shade, you'll want to consider the needs of your space. For example, are you painting in a high traffic area? If so, you'll want to choose a paint that can be cleaned easily. Also, are you looking for paint that's going on the interior or exterior of your home? This will narrow down the choices significantly.
With all of the options to choose from, it can be overwhelming to decide which paint is right for your project. However, that's where we come in! We've outlined all the various types of paint below, categorized by base.
1. Oil-Based Paint
The major advantage of oil-based paint is that it can be used on virtually any surface. It is also highly commended for its rich finish and incredible durability. Sometimes referred to as solvent-based, these paints are the ideal choice if you're looking for something that is both durable and reliable. Fortunately, oil-based paints can also be purchased at a relatively reasonable price as well. As a result, this paint is one of the most common types seen in people's homes.
Since it's incredibly durable, oil-based paint has a long lifespan without showing signs of wear and tear. It will look great on the wall in your home for many years. Therefore, if durability is something you desire, you can never go wrong with oil-based paints. This type of paint is highly preferred when painting the trim in your home, as this area needs to stand up to a level of abuse.
However, like anything, there are a few drawbacks that come with choosing an oil-based paint. In particular, this type of paint emits very strong fumes that can be quite overwhelming. It also cannot be washed out with water and you'll have to use a solvent like turpentine to clean brushes or other materials that got paint on them.
Finally, many find that oil-based paint takes longer to dry than other alternatives. In fact, it may take several hours longer for this type of paint to dry. While this is a bit of an inconvenience, depending on your specific needs, it may be well worth the wait. The longer drying time might actually work to your advantage, allowing you to make fixes as you are painting.
Advantages of oil-based paints
Ideal for high-moisture areas (kitchens and bathrooms)
Stands up to changes in temperature with minimal damage
Withstands significant wear and tear from scuffs and knocks
Longer drying time (perfect for making fixes)
Attractive glossy finish
Good "leveling" (brush strokes fill in to result in a smooth finish)
Disadvantages of oil-based paints
VOCs can be harmful to breathe in
Difficult to wash, requires a solvent
Long drying time (requires extra care to ensure nothing contacts the wet surface)
2. Water-Based Paint
Most wall paint on the market today is water-based, primarily due to its ease of use. Although it's not as long-lasting or resilient as oil-based varieties, many choose this type of paint because it dries significantly faster. When you're trying to perform a quick paint job, water-based paints are the way to go. In fact, using water-based paints on the interior of your home will allow you to achieve several coats in a single day.
Water-based paints are also much easier to clean up than oil-based. Instead of having to use a solvent to clean paint off of your brushes and rollers, you'll only need some water and a bit of soap. This makes using water-based paints far more convenient than other alternatives for interior paint jobs. Another major advantage to this type of paint is that it doesn't give off any harmful fumes.
Many consider oil-based paints to be an environmental hazard. In fact, there are movements in many parts of the United States that seek to pan oil-based paint for both its environmental and health concerns. For this reason, water-based paint has significantly risen in popularity in recent years. However, there are some drawbacks associated with water-based paint. For instance, it is much more susceptible to damage and chipping from scuffs and impact. Aside from being slightly less durable, it's also pricier when compared to oil-based paint.
However, when you opt for water-based paint, you're basically trading durability for a paint that is far more user-friendly.
Advantages of water-based paints
Low VOCs (lower levels of toxic emissions)
Easy to clean up with just water and soap
Dries faster than oil-based paint
Can be used on virtually any surface
Does not require a pre-treatment
Color does not yellow or fade in sunlight over time
No mold or mildew growth
Disadvantages of water-based paints
Typically not as vibrant or rich
Don't last as long as oil-based paints
Can delaminate when dampened
3. Latex Paint
When compared to oil-based paints, latex paints are easier to clean up and perform better on your walls. They are named "latex" because they used to have a rubber base. However, it's important to understand that latex paints are now made using a water-soluble base, built on acrylics and vinyl. As a result, like traditional water-based paints, latex paints can be easily cleaned up with water and mild soap. Since this type of paint is incredibly durable, it is the ideal choice for most exterior painting projects.
Generally speaking, there are three different types of latex paints to choose from:
Vinyl-Acrylic: This is the least expensive of the three and is most suitable for interior walls.
100% Acrylic: These paints are the highest performance option, as they retain color and withstand abrasion incredibly well.
Alkyd-Modified Latex: This type of latex paint is great for exterior jobs, especially siding that is susceptible to peeling, flaking, or chalking.
Latex paint is known for drying quickly, and being very easy to apply. It also won't make as much of a mess as other alternatives and does not trap moisture. Though latex paints come with a number of advantages, you should never use them on steel or raw wood. Latex paint will raise the grain on raw wood and will cause the steel to rust.
Advantages of latex paint
Available in a wide array of paint finishes
Suitable for both professional and DIY painters
Fast drying time
Offers a smooth finish
Cleans up easily with water and soap
Fewer VOCs
Resists mildew
Can be thinned using water
Gives off less odor (when compared to oil-based paints)
Non-flammable
Disadvantages of latex paint
More susceptible to chipping than oil-based paint
Cannot be used on raw wood or steel
Must cure for at least 30 days before it can be washed
Must be stored at above-freezing temperature
4. Acrylic Paint
Acrylic paint is constructed of pigment that is suspending in an acrylic polymer solution and acrylic resin. These types of paints are chemical-based, which means that they are water-resistant when dry. They are among the most popular paints available today. Acrylic paint also dries incredibly fast, which can be a major advantage if you're painting a smaller area. Using acrylic paints in large spaces can be more difficult.
It's also important to note that latex paint does not mix well with oil-based paint and will have a hard time adhering to a wall that was previously painted with oil-based paint. When compared to latex paint, the main difference between the two is the fact that acrylic is chemical-based and latex is water-based. The chemicals in acrylic paint make it much more elastic than latex paint. This means that the paint will contact and expand better.
Acrylic paints are primarily used for artwork, as they are ideal for staining, fine brushwork, water media, glazing, and many other techniques. This type of paint can be applied to virtually any stable surface, such as canvas or watercolor paper.
Advantages of acrylic paint
Chemicals in acrylic paint results in greater elasticity
Will expand and contract as temperatures fluctuate
Reduced risk of cracking and flaking
Ideal for exterior painting jobs
High durability
Resistance to sunlight
Fast drying time
Disadvantages of acrylic paint
Can be hard to remove once dried
More expensive
5. Primers
Although using primer on your walls may seem like an unnecessary step in the process, the benefits far outweigh the additional work. In most situations, you'll need to apply a coat of primer before you start painting. Primer is essentially a base coat, which forms the foundation for a flawless paint job. It provides a number of benefits including protecting your paint job from wear and tear and reducing the number of coats you'll need. Therefore, in the long run, priming actually makes the entire paint job easier.
Primer seals the surface of the wall, providing a protecting layer that will also prevent old paint from bleeding through and negatively affecting the look of your new paint job. It's very simple to use and will allow you to achieve excellent results. Although some paints are considered "self-priming," it's generally recommended to still use a primer for a professional-quality finish. Priming before you paint also allows the most brilliant and truest color to shine through.
In most cases, one coat of primer is enough. However, there are instances that may require two coats such as when you're switching from a higher sheen to a lower sheen, a dark color to a light color, if your walls have been patched, repaired, or have stains, or when you're painting in a humid environment.
Similar to paint, it's important that you select the right primer for your project. There are three main types of primer to choose from:
Oil-Based Primer: Oil-based primers are intended to be used with both oil paints and latex paints. This type of primer is ideal for wood (painted or unpainted), surfaces with existing paint, and steel, and other metals. You can also be used oil-based primers on both interior and exterior walls. The main drawback to these primers is that they release high amounts of VOCs and are typically slow-drying. Like oil-based paint, they require harsh thinners and solvents to clean brushes and rollers and must be disposed of properly.
Latex Primer: Latex-based primers are water-based, making them ideal for use on unfinished drywall. When compared to oil-based primers, they are fast-drying, less brittle, and more flexible. As a result, they are less prone to cracking and peeling. These types of primers are also great for priming brick, concrete, softwood, and galvanized metals. They are easy to clean, water-soluble, and can be found in low- and no-VOC formulas.
Shellac Primer: For centuries, shellac has been used for sealing wood and many other surfaces. Shellac-based primers are ideals for interior paint jobs and are, arguably, the best for stain-blocking. They can be used with both oil-based and latex paints, are fast drying, highly adhesive, and great for sealing in odors from smoke damage. The main drawback to this type of primer is that gives off more fumes and is not as versatile as latex or oil-based primers.
Types of Paint by Finish
Paint can also be categorized based on finish and different paint finishes have their own individual advantages and best uses. How bright or shiny that you want the space to be is what will help determine which paint finish, or sheen, to use in a particular room. With that said, let's take a look at the types of paint finishes that you have to choose from.
1. Flat Paint
Flat paints have the least amount of shine when compared to all other paint finishes. However, they typically offer the most coverage and require fewer coats to conceal imperfections, such as nail holes. These paints are not reflective, have little to no texture, and won't give you much of a vibrant look. They are also the least durable finish available.
The lack of durability means that flat paint is highly prone to damage. As a result, you should never use this type of paint in high-traffic areas. However, flat paint can be ideal for rooms that don't see a lot of use, especially since it'll save you a bit of money as they tend to be very affordable. In fact, affordability is one of the most appealing features of flat paints. If you're on a budget, this type of paint may be the way to go.
However, fingerprints and food splatters can be difficult to remove when walls are painted in a flat finish. Therefore, flat paint does not work well in areas that are prone to mess such as kitchens, bathrooms, children's rooms, and garages. Instead, opt for a flat finish when you're painting places like closets or supply rooms. Only use it in low-traffic areas of your home.
2. Matte Paint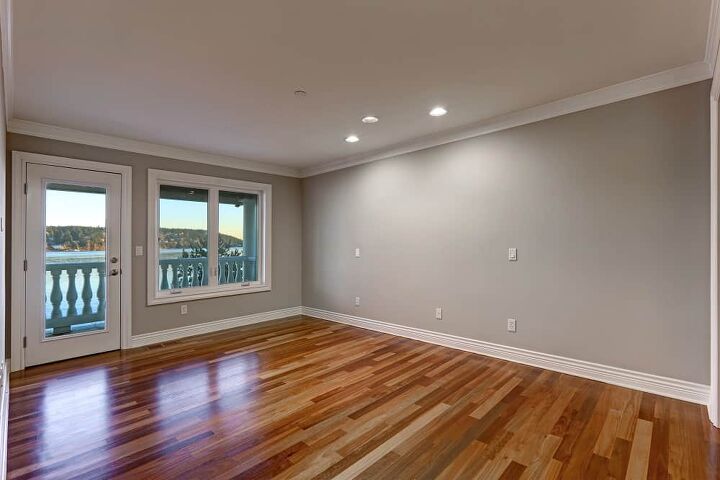 Matte paint, on the other hand, is slightly glossier than its flat counterpart. In fact, many often use the two terms interchangeably when describing paint finishes. However, it's important to understand that there are slight differences between flat and matte paints. In addition to having a bit more gloss to it, matte paint is also more durable than flat paint. This minor enhancement in durability makes matte finish a little more reliable when you're painting high-traffic areas. However, there are far better options to choose from for these purposes.
This type of finish is ideal for new construction, ceilings, drywall, and low-traffic rooms in the home like dining rooms and adult bedrooms. It requires fewer coats than glossier paints and is less difficult to touch up. Matte is often considered the standard sheen for walls, offers excellent depth of color, and has a velvety texture.
Like flat paint, matte paint has a smooth, non-reflective finish that makes it nearly effortless to hide surface imperfections. Matte paint is also relatively easy to clean, only requiring a damp sponge. Though, the finish will get damaged if it's cleaned using a harsh cleaner.
Pro Tip: To create a wonderful textured look, you can paint a strip of high-gloss paint on a full matte wall in the same color.
3. Eggshell Paint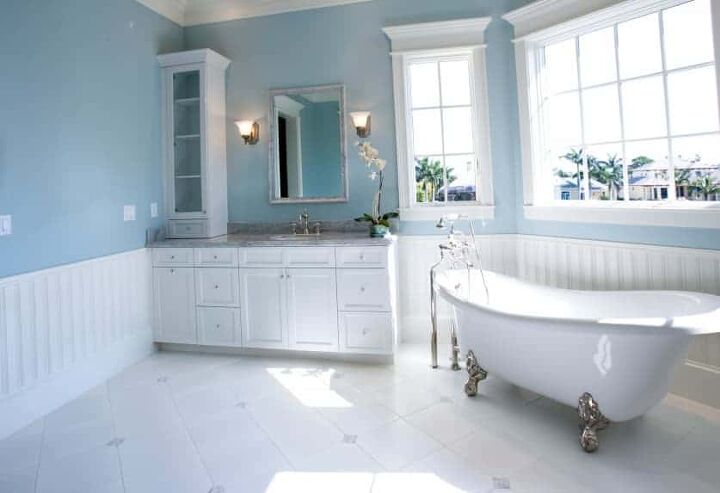 When trying to understand eggshell paint finish, think about the low sheen of an actual eggshell. It is a step up from matte paint, providing a low luster and smooth, soft finish which works great for decorative finishes. The major advantage of eggshell paints is the fact that they are relatively durable.
Since it's also an affordable finish, eggshell is a very popular paint choice. Eggshell paint is ideal for low- to mid-traffic areas of the home such as entryways, family rooms, and living rooms.
Those who desire a look that is slightly glossy tend to turn to eggshell paints. When compared to flat and matte sheens, eggshell paint is easier to clean and resistant to scuffs and staining. Once applied, a simple cleaning with a wet cloth is all this type of paint requires. Although it's slightly more lustrous, eggshell paints still do a great job at covering surface imperfections. And, while they are more durable than flat and matte finishes, they are still not quite as hard-wearing as satin or gloss sheens.
4. Satin Paint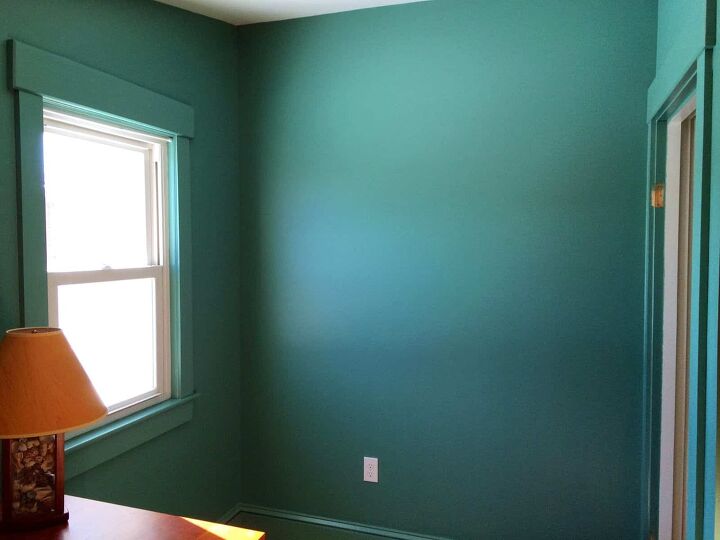 The next step up from eggshell, satin paint offers more of a sheen and creates a velvety, smooth appearance when applied to your walls. It also can be washed easily, but should not be roughly scrubbed. Overall, satin paint is pretty similar to eggshell with minor differences between the two. For example, it does have more gloss to it but is often still flat enough to suit many people's needs.
Satin paint is considered by most to be the most versatile and best paint choice for the interior walls of your home. It provides a stylish, almost pearl-like finish. This type of paint is ideal for both interior and exterior applications, as it resists fading and mildew, and is easier to clean than lower gloss sheens.
As a result, satin paints are best suited for busy indoor spaces such as children's bedrooms, playrooms, home offices, and areas that are exposed to moisture such as bathrooms, kitchens, and laundry rooms. It's a durable type of paint that will basically work for almost any room in your home. When it comes to exterior applications, satin works great for spots like siding, trim, and shutters.
5. Semi-Gloss Paint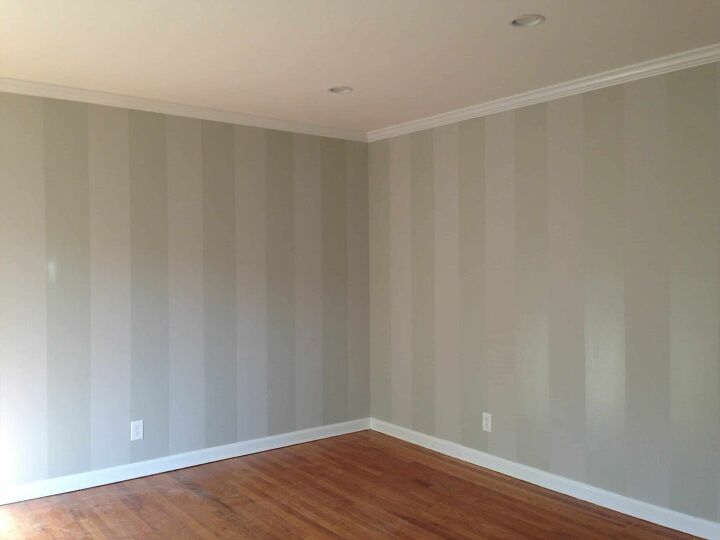 Note: This image displays a semi-gloss finish up against a matte sheen in a striped pattern to accurately display the differences between the paint styles.
This is when we start to get into the glossiest of the paint styles. Even more reflective than satin paint, semi-gloss offers a smooth sheen, and silky, sleek appearance. If you're looking for a paint that's going to visually stand out, semi-gloss is an excellent choice. It's also incredibly durable and holds up to tough scrubbing and has a high resistance to moisture.
As a result, semi-gloss paint is ideal for rooms with higher humidity, like kitchens, bathrooms, and laundry rooms. It'll also work well in high-traffic areas of the home such as utility rooms and even on doors.
In addition to doors, semi-gloss paints can be applied to baseboards, and trim. It dries to reveal a hard finish, making it suitable for use on woodwork. Although it is easier to clean than many other finishes, semi-gloss does display blemishes more prominently on walls and ceilings. Since it provides a reflective surface, light bounces off the walls and this can either be a good or bad attribute, depending on your preferences.
If you're planning on choosing white paint, both white and off-white paints in a semi-gloss finish can give rooms a much brighter look than white in other finishes.
6. High-Gloss Paint
Rounding out our list of paints categorized by finish is high-gloss paint, the glossiest of the bunch. This type of pain is very shiny, resistant to stain, and incredibly scrubbable. It's the ideal choice for many spaces in your home, including bathroom kitchens, doors, trim, cabinets, and even backsplash, as you can easily clean fingerprints and food splatter off of the finish. High-gloss paint also works well on staircase railings and banisters and offers instant curb appeal to exterior applications such as window casings and shutters.
However, you'll typically see this type of paint being used on moldings, doors, and baseboards. As a particularly shiny paint, high-gloss reflects a lot of light which creates an almost glass-like finish. While this paint can create a huge statement, it also makes surface imperfections very apparent. Depending on the condition of your walls, this feature may make high-gloss paint undesirable. High-gloss paint is also the most expensive of all the finishes, which may suggest another reason why it isn't especially common.
Both high-gloss and semi-gloss require more coats of paint than less glossy sheens to achieve full coverage. It's also important that these finishes be applied to a smooth, clean surface to yield the best results in fewer layers of paint.
Still confused about the differences between paint finishes and sheens?
Check out this detailed graphic from Benjamin Moore: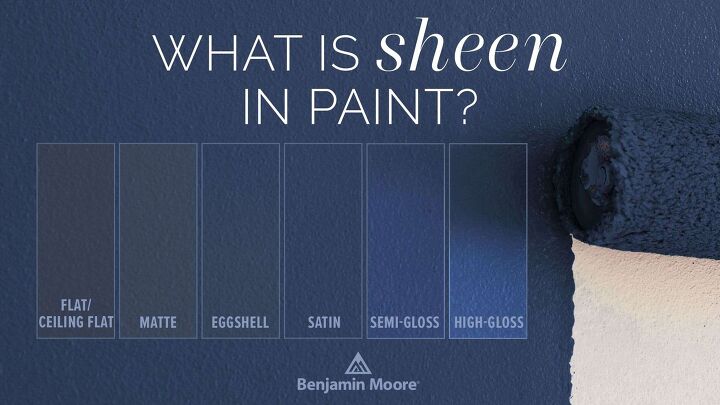 Choosing a Paint Finish
Before you head to your local home improvement center and pick a paint finish, there are a couple of factors that you'll want to consider to help narrow down the right choice:
Traffic: The amount of traffic that are room is going to be subject to is arguably the most important consideration when it comes to choosing a paint finish. Generally speaking, busy, high-traffic spaces like playrooms and kitchens will significantly benefit from durable finishes like semi-gloss and satin. Whereas, calmer, low-traffic spaces like dining rooms and even family rooms will do well with eggshell or even flat or matte paints.
Surface Blemishes: The more reflective that a finish is, the more it's going to show blemishes on the surface of what you are painting, whether it's a wall or piece of furniture. If you're planning on painting an interior wall that has a lot of patches or nail holes, you'll want to opt for a paint that is less glossy, as it will create a smooth finish and conceal those imperfections. However, if you're not too concerned about surface blemishes, you can go bold with a glossier paint finish.
Sheen: As we've outlined above, paint finishes are described in terms of their luster, or shine – from the no-shine of flat or matte paints to the very shiny nature of high-gloss. How shiny paint is going to impact how much light gets reflected back into the room. Therefore, if you're looking to brighten up a dim room, a paint with a slightly higher gloss will perform much better than a matte or flat finish.
Finally, examine the chart below to help guide you in the right direction based on the location of your next paint job: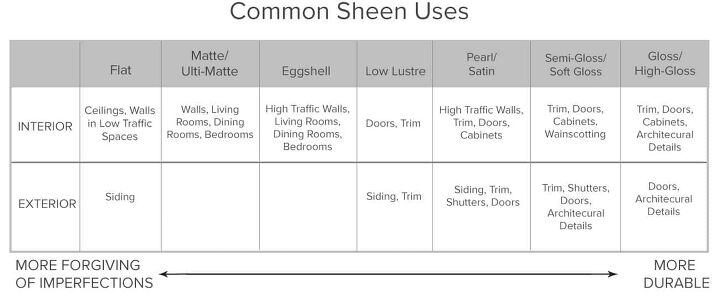 Interior Paint vs. Exterior Paint
All types of paint, regardless of the base, are made out of the same basic ingredients: pigments, solvent, resin, and additives. The solvent will either be water, like it is for latex paints, or mineral spirits, for oil-based paints. However, in both instances, the solvent is what evaporates once the paint dries, which leaves behind the pigment, resin, and additives. Both interior and exterior paints come in a range of different finishes – from matte to high-gloss.
Exterior and interior paints tend to have similar solvents and pigments, while some pigments may fade faster than others and, as a result, are more suited for interior formulas. In some cases, exterior paints consist of more pigment. However, the primary difference between interior paints and exterior paints has to do with the resin and additives. Exterior paints must stand up to a range of weather conditions, from harsh UV rays to shifting temperatures, to salty air and more.
To compensate for this, exterior paints are made with flexible resins that help to keep the paint looking its best as the surface contracts and expands with the variable temperature conditions. Exterior paints also consist of additives that are meant to prevent fading, resist tannin stains, and stop mildew growth. On the other hand, interior paint isn't exposed to rain or intense temperature shifts so it is formulated with more rigid resins. These types of resins make interior paints less susceptible to damage from scuffing, and also make the surface easier to clean.
Can you use exterior paint indoors, and vice versa?
At this point, you might be asking yourself this incredibly valid question. While you may think that exterior paint will perform better indoors, it is actually surprisingly more prone to scratches and scuffing. Not to mention, it will release more VOCs as it dries and even after it's done curing which results in a very unhealthy indoor environment.
With that said, paint is formulated for interior or exterior applications for a reason. And, to achieve the best results, you should stick to what the specific paint is designed for.
Additional Paint Options
In addition to the main types of paint categorized by base and the paint finishes, there are a few other paint options that are more tailored towards the specific application, such as:
1. Spray Paint
Spray paint, as the name suggests, is applied by spraying the paint out of an aerosol can. It is frequently used for arts and crafts projects, though many use it to paint furniture and for various other applications around the home. While this isn't a type of paint that should be used on your walls, it is one that you should be aware of and understand how to use properly.
When using spray paint, it's important that you wear a mask to protect yourself from the noxious fumes. Spray paint should also not be applied in an enclosed area, instead always outdoors or in a well-ventilated space. Regardless, this type of paint is a useful tool for helping to make many projects go much more smoothly. If you need to paint something quickly, using spray paint outdoors can be an excellent solution.
Not to mention, it's also a relatively cost-effective procedure and the material is widely available in many colors and finishes from most home improvement centers.
2. Enamel Paint
Enamel paint is often categorized as being hard, glossy, and utilized in small quantities. It has a finish that is similar to fingernail polish. Both hobbyists and modelers often use enamel paint to add vibrant coloring and durability to small craft projects. However, the main purpose of enamel paint is for appliance finish touch-ups. It is the ideal choice if you're looking for something that offers reliable protection and yields a hard shell when dry.
Generally speaking, enamel paints are any type of solvent, or oil, based paint that dries to form a hard, glass-like casing. This paint can be applied by brushing, rolling, or spraying it on. It is most commonly used for refurbishing barbecue grills, painting door casings, and revitalizing indoor and outdoor furniture. Though, enamel paint can also be used on window trim, cabinets, crown moldings, decks, handrails, appliances, cabinet fixtures, and more.
One of the major draws to enamel paint is that it has the ability to adhere to a wide array of materials, including, but not limited to stainless steel, caulking, glass, aluminum, plastic, wood, ceramic, and porcelain.
3. Chalkboard Paint
Chalkboard paint is a type of paint that is used to create writable surfaces to write on with chalk, also known as chalkboards – hence the name. This paint is an excellent choice for fun DIY projects. You can turn an old tabletop into a writeable surface for a kid's playroom, paint a wall in your kitchen for a to-do list, or use it on an old buffet to label dishes.
This type of paint is relatively inexpensive and can be easily cleaned up using soap and water. All chalkboard paint requires a clean, smooth surface to start and priming is recommended if you're painting on metal or bare wood. You'll also want to sand down glossy surfaces. As an added bonus, nowadays chalkboard paint is incredibly customizable and comes in a wide array of colors.
4. Chalk Paint
Chalkboard paint and chalk paint are two types of paint that commonly get mixed up, as people often use the terms interchangeably. However, they are two very different paints. While chalkboard paint is used to create writable surfaces, chalk paint is a distinct type of paint that creates an antique-modern look, often used on furniture.
The name comes from its matte, chalk-like finish. Fortunately, it is also a water-based paint, which means you won't have to worry about using a solvent to clean off your brushes.
In most cases, chalk paint eliminates the need for primer. Though, there may be instances in which a coat or two of shellac is required to prevent water stains from showing through the finish. You'll also want to use a crème wax to seal the paint, making the surface durable and resistant to chipping. In fact, you can achieve a unique look by using wax or glazes over top of chalk paint.
Chalk paint can be applied easily over virtually any existing surfaces, many of which don't require any sanding. It's the ideal choice for revitalizing both old and new wood furniture, in addition to concrete, cast stone, and even metal materials. This type of paint allows you to create truly unequaled accent pieces.

Jessica Stone
Jessica considers herself a home improvement and design enthusiast. She grew up surrounded by constant home improvement projects and owes most of what she knows to helping her dad renovate her childhood home. Being a Los Angeles resident, Jessica spends a lot of her time looking for her next DIY project and sharing her love for home design.
More by Jessica Stone
Published March 21st, 2021 9:04 PM