154 Views
10+ Types of Dressers (with Photos)
December 23rd, 2021 4:08 PM
Share
We're committed to finding, researching, and recommending the best products. We earn commissions from purchases you make using links in our articles. Learn more here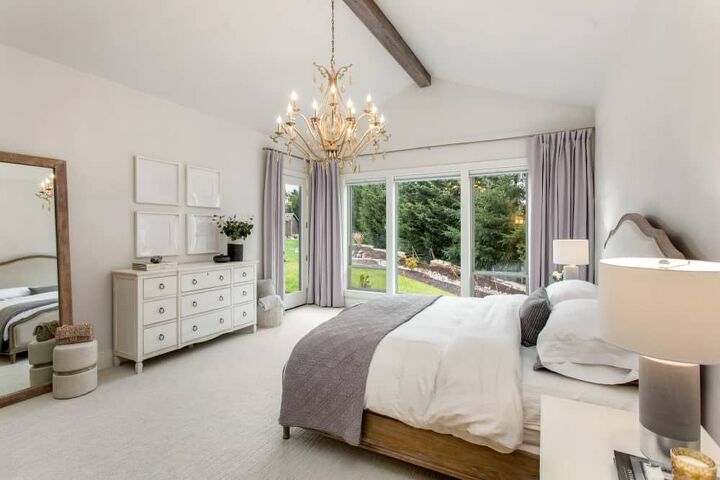 Dressers primarily serve a very practical and functional purpose in your bedroom. Though, there is much more to these important furniture pieces than just storage. In fact, people often overlook different types of dressers when it comes to designing an attractive look for their homes. Not only should you choose a model that's going to satisfy all of your organizational needs, but it's also important that your dresser will complement your space.
Dressers come in various sizes, shapes, and styles, including horizontal, vertical, combo-styles, gentleman's chest, modern, and traditional. Plus you can choose from several materials including wood, metal, wicker, and mirrored glass. An alternative to a dresser is also a chest of drawers, which is usually taller and thinner than a standard dresser.
We've put together a guide that will help shed some light on the various options you have when it comes to choosing a new dresser. We'll examine function, shape, and overall appearance along with some common materials and styles. That way, you can make an informed decision on what type of dresser is best suited for your home and lifestyle.
What Is A Dresser?
In short, a dresser is a piece of furniture people most often use to store clothing and other items inside of a set of drawers. Traditionally, dressers are wide, deep, and short. They have drawers arranged in multiple columns, generally with two or three of them side by side to equal a total of six or more drawers.
A dresser's wide frame offers ample space on the top for placing various decorative pieces or functional items. In most cases, it also allows for a mirror to be attached, if you so desire. This popular orientation lets you literally get dressed in from of the furniture piece – hence the name "dresser."
When choosing a dresser, determine whether or not it's just going to serve as a functional piece, or if it will also make a design statement. Will you use it as a centerpiece or key feature in your bedroom?
Chest Of Drawers vs. Dressers
The purpose of both dressers and chest of drawers is to store clothes and other personal possessions in a collection of drawers. However, they differ slightly. Unlike dressers, the chest of drawers is traditionally tall and narrow.
The most common design features one column with about four to six drawers. Since the chest of drawers is much taller than dressers, there isn't a practical place for installing a mirror.
As a result, it's simply a thin, sleek setup that provides maximum storage. Additionally, it takes up as little floor space as possible – literally just a "chest of drawers."
Though dressers and chest of drawers differ marginally, people often use the two terms interchangeably today. For the purposes of this guide, we've included dresser options that incorporate both categories.
Types Of Dressers
The first big decision that you'll need to make when it comes to choosing a new dresser is the particular design that you want. Picking a design will help significantly narrow down your options and get you closer to the ideal dresser for your space.
A dresser's overall design is the most defining feature of the furniture piece, determining the build, style, and various additional features. You can choose from a standard horizontal or vertical dresser to a gentlemen's chest or lingerie chest.
Plus, you also need to consider the available space for your dresser. You don't want your furniture to appear crammed into your space. Alternatively, you don't want a piece that seems too small for the room, in which case the room could "swallow" it up.
You also want to make sure you have enough room to use the dresser easily. Make sure you have adequate space in front to pull out drawers fully and pen cabinets.
Understanding the most popular types of dresser designs is an excellent place to start.
1. Horizontal Dressers Are Some Of The Most Common Types Of Dressers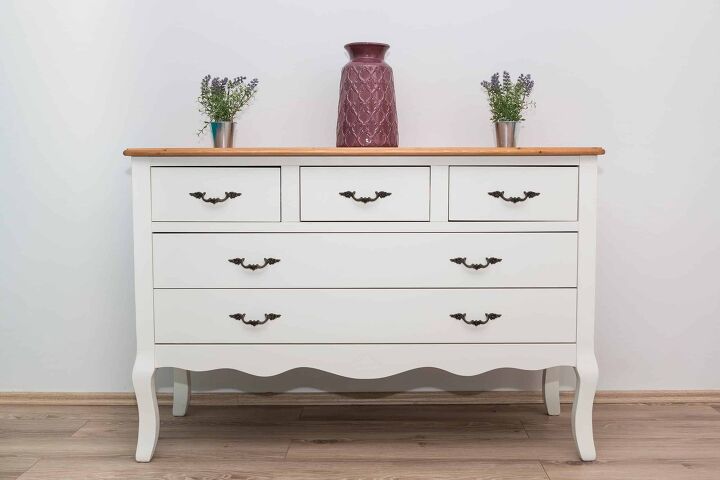 Also referred to as a "standard dresser," a horizontal dresser is generally what most people think of when they imagine types of dressers. These dressers usually consist of two to three rows of wide, long drawers.
In some cases, you'll find a horizontal dresser with a top row that includes many smaller drawers. The variety of sized drawers makes these dressers very versatile, allowing you to store many different types of clothing or personal possessions.
Horizontal dressers have a squatter shape and are wider than they are tall. The width offers a relatively large top surface for installing a mirror or displaying various items such as jewelry stands, perfume bottles, or picture frames. Depending on the model, a horizontal dresser may come with a mirror attached that matches the style of the dresser.
2. Vertical Dressers Are Also Popular Types Of Dressers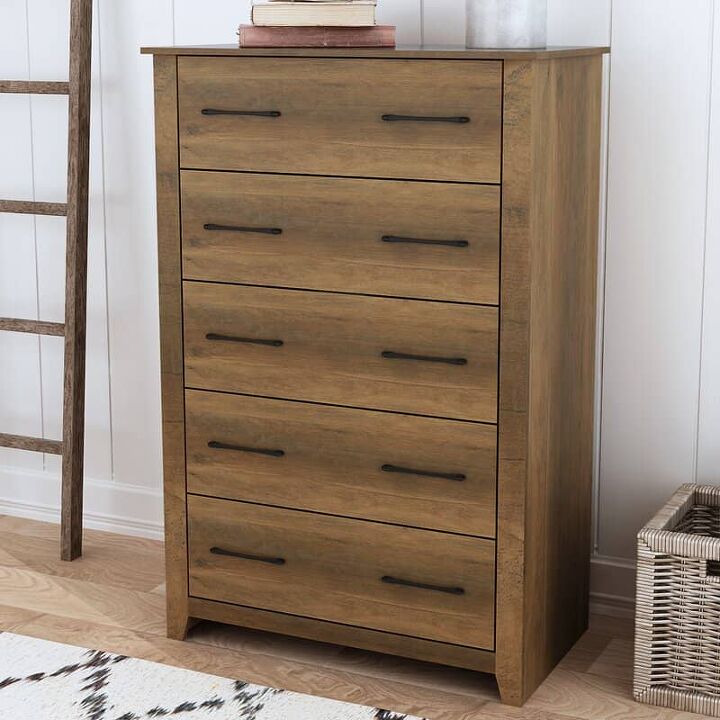 A vertical dresser is also known as a standard chest of drawers, vertical chest, or a 'tallboy.' As opposed to horizontal dressers, the vertical varieties are taller than they are wide. This is an excellent furniture solution for those that have minimal floor space but want to maximize their storage capacity.
Though they tend to have less space than a standard dresser, vertical dressers are an excellent option for clothes storage in small bedrooms. For larger bedrooms, you can pair a standard horizontal dresser with a vertical chest for extra storage. Then, it will take up less space than having two standard dressers.
Vertical dressers are typically made up entirely of drawers. However, in some designs, the upper half features a cupboard. The cupboard technically makes the piece of furniture an armoire.
3. Double Dresser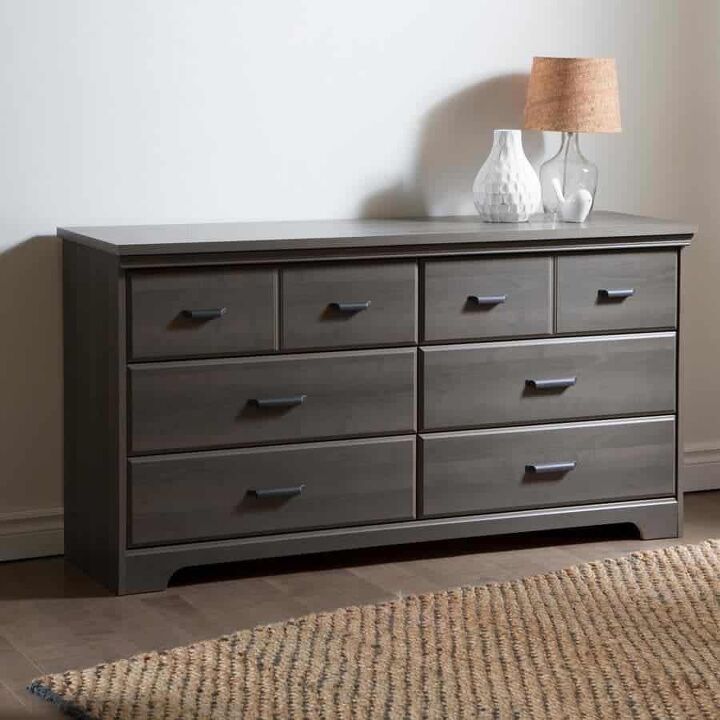 A double dresser is an extra-wide dresser that consists of two columns of wide, exceptionally spacious drawers. This type of dresser is the ideal choice for couples that share a large room and have many clothing items to store. It looks great with a mirror installed on the top surface.
Though, it's important to note the size of double dressers. Make sure that you consider how much space you have in your bedroom before you try a double dresser. Double dressers can tend to be very overwhelming in small spaces.
4. Types Of Dressers: Combo Dresser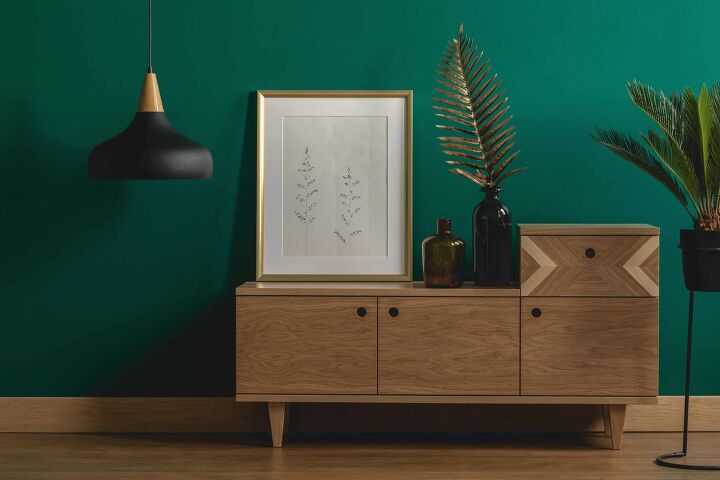 If you're having a difficult time deciding between a horizontal or vertical dresser, why not consider a combo dresser? This option offers the best of both worlds, featuring both a low, wide section of drawers and a tall, slim section of drawers. In most cases, a combo dresser appears like a standard horizontal dresser with one or two cabinets either attached at the center or on the side.
With many differently sized shelves and drawers, combo dressers offer an easy and convenient way to organize your clothing. They include wardrobe doors and dressers drawers that open up to reveal ample shelves and space for hanging clothes.
If you plan on storing more than just regular clothing in your dresser, a combo design may be your best bet. You can easily fit bulky items such as belts, bags, shoes, hats, and scarves in the tall drawers of a combo dresser.
5. Dresser And Changing Table Combo
A dresser and changing table combination is generally a standard horizontal dresser that has a changing table installed on the top. It combines two essential items into one piece of furniture.
This option is very convenient for new parents. Especially if you're limited on space or don't want to spend too much money on unnecessary furniture for your nursery.
The height of these types of dressers is usually around the average hip height. That way, when you're changing your baby you don't have to bend over the dresser awkwardly.
They also will usually feature low rails along the top edge to prevent the baby from falling off of the table. Plus, they feature a size relative to a standard changing mat.
This dresser option helps to make life as a new parent a bit easier. You can store all of the diapers, baby clothing, creams, and wipes in the drawers of the dresser. As a result, all baby essentials are within reach when changing your baby.
6. Loft Bed And Dresser Combo
This piece of furniture consists of a loft bed, also referred to as a cabin bed or raised bed. It then has the addition of a dresser or chest of drawers installed underneath or to the side of the bed.
Like other combination dressers, this is a great space-saving solution for small bedrooms. Or, it can help to free up floor space in large bedrooms and allow more room for kids to play or other items to be placed.
Loft bed and dresser combos are typically most popular for older children and teens, as a raised bed can present safety concerns for younger children. The drawers on these types of dressers are incredibly useful for storing clothing, but can also be used as a play area or desk space.
7. Types Of Dressers: Lingerie Chest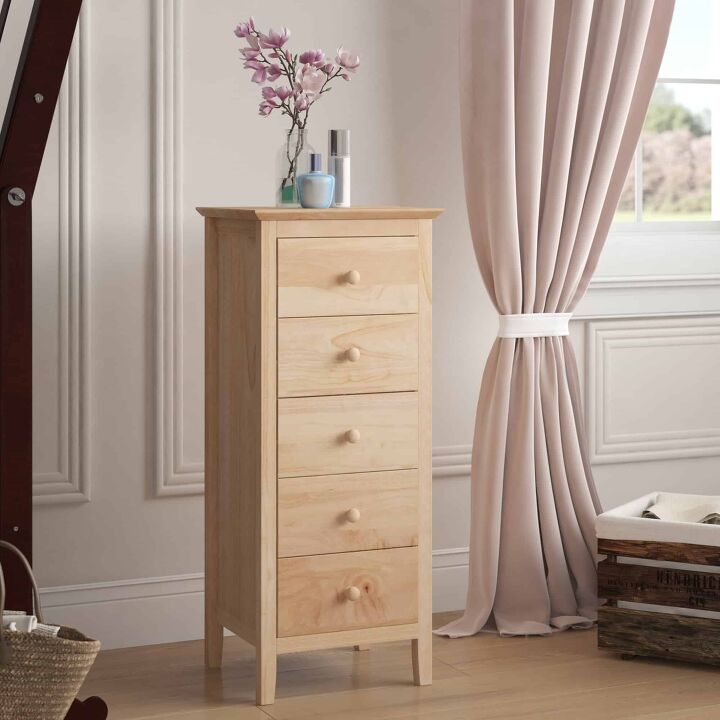 Also known as a "semainier," lingerie chests are a taller and skinnier version of a standard vertical chest. This type of dresser is traditionally used for storing smaller articles of clothing such as lingerie – hence the name.
You could typically stuff all of your undergarments and socks haphazardly into a single dresser drawer. However, a lingerie chest is a great solution for organizing these articles into separate drawers.
The idea behind this design is that the individual lays out their lingerie a week in advance – a set for each day of the week. Then, they place them in a corresponding drawer. A lingerie chest can also be useful for storing other small items such as bathing suits, makeup, skincare products, and jewelry.
8. Types Of Dressers: Gentleman's Chest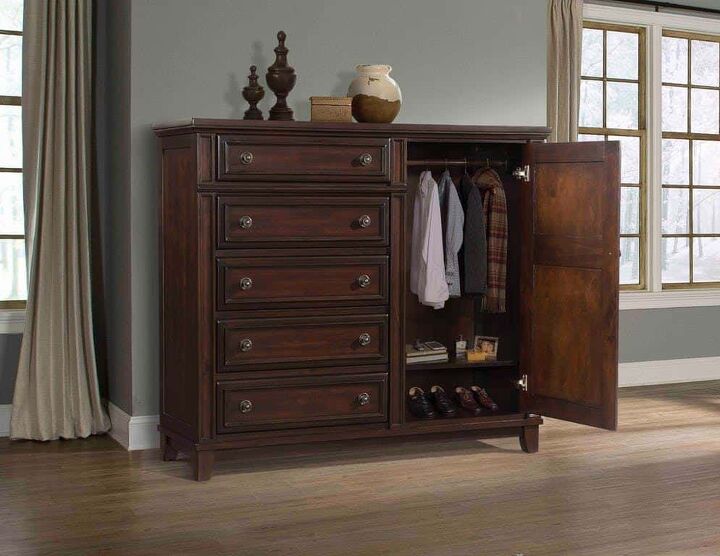 A gentleman's chest receives its name for the tall cabinet section that is designed to be used for hanging suit jackets, ties, dress pants, and more. Some will have rods to be used for hanging clothes, while others will feature built-in shelves instead.
This type of dresser is very similar to a combo dresser since it typically consists of both wardrobe doors and drawers. Though, the main difference between the two is that combo dressers are squat and gentleman's chests are taller. Gentleman's chests aren't particularly common, but they do add a touch of sophistication to any interior.
9. Types Of Dressers: Bachelor's Chest
Any small, narrow chest with roughly three to four drawers is considered to be a bachelor's chest. They are generally characterized by their squat shape and are often small enough to serve as a nightstand.
Traditionally, they were for a single person with limited clothing storage requirements. It falls under the category of chest of drawers, featuring only a single column of drawers with a narrow shape and minimal storage space.
Originally, bachelor's chests served as a multi-purpose piece of furniture that satisfied a variety of needs for bachelor's living in small apartments. The early designs featured a slanted top surface and/or slide-out, or pull-out operation. This pull-out feature would transform the dresser into a writing surface.
Nowadays, modern bachelor's chests are seldom used to write on and are most often used for storing small clothing items and other personal items.
10. Types Of Dressers: Media Chest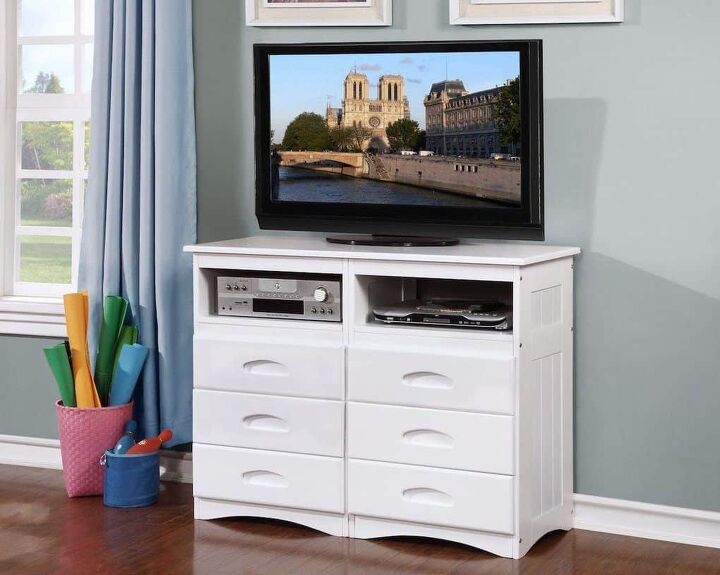 Though not technically a dresser, a media chest is a piece of storage furniture with a similar design but an open-top shelf for a cable box to be placed. Media chests can function well in both living rooms and bedrooms as an entertainment center.
They are usually wide like standard horizontal dressers but tall enough for placing a television and enjoying it at a comfortable height. As an added bonus, you can use the drawers and cabinets in media chests to store clothing, movies, chords, remotes, and other items.
Types Of Dresser Materials
Dressers are one type of furniture that are, in most cases, made from one material – wood. Tradition aside, using wood in the construction of dressers offers the most reliability and versatility. Although you'll generally find the majority of dressers made out of wood, there are a few exceptions to consider.
1. Wood Dressers
As previously stated, most stresses are made out of wood. This long-lasting, solid material can be adapted to embody a wide array of dresser styles and designs. From rustic to minimalistic to intricate contemporary designs, wood can be found in a range of applications.
Generally speaking, it's much cheaper to buy a softwood dresser than a hardwood dresser. However, the former will not be as durable or have as long of a lifespan. Solid wooden construction nearly always promises the greatest quality.
Though, if you're looking for a cheap, short-term storage solution, you'll be able to find many affordable dresser options made out of particleboard. In most cases, these types of wood dressers are flat packed and consist of a wood veneer coating the surfaces that are visible once assembled.
2. Metal Dressers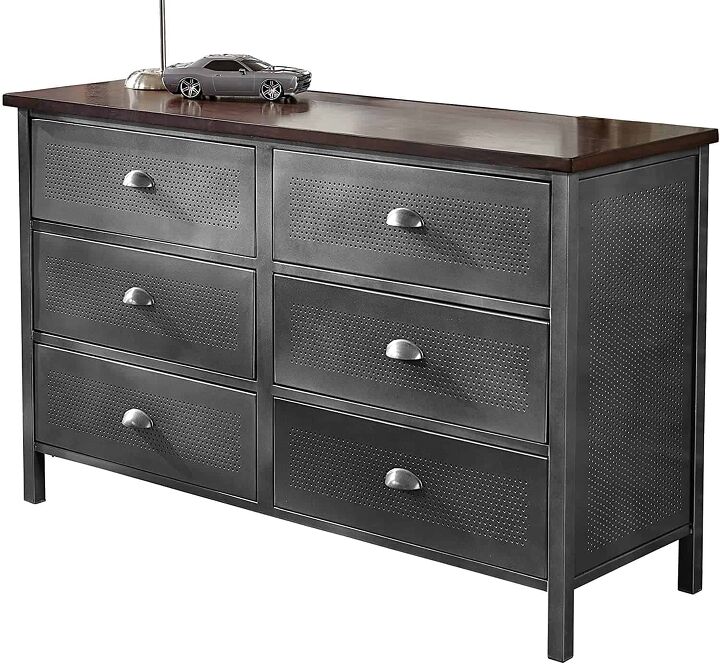 While less common than wood, metal dressers are a great choice for industrial-style interiors. From entirely metal designs to hybrid styles that include both wood and metal, this material offers a range of options. One of the major benefits of metal furniture is that it's long-lasting and incredibly durable. Plus, depending on the metal type, it is usually very lightweight.
Despite being lightweight, dressers made out of metal have a surprisingly strong and sturdy construction. Metal dressers also come in a variety of colors, as the material can easily be spray painted to achieve the desired finish.
3. Mirrored Glass Dressers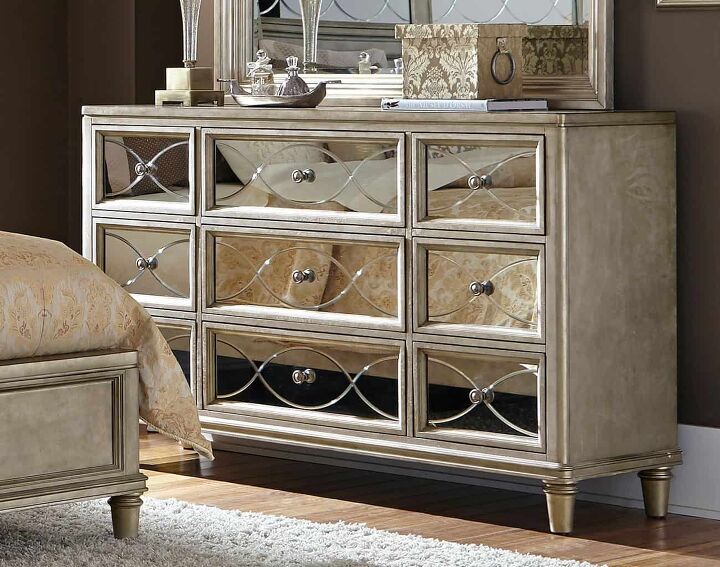 Mirrored glass dressers are very popular, especially because they can complement a number of style types – including classical and contemporary. This material offers a touch of luxury to any room, and can also give the illusion of additional space. While mirrored glass dressers make an excellent choice as a statement piece, they aren't suitable for every scenario.
These types of dressers tend to have very sharp corners that can present safety concerns for small children. Mirrored glass dressers also require additional care when handling, as the glass can easily crack or shatter.
Therefore, if you are someone who tends to rearrange the furniture in your home often, or you move houses regularly, reconsider. Mirrored glass dressers may not be the best choice for you.
Moving mirrored glass dressers makes them much more susceptible to damage. Not to mention, you must also take extra care in what you place on the dresser. Dropping a heavy item on the surface will almost definitely cause it to crack.
4. Types Of Dressers: Wicker/Rattan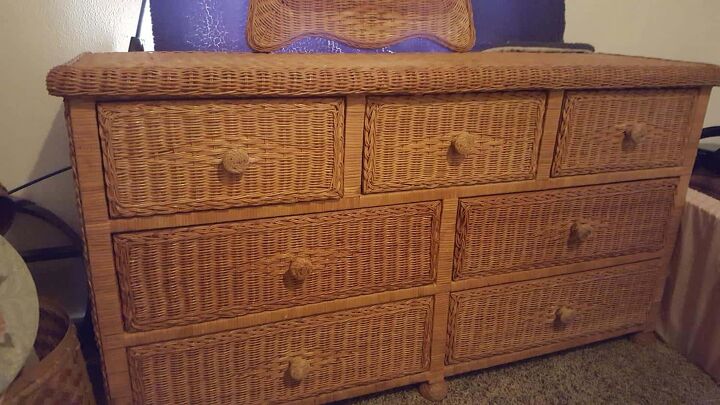 Wicker, or rattan, is a type of woven material that can be made out of either plastic, wood, natural fibers, or a combination. There are different variations of rattan that range from thin and weak to durable and sturdy. Though, most often, wicker is designed to be strong, water-resistant, stain-resistant, and lightweight.
You'll find wicker types of dressers in many cottage-style designs or in bathrooms for storing toiletries. In fact, if there's one design trend that dominated the past couple of years as much as it did in much of the 1970s, it's rattan.
Like most trends, they always say that everything comes back and rattan is incredibly popular in interior design right now. It's especially a favorite for those looking to achieve that bohemian aesthetic.
Furniture made out of wicker or rattan is notoriously expensive, due to the material it is made out of and also the current demand.
5. Types Of Dressers: Leather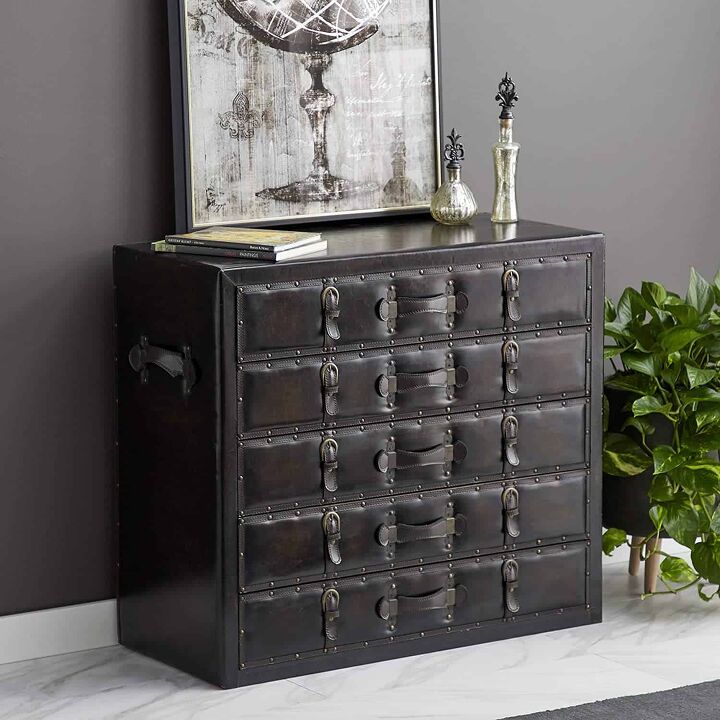 Although the framework of a leather dresser will be built out of wood, these pieces boast an entirely leather outer surface. This design offers a lush, textural look, which can give your living spaces a softer appearance when compared to alternative materials. Leather furniture can work well with a variety of styles, from offering a sturdy and masculine look to a chic and elegant appeal.
Leather furniture generally includes additional details such as tufted drawers with gems, studs, or buttons within the upholstering. One of the major benefits of choosing a leather dresser is that they're very easy to clean with a simple wipe-down.
Or, if you're on a budget, you can opt for faux leather. Although real leather is more expensive, it's going to have a longer lifespan, and also become soft and more full of character over time.
Types Of Dresser Styles
Now that you understand the main dresser designs and materials you have to choose from, let's take a look at some of the most popular types of dresser styles:
1. Types Of Dressers: Traditional
The major advantage to a traditional style dresser is the timeless appearance, allowing them to fit into a wide array of interior design types. This style of the dresser will seldom become outdated over time. Therefore, if you find yourself forking over a large sum of money for your new dresser, you can feel confident in your decision as this style will still be relevant years after the purchase date.
You can characterize traditional style dressers by their detailed appearance. Plus, they are most often wood, as this is one material that also won't ever go out of style. You'll often see this style with wood carvings, some embellishments, straight lines, and a very basic shape.
When you opt for a traditional style dresser, you can easily redecorate your home or update your interior design style without having to replace your furniture. It will work well in nearly any setting.
2. Types Of Dressers: Modern
When it comes to modern style in dressers, it's all about minimalism and clean, straight lines. This type of dresser will work well in a contemporary home, loft apartment, or industrial-style construction. Modern dressers are often made from an array of materials and can be found at price points that will suit nearly any budget.
One of the best places to find modern-style dressers at an affordable price is IKEA. Though, many high-end furniture stores will also have plenty of modern dressers to choose from. In most cases, modern dressers will feature a glossy finish which is either accomplished through a veneer or lacquered spray paint on the surface.
Modern style dressers come in virtually any shade you could imagine, which makes it easy to find a piece of furniture that will match your desired color scheme. Although modern furniture is very trendy right now, it's a style that may potentially become outdated over time. Therefore, consider your options carefully and try to avoid spending too much money on a modern-style dresser.
3. Types Of Dressers: Antique
Like most other types of dresser styles, antique dressers are typically made out of wood. However, you may find some that include other materials, such as leather or marble insets. Antique dressers are especially popular across Europe, where many of them date back several centuries.
Aside from being useful furniture pieces, antique dressers are also often family heirlooms, collectors' items, and major investments. Though, not all antique dressers are over a hundred years old. There are some 20th-century styles, such as art deco, that may fall under the category of "antique."
4. Types Of Dressers: Shabby Chic Style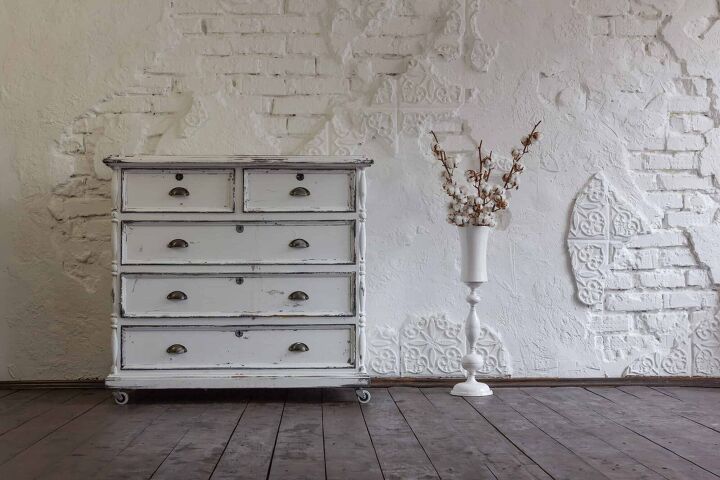 Also referred to as 'cottage style,' shabby chic is a style that makes living spaces feel more homey, casual, and comfortable. Shabby chic dressers are characterized by their wooden construction which usually showcases paint in a pale or neutral color like white, cream, or gray. After the furniture is painted, it is artificially, and intentionally, destroyed.
You accomplish the quintessential distressed look of shabby chic by lightly rubbing sandpaper over the front edges and corners of the furniture. This technique makes it appear older and more worn than it actually is. Shabby chic dresses are also sometimes left in their natural, pale wood state, or white-washed to allow the wood grain to seep through.
This style is wildly popular in France and England. Though, you can commonly see the shabby chic style in many rural or coastal homes across the globe.
5. Types Of Dressers: Rustic Style
Rustic style dressers are also traditionally wood. However, instead of featuring a varnish, stain, or paint, the furniture remains in its natural state. These types of furniture are typically very hard-wearing, solid pieces. Although they might actually be quite old, like shabby chic, it's common for manufacturers to engineer rustic dressers to appear older than they actually are.
This dresser style is very common in farmhouses, as well as both industrial and modern style interior designs. Rustic dressers usually feature dark-colored wood with metal handles or other metal accents. The premise behind rustic furniture is that it should appear distressed, sturdy, functional, and industrial.
One of the major draws of rustic furniture is that it looks better with age. Should your rustic dresser experience damages or scratches, it will blend in effortlessly into the established aesthetic.
Armoires vs. Dressers
The word "armoire" is French and refers to any type of tall, free-standing, elaborate cupboard. Unlike the distinction between dressers and chests of drawers, armoires can be narrow or broad, rectangular or square. People often refer to armoires as wardrobes, and they are generally larger than dressers. People traditionally use them as standing closets for storing clothing.
The first wardrobe was a basic chest, and the distinction did not come until a degree of luxury occurred in castles and other regal settings. Originally, the term "wardrobe" applied to a room where the wall space was full of lockers and cupboards. In fact, the drawer is a relatively modern invention.
The modern wardrobe, or armoire, evolved slowly from these lockers and cupboards of the past. Nowadays, these pieces of furniture feature sliding shelves, drawers, and hanging spaces. They are, essentially, a free-standing closet space.
Types Of Dresser Alternatives
Undeniably, traditional dressers take up a lot of space. By removing the dresser in your bedroom and implementing an alternative, you'll be able to make the area feel much more spacious. Not to mention, if you're short on space in general, you may want to consider some other clothing storage solutions.
Although dressers should contain all of your clutter, the top surface often acts as a magnet for junk. It's hard to keep it organized and the inside of the drawers can get too filled up when improperly managed, making them difficult to open and close. If for whatever reason, you're in need of a dresser alternative, we've got you covered.
1. Armoires
If you're looking to achieve a more elegant or distinctive look, consider an armoire. Armoires usually consist of an upper cabinet and a set of drawers. They are notoriously tall pieces of furniture that will work great in the bedroom.
These wardrobes provide sufficient space for hanging your clothes, effectively preventing them from getting wrinkled. Whereas, the drawers can be used for storing your undergarments, shirts, or even shoes. If you prefer to have your clothes enclosed and not on display, this storage solution is a great choice.
2. Trunks And Chests
Trunks are essentially large boxes with lids that you can use for storing a variety of items. They come in a wide array of colors and designs to fit your desired aesthetic. You can also arrange trunks in a number of different ways, allowing you to use the available space in your bedroom in the best possible manner.
Since trunks' primary purpose is for travel, they feature fully functioning handles that make it easier to move them around, as opposed to other storage solutions. They also offer plenty of space inside for stacking folded clothing and the wooden, ornate trunks can serve as a statement piece in your room.
In addition to trunks, chests are another dresser alternative for storing your clothes. Generally speaking, you'll often find chests at the foot of a bed contributing to the overall décor of the space. Aside from being visually appealing, they are entirely functional and can even double as a seating solution when needed.
3. Bed With Built-In Drawers
If you lack floor space for a traditional dresser, consider investing in one of these alternatives. A bed with built-in drawers is an excellent way to store your clothes, especially in bedrooms that have limited space. These types of beds feature wide, spacious drawers that offer plenty of storage space. You can easily slide them out from under the bed.
These beds with built-in drawers come in a range of sizes so that you can get the bed most suitable for your space and also double up as storage. Additionally, these alternatives come in many different designs – from contemporary to traditional – so you should have no trouble finding one that fits your desired aesthetic.
4. Cubicle Organizer
Cubicle organizers feature baskets and boxes inside of a cubicle. You can use them for storing many different items, including clothes. This alternative is also easy to use – simply pull out the basket or box to easily retrieve the items from inside. One of the major benefits to these organizers is that they go far beyond storage.
Consider a cubicle organizer to add character to virtually any room. For example, if you're trying to achieve a traditional or classic look, opt for bins that are black or a neutral shade. Alternatively, if you're using this dresser alternative in a kid's room, choose cubicles that are much brighter colors.
5. Garment Racks
This dresser alternative is very popular, partially due to the convenience. With no folding required, you can easily hang your clothing on a rack. Also, since this solution is completely open, it makes accessing your clothes and picking out an outfit a breeze.
However, it's important that you choose a garment rack that is most suitable for your room. For small spaces, make sure you choose one that is small and relatively simple in design. If you have more space, you can opt for something that is bigger and more elaborate.
With the more extensive garment racks, you can often store additional items such as hats, shoes, and other accessories. If you'd rather not have all of your clothes on display in your bedroom, you can use a cover with your garment rack. These covers come in a variety of colors, so you won't have to worry about ruining the look of your space.
6. Wall Mounted Clothing Organizer
Who needs a dresser when you have an entire organizer mounted on your wall? Closet organizers are one of the most appealing ways to organize clothing. There are also endless ways to design these dresser alternatives, and you can even have them custom-built to your liking.
These wall-mounted clothing organizers can feature cubbies, drawers, shelves, and hanging space all in one cohesive design.
7. Over Bed Storage Units
Most bedrooms have plenty of wall space above the head of the bed. You can make use of this space by hanging shelving to act as an alternative to a traditional dresser. One of the benefits of having these types of units above your bed is that they add aesthetics to your bedroom. Plus, they also provide additional storage space.
These are some of the best storage solutions for small bedrooms, especially in rooms where a dresser would severely reduce the floor space. Choose a pre-built storage unit or design your own to achieve the desired look for your bedroom.
8. Stackable Boxes
These offer an excellent alternative to storing clothing in a dresser. The boxes traditionally come in a plastic or durable cardboard material that you can easily stack for convenience. One of the biggest draws of this storage solution is that you can add more boxes as needed for additional storage space.
Additionally, these stackable bins take advantage of vertical space. In most cases, they are either completely transparent or feature "windows." This makes it easy for you to easily identify what's inside. Gone are the days of opening your drawers and tossing everything out to find exactly what you need.
9. Step Cabinets
With a step cabinet, you not only get a stunning statement piece in your bedroom, but you also get functioning storage space. These striking pieces of furniture are essentially chests or sets of drawers stacked in a manner that resembles a set of stairs. They have an upward position, which makes great use of the otherwise wasted vertical space in your bedroom.
Although you can find step cabinets in a variety of finishes they are generally wood – offering a sense of majestic splendor to any space.
10. Lockers
If you enjoy rustic furniture, this might be the dresser alternative for you. This dresser alternative is a lovely piece of art designed to resemble a locker but functions as a storage unit. They essentially work exactly the same as a standard dresser but add a touch of vintage to the room.
The major advantage of lockers as an alternative to a dresser is that you can lock up your storage. This will ensure that all of your folded clothing stays in place and your kids stay out of your stuff.
11. Hanging Closet Racks
This alternative is great for those that have an excellent closet but a small bedroom. Make use of your closet space by installing hanging closet racks. They offer plenty of storage space, act as shelves, and serve essentially the same function as a dresser.
With this storage solution, you get to enjoy all the benefits of shelves, without actually having to hang them on your closet walls. This is an especially great dresser alternative for renters who can't afford to risk damaging walls with a poorly installed shelving unit.
12. Coat Trees
Although you traditionally find coat trees in the entryway of a home, you can use them in your bedroom to store some of your clothing. Since you position them vertically, they take up much less floor space and utilize the height of your room.
While you can't store small items on a coat tree, you can use it to hang jackets, shirts, dresses, and even pants. This will help to free up additional space in your closet for storing some of your smaller garments or other personal items.
---
Related Questions
What is the difference between a bureau and a dresser?
The primary difference between a dresser and a bureau is their location in your house. While you traditionally place a dresser in a closet or bedroom, a bureau usually belongs in a library or office setting.As far as structure goes, the two pieces of furniture are essentially the same. Both dressers and bureaus function as storage, but the term 'bureau' may also refer to a type of writing desk.
What is a mule chest dresser?
Put simply, mule chests are basically blanket boxes for storing quilts and woven blankets. They are a unique piece of furniture with a lid that lifts from the top and a drawer, or a set of drawers, underneath. A mule chest stands on brackets or legs off of the floor, and many of them feature locks.In Colonial times, closets were pretty much nonexistent and a mule chest was often the only piece of furniture that a family owned. Nowadays, we use blankets and quilts as décor, as opposed to storing them in their own dedicated piece of furniture.
Related Guides

Jessica Stone
Jessica considers herself a home improvement and design enthusiast. She grew up surrounded by constant home improvement projects and owes most of what she knows to helping her dad renovate her childhood home. Being a Los Angeles resident, Jessica spends a lot of her time looking for her next DIY project and sharing her love for home design.
More by Jessica Stone
Published February 15th, 2021 9:39 PM