202 Views
40+ Different Types of Chairs (Living, Dining Room & More)
September 14th, 2022 5:34 AM
Share
We're committed to finding, researching, and recommending the best products. We earn commissions from purchases you make using links in our articles. Learn more here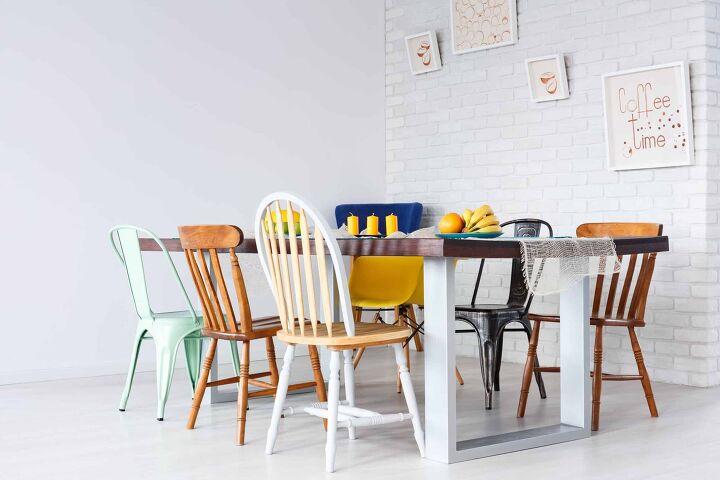 Undeniably, everyone loves a good, comfortable, deep-seated chair to lounge in after a long day of work. However, just like most other types of furniture, everyone has their own individual chair preferences, which has resulted in countless options over the span of many decades. The various types of chairs are all different both design-wise and, in some cases, functionality.
There are four main categories of chairs: living room, office, dining, and patio chairs. While living room chairs are generally heavily cushioned, dining chairs usually come in a set and have minimal cushioning. Office chairs should have good back support for people working seated. Patio chairs are portable and made of metal, plastic, or wicker.
That's where we come in! We've assembled an extensive chair buying guide that outlines a wide array of styles that you can choose from to add comfort, function, and flair to your home.
Chairs for the Home
Your home should be a place where you can find comfort, relax, and unwind. This is exactly why the chairs that you choose for your home, whether they be a reclining chair in your living room or a quality office chair, should be picked carefully. You want to purchase chairs that feature maximum comfortability and complement the space they are put in.
Fortunately, regardless of the room you are chair shopping for, you have plenty of options to choose from.
Living Room Chairs
Out of all of the rooms in your home, you likely spend the majority of your time in your living room. This room is where you gather for family-time, possibly entertain guests, and likely spend hours binge-watching your favorite tv show. Because of this, you want this space to feature chairs that are both comfortable and stylish.
Thankfully, while a cozy couch is important, you aren't limited to just using sofas in your living room. There are an extensive variety of seating options to choose from such as conventional armchairs, recliners, round chairs, loveseats, or even the fancier wingback and Bergère chairs. Whatever your particular home décor style, you have many choices for living room chairs.
1. Armchairs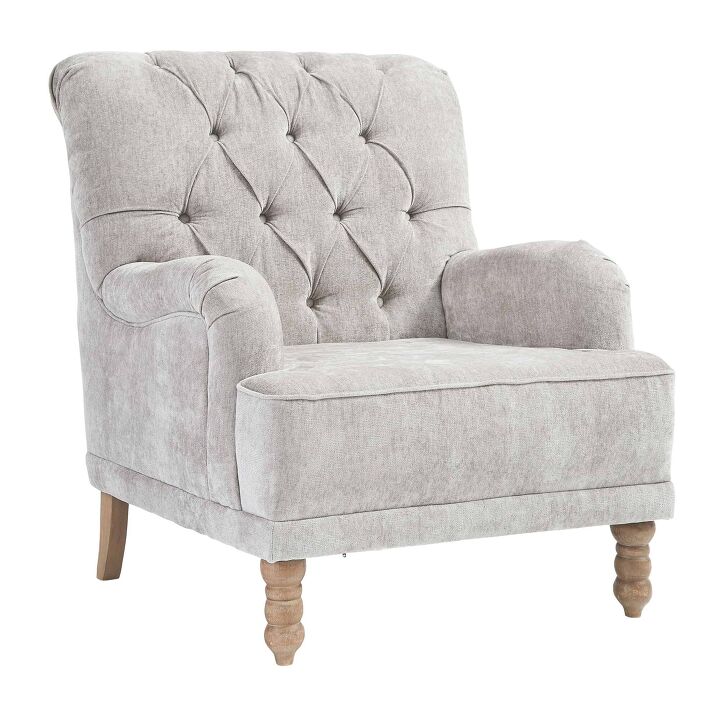 'Armchair' is the term used to describe a number of chairs that feature two arms and come in a range of styles, from traditional to contemporary and everything in between. They are a crucial function in a home, and especially in your living room. Aside from providing additional seating to the space, they can also add beauty, elegance, hipness, sharpness, or whichever aesthetic you're trying to achieve.
Armchairs come in many different materials including everything from natural materials like wicker for a more nautical, laid-back vibe, to thick, cushioning seats with soft arms for cuddling up with a good book. The price for these types of chairs can vary widely, starting at just $150 and reaching over $1,000, depending on the design.
2. Recliners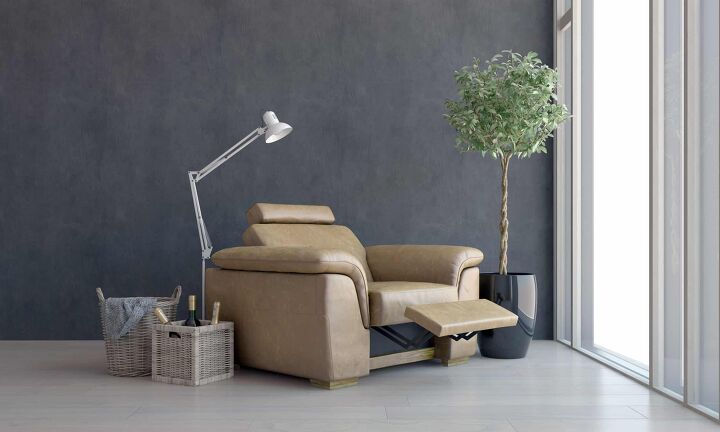 Recliners are the ultimate man-cave seating choice, but can also be a wonderful addition to your living room. While it may seem like a modern luxury, the first version of the reclining is actually believed by historians to have been owned by Napoleon Bonaparte. Fortunately, designers have significantly improved the design of reclining chairs since his time.
Nowadays, they are the embodiment of comfort. They come in virtually every material and style imaginable including cloth upholsteries, leather, and even manual or electronic operation. Recliners also can be found in a variety of colors to fit your design aesthetic.
3. Round Chair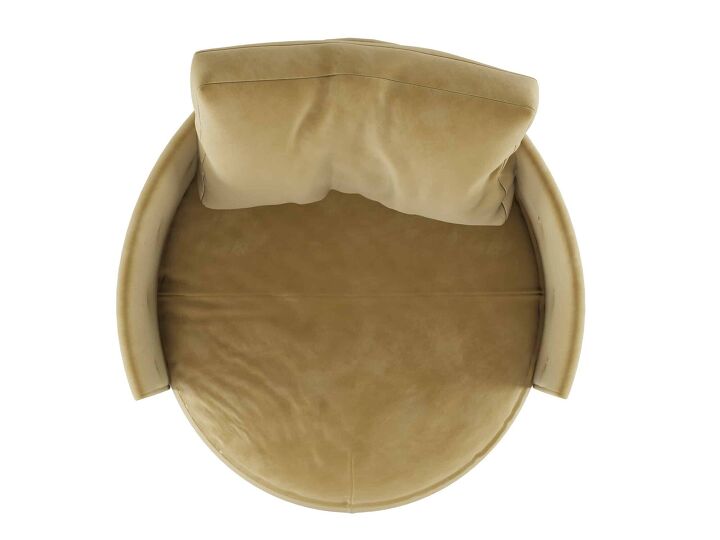 The, often oversized, round chair has been advertised by many as the ideal "cuddle chair." They generally have a width of roughly 58 inches and a cushion depth of 30 inches. With those dimensions, it's easy to see how the round chair is excellent for snuggling or just relaxing by yourself.
Their shape can also make them a great accent chair for your living room. They come in a variety of fabric coverings, with the most popular choices being leather and suede. Although the majority of these contemporary round chairs are purchased in a neutral color, you can add a pop of color to the space by opting for something a little brighter.
The price for a round chair typically ranges from $300 to over $700, depending on the style, material, and size.
4. Loveseats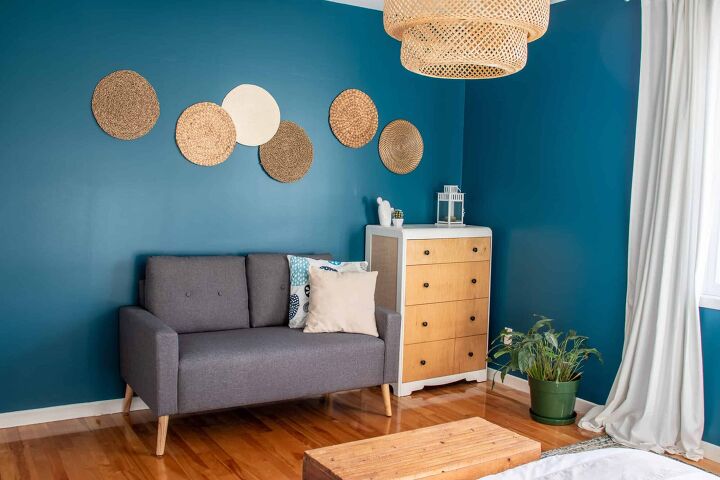 Although loveseats are often seen as a type of sofa, they can also fall under the category of a chair, with the difference of being able to accommodate more than one person at a time. Like round chairs, loveseats allow for an additional cuddle-factor, while also having plenty of room for two people to sit separately from one another.
Like nearly all other living room chairs, loveseats come in many types, styles, and designs. Whether you're looking to achieve a more traditional look or something that sways modern, you'll certainly find a loveseat that fits your requirements. Similarly, loveseats also come in a wide array of colors and fabrics. In most cases, they'll set you back between $200 and $600, depending on the manufacturer, size, and style.
5. Accent Chairs
The term "accent chair" is an umbrella phrase used to describe a variety of living room chairs such as wingback, barrel, club, English rolled arm, Lawson, and Bergère chairs. We describe the different accent chair options available to you in further detail below.
The Club Chair
This chair originated in France, where it was originally called "fauteuil confortable," meaning comfortable chair in English. As far as accent chairs go, this is one of the more comfortable options and one you'll likely find a snoozing occupant. Club chairs are characterized by ultra-deep seats, upholstery, roominess, comfort, and often made of a leather material.
A basic club chair can be purchased for around $100, or you can spend $500 or more for a premium option.
The Slipper Chair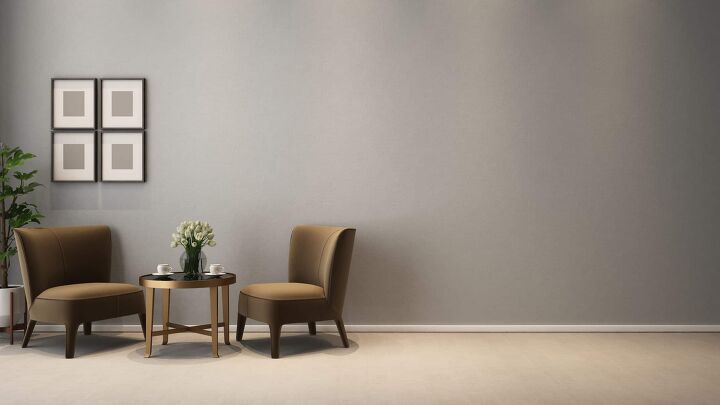 Another type of accent chair, the slipper chair, is armless with a petite silhouette and seat that is typically closer to the ground than most are used to. If space is limited in your home, a slipper chair can be an excellent choice. They are often found as extra seating near a coffee table, in small apartments, or adding flair to a master bedroom.
Due to their stature, slipper chairs are often the seat of choice for petite individuals. In fact, they can be somewhat awkward for taller people with long legs.
The Occasional Chair
These types of accent chairs win the prize for the most variety of style and shape. However, they all tend to have one thing in common – occasional chairs are lightweight and easy to move. Due to the weight factor, many of them are weightless. In most cases, occasional chairs are found with a very eye-catching and attractive design.
One of the major benefits of occasional chairs is their ability to work in virtually any area of your home.
The Wingback Chair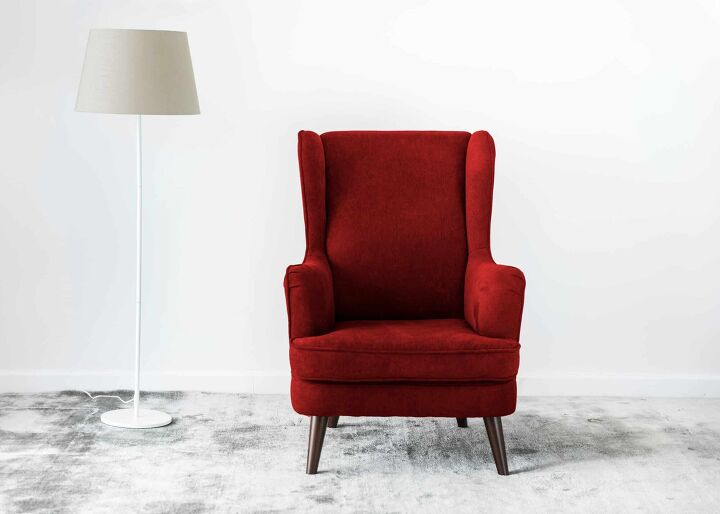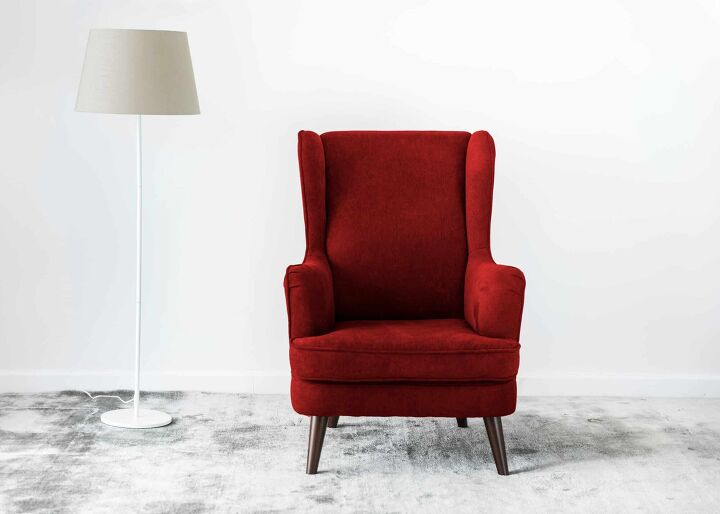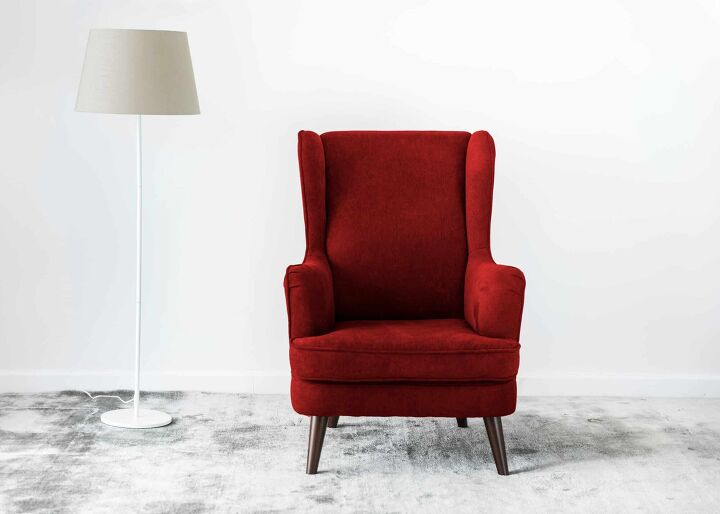 One accent chair option that will certainly add style and flair to your living room is the wingback chair. It is easy to spot due to its signature winged sides – hence the name – and usually high back. Also, since they are often pretty big chairs, they make a great counterpart to a large sofa and can help give your living room a sense of balance.
Wingback chairs are often found perched next to a fireplace, with an occupant enjoying a good book. In fact, the original purpose of the side wings was to protect the sitter from drafts and the heat from a boisterous fire. Wingback chairs can fit into virtually any home design aesthetic, whether you're looking for something traditional, contemporary, or even more eclectic.
The Bergère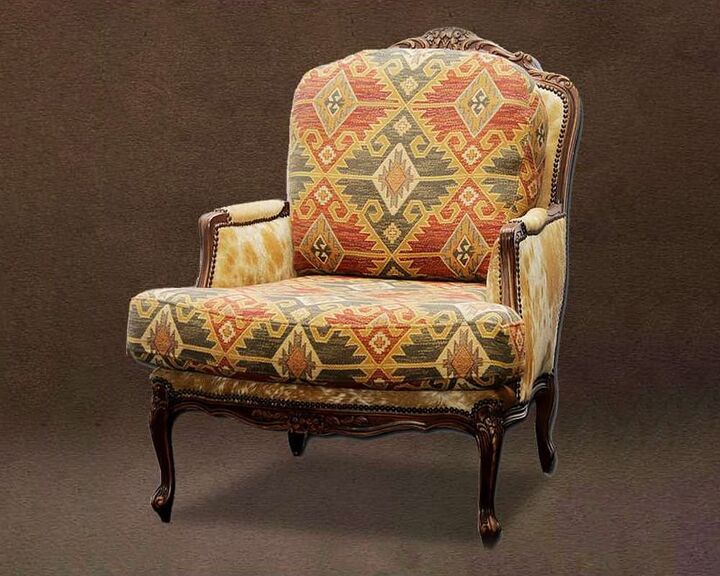 It's easy to recognize a Bergère by the exposed wooden frame that surrounds an upholstered back and seat. While the design of this chair can allow you to bring a touch of royalty into your living room, the detached seat cushion avoids it from feeling too formal.
The Bergère is commonly used in pairs on either side of a couch or even just tucked into the corner of a living room with an ottoman to match. They are timeless and can add elegance to even the most modern rooms.
The Lawson Chair
The Lawson chair is characterized by firm cushions, straight lines, a tapered wood base, and arms that are either square or rounded and lower than the back. They come in a variety of styles and can fit into both contemporary or more traditional spaces. Lawson chairs are often advertised as "true reading chairs," with their armrests sitting at the perfect height for resting your elbows while enjoying a book or the Sunday paper.
The Chesterfield Chair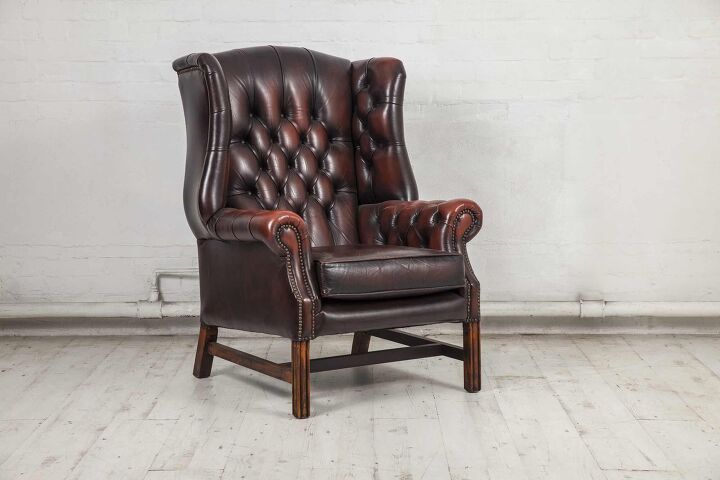 Chesterfield is often a term that many associated with sofas. However, there are chesterfield style chairs that exist as well. They appear almost identical to the chesterfield sofa, just in chair form. The defining element of the chesterfield design is the tufted upholstery. However, it's not uncommon to have, for example, a wingback chair that is a chesterfield style.
The English Rolled Armchair
The final accent chair we are going to cover is the English Rolled Armchair. This is another type of chair style that is also commonly seen as a sofa. These types of chairs generally have a deep seat, ultra-soft cushioning, and rounded, low armrests.
It is a very traditional design but there are many options available that take a more modern approach. However, all possess the same luxurious comfort T-shaped cushions, loos back, and rounded arms.
Dining Chairs
Like living room chairs, there are countless options you have to choose from when it comes to seating in your dining room or the dining space in your kitchen. The dining room in your home is the ideal place for you and your family to connect and enjoy a nice meal. However, as you're doing this, you should be sitting on comfortable chairs so you can better focus on the company around you.
Whether you're searching for seating for your guests to enjoy around your dining room table or for some basic stools for your kitchen island, or perhaps both, you have many choices. Dining chairs come in all sorts of designs and styles, and while those outlined below are some of the most common, there are even more options.
1. Bar Stool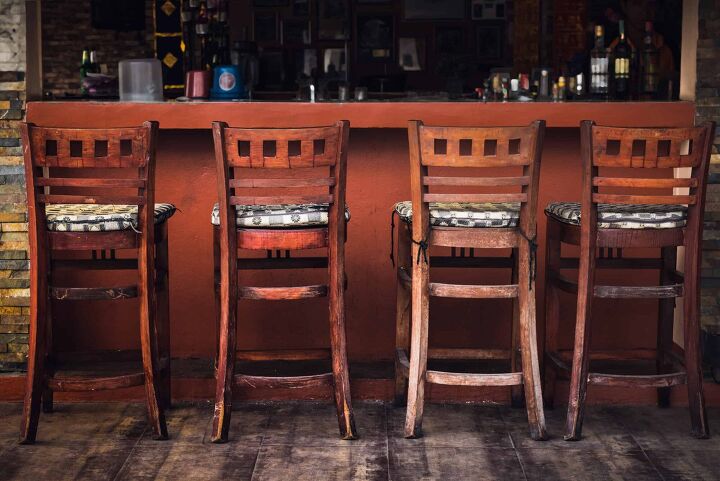 If you have an island with an overhang or a high-top table in your home, you're going to need bar stools that fit your needs. Bar stools come in varying heights, so it is absolutely essential that you measure the height of your counter or table prior to purchasing the seating.
While there are some bar stools that allow you to adjust the height, many others are positioned in place. Additionally, some rotate, some do not, and some are stools that have no back, while others featuring varying levels of back support – the options are endless.
Purchasing bar stools for your kitchen or dining space will generally run you $50 to $100 per chair. Whether you prefer something with a farmhouse aesthetic or more of a contemporary appeal, you'll be able to find the perfect bar stool for you.
2. Wishbone Chair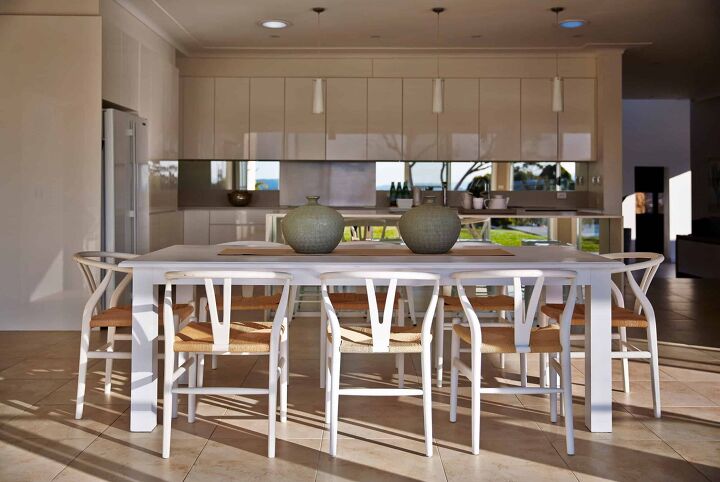 The Wishbone Chair stems from Danish influence, and usually features a wooden base and either woven or upholstered seating. If you're looking to achieve a mid-century modern look for your dining room table, Wishbone chairs are an excellent choice. The defining characteristic of these types of dining chairs is the support that runs up the middle of the back, splitting the chair like a wishbone.
The curved frame offers great back support, as wishbone chairs are both comfortable and decorative. In most cases, you'll find them in neutral shades but there are bright colors available as well. You can even purchase wishbone-style bar stools to match your dining chairs.
3. Side Chair
The classic side chair, similar to the slipper chair mentioned earlier, is one of the most traditional types of dining chairs. It is also probably one of the most common. Their name comes from the fact that they rest along the "side" of the table. In most cases, it can be challenging to fit all armed chairs around the average dining room table.
However, due to the armless nature of side chairs, you have plenty of space to enjoy all of the seating you desire. They can be super formal or on the more casual end, depending on the type of dining room table you have.
4. Ghost Chair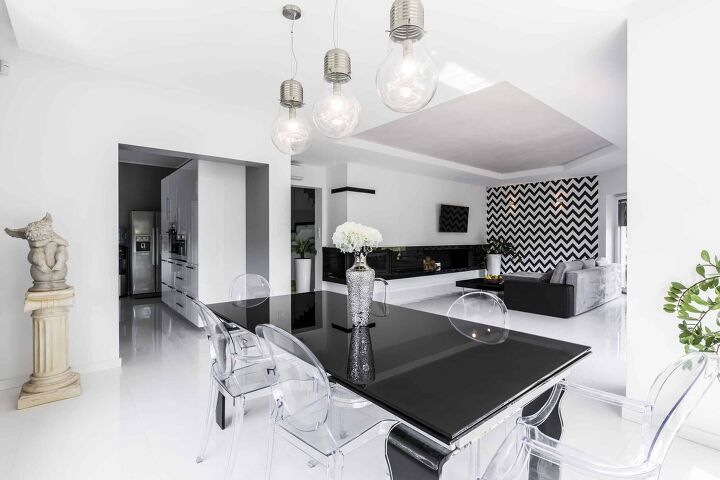 Despite the name, this type of chair isn't haunted it just is made of clear plastic. Ghost chairs tend to be the ideal choice for incredibly modern homes. They come with or without arms, in varying heights, and in sets of two or four.
Many ghost chairs come with wood or metal accents in the legs, which can add appeal and dimension to your dining space. Also, these chairs can be implemented into your living room or office for some flair.
5. Parsons Chair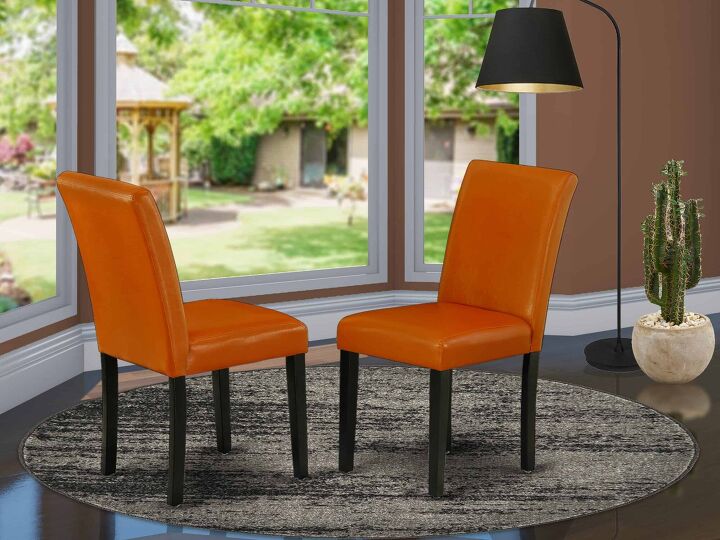 Another dining room classic, the Parsons chair got its' name from Paris' Parsons School of Design. The chair is characterized by lean, simple lines, and upholstered seating. This type of dining chair comes in virtually every type of fabric you could imagine.
Parson Chairs are a great choice for the dining room because they work with many different styles – mid-century modern, modern, contemporary, transitional, rustic – the list goes on. They are not only comfortable to sit in, but they can also fit in smaller dining spaces due to their lack of bulky arms taking up space.
6. Windsor Chair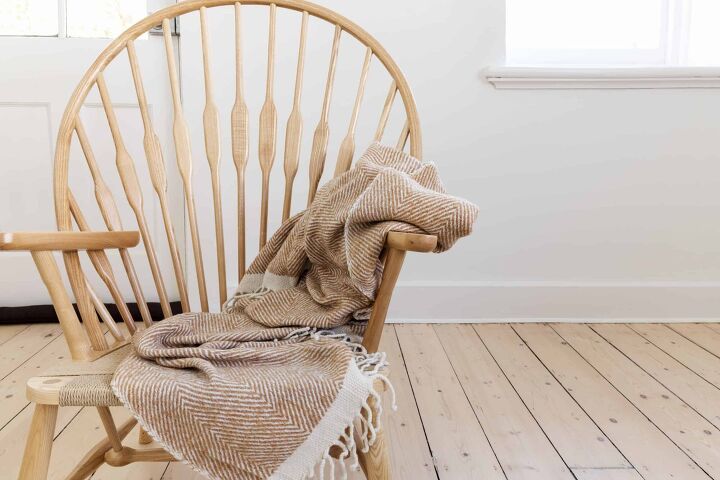 The Windsor chair is another common choice for dining rooms and draws inspiration from early English styles. These types of dining chairs are characterized by a solid wood design, sunken saddle seating, a half-circle back with vertical rods or slats, and long spindle legs.
These chairs tend to look nice with vintage, traditional, and especially rustic designs. Since they first came on the market, Windsor chairs have inspired many modern iterations as well.
7. Slat Back Chair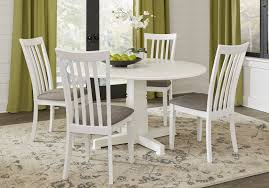 A slat back dining chair consists of vertical slats that are evenly spaced on the back, offering a laid-back, quaint ambiance. These chairs work for a number of styles including rustic, traditional, mission, and the like. Alternatively, they can also be dressed up to fit a formal setting or dressed down for a more casual look.
They are a very practical choice for a dining chair and can come in either upholstered or solid seating, which can be ideal for households with kids or casual dining.
8. Ladder Back Chair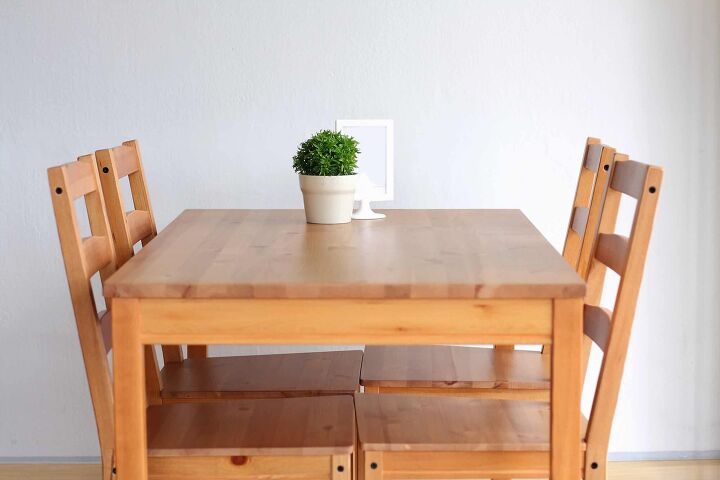 The ladder back chair is somewhat similar to the slat back chair, except for its horizontal slats spaced along the chair's back. In most cases, these slates are made out of wood. Ladderback chairs are the ideal choice for casual dining, as the slats give off a light and open appeal. They also look nice in traditional or more rustic home décor styles.
Office Chairs
As far as office chairs go, they tend to consists of a padded back with lumbar support, a padded seat, and a set of casters to allow the chair to roll and swivel easily. In most cases, they are height adjustable and are often interchangeably referred to as a computer chair or desk chair. As the name implies, office chairs are meant to be used in an office or work setting. However, this doesn't mean that businesses and home offices are the only places where office chairs can be found.
Even if you don't have a home office, you likely have some sort of computer chair with your PC sitting in front of it. In fact, no other type of chair noted above is well-suited for use while working on a computer. If you've ever tried sitting in a recliner or dining room chair to use your computer, you know how awkward it is.
With that said, there are a number of office chairs to choose from that can be used in the home or at your corporate office.
1. Big and Tall Chairs
While this is considered more of an office seating subclass, it is worth mentioning. Any of the office chairs mentioned below can be purchased in a big and tall variant. This option is great for users that are taller (up to 6'6" tall), as the chairs a characteristically larger. They are also made of sturdier materials, offer extra thickness and support.
2. Petite Chairs
Like big and tall office chairs, petite chairs are considered more of a subclass. Any type of the office chairs noted in this section can be found in a petite variant. These chairs are lighter, smaller, and made of thinner materials which are great for people that are physically smaller.
3. Ergonomic Chairs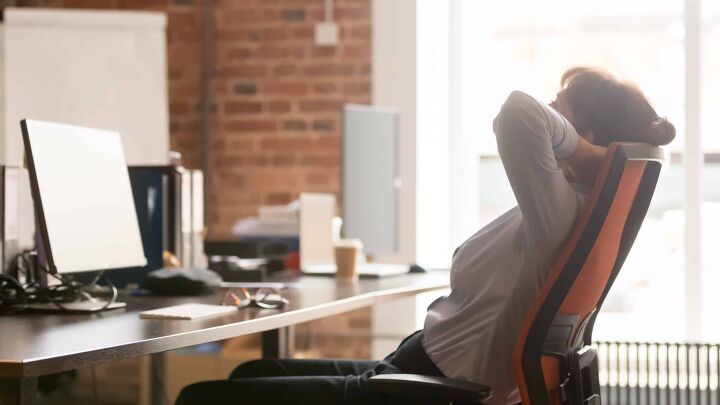 As the average workday has increased in length over the years, there became a need for additional support, especially since more and more people are spending more time sitting. This fact is what eventually spawned the creation of ergonomic chairs. These types of chairs are characterized by having more lumbar supports, contributing to better posture.
If you tend to spend hours upon hours each day at your computer, you could seriously benefit from a chair with ergonomic supports. Or, you'll likely end up paying for it in medical bills and frequent visits to the chiropractor.
4. Conference Chairs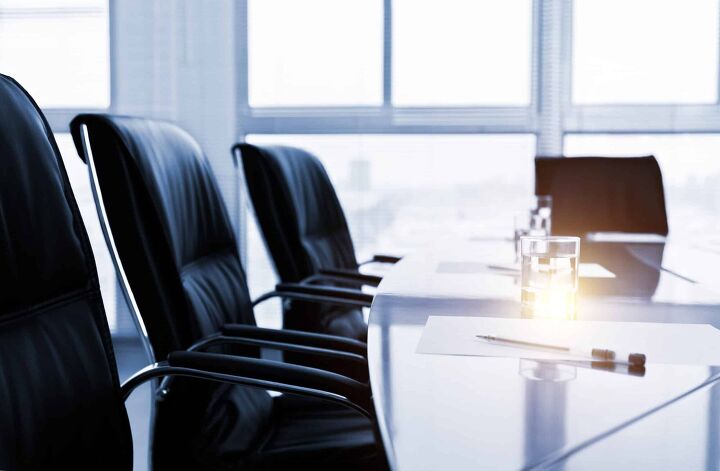 As the name indicates, conference chairs are designed to be used in a conference room setting. Since conference calls and meetings often run long, it's important the hours spent in a chair is comfortable and safe for your back. However, conference chairs are often not the best choice for day to day long term use.
Though they have the advantage of being slightly cheaper than better alternatives, they have inferior lumbar support.
5. Executive Chairs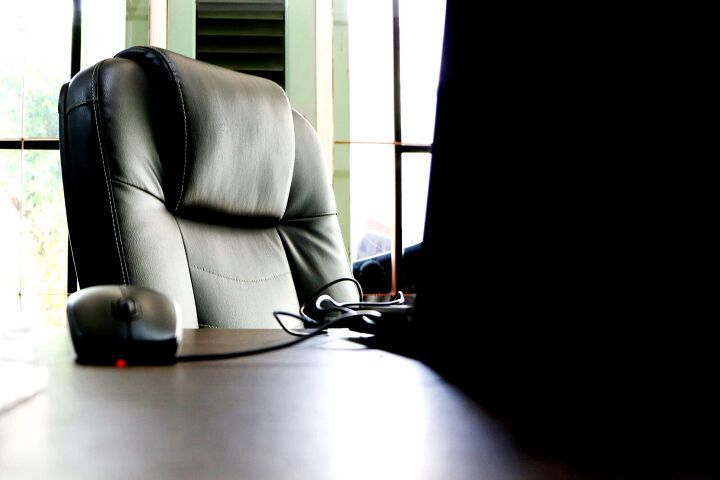 Of all the desk chair options, executive chairs are the most expensive. They have better comfortable padding, are high end, and have a full range of ergonomic features, so it's not hard to understand the high price point. If you're looking to purchase a desk chair for at home house and can swing it, we recommend spending the extra money on an executive chair.
Not only are they more appealing from an aesthetic standpoint, but they are much more comfortable and tend to have all the best features of all other types of desk chairs.
6. Kneeling Ergonomic Chairs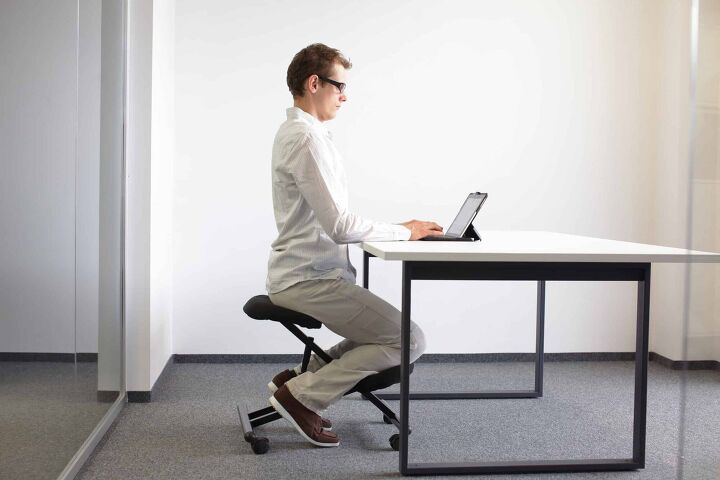 While these aren't widely used in most office settings, they offer some advantages. Kneeling ergonomic chairs are an excellent choice if you suffer from chronic back pain. However, they are not particularly comfortable.
Therefore, if you spend hours in your chair at a time, they can be exhausting. But, if you're sitting in your desk chair for no more than four hours at a time, they're a great solution for back pain.
7. Guest Chairs
Guest chairs are a necessity in any office that features a waiting or reception area. However, they are not recommended for anything other than short-term seating solutions. They are relatively comfortable but do not possess the support needed for extended use.
8. Stools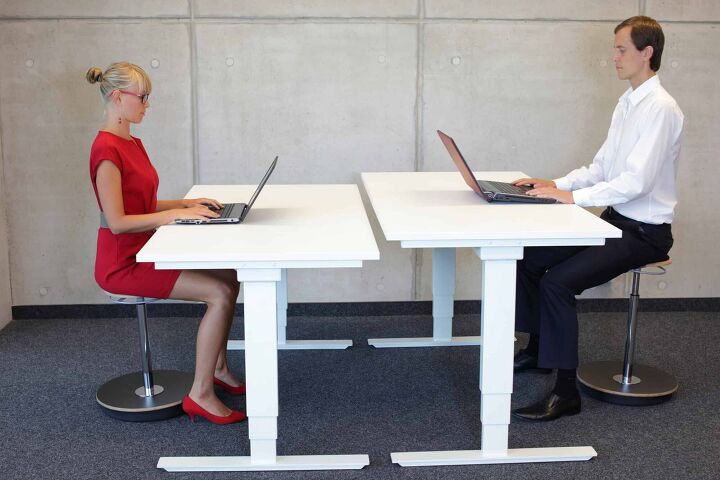 In recent years, ergonomic stools have become very popular in office settings. While they are an interesting choice, they may not work for everyone. They can be ideal to help with posture for short to medium-term seating. However, if you spend several hours a day at your computer, it can be pretty exhausting to sit in an ergonomic stool.
9. Stacking Chairs
Stacking chairs are both inexpensive and simple to mass-produce. In most cases, they are pulled out of the storage closet whenever there is a large dinner or meeting the requires additional seating for a short period of time. They aren't particularly comfortable but will get the job done in a pinch. Unfortunately, stacking chairs aren't usually something you'll want, or even need, in your home.
10. Task Chairs
Finally, task chairs are cheap, reasonably comfortable, and great for short term seating. More than one to three hours of sitting at a time, and the lack of posture support feature will make task chairs very uncomfortable.
They can be a good choice in a corporate setting but should be avoided if you work from home or are self-employed. If either describes your situation, you're better off forking over some extra money for better quality office seating. Your back will thank you!
Patio Chairs
The first type of patio chair came on the scene in the 1930s and was just a flat basic metal chair in a metal frame. Nicknamed, the Clamshell, Bouncer, Tulip chair, Shellback, and more, you've likely seen these chairs near public pools, at the beach, or even in your grandma's backyard.
Nowadays, there are more than just those iconic metal patio chairs to choose from. If you're looking for seating to create a relaxing atmosphere and enjoy the great outdoors, you have numerous options. Some of these include:
1. Plastic Patio Chairs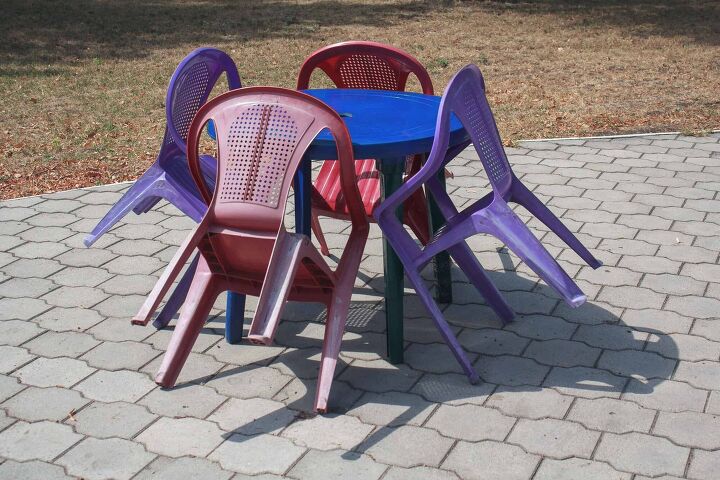 Although plastic patio chairs don't tend to be the most popular choice, they have their purposes. For example, if you're looking for a quick outdoor seating solution and don't have much money to spend, you will still benefit from purchasing the plastic variant.
They are cost-effective, and you'll even be able to get several without breaking the bank. This can be especially beneficial when you need to provide seating for several people, and don't have the time or money to seek out a new patio chair set.
While you may assume that plastic patio chairs are not all that desirable, they are actually pretty durable. They don't break as easily as you might think. This option also makes it really simple to find chairs in a number of styles and colors to fit your desires.
2. Wooden Patio Chairs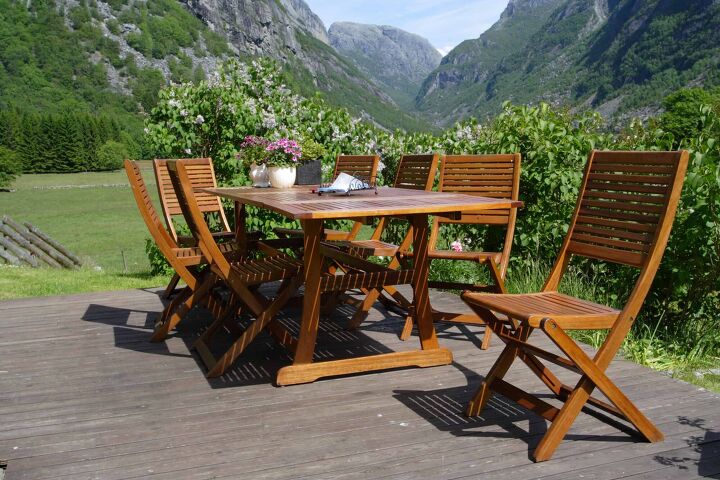 If you're looking for a classier option than plastic, you may consider wooden patio chairs. While you'll have to pay a bit more, the style and level of durability are often worth it. There are a number of patio chair styles made from wood, so you'll have plenty of options to choose from.
Wooden patio chairs come in a range of light-colored to dark-colored wood and can be made of various wood materials. If you are looking to purchase a whole patio set, then this option is a good choice. In most cases, you'll be able to find wooden chairs, a wooden table, a wooden patio sofa, and even a wooden coffee table all in one set.
3. Metal Patio Chairs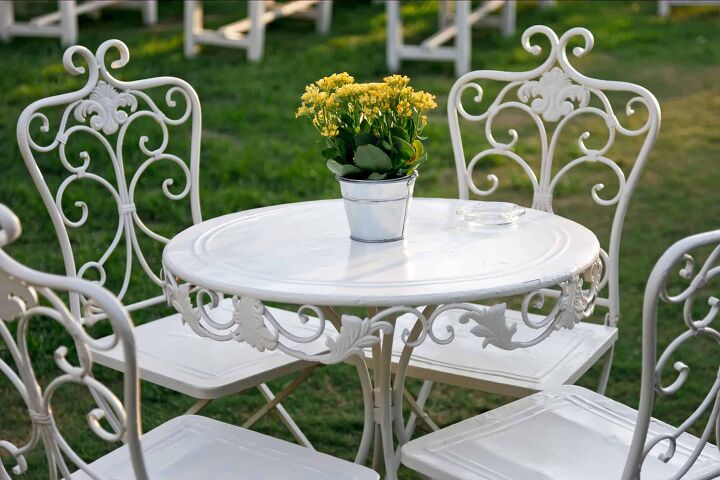 In addition to plastic and wood, metal patio chairs are a popular choice. If you're looking for an option with a long lifespan and one that will withstand various weather conditions, metal may be your best bet. You can find metal dining chairs, lounge chairs, and even entire patio sets.
In most cases, metal patio chairs also tend to be somewhat reasonably priced. However, there are more expensive options that offer more ornate detail. Regardless of the type you choose, your metal patio chairs will look great and stand up to regular daily use without any troubles.
4. Wicker Patio Chairs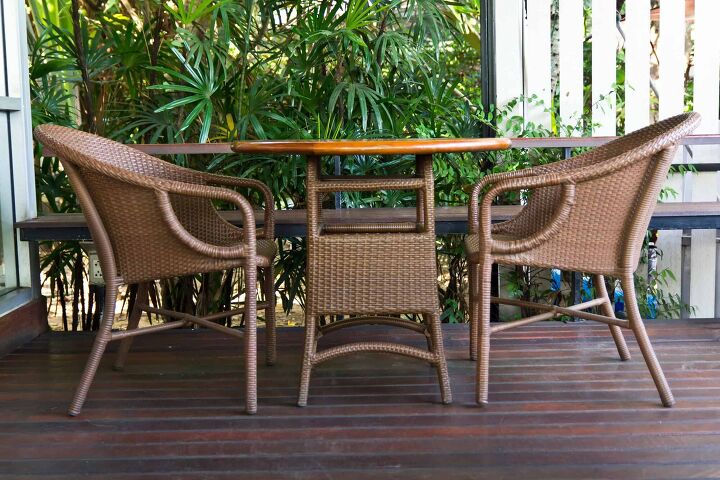 Wicker is an appealing material and one that has gained more popularity recently with the rise of bohemian chic styles. Wicker patio chairs offer a unique look to your outdoor spaces and there are many sets to choose from. If you're trying to achieve a particular tropical, beachy vibe for your backyard, wicker may be the right choice!
One of the major concerns about wicker patio furniture has to do with durability. While it is true that some wicker furniture is more fragile than others, just make sure that you select a sturdy set. Despite popular beliefs, they can be made to be pretty durable.
Wicker patio chairs are typically characterized by rounded frames, are lightweight, and traditionally made of some sort of material of plant origin. They also come in a range of colors, and you can choose to go traditional with a brown or white color or opt for a pop of color with something like turquoise.
5. Patio Chair Swings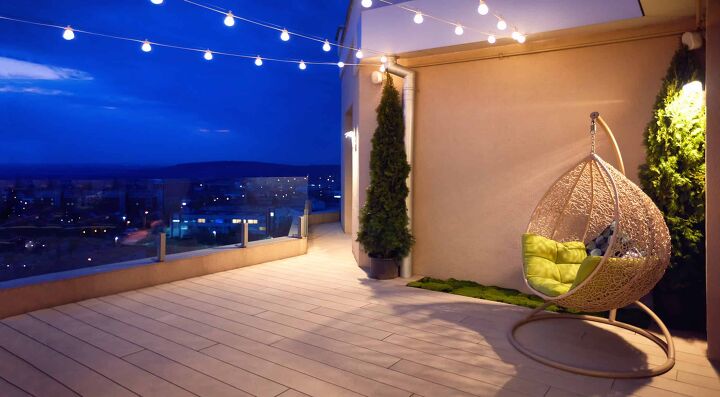 Purchasing a swing for your outdoor space can be a great option to add visual interest. While most might assume that swings belong on porches, they can also work nicely on a patio. Even if your patio doesn't have a roof to hang a swing from, you can still enjoy a free-standing patio chair swing. These come with their own built-in "roof" and support system.
Patio chair swings make it really easy to enjoy the benefits of a porch swing anywhere on your property. In fact, swings designed like this are often found indoors as well. These types of patio chairs usually have a high weight capacity and their frames are strong, allowing them to be enjoyed by two people at a time.
6. Patio Lounge Chairs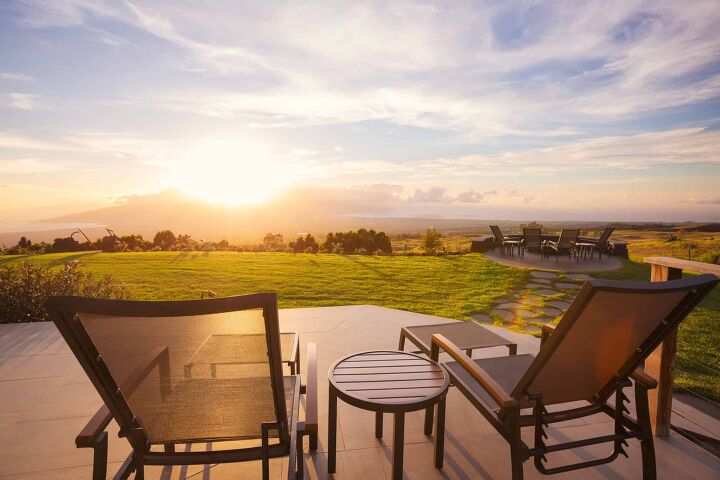 Lounge chairs are some of the most popular patio chairs available. They are slightly longer than conventional chairs, making them great for stretching out, lounging, sunbathing, and even napping outside. Like most other patio chairs, there are a wide array of the lounge variant to choose form. They can be made of wood, wicker, metal, plastic, and various other materials.
If you're looking for chairs that will withstand all types of weather conditions, be sure to purchase patio lounge chairs that are made of a durable all-weather material. Another, more specific, type of outdoor lounge chair is outdoor chaise lounge chairs. They are similar to conventional lounge chairs but are usually flatter, or can be adjusted to flatten out completely.
7. Patio Rocking Chairs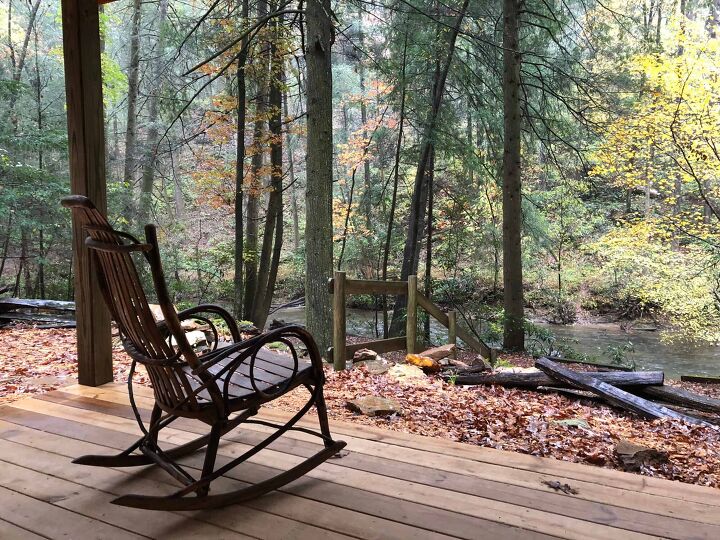 Though often found inside, rocking chairs are available as patio chairs as well. If you're looking to achieve the traditional style that rocking chairs display, you'll be happy to find that there are plenty of options for use outdoors. Patio rocking chairs exist in everything from classic wooden chairs like something that may have been in your childhood bedroom, to more modern and contemporary designs.
While there are tons of options to choose from, wicker tends to be the most preferred material for patio rocking chairs. They emit a welcoming appeal and can be paired with a variety of cushion colors, depending on your desires.
8. Patio Benches

Though not technically chairs in the traditional sense, patio benches are still worth mentioning as a great outdoor seating option. When you have a great set of patio benches, you'll be able to seat and entertain more people outdoors than you would with conventional patio chairs. If you host groups of people on a regular basis, you may want to consider investing in some patio benches.
They can come in a set, along with chairs, a table, and more. Or, patio benches can be purchased separately. They are also made in many different styles and materials to fit your patio aesthetic.
9. Folding Chairs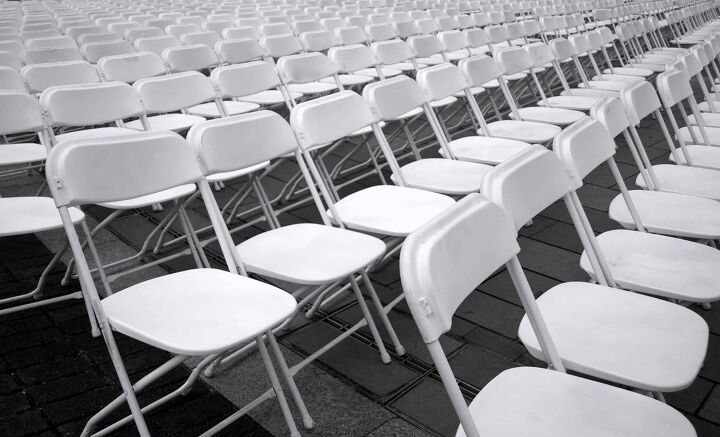 If you host frequent barbecues or backyard gatherings you are going to need sufficient seating. Folding chairs are an affordable solution for your next outdoor part. As the name indicates, and I'm sure you already know, these types of patio chairs fold up for easy storage.
They are very lightweight and easy to move to and from the space where they will be used. Folding chairs are generally made of metal, plastic, or a combination of the two materials. They can be purchased for as little as $14 each, and oftentimes even less. Though not particularly comfortable, this option is a great way to accommodate a large number of guests at once.
10. Hammock Chairs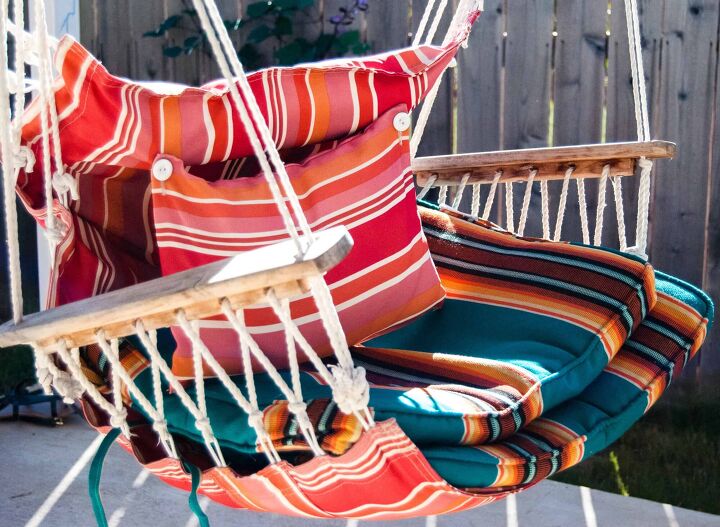 If you're unsure of whether or not you want a chair or an outdoor hammock, you can enjoy the best of both with a hammock chair. This comfortable patio seating options swings just like hammocks, but are much easier to get in and out of. Many hammock chairs come with weather-resistant cushions, that are comfortable and easy to maintain. They also come in many bright, fun colors that'll have liven up your outdoor space.
Hammock chairs often differ widely in their appearance. While some are suspended from patio roofs, there are others that have their own suspension base. When purchasing a hammock chair, make sure you check the weight limit. Although they are mostly safe, you never want to exceed the weight limit, as you could risk breaking the chair and possibly injuring yourself in the process.
11. Camping Chairs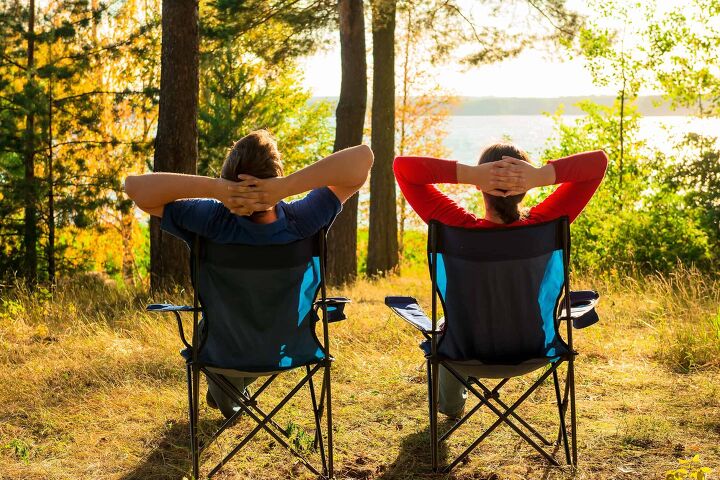 Another outdoor, or patio, chair option that you can use are simple camping chairs. As an added bonus, you can take these chairs on the go and use them while tailgating, camping, or watching the kids play soccer in the park. These polyester chairs fold up very small, are lightweight, and can easily be stuffed into your car.
Then, when you're ready to use them, they can be quickly and easily folded out for a comfortable place to sit. Camping chairs come in a massive range of colors and patterns. You can even get some that feature your favorite team's logo or virtually any other customization. This is, by far, the cheapest outdoor seating option, as camping chairs can be found for as little as $10 a piece.
12. Adirondack Chairs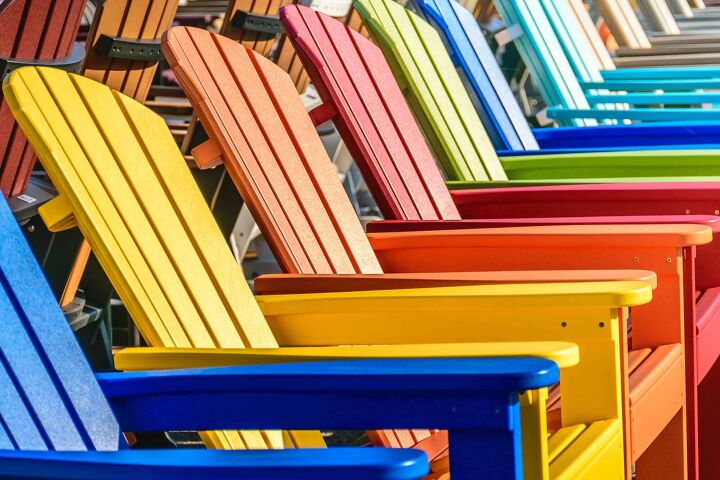 Adirondack chairs are a very specific style of outdoor lounge chair that is characterized by wide armrests, a seat that is higher in the front than the back, and a tall slatted back. Named after the Adirondack Mountains, this patio seating option is designed in such a way that makes them very comfortable. While most outdoor chairs leave you feeling achy and stiff after sitting for a prolonged period of time, this is not the case with Adirondack chairs.
The chair's wide base allows you to sit back comfortably, while still keeping your back in an appropriate posture. Adirondack chairs can be a massive upgrade to any patio or backyard. Aside from being comfortable, they are also weather-resistant and come in a number of colors and materials.
As of late, these types of patio chairs are extremely popular. They are not only seen in the backyard and are often placed on front porches as well. The main reasons why they are so desirable has to do with their unique design, comfortability, and durability. As an added bonus, the Adirondack's ultra-wide arms allow you to place your drinks, food, and virtually anything else you want on them. They essentially serve as a miniature table.

Jessica Stone
Jessica considers herself a home improvement and design enthusiast. She grew up surrounded by constant home improvement projects and owes most of what she knows to helping her dad renovate her childhood home. Being a Los Angeles resident, Jessica spends a lot of her time looking for her next DIY project and sharing her love for home design.
More by Jessica Stone
Published January 25th, 2021 12:20 PM