75 Views
How Much Does A Trex Fence Cost?
December 22nd, 2021 2:53 PM
Share
We're committed to finding, researching, and recommending the best products. We earn commissions from purchases you make using links in our articles. Learn more here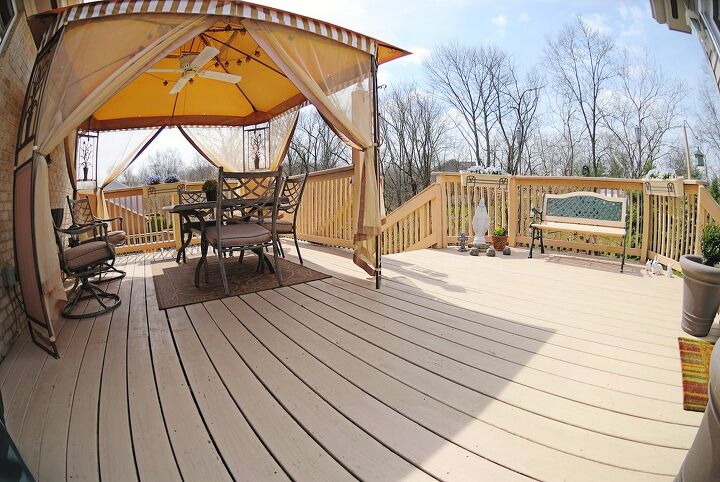 Over the years, fences have come in many styles, ranging from simple chain link to classic wooden boards to elaborate, ironwork masterpieces. These styles are good options, but over time metal rusts and wood can rot. A Trex fence features a composite material that is attractive and long-lasting.
The average cost to install a Trex fence is $7,400 for materials and labor. Homeowners spend an additional $1,500 on Trex fence gates, and $90 to install fence posts. You can save $5,025 if you purchase the materials and install a Trex fence and gates on your own.
When it comes to price, you should consider the upfront as well as the long-term costs. In this guide, we will provide all the information you need to decide whether or not you want a Trex fence.
Do You Need Fence Installation or Repair Services?
Get free, zero-commitment quotes from pro contractors near you.
How Does Trex Fence Compare To Other Common Fences?
When it comes to fencing, you need to consider more than just the initial cost. Therefore, ask yourself questions like:
How long does this type of fence last?
Is this fence durable?
Does the fence require a lot of maintenance?
How much does this type of fence cost to maintain?
Does this fence provide adequate privacy?
Is this fence good for security?
Does this fence offer options that will work with your home's style?
The answers to these questions can help you determine the best type of fence for you. For example, if one of your most essential needs is privacy, a chain link is not your best option.
If you want a fence that never needs maintenance, then a wood fence is probably not the way to go. Therefore, consider all of the pros and cons of each style.
Comparing Prices For Various Fences
Of course, a significant deciding factor for any home improvement project is the price. Here's a look at the prices for various popular fence styles based on an average-sized yard:
(Average prices for materials and installation. The range is due to factors like the height of the fence, style, and additional options).
| | |
| --- | --- |
| Wire | $150-$1,050 |
| Post and Rail | $900-$2,400 |
| Bamboo | $900-$1,800 |
| Wooden Picket | $1,500-$2,100 |
| Split Rail | $1,800-$2,550 |
| Chain Link | $1,800-$3,750 |
| Board on Board | $2,400-$3,300 |
| Wood | $1,550-$3,600 |
| Vinyl | $2,250-$5,250 |
| Aluminum | $3,750-$7,500 |
| Steel and Corrugated Metal | $4,500-$7,500 |
| Wrought Iron and Hand-Forged Wrought Iron | $3,600 – $45,000 |
| Trex Fence | $11,250-$14,250 |
Cost Per Linear Foot Of Trex Fencing
For a 6-foot-high fence, you can expect a Trex fence to cost between $43 to $53 per linear foot. However, the exact price you pay depends on factors like layout, style, access, and optional features. This price does not include the cost of installation.
If you plan to have a pro install your Trex fence, the installation cost per linear foot is roughly $32 to $42. Unless you're doing the job yourself, plan to spend between $75 and $95 per linear foot for your Trex fence.
Here is a look at the cost per linear foot of other fence styles:
| | |
| --- | --- |
| Wire | $1-$7 |
| Post and Rail | $6-$16 |
| Bamboo | $6-$12 |
| Wooden Picket | $10-$14 |
| Split Rail | $12-$17 |
| Chain Link | $15-$25 |
| Board on Board | $16-$22 |
| Wood | $10-$24 |
| Vinyl | $15-$35 |
| Aluminum | $35-$50 |
| Steel and Corrugated Metal | $30-$50 |
| Wrought Iron and Hand-Forged Wrought Iron | $24-$300 |
What Factors To Consider When Pricing Your Trex Fence
When determining a more accurate cost for your Trex fence, you have several things to consider. Luckily, the Trex website provides a handy tool for calculating your project.
Some of the items you need to think about are:
Size and Style
Seclusions vs. Horizons — Seclusions feature panels with a vertical pattern, while horizons run horizontally. There is a minimal price difference between the two, with horizons coming in slightly less.
Fence Height — You can choose between 6-feet or 8-feet. 6-feet is the most common. Installing an 8-foot fence will increase the price by several thousand dollars.
Fence Color — Trex offers three colors: Winchester Grey, Saddle, and Woodland Bown. But, the color you choose does not affect the price.
Post Cap Types — You can choose from crown, flat, or pyramid caps. The style of the post cap you select does not affect the price.
Gates
Fence Gates — One single, 4-foot gate will add about $700 to your price. A 10-foot double gate adds roughly $1,400 to $1,600. 
Posts
The more posts you need, the higher your price. Each post will add about another $80 to $100 to your bottom line.
There are three types of posts to consider:
End Posts — These posts stand at the end of a fence panel, for example, where a panel ends and a gate begins.
Corner Posts — These posts are used at each corner of your fence and provide stability.
Stand-Alone Posts — These posts are not attached to a fence panel. For example, there might be a single independent post between your home and where a gate will shut. 
Note: In addition to the above factors, you need to consider the costs of concrete and any tools that you will need to do the job.
The amount of concrete depends on the height and size of the post and the depth of the hole. On average, you would need two to three 50-pound bags of concrete per post—a 50-pound bag of fast-setting concrete costs between $5 and $6.
Should You Install A Trex Fence By Yourself Or Hire Help?
Of course, one of the most significant factors influencing your Trex fence's cost is whether you plan to install it yourself. If you decide to DIY your composite fencing, you can save between $3,750 to $6,300!
The Trex website provides helpful how-to videos and guides if you decide to tackle the project yourself. However, be honest about your available time and skill level, so you're not dealing with problems later.
The Upfront Costs vs. Costs Over Time For Trex Fence
While Trex fencing costs more upfront than most other fencing options, it requires very little maintenance or repairs. Therefore, composite fencing ultimately costs you less over time than many of the alternatives.
When choosing a fence, it's essential to think of the long-term. Sure, you can opt for a less expensive option, but at what future cost? If you spend hundreds maintaining your fence, did you really save money when you chose the more economical material?
Trex fencing can last for 25 years or more with regular care and cleaning. Using soap, water, and a soft brush to clean your fence twice-a-year will help keep mold and mildew at bay. Although the color of composite fencing can fade over time, this does not affect its durability.
Does A Trex Fence Increase Your Home's Value?
If you already have a Trex fence, it can certainly be a great bonus feature for potential buyers. However, installing a costly fence to drive up your home's value purposely is not a good idea.
Ultimately, there are more critical factors to upgrade when it comes to selling your home. Buyers with young children and pets simply want a fence. However, the type of fence won't make much of a difference to them as long as a fence is there.
When opting for a pricier fence like Trex, it should be more about what you want, not a buyer. If you plan to stay in your home, the cost of a Trex fence could be worth it to you. You can potentially save in the long-run by not having to replace your fence for many years.
Is Trex Fencing Worth It?
What appeals the most to people about Trex fencing is the low maintenance and durability. Also, it lasts quite a while, which is why so many people choose Trex. While Trex may be more expensive to install, but it is costly to maintain, like wood is. Wood is excellent, but the maintenance costs can climb over time.
With a wood fence, you have to sand it, paint and stain it over time. But, with Trex, there is no need to do all of that. So you're saving on money in the long run.
How Long Does Trex Fencing last?
Trex fencing is designed with longevity in mind. Trex can last 30 to 40 years, with no significant problems and with minimal maintenance. This means if you paid $8,000 to install your Trex fence, you're paying about $200 to $250 a year!
That's just $15 to $20 a month. So, for the price of your Netflix, Hulu, or some other subscription-based service you have, you can have a Trex fence. You need to pay the full upfront cost.
What Type Of Fencing Lasts The Longest?
You might be wondering what type of fence lasts the longest. Wrought iron and vinyl fencing last the longest. Wrought iron can last around 100 years, while vinyl will last about 30 to 40, like Trex. However, wrought iron is not ideal if you're looking for a privacy fence.
Do You Need Fence Installation or Repair Services?
Get free, zero-commitment quotes from pro contractors near you.
Wrapping It Up
Trex fencing may cost a pretty penny up front, but it pays for itself over time. Without the monthly maintenance costs along with the fence's lifespan, make the fence well worth installing, if this is your wish.
However, if you want a different type of fence, you can always look into vinyl or wrought iron fence. Wooden fences are great too but expect to pay a good amount of money to maintain it.

Stacy Randall
Stacy Randall is a wife, mother, and freelance writer from NOLA that has always had a love for DIY projects, home organization, and making spaces beautiful. Together with her husband, she has been spending the last several years lovingly renovating her grandparent's former home, making it their own and learning a lot about life along the way.
More by Stacy Randall
Published August 9th, 2020 11:00 PM