378 Views
Standard Toddler Bed Size (with Drawings)
August 26th, 2021 3:10 PM
Share
We're committed to finding, researching, and recommending the best products. We earn commissions from purchases you make using links in our articles. Learn more here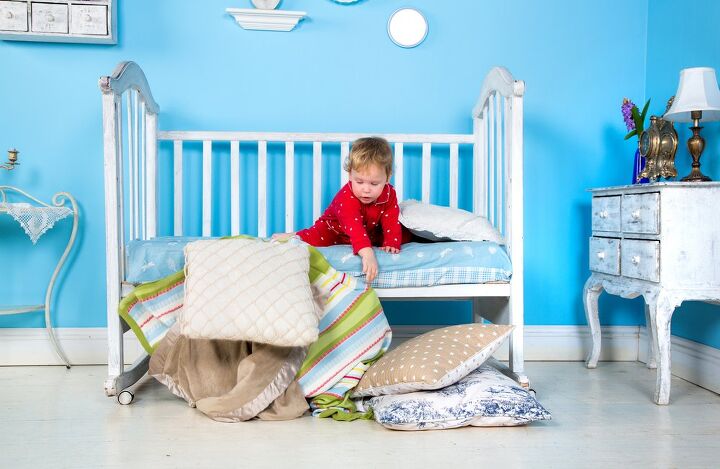 Timing is different for each child, but it's time for a toddler bed when they start trying to escape the crib. Toddler beds come in a variety of types and sizes. Use this as a guide to choose the toddler bed that will best suit your child and space.
Toddler beds vary in size, but they all fit a toddler-size mattress. A toddler mattress is typically 28 inches wide, 52 inches long, and 6 inches high. Toddler beds shouldn't be confused with a standard child's bed which takes a twin-size mattress.
What Is the Average Size of a Toddler Bed Mattress?
A toddler bed is a small bed designed for toddlers after transitioning out of the crib. This typically takes place around two years of age, but age can vary. In general, a standard toddler bed mattress is 28 inches wide, 52 inches long, and 6 inches high.
The mattress should fit perfectly inside of the bed frame as any gaps could become a safety hazard. If the mattress is too big for the toddler bed, you may struggle to change the sheets. A good rule of thumb is to keep a maximum two-finger gap.
While some parents prefer to transition straight to a child-size bed, don't get them confused with toddler beds. Child-sized beds fit a twin mattress. A twin mattress has a length of 75 inches and a width of 38 inches, far bigger than a toddler mattress.
Twin extra-long mattresses are also available, but you rarely use them for toddler beds. Twin XL mattresses are 38 inches wide by 80 inches long. They're best for single sleepers who are over six feet tall or children who may exceed 6 feet eventually.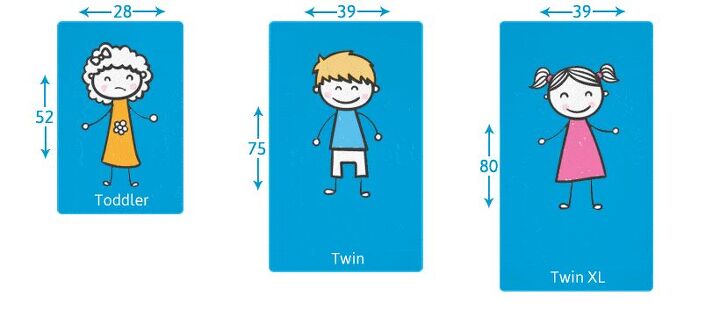 What Is the Difference Between a Toddler Mattress and a Crib Mattress?
A toddler mattress is typically the same size as a standard crib mattress and works for the early stages of life. The difference between the two mattresses is that a toddler mattress is slightly softer.
While rare, there are mini cribs that measure 24 inches wide by 38 inches long. Unfortunately, mini crib mattresses would not work for a toddler bed.
Things to Consider Before Using a Crib Mattress for Your Toddler Bed
If you plan to transition a crib mattress to a toddler bed, you should keep these things in mind.
Cleanliness
If your baby has been sleeping on the same mattress for a while, there have likely been accidents on the bed. Before transitioning the crib mattress to the toddler bed, ensure that the mattress is clean and has no moisture.
Support
Crib mattresses can have some signs of wear and tear over time. Check for any rips, loose threads, sagging, or loose springs. Also, the mattress should still be firm enough to support a growing child.
Chemicals
Bed standards change regularly, so a mattress that people considered safe when you purchased it may not be safe anymore. In addition, some foam mattresses can potentially contain phthalates and PVCs, which aren't good for your child. Make sure to check the labels on the mattress and do some research to see if there are any recalls.
Safety
A mattress should always fit snugly into a bed frame. Make sure the old crib mattress fits perfectly into the new toddler bed. If there's any doubt that the crib mattress isn't right, it's best to buy a new toddler mattress.
What Size Sheets Do You Need for a Toddler Bed?
The only difference between toddler bed sheets and crib sheets is that toddler sheets come in three-piece sets. Toddler bed sheet sets typically include a flat sheet, fitted sheet, and pillowcase.
Toddler bed fitted sheets are 28 inches wide by 52 inches long. The flat sheet is 45 inches wide by 60 inches long. A toddler pillow and pillowcase are 13 inches wide by 18 inches long.
Types of Toddler Beds
Toddler beds can come in various shapes; they come disguised as race cars, fire trucks, or even castles. However, in addition to these fun designs, there are several different types of toddler beds.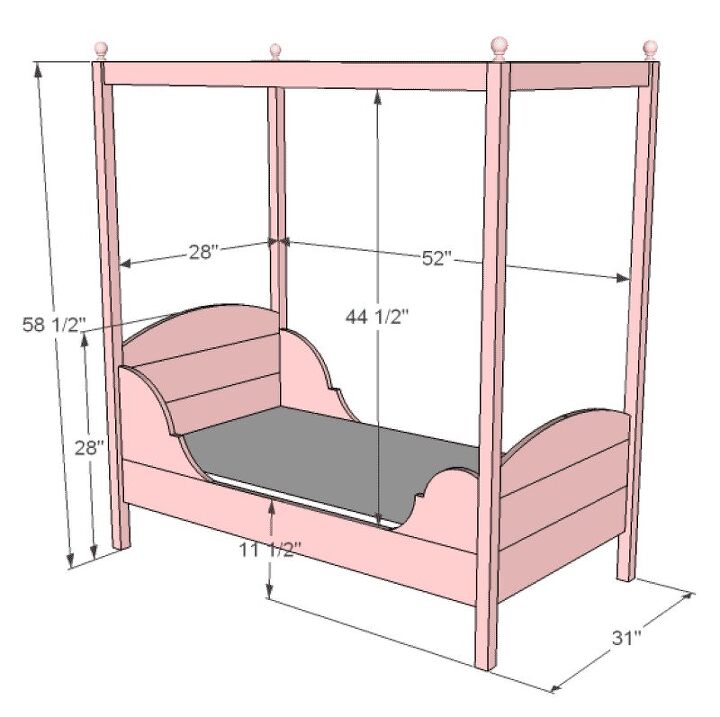 Portable Toddler Bed
Once your baby becomes a toddler, traveling can actually become more difficult. They have probably outgrown their travel crib or portable bassinet at this point. A portable toddler bed is the answer when traveling.
Portable toddler beds are typically lightweight, making traveling with them a bit easier, and have raised sides for extra safety. The Shrunks toddler travel bed is an inflatable mattress. It has a length of 15.9 inches, a width of 10.2 inches, and a height of 7.2 inches.
Convertible Crib to Toddler Bed
Cribs that convert into toddler beds are very convenient. This is an excellent option during the initial transition when your child wants to sleep in the same bed. A convertible crib keeps the same mattress and frame, but one side rail comes down.
Extendable Toddler Bed
Ikea makes an extendable toddler bed that you can adjust in length but needs a specific type of mattress. An extendable bed has a length of 49 ¼ inches to 76 ¾ inches fully extended. The bed has a width of 40 ⅛ inches and a footboard height of 28 ⅜ inches.
The mattress for a toddler bed typically comes in three parts, one long mattress, and two smaller extensions. The Ikea extendable toddler bed mattress has a width of 38 inches and a length of 74 inches.
Floor Toddler Bed
Floor toddler beds are becoming more popular for children and parents alike. Based on Montessori principles, toddler beds encourage the child to explore their environment on their own.
Make sure to read the manufacturer details before assuming the size. Though they are labeled as toddler beds, they typically require a twin-size mattress. Twin-size mattresses are 38 inches wide by 75 inches long.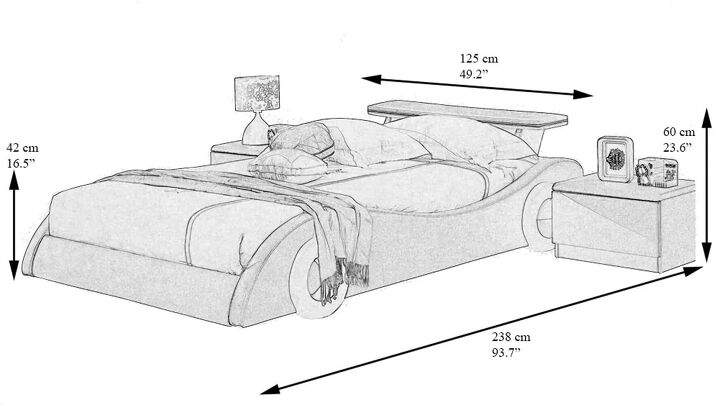 How to Choose a Toddler Bed
There are many options when purchasing a toddler bed, so let your budget, space constraints, and child's temperament make the decision. You should also keep in mind the design and sensibility of the bed design.
Whatever type of toddler bed you choose, make sure to keep these things in mind.
Toddler Beds Should Be Sturdy
Make sure that it can stand up to a toddler! There will be plenty of rolling around, wiggling, and jumping on the bed, so it should be sturdy.
Toddler Beds Should Be Low to the Ground
Keep the bed low to the ground to prevent injuries from falls. It also makes it easier for your child to get in and out of bed by themselves.
Toddler Beds Should Have Rails
Some toddlers are crazy sleepers, so the bed should come with side rails or the ability to add them. Plus, federal minimum regulations suggest that guardrails should be no less than 5 inches above the top of the mattress. The opening between the guardrail and the headboard should be no more than 15 inches.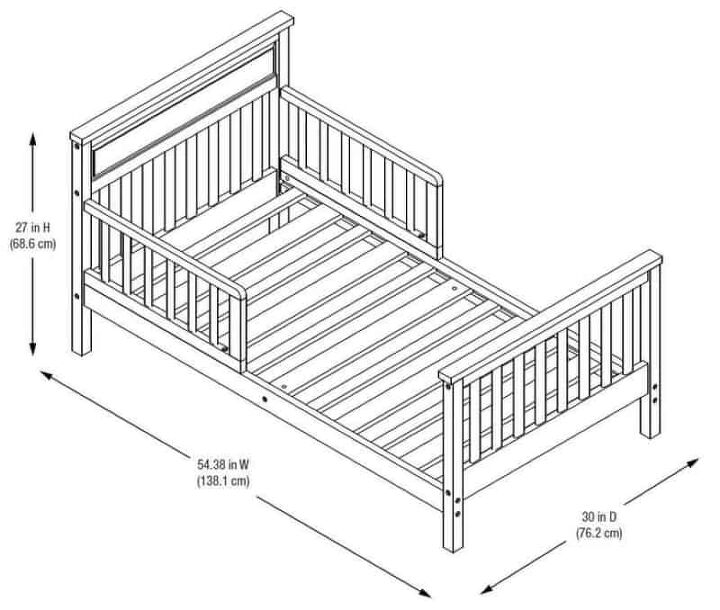 Consider a Simple Design for Your Toddler Bed
Choose a simple design for the headboard and footboard. This will prevent rambunctious toddlers from bumper their heads or jamming their fingers. The finish should be smooth, and the bed should feature rounded edges.
Properly Fitting Mattress
As discussed earlier, make sure that you purchase a correctly fitting mattress.
Certified Bed
Check for a sticker from the Juvenile Products Manufacturers Association (JPMA) on the bed and any rails you purchase. Unfortunately, the JPMA doesn't certify twin-size beds, only toddler beds.
How to Choose a Toddler Bed Mattress
In addition to dimensions, you should be aware of these three things when choosing a mattress for your toddler's bed.
Firmness of the Mattress
The density of the mattress will affect the level of firmness. A firm mattress provides the support needed to keep your child's spine aligned, essential for their health. Furthermore, softer beds tend to sag and wear more easily over time.
Innerspring or Foam Mattress
Typically, innerspring mattresses are more popular because they are the most durable, and the coils support the sleeper's body. However, children are lighter than adults, so the foam can add needed support.
With either material, consider the edge of the mattress as weak edges could lead to a child getting stuck or trapped. Innerspring mattresses have more substantial edges than most foam mattresses.
Waterproof Mattress
Even if you purchase a waterproof mattress cover or pad, consider purchasing a mattress that has waterproof material, too. This will prevent moisture from soaking into the mattress and makes cleaning easier.
Toddler Bed Safety
After you purchase a toddler bed, it's time to make sure the space is safe.
Follow the tips below to set up your toddler's sleeping space.
You should place a toddler bed away from windows, blind cords, curtains, radiators, and lamps. 
The headboard should be flush against the wall with ample room on either side of the bed. This will limit the chance of your child getting trapped between the bed and the wall. If you can, install rails on each side of the bed.
Put a soft rug on the floor around the bed to cushion in case of a fall.
Be sure to check joints, screws, and other hardware regularly to ensure they're not loose.
---
Related Questions
At what age should I convert a crib to a toddler bed?
There's no specific age when a toddler should transition from the crib to a toddler bed. Typically, people make the switch anytime between 18 months and 3 ½  years old. You will want to transition before your child learns to escape the crib, as it could be dangerous for them.
What is a junior twin bed?
A junior twin bed is for children who have outgrown their crib and toddler bed. A junior mattress varies in size based on the manufacturer. Typically, they are relatively close in size to a standard twin-size bed. Junior twin mattresses are typically 31 inches wide and 75 inches long. Older junior mattresses were 66 inches long, suitable for a child just over 4 feet tall. 

Stacy Randall
Stacy Randall is a wife, mother, and freelance writer from NOLA that has always had a love for DIY projects, home organization, and making spaces beautiful. Together with her husband, she has been spending the last several years lovingly renovating her grandparent's former home, making it their own and learning a lot about life along the way.
More by Stacy Randall
Published June 2nd, 2021 1:34 AM