219 Views
The Safest Neighborhoods In Indianapolis: 2022's Ultimate List
June 3rd, 2022 4:49 PM
Share
We're committed to finding, researching, and recommending the best products. We earn commissions from purchases you make using links in our articles. Learn more here
Indianapolis is a bustling capital city with neighborhoods both good and bad, but 10 neighborhoods stand out as the safest. The best neighborhoods to live in Indianapolis include Plainfield, Zionsville, and Speedway due to their low crime rates. Whether it be Meridian Hills or Geist, let's take a look a the 10 safest neighborhoods in Indianapolis.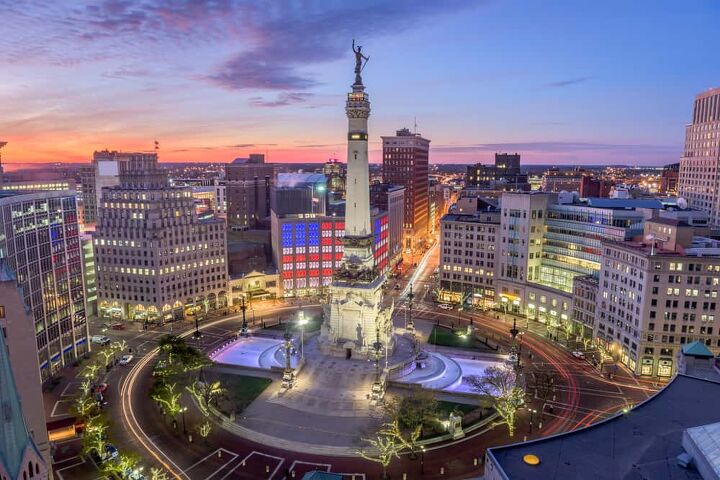 Indianapolis consistently makes it to the top dangerous cities in the US. However, this is not to say that the city is a very dangerous place to be.
The safest neighborhoods in Indianapolis include Meridian Hills, Zionsville, Wynnedale, Southport, Butler-Tarkington, and Meridian-Kessler. Plainfield, Speedway, Homecroft, and Geist are also safer than the rest of the neighborhoods in Indianapolis. Streets like Promontory Rd, E Edgewood Ave, and Sargent Rd have the lowest amount of reports throughout the city.
Check out our list of top neighborhoods in Indianapolis to help you decide where to relocate or settle during your visit.
Do You Need to Hire Movers?
Get free, zero-commitment quotes from pro contractors near you.
Top 10 Best Neighborhoods in Indianapolis, IN
| | | | |
| --- | --- | --- | --- |
| Rank | Neighborhood | Violent Crimes | Crime Ratio vs Nat. Avg. |
| 1 | Zionsville | 221 crimes / 100k people | -100% |
| 2 | Meridian Hills | 359 crimes / 100k people | -86% |
| 3 | Wynnedale | 1,035 crimes / 100k people | -59% |
| 4 | Southport | 1,119 crimes / 100k people | -56% |
| 5 | Meridian-Kessler | 1,282 crimes / 100k people | -54% |
| 6 | Butler-Tarkington | 1,345 crimes / 100k people | -52% |
| 7 | Plainfield | 887 crimes / 100k people | -27% |
| 8 | Speedway | 557 crimes / 100k people | -25% |
| 9 | Homecroft | 1,951 crimes / 100k people | -24% |
| 10 | Geist | 1,272 crimes / 100k people | -23% |
The truth is Indianapolis is a relatively safe city to visit or even live in, though some areas are more prone to high levels of crime than the others. To minimize your risks, check out the following areas.
1. Zionsville
Median Home Price: $423,020
Average Rent Price: $1,177
Number of Population: 28,357
Another neighborhood on our list is the small, adorable neighborhood of Zionsville. This neighborhood is well popular among homebuyers who are looking to relocate with their family.
This area is filled with cute little shops and a park that is within a walking distance. If you love being active, there is a trail that leads to a creek.
All in all, Zionsville is a nice place to start and raise a family. Crime is virtually unheard of and downtown is only a few minutes away. Of course, it's also perfect for those workers and students as transportation is conveniently available.
2. Meridian Hills
Median Home Price: $567,500
Average Rent Price: $1,343
Number of Population: 1,700
With its rich heritage, charm, growing economy, and safety, many people choose to relocate to Meridian Hills when they need to live in Indianapolis. It's a great place to start and raise a family, so it's not surprising that its population is slowly growing.
Meridian Hills is also known as one of the nicest, yet most expensive places in the city. This neighborhood boasts wonderful housing, employment, and education along with a total crime rate of 420 per 100,000 people. If you think that you can afford to live here, it's surely smart to consider living in this area.
3. Wynnedale
Median Home Price: $274,500
Average Rent Price: $934
Number of Population: 243
Another safe neighborhood in Indianapolis is Wynnedale. Finding a home here, you might feel as if you are in a time warp. A lot of homes are made of 1950s style – extremely classy and pristine.
This family-friendly neighborhood is a perfect place if you don't want to live too far from downtown. And while being close to the center of the city, it's still tucked away in an old, secluded area, with big trees and residential homes with big lawns or lots.
4. Southport
Median Home Price: $171,655
Average Rent Price: $171,655
Number of Population: 1,764
Based on statistics, Southport is safer compared to over 66% of cities in the US. This neighborhood is located just outside the city ring road and is a wooded area.
This neighborhood boasts notable schools, which means education is of primary importance here. Aside from education, the neighborhood takes pride in the well-being of their city and locality.
Southport is a very tightly knit community. The people look out for each other and support each other in times of need. They are active in supporting the school and the neighborhood around them.
5. Meridian-Kessler
Median Home Price: $354,936
Average Rent Price: $1,149
Number of Population: 12,676
Meridian-Kessler is a neighborhood that is beautiful, sophisticated, charming, innovative, and full of families all working together to create a beautiful life for their family. Infrastructure is great and well-planned; the homes and neighborhoods are beautiful and reasonably priced.
This neighborhood is full of great, high-paying jobs, the public school is great, and the quality of education being offers is top-notch. No wonder why this little neighborhood is becoming more and more popular among homebuyers.
You'll also love the fact that there are restaurants all across the area, coffee shops, groceries, bakeries, banks, and anything you might think of. You are likely not to need to get out of the neighborhood just to get what you need.
6. Butler-Tarkington
Median Home Price: $184,900
Average Rent Price: $628
Number of Population: 9,696
Located just next to Meridian-Kessler, the neighborhood of Butler-Tarkington has the same violent crime rating and similar median rent as its neighbor.
This neighborhood will make you feel safe to walk around, especially with all the Butler University foot traffic you will surely stumble upon. This fantastic neighborhood offers unique, charmful homes, a friendly neighborhood, and fantastic shops and restaurants that will surely cater to your needs.
7. Plainfield
Median Home Price: $229,941
Average Rent Price: $1,068
Number of Population: 35,287
Another family-friendly neighborhood is Plainfield. What makes this a great place for families are the multiple parks every kid will surely enjoy and for older ones, restaurants to hang out at.
Plainfield is also perfect for those who don't want to live too far away from the city downtown, so in case you need something, you'll surely find it right away. This also makes it ideal for those who are working in the city center.
Of course, crime and safety in this neighborhood are extremely low. You don't have to worry about the safety of your family if you choose to live in this area. There are a lot of houses, and there is a small community within Plainfield that has really great houses and shops outside of the mall.
8. Speedway
Median Home Price: $168,399
Average Rent Price: $772
Number of Population: 12,159
Another safe area to choose in Indianapolis is the beautiful neighborhood of Speedway. Anyone who is looking for a safe neighborhood to live in Indianapolis will surely love living here.
Not only a great place to live, but it's also an amazing place just to hang out at. With a lot of shopping stores and restaurants to choose from, deciding where to go will be a challenge. There are also several parks to go to if you just want to spend time with nature.
Many homebuyers choose to live here not only for its safety but also for its character – this neighborhood is well-kept and historic. Even though the houses are older, they are well-maintained and just so beautiful!
9. Homecroft
Median Home Price: $171,182
Average Rent Price: $778
Number of Population: 758
Homecroft is a pretty safe neighborhood located in Indianapolis that focuses a fair bit on education. It's perfect for families with little kids as Homecroft Elementary School and Southport High School are just within the area.
Another thing you will love about Homecroft is the close-knit community that is filled with residents that are always ready to help each other in times of need. And if you love classically designed homes, this neighborhood is lined with historic homes you'd surely fall in love with.
10. Geist
Median Home Price: $384,876
Average Rent Price: $955
Number of Population: 15,425
Not only known as one of the safest, but the neighborhood of Geist is also known as one of the cleanest parts of the city. This family-friendly community is perfect for those who are looking to live in a place with close-knit neighborhoods.
The neighborhood is truly on the come up and there are a lot of family-friendly sites and activities for everyone to enjoy. One of many residents' favorite is boating.
If you love eating out, you'll be happy to know that there are a lot of places to eat that cater to everyone's needs. If you have kids, there are also both public and private schools within great proximity.
Crime Rate in Indianapolis, Indiana
The annual crime rate in Indianapolis:
Violent

Property

Total

Number of Crimes

11,220

36,794

48,014

Crime Rate


(per 1,000 residents)

12.94

42.43

55.37
Here is the projected crime rate in Indianapolis for 2020.
| | |
| --- | --- |
| 2020 Crime (Projected Data) * | Incidents |
| Aggravated Assault | 7,836 |
| Arson | 198 |
| Burglary | 11,080 |
| Larceny and Theft | 23,403 |
| Motor Vehicle Theft | 2,948 |
| Murder and Manslaughter | 145 |
| Rape | 704 |
| Robbery | 3,863 |
| Crime Rate (Total Incidents) | 45,045 |
| Property Crime | 37,331 |
| Violent Crime | 12,547 |
Note that violent crime is composed of four main offenses: murder and nonnegligent manslaughter, robbery, rape, and aggravated assault.
Property crime includes the offenses of larceny-theft, burglary, motor vehicle theft, as well as arson. The object of the theft-type offenses is the taking of property or money, but there's no force or threat of force against the victims.
In the city of Indianapolis, your possibility of becoming a victim of a property crime is one in 18.
Is Indianapolis Dangerous?
With a crime rate of 55 per 1000 people, Indianapolis has one of the highest crime rates in the country – disregarding the size of each city.
Within the whole state of Indiana, over 99% of the communities have a lower crime rate than Indianapolis. No wonder why the city constantly makes it to the list of one of the most dangerous cities in the US.
| | | |
| --- | --- | --- |
| | Violent Crime | Property Crime |
| Indianapolis, Indiana | 63.4. | 66.9 |
| US National Average | 22.7 | 35.4 |
*Crime report above is ranked on a scale of 1 (low crime) to 100 (high crime).
Keep in mind that no matter where you are in the world, there's always a risk of danger. Even the safest cities in the US still experience some sort of crime. So, even if you are located in any safe place listed above, taking extra precaution will surely give you an advantage.
What Are the Worst Neighborhoods in Indianapolis?
Also known as Indy, Indianapolis is the capital and biggest city of the state of Indiana, which is located in the eastern half of the US. Indianapolis is close to a lot of large American cities. Chicago and Columbus, for example, is only a couple of hours away by car or bus.
Being a vibrant city with many career opportunities, one of the downsides of Indy is having some of the worst neighborhoods in the US. Below are some of the most dangerous neighborhoods of Crossroads of America.
East 34th St / Sutherland Ave
East 38th Street and North Sherman Drive,
East 42nd Street and North Post Road
East New York Street and North Sherman Drive
Massachusetts Ave / E 34th Street
North Indianapolis
West 16th Street and North Tibbs Avenue,
West 29th Street and Dr. Martin Luther King Jr. Drive
West 34th Street and North Illinois Street
Do You Need to Hire Movers?
Get free, zero-commitment quotes from pro contractors near you.
Final Thoughts
While Indianapolis is a great city, taking extra precaution is still important. All in all, Indy is a safe city, but just like any place of its size, a bad situation can happen.
The areas mentioned above don't pose a huge threat in terms of physical danger, but there's always a possibility that your stuff might get stolen or you might get assaulted. So, regardless of where you are, make sure to take extra precautions to make sure that you'll have a great time here whether you're visiting short-term or relocating here permanently.
Related Articles
Cyril Balahadia
Coming from a family of woodcarvers, Cyril has always been fascinated with wooden interiors and home decorating. While she followed the path of writing as her career, her interests in home improvements still remain.
More by Cyril Balahadia
Published January 7th, 2021 5:36 PM