187 Views
The Safest Neighborhoods In Austin: 2022's Ultimate List
June 3rd, 2022 5:09 PM
Share
We're committed to finding, researching, and recommending the best products. We earn commissions from purchases you make using links in our articles. Learn more here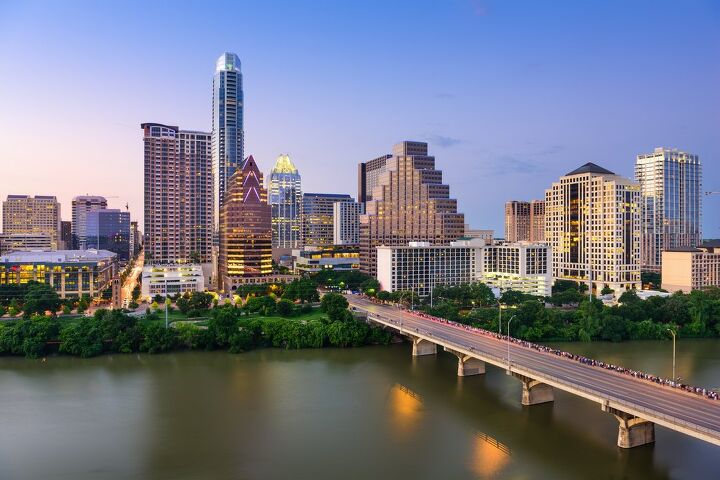 As with almost everything in life, the best neighborhoods in Austin depends on many things. Your budget, preference, needs, among other things, all play a huge factor in choosing the neighborhood that will provide you with everything you are looking for.
The safest neighborhoods in Austin are Downtown, Barton Hills, Old West Austin, and Brentwood. Neighborhoods like Gateway, Allandale, Crestview, and Garrison Park are safer than the average Austin neighborhood. Windsor Hills and Circle C Ranch are among the top 10 safest neighborhoods in Austin, Texas.
To give you a better look at which neighborhood fits your needs best, we listed down 10 of the best neighborhoods in Austin.
Do You Need to Hire Movers?
Get free, zero-commitment quotes from pro contractors near you.
1. Downtown
Population: 9,427
Median Home Price: $590,492
Median Monthly Rent: $1,439
If you want to move to a place where there is always something going on, you can never go wrong with the Downtown. With a remarkably high livability rating, the Downtown area offers a lot of employment opportunities.
It also has low crime rates. So, if safety is your concern, this is a great place for you and your family. Compared to most places in the US, this goes on the top of the list.
The high quality of life the Downtown offers, however, will cost you a lot. In fact, Downtown is one of the most expensive neighborhoods in Austin.
But if you don't mind the price tag that comes with it, then you'll surely enjoy the bars, restaurants, movie theaters, and other points of interest in the area.
2. Barton Hills
Population: 10,858
Median Home Price: $749,112
Median Monthly Rent: $1,083
Another neighborhood that deserves a spot on this list is Barton Hills. This neighborhood is located just behind Downtown.
On its north is where Barton Creek is located. So, if you like the idea of being surrounded by greens, then you would love this place. Going South, you will have a commercial strip that offers everything you can imagine.
In terms of standard of living, Barton Hills costs just about the same as the Downtown. The difference is that it is closer to nature, which makes it more ideal for a family to raise their kids. The area also offers excellent educational opportunities.
3. Old West Austin
Population: 4,217
Median Home Price: $840,251
Median Monthly Rent: $1,672
Located on the west side of Downtown (at its name suggests), Old West Austin is a historic neighborhood composed of three areas: Pemberton Heights, Old Enfield, and Bryker Woods.
This neighborhood is centrally located just north of Lady Bird Lake. Many people choose to live in Old West Austin for how convenient and accessible it is to many amenities like local hiking areas, bike trails, a lake, and many parks.
On top of the breathtaking nature is its proximity to many dining places, shopping areas, and of course, the Downtown. Finding a parking place can be such a pain, but fortunately, public transportation is always an option.
4. Brentwood
Population: 7,497
Median Home Price: $518,255
Median Monthly Rent: $1,439
A well-established neighborhood, Brentwood has been a chosen location by many house hunters for many years. With its interesting appeal, this doesn't come as a surprise.
This neighborhood is composed of many one-and-a-half-story bungalows, some of which date back to World War II. A lot of the residents here have been here for many decades and own local businesses. This is mainly the close-knit community that is very apparent.
5. Gateway
Population: 1,121
Median Home Price: $293,400
Median Monthly Rent: $1,316
Another neighborhood in Austin that offers a great green area is Gateway. While this neighborhood doesn't have any parks, the nearby neighborhoods have them. If you love seeing trees while driving, then you'll love this neighborhood.
This neighborhood is not highly populated, which makes it a perfect option for those who are looking for a peaceful neighborhood. So, all in all, living in this neighborhood will provide you with an urban feel without the chaos of the city. You'll still see have access to bars, coffee shops, and restaurants, but you might have to drive to nearby neighborhoods.
6. Allandale
Population: 8,861
Median Home Price: $652,941
Median Monthly Rent: $1,195
Another place that offers a peaceful atmosphere in Allandale. If you like the idea of living in a neighborhood with a slow-pace vibe and close to nature, then check this place out. Its quiet atmosphere and generally lower noise level make it a great place for family raising their kids.
The greenery in this place is also very prominent. There are many parks around the area for you to take you small kids or walk your dogs at. There are also several canopies made for residents.
Aside from having many parks, it's also close to Downtown. So, this area offers a good mix of suburbia and the city vibe.
7. Crestview
Population: 3,942
Median Home Price: $521,933
Median Monthly Rent: $1,439
Its laid-back atmosphere is what draw people to choose Crestview to be their home. This is another quiet neighborhood. Some areas tend to be noisier, but that is because this neighborhood is located next to a railway.
Crestview will give you that small-town feel, although it's only a few miles away from the Downtown. You'll see residents jogging, walking their dogs, and just having their daily strolls on the neighborhood. This place is popular among families, couples, and young professionals.
8. Garrison Park
Population: 10,988
Median Home Price: $374,562
Median Monthly Rent: $900
Another family-friendly neighborhood is Garrison Park. This is a quiet neighborhood that is conveniently located just south of the Downtown and South Congress. Living here, you'll enjoy your proximity to strip malls, cafes, and many dining places.
This part of Austin is pretty bike-friendly, thanks to its well-developed cycling network. Homes are reasonably sized but well-maintained. This being Austin, you'll see homes display their quirky lawn art.
9. Windsor Hills
Population: 7,090
Median Home Price: $301,063
Median Monthly Rent: $895
Windsor Hills is a quiet, family-oriented, suburban neighborhood with middle-class residents. The wide streets and well-maintained homes are truly attractive. This neighborhood borders I-35 on the west and near the public bus lines, which makes it easier for everyone to get around
This neighborhood is also located not too far from Downtown, University of Texas, and many shopping places in North Austin. With the number of dining places here, you'll never get hungry. And while it's close to Downtown, this is known as a peaceful place to live.
10. Circle C Ranch
Population: 14,706
Median Home Price: $539,900
Median Monthly Rent: $1,495
The Last Neighborhood that made it to our list is Circle C Ranch. If you are looking for luxury living, this is the neighborhood for you. This neighborhood features more than 4,000 homes in different secluded developments.
Living here, you'll have access to many community amenities like bike and hike trails and golf clubs. This beautiful neighborhood also has community pools and parks you can walk around safely at even at night. The styles of houses range from gated mansions to average-sized family home, which offers a great variety to different homebuyers.
What Is It Like to Live in Austin, TX?
Aside from being the capital and one of the biggest cities in Texas, Austin is also known for its rich American culture. This is where the University of Texas is located and it's famous for highly-rated restaurants.
If you're a musician or at least a huge fan of music, you'll love living here – it's named as Live Music Capital of the World for a reason. The city offers a lot of music venues and is home to many music bands.
Aside from being a hotspot for music, Austin also sports a great culinary scene. No one can resist the Tex-Mex items offered by many restaurants in the city. There are many for you to sample barbecue and locally brewed beer.
The only thing that may hold you back from moving to Austin is the fact that, unlike many places in Texas that are affordable, this city can be expensive. Check out the quick overview of Austin's housing cost.
Cost of Living in Austin for 2020
| | | | | |
| --- | --- | --- | --- | --- |
| | Median Salary | Median Home Cost | Median Monthly Rent | Rent Ratio |
| Austin | $71,000 | $347,000 | $1,800 | $30.4% |
| Texas | $56,565 | $185,000 | $1,445 | $30.7% |
| US | $57,617 | $238,000 | $1,650 | $34.4% |
Quick Austin Statistics
| | |
| --- | --- |
| Metro Population | 2,058,351 |
| Median Age | 34.4 |
| Unemployment Rate | 2.7% |
| Average Annual Salary | $53,810 |
| Median Home Price | $313,308 |
| Median Monthly Rent | $1,217 |
| Avg High/Low Temps | 79.7°F / 54.8°F |
| Avg Annual Rainfall | 32.2 inches |
| Avg Commute Time | 27.1 minutes |
Best Neighborhoods in Austin For Singles and Working Professionals
Looking for a neighborhood in Austin that will offer you employment or maybe a dating opportunity? Here are some of the best places you can find for your needs.
Zilker – This is a great place for a single professional if you can afford it. This luxurious neighborhood borders Zilker Metropolitan Park and is remarkably close to Downtown, which offers you a quick commute to many places of interest.
Old West Austin – Maybe you're looking for something that offers a mix of suburban and urban? If that's the case, then check out Old West Austin. This place is located close to Downtown, which offers a suburban feel.
North University – If you're a college student, one of the best places for you to live in the neighborhood of North University. This is a hotspot for singles and young professionals who enjoy nature and unique architecture.
South Lamar – This neighborhood has seen a lot of growth throughout the last few years and is now a popular home to a lot of Austin-based young professionals. And with its proximity to the downtown area, you'll never be too far away from what's happening.
What are the Best Neighborhoods in Austin To Rent?
Renting in Austin, by comparison, is more affordable than purchasing a home. If you're someone who wants to take advantage of this benefit, here are the neighborhoods you must check out.
Mueller – If you're seeking a place with a peaceful community, but still located near the heart of the city, Mueller would be a great place for you. Young couples, empty nesters, and small families searching for a friendly, modern neighborhood usually choose to rent here.
Median Housing Rent: $1,750 (1 BR); $2,041 (2 BR)
Wells Branch – This neighborhood is extremely popular among renters due to two main reasons. Firstly, it offers a great combination of small-town atmosphere and urban city vibe. Secondly, it offers a lot of green areas for everyone to enjoy.
Median Housing Rent: $1,000 (1 BR); $1,319 (2 BR)
Pleasant Valley – 94% of people living here are renters. Pleasant Valley has a lot of low-rent apartments and low-cost condominiums. This is a popular place among college students and young, single professionals attracted by the neighborhood's low-cost housing.
Median Housing Rent: $1,182 (1 BR); $1,480 (2 BR)
Balcones Woods – If you'd rather rent in a neighborhood with a tight-knit community, then this neighborhood should be in your consideration. This small but active community is popular for its active local life.
Median Housing Rent: $1,240 (1 BR); $1,978.00 (2 BR)
Do You Need to Hire Movers?
Get free, zero-commitment quotes from pro contractors near you.
---
Related Questions
What are the Best Neighborhoods in Austin To Visit?
Planning to visit Austin? Here's a list of the best neighborhoods to visit and discover and explore different unique districts that will surely make your trip one of a kind.
Downtown – You've never really been to Austin unless you've visited the heart of the city – the Downtown. Visiting this place, you'll enjoy the live music venues, unique restaurants, historic theaters and museums, and of course, the trendy district boutiques!
North Austin – This part of the city offers something for everyone to enjoy. From award-winning breweries and restaurants to chic shopping strips, you'll surely be entertained your whole visit.
South Austin – A place that is composed of the old and the new, this area is filled with trendy bars and restaurants scattered among all around the area.
Central Austin – This neighborhood is located just north of the University of Texas at Austin campus. This is also home to many country bars and record shops to some of the best lounges and restaurants in the city.
Is Austin a safe place to live?
Austin, Texas is a safe place to live and was ranked the 11th safest city in America in 2020. The crime rate in Austin is below the national average, and violent crime is less common than the Texas average. Property crime is more common in Austin, however, and it affects 1 in 26 residents.
Cyril Balahadia
Coming from a family of woodcarvers, Cyril has always been fascinated with wooden interiors and home decorating. While she followed the path of writing as her career, her interests in home improvements still remain.
More by Cyril Balahadia
Published October 10th, 2020 9:10 PM