891 Views
What Are The Top 7 Neighborhoods In Lansing To Avoid?
June 3rd, 2022 5:10 PM
Share
We're committed to finding, researching, and recommending the best products. We earn commissions from purchases you make using links in our articles. Learn more here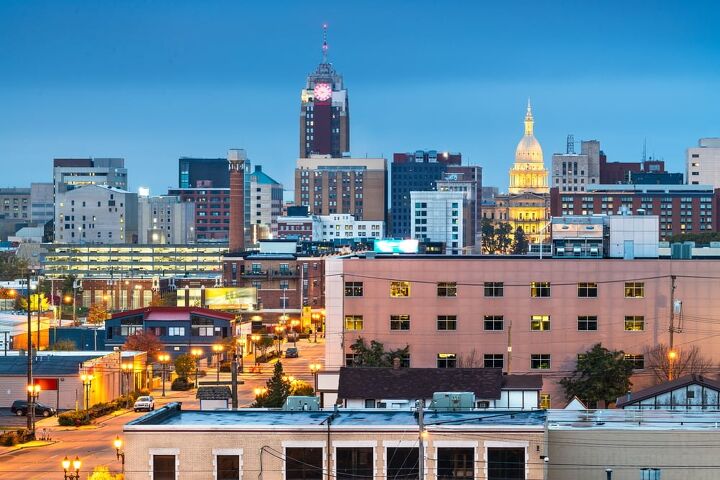 Lansing, Michigan is a major city that has a lot of division when it comes to its reputation. Some see it as a kind city with tons of economic opportunities and great food. Others see it as a crime-ridden place, and rightfully so. You have a 1 in 89 chance of being a victim of a violent crime in Lansing. That's why it's best to make sure you know which neighborhoods to avoid if you want to move here.
Due to the high crime rate that Lansing has, it's best to avoid the following neighborhoods:
Jolly Road
Baker Street
South Waverly Road
West Willow Street/MLK Boulevard
East Michigan Avenue
Kalamazoo St
E Saginaw
Believe it or not, choosing the right neighborhood in Lansing can make or break your ability to enjoy Lansing or even stay safe. Let's talk about the worst neighborhoods in the region.
Do You Need to Hire Movers?
Get free, zero-commitment quotes from pro contractors near you.
Neighborhoods And Streets To Avoid In Lansing
Lansing might be a nice city to visit, but this is a place that definitely has its own issues. If you want to move here, it's smart to know the worst parts of the city.
Jolly Road
The southern part of Lansing is generally considered to be a pretty bad area, especially when it comes to crime. The area surrounding Jolly Road, in particular, is pretty notorious for violent crimes. Shootings, thefts, burglaries, and heavy drug use are all reported here on a regular basis.
Because this area is so dangerous, many locals do not want anything to do with Jolly Road unless they work in the area. If you can at all, try to avoid going to this area at night.
Baker Street
During the making of this article, we ran into several forum posters who have warned people against moving to Baker Street. One even mentioned, "Do not, under any circumstances, move to Baker Street." This petite neighborhood is famous for its gang activity and extreme drug use. It's not safe to go there during the day, let alone the night.
While there has been some minor headway made in the neighborhood's insane crime rate, it's still not a good place to live. In fact, most of the houses still look like they're run down or falling apart at the seams. Even if you get a good security system, we're not sure it will do much good in this side of town.
South Waverly Road
Yikes. Just yikes. South Waverly Place was yet another major no-no that we regularly found warnings about, and a quick look at the real estate near the area can give you a hint as to why. Much like Baker Street, this area is filled to the brim with criminal activity in the form of gang wars, public drug use, and theft.
Because the area is so crime-heavy, many of the businesses in the South Waverly neighborhood ended up deciding to close their doors for good. This led to a lot of abandoned or nearly-abandoned buildings left to rot, with no buyers or renters in sight. Property values are low as can be here, but that's really the only perk.
West Willow Street/MLK Boulevard
With little surprise to anyone, the downtown part of the city happens to be some of the worst in terms of crime. Many people go so far as to beg others not to go down Martin Luther King Boulevard simply because the crime rate is so high. The gang activity here is out of control, and there are even parts of the neighborhood that don't remain safe during the day.
There are so many incidents involving shootouts and theft that most people do not feel comfortable buying real estate here. In fact, even putting up a business in this area is considered a major liability. It wouldn't be unheard of for people to pay higher renters insurance premiums just because they are in this area.
East Michigan Avenue
A large portion of the eastern side of Lansing has serious crime rates that make it less than stellar to live in. While East Lansing is technically its own city, it's worth noting that it's still considered a place to avoid. The neighborhood that can be found within East Michigan Avenue and North Cedar is struggling to revitalize itself.
However, there's a silver lining to this area we feel we need to point out. There is an active attempt to make this place better through the use of real estate investment. In recent years, there have been several luxury buildings erected, and honestly, they look great. So while this place is avoided right now, that might not be the case soon enough.
Kalamazoo Street
A recent survey showed that the median price of homes in the Kalamazoo Street neighborhood were priced at around $58,000. That's not a typo. They are really that cheap—cheaper than 97 percent of all homes in America. While the price tag would make most people feel like they should jump on that, the truth is that the discount still doesn't give people reason enough to move to this 'hood.
The crime here is pretty bad, and it's hard to find a job too. As a result, many of the residents are stuck in a cycle of poverty and problems relating to it. Not much can be seen in terms of ways to escape the trouble, nor can there really be a way to get out. Due to the terrible crime rates and nearly hopeless rates of drug use, Kalamazoo Street is not the kind of place you want to be at night. Or during the day. Or anytime.
Did we mention that 15 percent of the homes here are abandoned year-round? Because that should tell you how bad it is here. People would rather abandon their homes or pay tens of thousands of dollars extra just to avoid the area. Can we get a triple "Yikes!" please?
East Saginaw St
Another area that's been suffering dearly is the area between East Saginaw and North Foster. In fact, this area isn't just suffering. It's basically in a major state of flux with a lot of areas unable to be rented out, which is actually kind of impressive when you take the fact that there's a housing shortage into account. However, that doesn't mean that real estate is cheap here. It's around $117,000 on average.
East Saginaw has a lot of crime, primarily in the form of drunken antics and drug use. This is primarily due to the high population of college kids who are currently living in this area. It's become a part of Lansing's small but growing college community. As you can imagine, it's pretty common to hear complaints of noise throughout all the different hours of the night.
With that said, there is a mixed review on where E. Saginaw's future lies. While the influx of college students hitting up this area, there has been a bit of urban revitalization going around. However, there is still a fair amount of violent crime in the area. Some of it is due to the spillover from Kalamazoo Street and the gang activity there. Other times, it's just being in the wrong place at the wrong time. Even so, we're hopeful.
Do You Need to Hire Movers?
Get free, zero-commitment quotes from pro contractors near you.
---
Related Questions
Is Lansing, MI a safe place to live?
No matter how you look at the statistics, it's clear that Lansing is not a safe place to be. Though the property crime rates are lower than the national average, the violent crime is pretty high. In fact, it's higher than the national average. People also believe that the crime in this area is grossly underreported. Personal anecdotes online also suggest that something is really unsafe here.
What are the most dangerous cities in Michigan?
Michigan currently is home to 10 of the most dangerous towns in America. These include Detroit, Saginaw, Flint, Pontiac, and yes, Lansing, too. One of the top reasons why the crime rate in this state is so high deals with the levels of lead in the drinking water—a known link to more violent behavior.Other reasons for the high crime rate include economic disadvantage, social stress, as well as a lack of social supports. Though the local government has been (kind of) trying to help prevent this, there's something to be said about avoiding life in Michigan too. It's best to wait until things mellow out.
Is Lansing a diverse city?
Absolutely. Lansing is actually one of the most diverse cities in all of Michigan, boasting communities that range from white families to Somali refugee families. Though there is a stark level of racial inequality that can be seen in many parts of the area, the truth is that the region is fairly accepting. Moreover, moves are being made to help reduce the inequalities faced by at-risk groups.In Lansing, people agree that diversity is the true spice of life. That's why it's a great place to move if you want to see people from different backgrounds living together.
Related Articles

Ossiana Tepfenhart
Ossiana Tepfenhart is an expert writer, focusing on interior design and general home tips. Writing is her life, and it's what she does best. Her interests include art and real estate investments.
More by Ossiana Tepfenhart
Published June 23rd, 2021 11:40 AM