686 Views
The Most Dangerous Neighborhoods In Tucson: 2022's Ultimate List
August 19th, 2022 4:03 PM
Share
We're committed to finding, researching, and recommending the best products. We earn commissions from purchases you make using links in our articles. Learn more here
Tucson may boast gorgeous vistas and exciting nightlife, but the city also has a high crime rate. Unfortunately, 10 Tucson neighborhoods are particularly dangerous, such as Starr Pass, Mitman, and Avondale. Whether it be Palo Verde or Dodge Flower, let's take a look at the 10 most dangerous neighborhoods in Tucson.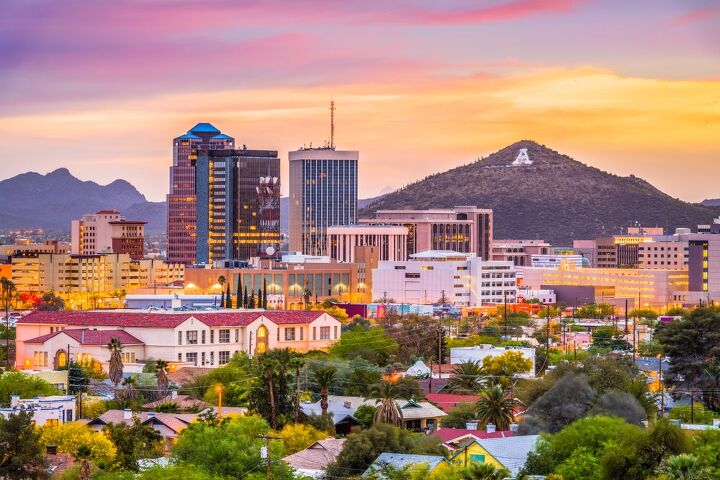 Tucson, Arizona is one of the largest cities in the Southwest. In recent years, it's made headlines for its multicultural heritage sites, excellent arts scene, as well as a lively music scene. It's a tourist spot that's ideal for people who want to kick it up in a spa or just get a genuine taste of the Southwest.
Some of the worst neighborhoods in Tucson include:
Barrio Hollywood
Mitman
Avondale
Palo Verde
Starr Pass
Mountain View
Doolen-Fruitvale
Dodgeflower
Amphi
Blenman-Elm
Steer clear of these areas while visiting Tucson and you will lessen the risk of falling victim to property and violent crime. Always be aware of your surroundings.
Even though the real estate's sizzling, there are still some places that don't merit the bright reputation that Tucson tends to have. Wondering where you should avoid? We're taking a quick look at the most dangerous neighborhoods in Tucson.
What Are The Worst Neighborhoods In Tucson?
Arizona's own Tucson definitely has some rough neighborhoods that are not worth visiting. We took a look at the estimated property crime rates and violent crime rates to help figure out which neighborhoods are considered to be the worst.
From there, we also decided to add in a little information regarding why those neighborhoods have that crime rate. So, let's get reading!
10. Barrio Hollywood
Property Crime Rate: 8,268 per 100,000
Violent Crime Rate: 1,370
To a point, this neighborhood's name almost sounds like something out of Breaking Bad, but it's not. It's a real neighborhood in Tucson that is currently in the throes of a serious crime wave.
The crime rate is currently 274 percent higher than a typical American neighborhood, with violent crime being a particularly serious issue.
The most frequently reported crimes include theft, assault, robbery, and drug use. With statistics this high, it shouldn't come as a surprise that Barrio Hollywood also happens to have a serious gang issue.
The schools here don't help; they're considered to be extremely poor with 33 percent of all students dropping out prior to attending a single day of high school.
9. Mitman
Property Crime Rate: 10,653
Violent Crime Rate: 1,386
Mitman's crime rate has made it a regular among articles that discuss the most dangerous neighborhoods in Tucson. Considering that a typical resident has a 1 in 9 chance of being a victim of crime, it's easy to understand why.
Though this neighborhood has an alarmingly high violent crime rate, it's the property crime that is more widespread.
Thefts, burglary, and carjacking are the norm here. Many parts of this small neighborhood are considered to be gang territory, which is why police often struggle with calls to the area. The median household income here is $37,690. That alone might be reason enough for some people to resort to violence.
8. Avondale
Property Crime Rate: 9,246
Violent Crime Rate: 1,398
Like Mitman, crime is rampant within Avondale's borders. Unlike Mitman, property crime isn't the big issue here even though it does have a high rate.
The problem here is the violent crime rate, which remains at 267 percent of the national average. Locals in Avondale live in fear of gangs—including multiple sets of the Bloods and Crips.
Due to the high gang activity rates, Avondale regularly struggles with large-scale shootings and brutal assaults.
Despite the gruesomeness of the violent crimes here, the overall chance of being a victim of violent crime stands at 1 in 72 within Avondale's limits. Considering the 6.3 percent unemployment rate, it's easy to see why people might turn to crime here.
7. Palo Verde
Property Crime Rate: 8,504
Violent Crime Rate: 1,401
Some city neighborhoods are known for being quiet, but not Palo Verde. The area regularly sees high property crime rates year after year, but it's not theft that seems to be the problem.
Rather, it's the spike in violent crimes like robberies, rape, assaults, and arson that have caused Palo Verde to become a rather detested neighborhood in Tucson.
The overall crime rate is 287 percent higher than the national average, meaning that you will be well over two and a half times as likely to be a victim of crime in this area. What's to blame? It could be the terrible schools, or it could be the low household income of $30,001 per year. It's hard to tell.
6. Starr Pass
Property Crime Rate: 5,831
Violent Crime Rate: 1,425
When people think of the Wild West, they think of areas that have a similar crime rate as Starr Pass. Here, property crimes are relatively low but the violent crime rates are high.
This area is known for having high rates of robberies as well as car theft. In recent years, police have been petitioning for a larger crime task force specifically for this neighborhood.
Starr Pass is just not a good place to live. Its 6.9 percent unemployment rate means that you might struggle to find a job. Terrible school systems means your children will be disadvantaged.
Its median household income of $61,698 means that you might have a decent amount of income, even though you'll have to invest in security devices to call this place home.
5. Mountain View
Property Crime Rate: 11,177
Violent Crime Rate: 1,486
While you might actually get a good view of mountains here, the truth is that the view might be the *only* thing that makes this Tucson neighborhood even remotely tolerable.
Mountain View boasts 408 percent more property crime than a typical American suburb, putting it on the same level with the most dangerous parts of other major cities known for crime.
High unemployment rates plague this area, which might be one of the reasons why it's considered to be one of the worst neighborhoods in Tucson.
Oddly enough, schools here are given an "A" rating by AreaVibes, so if you have kids, it still might be a good way to save some money on housing.
4. Doolen-Fruitvale
Property Crime Rate: 7,301
Violent Crime Rate: 1,535
With its quirky name and proximity to Pima Air and Space Museum, it's hard to ignore the appeal of moving to Doolen-Fruitvale.
Or at least, it's easy to see the superficial perks of having a home in this neighborhood. Unfortunately, Doolen-Fruitvale is one of many Tucson neighborhoods that suffer from a serious uptick in crime.
Doolen-Fruitvale doesn't have as much property crime as Mountain View, but the rise in violent crime makes this a place where you shouldn't go out alone at night.
Assaults and robberies are surprisingly common in this area, which is not too shocking when you find out that schools are grossly underfunded.
3. Dodge Flower
Property Crime Rate: 9,088
Violent Crime Rate: 1,555
Dodge Flower is located right next to Doolen-Fruitvale, and it's often (rightfully) treated as the "bad older brother" of the two neighborhoods.
The crime rate here is considered to be totally out of control, which is why one out of every 10 people are expected to be a victim of a crime during their time living here.
Crime rates here are 313 percent higher than an average American neighborhood, which is alarming enough as is.
When you factor in the low cost of living and the average rent price of $649, you might still want to live here. After all, sometimes a little discount is worth the risk.
2. Amphi
Property Crime Rate: 12,756
Violent Crime Rate: 1,624
Amphi is one of the most dangerous neighborhoods in Tucson in terms of both violent and nonviolent crimes. With a crime rate that's a whopping 457 percent higher than a typical neighborhood, it's easy to see why many people avoid walking through this side of town during both the day and night. A security system is a must if you choose to live here.
Living here means you have a one out of seven chance of being hit by crime. Gang activity is rife, and the unemployment crisis seems to have hit this area particularly hard. Combined with underfunded schools, it's easy to see why this region has one of the highest assault rates in Tucson.
1. Blenman-Elm
Property Crime Rate: 5,033
Violent Crime Rate: 2,192
What is the most dangerous neighborhood in Tucson, you ask? Almost anyone who lives in the region will tell you that it's Blenman-Elm.
Currently hailed as the most violent part of all of Tucson, Blenman-Elm might be only a couple of blocks, but it still manages to have the highest violent crime rate in the entire city.
Statistically speaking, you are more likely to be robbed, raped, assaulted, or killed in this small stretch of land. Generally speaking, you have a 1 in 14 chance of being a crime victim. Should you decide to move here, expect to hear a lot about the inner city turmoil that follows suit.
Are There Bad Areas Of Tucson?
South Tucson and its environs are typically thought to be dangerous. The area along Miracle Mile and Oracle Road south isn't particularly pleasant.
The districts to the south and east of the Air Base, as well as to the east of it, are a mix of the middle and lower class. Central is quite mixed, although there are many amazing locations nearby that aren't so fantastic.
How Bad Is Tucson?
Tucson, according to one source, is the state's most dangerous city. Tucson's violent crime rate is considerably higher than the national average, at 421 occurrences per 100,000 people.
Related Articles

Ossiana Tepfenhart
Ossiana Tepfenhart is an expert writer, focusing on interior design and general home tips. Writing is her life, and it's what she does best. Her interests include art and real estate investments.
More by Ossiana Tepfenhart
Published September 14th, 2020 7:02 PM