355 Views
Don't Get Ripped Off: Sling Vs. Roku (One IS Cheaper)
January 24th, 2022 11:40 AM
Share
We're committed to finding, researching, and recommending the best products. We earn commissions from purchases you make using links in our articles. Learn more here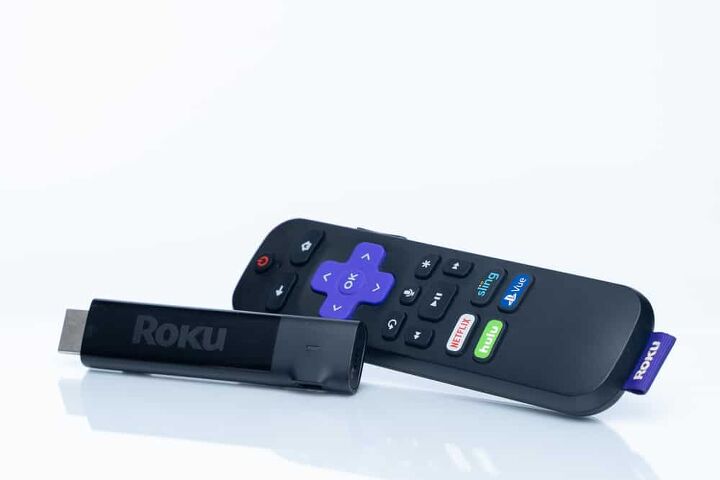 As technology advances, more and more people are starting to use apps rather than traditional cable TV. Entertainment can be found on Netflix, YouTube, and even Hulu. Due to this, many media consumers prefer to digest their media through multiple devices.
Modern-day televisions often come with digital media players already installed. However, you can also opt to purchase a media player to stream apps and other online content. Two of the most popular options are Sling or Roku.
While both digital media players are good, some people may prefer one over the other. Now, you probably don't want to go out and purchase both of them for a test drive. Below, we've listed the pros and cons of each digital media player, Sling vs. Roku.
A Closer Look at Sling TV
Sling TV is a digital media player that gives you access to many of the best cable and broadcasting channels. For a small monthly fee of $30 per month, you can access even more digital content than your cable provider provides.
Unlike cable, you won't have to sign a contract or rent a cable box. Instead, you'll need to purchase a Sling TV device and hook it up to your flatscreen. Once it's installed, you'll gain access to dozens of media outlets and can access your favorite shows.
What You Get With Sling TV
Sling TV offers multiple tier packages that provide you digital media content. However, they can be confusing at times because their tiers cost the same price. You'll be paying the same amount, just for different channels.
For starters, Sling Orange is their standard tier and is priced at $30 a month. With this package, you'll gain access to 32 live channels such as SNN, Disney Channel, Lifetime, etc.
Although the plan does have one major limitation, using Sling Orange, you'll only be able to stream one channel at a time.
At $30 a month, you can also use Sling Blue. Sling Blue features more than 50 channels but doesn't include the same media as Sling Orange. Some major channels that aren't included are Disney or ESPN.
However, the main benefit of Sling Blue is that you're able to multi-stream. You'll be able to stream on up to three devices at once. Streaming on multiple devices is beneficial for families or people with roommates.
Sling Orange vs. Sling Blue
Don't fret too much if you can't decide between the two. In our opinion, Sling Orange is suitable for individuals using the service with one device. However, Sling Blue is better for multiple people using fewer channels.
But, you don't have to be limited to just one plan. If you like what both packages have to offer, then you can get Sling Orange + Blue. The monthly plan costs $45 but gives you all the benefits of both packages.
In our opinion, the combined option is a steal. If you were to get both plans individually, then you'd be paying $60. Of course, both plans have overlap in the channels offered. That's why Sling Orange + Blue is discounted.
SlingTv Extras
Another problem we see so many consumers run into is that SlingTV may not offer the channels you want. Well, don't fret, as SlingTV provides you the option to add on extra channels.
Sling Orange + Blue plans allow you to add on extra channels based on genres. This means you can browse sports, comedy, kids shows, and much more.
For example, if you want to add sports channels, all you'll need to do is add to the 'sports' genre. It will cost you an extra $5 a month, but you'll gain access to additional channels that are generally not included.
Additionally, you can also subscribe to major premium networks. Some popular networks include Epix, Showtime, and Hallmark channels. Of course, these will all have a small charge.
However, if you purchase more, you can get them at a discounted rate. This is a good option for families wanting to add more media options. Although, we'd recommend that you limit your 'extras' to keep monthly costs low.
How Do You Know SlingTV is For You?
If you're unsure which the package would be right for you, and then there are a few options you can try. Luckily, SlingTV often has promotions going on where you can get a trial version of their services. Some of their trails range from 3 to 7 days and allow you to experience what it would be like to have a monthly subscription.
However, Sling also announced its 2020 service optimizer. This tool asks you to input the channels you want, and it will help select which services you'll need. It can be helpful if you're unsure which services to get.
A Closer Look at Roku
Roku is another digital media player that allows the user to stream content. Some of the various services include app access, live-streaming, and access to more than half a million movies and TV episodes.
Unlike Sling, Roku doesn't have a monthly subscription plan. Instead, you'd need to make a one time purchase of the device. After this, you can access everything available on Roku free of charge.
However, there are multiple tiers of streaming devices you can purchase;
Roku TVs
The most expensive option is to purchase a TV with Roku already installed. If you head to the RokuTV website, you can use their simple search feature to find a RokuTV to your liking.
From here, you can choose between Screen Sizes, Picture Quality, Price, and Brands of TV. If you don't like the options provided, don't worry. You can always purchase a Roku digital media player from their website and hook it up to your TV.
Roku Express
The most affordable option out of the digital media players is Roku Express, at $29.99. Roku Express allows you to stream everything on Roku but only in HD. It's easy to set up, includes a high-speed HDMI cable and a simple remote.
Roku Premiere
The next tier up is their Roku Premiere, which costs $39.99. For this digital media player, you can stream in HD, 4k, and HDR. The pictures are a step up from the Roku Express and are brilliantly vivid.
Aside from that, the package includes a premium high-speed HDMI cable. It also comes with a simple remote. Both the 4k and HDR support helps produce true 'movie' quality on your flatscreen TV.
Roku Streaming Stick+
For a small increase, you can choose the Roku Streaming Stick+ at $49.99. This digital media player is a high-performing portable device. Instead of connecting it to one device, you can unplug it and bring it with you.
The main benefit of a streaming stick is that you don't have to install a digital media player in each room with a TV. Instead, you can use the one Roku streaming stick+ and move it from device to device.
With this package, you will be getting the Roku Streaming Stick+ with long-range wireless. It can easily connect to wall-mounted TVs and streams in HD, 4k, and HDR. Additionally, the remote control is voice-activated.
Roku Ultra
The next tier up is the Roku Ultra, which costs $99.99. It's the ultimate streaming device and includes the fastest wireless connection. Features you won't find in any other Roku devices is fast channel launching, lost remote finder, and Bluetooth connectivity.
The Roku Ultra supports streaming in HD, 4k, HDR, and Dolby Vision. It's excellent for avid streamers and comes with a voice remote control and personal shortcuts. Additionally, it has a fast channel launching and a lost remote finder.
Roku Streambar
The Roku Streambar is a powerful streaming and premium audio soundbar/digital media player that costs $129.99. It's an excellent pick for those who want to enjoy HD, 4k, or HDR with premium audio quality.
The stream bar includes crisp, clear audio and can silence commercials. It also has Bluetooth Streaming and is excellent for use in the home. The remote is voice-activated and includes basic TV controls.
Roku Smart Soundbar
The most expensive option is the Roku Smart Soundbar, which costs $179.99. It's an exceptional audio and streaming digital media device. You'll be able to get crisp and clear audio while also Bluetooth streaming.
It's excellent for large rooms and big flatscreen TVs. The package includes a voice remote with extra TV controls. Similar to the last model, it can also support HD, 4k, and HDR.
Roku vs. Sling
As you can see, there are many options to choose from with Sling and Roku. With so many options, it can become challenging to choose just one. You want to ensure that you're making the right investment.
The above sections were an overview of the many options you can choose from. But, to determine which one is best, it's imperative to compare and contrast their features.
So, we've taken the time to research the similarities and differences between the two digital media players. Here is what we've found;
Functional Differences Between Sling & Roku
While Sling and Roku are generally compared to one another, they are two different services. For Sling, you're paying a monthly subscription to access on-demand content. This allows you to stream your favorite tv shows and channels.
Benefits of Choosing Sling
The main benefit of using Sling is that you can cancel at any time. Unlike cable, you're not signing any contract. This way, if you want to take a break for the month, you can unsub without consequences.
However, you are restricted to the channels they offer per subscription. Luckily, SlingTV is much cheaper than standard cable. You'd be getting access to all the popular networks for less of a charge.
Plus, you don't have to invest in an external box to stream your favorite shows. You can access SlingTV from any device. They even have recently added web browser support so you can virtually stream from anywhere that has wifi access.
Benefits of Using Roku
On the other hand, Roku gives you access to both online streaming and app content. However, instead of a monthly subscription, it's a one-time payment. By purchasing, you'll get an external box that you can connect to your TV.
The most significant difference between Sling and Roku is that Roku offers many different kinds of external boxes. For example, the small Roku Express provides you all content. However, it's the quality of experience that you're upgrading.
With each box upgrade, you'll be getting more features that add to the movie-watching experience. Some include HD support, faster streaming, and even audio support. So, it's best to keep in mind how both of these differ.
Bottom Line Functional Differences
SlingTV seems like it would be better for those who want the freedom of canceling their subscription. It's also a good pick for those who wish for the most popular cable problems. The Sling Orange is also suitable for single individuals who only want to stream on one device.
For Roku, it's better for families who want to watch movies or stream on their TV. They provide a better overall experience and are great for large flatscreen televisions. However, you will be limited to only one device streaming at any given time.
Considering the Price of SlingTV vs. Roku
One of the many significant issues with comparing the two is that one is a subscription while the other is a one-time payment. While you can stream on both of the services, they offer different methods of streaming.
Roku Pricing
For instance, Roku users tend to pay for the external box and then take advantage of free streaming services or apps. They don't go the extra mile and pay for premium content on top of getting the hardware.
If you take this into account, then essentially, you only have a one-time payment of as low as $39.99 for continuous streaming. Add in the fact that Roku also has many free content channels, and it's a win-win. Aside from that, Roku again is continuously pumping out new hardware with unique features such as;
Roku Express Media Player
Roku Streaming Stick
Roku Premiere
Roku Premiere+
Of course, if you want to have a better viewing experience, you can opt for their more expensive hardware. Some of these include built-in hardware for HD/4k/HDR streaming and also enhanced audio. Other options are portable (stick) and have more customized options on the remote.
SlingTV Pricing
For SlingTV, you'll have to pay a subscription. This subscription can be as low as $30 a month, or up to $45 for both Sling Orange + Blue. We find that price-wise, and Sling is a good option compared to your local cable company.
Take the cable company DirectTV. For example, at the lowest cost, it's still $54.99 per month. SlingTV provides you almost the same amount of content, but for only $30 a month. If you only want specific channels, SlingTV is a better option.
Bottom Line For Pricing
However, SlingTV is much more expensive compared to Roku. Roku's top external box and the audio combo is around $179.99. Take Sling Orange, which is $30 a month. Over a year, you'd pay $360 to keep your Sling Orange subscription for 12 months.
At that price range, you might as well invest in a high-quality Roku device. The only time SlingTV wins over Roku for pricing is if you want specific streaming channels. Other than that, we think you get the best bang for your buck with a Roku digital media device.
SlingTV vs. Roku Navigation
Another critical factor for many streamers is the ease of use. No one wants to sit in front of their tv fumbling through apps and buttons on the remote. You want to sit back and relax, so having good navigation is a must.
The Roku interface is straightforward to navigate. The first screen that pops up will have all of your major streaming apps listed on the right for starters. On the left-hand side, you'll be able to scroll through the settings.
Luckily, the Roku remote comes with quick-access buttons. This can help with navigation and makes it hassle-free to get to your primary streaming services such as Netflix, Hulu, Sling, and Movies.
Sling navigation is a little more complicated. You'll have to use their grid guide or channels guide to find your shows. They are organized by genre, channels, and allows you to perform a search for individual shows.
Overall, we believe that Roku is superior in ease of use. However, Sling offers a more complex method of browsing and finding shows to watch.
---
Related Questions
Does SlingTV Come With DVR?
Yes, all packages come with 10 hours of cloud DVR. This allows you to record up to 10 hours of footage from live-streamed shows. Additionally, you can pay an extra $5 per month for up to 50 hours of storage.The DVR allows you to pause, rewind, and fast-forward through shows. This gives you more control if you don't have the time to sit and watch a show's whole episode.
What are SlingTV Compatible Streaming Devices?
The Sling can be used from any device as long as it has wifi access. Just remember that if you don't have a strong signal of 5 Mbps per device, then the stream may become laggy. That is out of Slings control and depends on your internet connection.The devices that can be used are smartphones, computers, tablets, and even TVs. The following devices can access SlingTV;
All Web Browsers
Xbox One
TiVo
Samsung SmartTV
Roku
LG TV
iOS Devices
Chromecast
Apple TV
Android TV & Devices
Amazon Fire TV & Tablets
How Does Sling TV Work with Roku?
Some of you may be confused as to why people are asking if Sling works with Roku. Roku is an external box that gives you access to Sling and other streaming networks. If you don't have a smart TV/Apple TV and want to stream using Sling, you may need to get a Roku.
What is Better – Roku vs. Sling vs. Firestick?
For picture quality, Roku is a superior streaming device compared to the other two. A Roku supports 4k, HD, and HDR. With each passing year, Roku also creates higher-quality digital media devices compatible with the latest flatscreen TVs.
As for overall quality, it seems that both Roku and Sling are superior. Firestick tends to glitch out from time to time, especially when switching channels. Roku has excellent audio if you purchase a surround sound device. Sling is mainly suitable for streaming on multiple devices.

Upgraded Home Team
We are a team of passionate homeowners, home improvement pros, and DIY enthusiasts who enjoy sharing home improvement, housekeeping, decorating, and more with other homeowners! Whether you're looking for a step-by-step guide on fixing an appliance or the cost of installing a fence, we've here to help.
More by Upgraded Home Team
Published October 16th, 2020 2:06 PM