157 Views
What Are The 8 Safest Neighborhoods in Richmond, Virginia?
June 3rd, 2022 3:51 PM
Share
We're committed to finding, researching, and recommending the best products. We earn commissions from purchases you make using links in our articles. Learn more here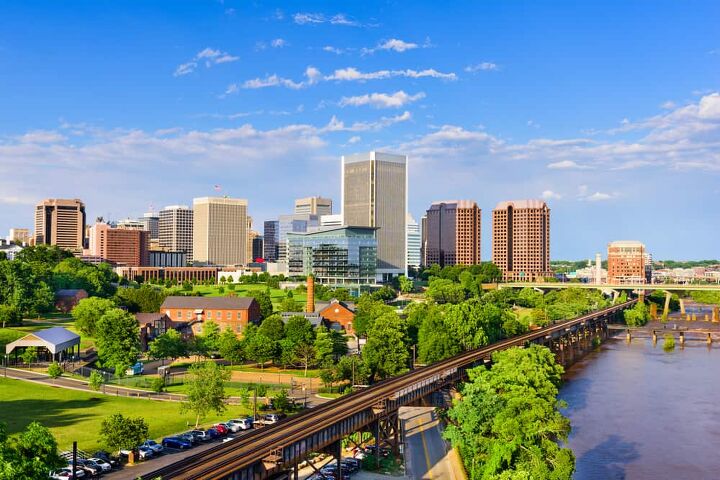 The capital city of the Commonwealth of Virginia is Richmond, the fourth-most populous city in the state with over 200,000 residents. Richmond is a thriving capital city with numerous major companies and industries choosing it as their home, including two major Fortune 500 companies.
What are some of the safest areas of Richmond? Neighborhoods like Mary Munford, Colonial Place, and Malvern Gardens rank highly. The Museum District is a must-visit for tourists and residents alike, and crime is surprisingly low there, especially given all of the things to see and do. The Fan, another up-and-coming neighborhood, has some of the best restaurants in Richmond – and residents can simply walk there!
Do You Need to Hire Movers?
Get free, zero-commitment quotes from pro contractors near you.
The Safest Neighborhoods in Richmond, Virginia
As far as crime goes, however, Richmond isn't great – it ranks just 6 on the crime index, with 100 being the safest. That means it's just 6% safer than any other US city. In Richmond, residents have a 1 in 211 chance of becoming a victim of violent crime, nearly twice as high as the state's average. Richmond residents also have a 1 in 26 chance of becoming a victim of property crime, compared to 1 in 61 in the state overall. The odds aren't great!
Our top 8 safest neighborhoods include:
Mary Munford
Colonial Place
Three Chopt
Stonewall Court
Malvern Gardens
The Fan
The Museum District
Oxford
If you're considering relocating to Richmond for work, school, or you want to just move to a larger city and experience the history and culture, be careful! With the crime index so high, there are many areas of the city that are questionably safe and could put you or your family in danger.
We have compiled a list of the 8 safest neighborhoods in all of Richmond, based on crime statistics pulled from the FBI themselves. No matter if you're looking for a dense urban feel or a spread-out suburban home just outside the city itself, at least one of these neighborhoods will have what you're looking for.
8 Safest Neighborhoods in Richmond
1. Mary Munford
Population: 1,463
Median Income: $70,202
Crime Per 100k: 1,279
Unemployment Rate: 2.4%
Often considered one of the best places to live in Richmond is the Mary Munford neighborhood. Named after the famous activist Mary-Cooke Branch Munford who lived and campaigned in that area, this neighborhood isn't just great because of housing, schools, and overall quality of life – crime is very low, too!
The Mary Munford neighborhood is a long, thin rectangular area in Richmond northwest of Downtown. It has a mix of apartment complexes and single-family homes, and the centerpiece is the Mary Munford playground, near the elementary school. There are also several churches in this area. It's a popular choice for families.
There are not many shopping or restaurant options within Mary Munford itself, but it is not a long trip for residents to get to those things. Most find that the tradeoff is worth it, to live in a safe, residential area like this so close to downtown.
2. Colonial Place
Population: 2,098
Median Income: $105,212
Crime Per 100k: 1,279
Unemployment Rate: 1.9%
Directly to the north of Mary Munford sits Colonial Place, the second-safest neighborhood on our list. It's no surprise they're right next to each other! This neighborhood features a little more housing, but the median income is significantly higher.
The majority of housing in Colonial Place is single-family homes, and much like its neighboring area, has a welcoming, community feel despite being so close to the downtown area. The major downside, just like Mary Munford, is that there isn't a lot of shopping or dining in the neighborhood itself.
Residents often have to leave their neighborhood to access shops or restaurants. In fact, other than homes and the occasional church, there isn't much at all in this neighborhood! If you're willing to step just outside the area, however, Colonial Place does border the Museum District.
This is at least in part why these neighborhoods rank so highly for safety and security! People aren't walking through them that don't live there, and there isn't a lot of reason for people who don't belong to the neighborhood to be there.
3. Three Chopt
Population: 2,235
Median Income: $110,615
Crime Per 100k: 1,279
Unemployment Rate: 1.2%
Just northwest of Colonial Place and Mary Munford is Three Chopt, an unusually-shaped neighborhood with a great crime-to-population ratio. It's a little farther from downtown, which could be a downside to many residents commuting, but it's worth it for many. There is a small amount of shopping and dining in the neighborhood itself, most of which is locally owned, but for the majority of things, residents will have to travel outside of their neighborhood.
Three Chopt is just east of the University of Richmond, making it a great location if you're commuting to school and not to the downtown area. Because of the location of the school, there are plenty of museums, parks, and theaters to spend time in. It is also very close to the Country Club of Virginia – Westhampton, if your family enjoys country club living.
Most homes in the area are smaller single-family homes with decent-sized lots and large, mature trees. There are not many apartment complexes or townhomes, if you're looking to rent. Homes, and lot sizes, get better the closer you move to the school.
4. Stonewall Court
Population: 942
Median Income: $127,808
Crime Per 100k: 1,279
Unemployment Rate: 2%
A small, very exclusive neighborhood just northwest of Mary Mumford is Stonewall Court. This neighborhood is just a few blocks, but has a low crime rate, a very high median income, and generally many very happy residents.
Homes in Stonewall Court are large, with good-sized lawns and plenty of space to spread out, especially for a city. While this area is very desirable, be aware that it is very small. This neighborhood has no shops, no restaurants… it's just a handful of residential streets with large single-family homes. While it might be safe, you won't find nightlife here, and if you need anything you will have to leave your neighborhood to it get.
The good news is, there are several neighboring neighborhoods with grocery stores, restaurants, and shopping plazas only a few minutes away. If this doesn't bother you, and you like the idea of such an intimate, exclusive neighborhood, Stonewall Court might be for you.
5. Malvern Gardens
Population: 1,494
Median Income: $77,642
Crime Per 100k: 1,479
Unemployment Rate: 2.4%
Similar in structure to neighborhoods like Mary Mumford is Malvern Gardens, a heavily residential neighborhood just a few blocks west of Stonewall Court. Unlike other, similar neighborhoods, there are several apartments located in Malvern Gardens, including one relatively large apartment complex and a handful of smaller apartment buildings.
The shopping and dining choices in Malvern Gardens are minimal, and most residents leave the neighborhood to do their weekly shopping or to go get dinner. Other than a handful of churches, there is nothing in the form of entertainment in the neighborhood, and residents would have to go to the neighboring museum district for date night.
6. The Fan
Population: 13,216
Median Income: $55,164
Crime Per 100k: 1,523
Unemployment Rate: 3.4%
Located on the other side of the museum district is The Fan, a much more vibrant and thriving neighborhood that is also very safe. This neighborhood is centered around Virginia Commonwealth University, a public research university founded in 1838, and has all of the amenities you would expect a college neighborhood to have, including shopping, coffee shops, bars, and more.
There is a good mix of apartments and homes, with much of the architecture of the neighborhood dating back over 100 years. It's not uncommon to find beautiful Tudor Revival mansions or Queen Anne-style homes with huge floorplans.
Most of the neighborhood has sidewalks and enough shopping and dining that many residents only have to go a few blocks before they hit what they're looking for. Overall, if you're looking for a safe neighborhood with a younger 'vibe', The Fan is a great choice.
7. The Museum District
Population: 6,902
Median Income: $54,284
Crime Per 100k: 1,901
Unemployment Rate: 3.4%
Does it seem like many of our safe Richmond neighborhoods are clustered together? The Museum District is smack between The Fan and the southern edge of Malvern Gardens and Mary Munford. It is also sometimes called the 'upper fan' neighborhood.
There is lots to see and do within the Museum District, including the Virginia Museum of Fine Arts, the Virginia Museum of History and Culture, and the Memorial to the Women of the Confederacy. If you want to live in an area with an overabundance of history and culture, this is the neighborhood! There are also lots of local shops and dining within the neighborhood.
The Museum District has a good variety of houses on smaller lots and apartment buildings or lofts, and tends to draw a younger demographic. This demographic is partially why the median household income is the lowest of any Richmond neighborhood.
Do You Need to Hire Movers?
Get free, zero-commitment quotes from pro contractors near you.
8. Oxford
Population: 2,122
Median Income: $83,076
Crime Per 100k: 2,353
Unemployment Rate: 1.7%
Not all of the safe areas of Richmond are clustered together! Oxford, with its healthy median household income and extremely low unemployment rate, sits south of the James River and a little farther away from the downtown area.
The Oxford neighborhood is full of homes on larger lots, unlike the smaller city lots seen in Mary Munford or Malvern Gardens. This has more of a sparse, spread-out suburban feel, and it can be easy to forget that you're close to a major city.
There is a handful of shopping and dining choices for residents in Oxford. However, in the neighboring areas, there are several shopping malls and major shopping plazas. While residents might have to drive to get there, it isn't a long trip.
More Related Guides

Mary Newman
Mary Newman thought that home improvement was all painting and putting down throw rugs... until she bought a fixer upper, and realized it's so much more. With a passion for helping others NOT make the mistakes she did, Mary seeks to always improve her home - and yours, too!
More by Mary Newman
Published March 23rd, 2021 3:16 PM