285 Views
The Safest Neighborhoods In Pittsburgh: 2022's Ultimate List
June 3rd, 2022 3:45 PM
Share
We're committed to finding, researching, and recommending the best products. We earn commissions from purchases you make using links in our articles. Learn more here
Pittsburgh is one of the most significant cities in the United States due to its cultural and industrial status. There is an element of danger in Pittsburgh, but there are also several safe neighborhoods such as Lincoln Place and East Carnegie. Whether it be North Oakland or Fairywood, let's take a look at the 10 safest neighborhoods in Pittsburgh.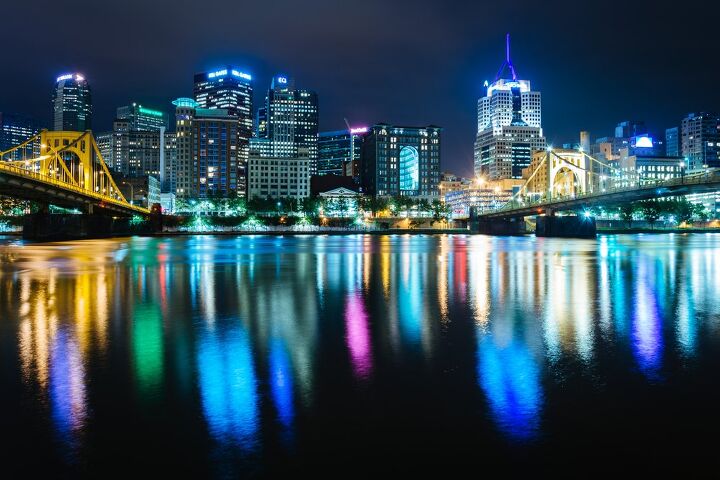 With a population of just over 300,000 residents, Pittsburgh is situated in west-central Pennsylvania at the convergence of the Ohio, Monongahela, and Allegheny Rivers. Nicknamed the Steel City, you can probably assume that steel is how Pittsburgh got its start. Although steel still remains a major factor in the city's economy, it is now home to a variety of industries including education, medicine, healthcare, and technology.
Aside from its expanding economy, Pittsburgh offers a growing art community, hearty food scene, and plenty of lovely neighborhoods to call home. This city combines the cultural benefits and job opportunities of a big city with the lower cost of living and suburban feel of a smaller town. Pittsburgh is frequently deemed one of the most livable cities in the nation and was recently named among the Best Cities to Relocate to in America, Most Romantic Cities for Boomers, and Most Secure Places to Live.
Ridgemont, Squirrel Hill North, and East Carnegie are the safest neighborhoods in Pittsburgh. Neighborhoods like Swisshelm Park, Lincoln Place, and Westwood boast lower crime rates than the rest of the city. You can find low property and violent crime rates in Stanton Heights, Fairywood, and North Oakland in Pittsburgh.
With so many diverse communities to pick from, the choice can be overwhelming. Everyone has different requirements for what they're looking for in a neighborhood. However, one factor consistently tops most people's lists: safety. Finding a neighborhood that is safe for you and your family is essential to enjoying life in Pittsburgh, and pretty much any city.
Do You Need to Hire Movers?
Get free, zero-commitment quotes from pro contractors near you.
What Are The Safest Neighborhoods in Pittsburgh?
Although Pittsburgh has crime rates that are higher than national averages, the city is considered to be one of the safest of its size. In a report published by Realtor.com in 2019, Pittsburgh was named among the most affordable and safest cities to live in the United States. The report factored in crime rates, amenities, and affordability, ranking Pittsburgh as the second safest and most affordable city to live in.
Just like any city, Pittsburgh does contain areas of high crime that can be easily avoided by tourists and locals alike. As far as safe neighborhoods go, the city has an abundance of them and some with crime that is close to 90% lower than the national average.
In order to determine the safest areas in Pittsburgh, we took a look at FBI crime statistics. More specifically, we analyzed the violent crime, property crime, and total crime rates in the city's individual neighborhoods. Those with the lowest number of crimes per 100K people made our list of the top ten safest neighborhoods in Pittsburgh, PA.
Ridgemont
Squirrel Hill North
East Carnegie
Swisshelm Park
Lincoln Place
Westwood
Fairywood
Stanton Heights
North Oakland
Greenfield
Let's dive in and explore each of these unique neighborhoods in detail along with their characteristics, amenities, crime rates, and livability.
1. Ridgemont
Violent Crimes Per 100K: 121
Property Crime Per 100K: 258
Population: 298
With a population of approximately 298 residents, Ridgemont is a small neighborhood located in the southwest portion of Pittsburgh. It is bordered by Westwood to the northwest, Beechview to the northeast, West End Valley to the north, Banksville to the south, and Green Tree to the southwest. Ridgemont's total crime is 85% lower than the national average and 89% lower than the city average, earning the top spot on our list.
The area is almost entirely residential with a few amenities on its commercial strip such as a supermarket and a post office. However, this quiet and relaxed community is a short commute to downtown, while maintaining its suburban charm. Residents enjoy the community's rural green spaces after a hard day's work and a number of community events throughout the year.
Homes in Ridgemont are everything from split-levels and suburban-style ranches, to magnificent old brick homes with expansive front porches. This neighborhood is ideal for families for its great schools, many parks, and old-fashioned block parties. Here you can relish in your quiet oasis while being just minutes from the bustling downtown area.
Based on our calculations, Ridgemont is the safest neighborhood in Pittsburgh. The violent crimes per 100K people come in at 121 and property crime is 258 for 2020.
2. Squirrel Hill North
Violent Crimes Per 100K: 35
Property Crime Per 100K: 417
Population: 11,446
Squirrel Hill is a residential community located in the East End of Pittsburgh. Though it is generally treated as one neighborhood, it is officially divided into two distinct neighborhoods: Squirrel Hill North and Squirrel Hill South. Located just five minutes from downtown Squirrel Hill North offers tree-lined residential streets, a bustling commercial district, two large public parks, and internationally renowned educational institutions.
This area is one of the most diverse in Pittsburgh and is home to many authentic eateries. In addition to being cultured, Squirrel Hill North is very commuter-friendly, family-oriented, and laid back. The neighborhood contains over 1100 acres of parks, including the verdant Schenley Park. Squirrel Hill North is the ideal choice for families, those looking to escape the party scene, and nature lovers.
Based on our calculations, Squirrel Hill North is the second safest neighborhood in Pittsburgh. Although its cost of living is notoriously high, residents enjoy crime rates that are substantially lower than both the city and national averages. The area's violent crimes per 100K people come in at 35 and property crime is 417 for 2020.
3. East Carnegie
Violent Crimes Per 100K: 208
Property Crime Per 100K: 296
Population: 607
Another small Pittsburgh neighborhood, East Carnegie is located in the southwest part of the city and is comprised of roughly 607 residents. The community is rooted in the longevity of those who call it home, as many have lived there for several generations. Home to the Union Electric Steel Corporation, East Carnegie contains a number of strong businesses.
Several shopping areas are within close proximity of East Carnegie, including Robinson Township which is accessible by the nearby Parkway West. The community's school district was just named among the country's Top Ten Large Urban Districts and offers a mix of neighborhood schools and specialized magnet choices. Another notable feature of East Carnegie is the Carnegie Library of Pittsburgh, one of the oldest and most respected public library systems in the nation.
With a total crime rate that is 86% lower than the national average, East Carnegie earns the third spot on our list of the safest neighborhoods in Pittsburgh. The violent crimes per 100K people sit at 208 and property crime per capita is 296 for 2020.
4. Swisshelm Park
Violent Crimes Per 100K: 62
Property Crime Per 100K: 554
Population: 1,158
Home to a population of approximately 1,158, Swisshelm Park is situated in the southeast corner of Pittsburgh. The neighborhood is largely surrounded by Frick Park and is bordered on the west by Nine Mile Run. The Sarah Jackson Black Community Center supplies the recreational and civic interests of those in the community, while Swisshelm Park Parklet is where young children play.
Swisshelm Park portrays a tight-knit family-oriented nature and is filled with suburban-style ranches and two-story brick houses. Residents are very active in the neighborhoods' many youth and recreational programs. The area is also home to Duck Hallow, an isolated neighborhood within the bounds of Swisshelm Park. This community is only accessible to cars via a connection that traverses an old, weight-restricted bridge.
Another notable micro-neighborhood within Swisshelm Park is the Summerset at Frick Park, a master-planned development that made significant improvements to Frick Park and brought in 217 new residential housing properties during its onset in 1997.
Based on our calculations, Swisshelm Park is considered the fourth safest neighborhood in Pittsburgh. The violent crimes per 100K people come in at 62 and property crime is 554 for 2020.
5. Lincoln Place
Violent Crimes Per 100K: 276
Property Crime Per 100K: 356
Population: 3,534
Lincoln Place is a neighborhood located in the southeast corner of Pittsburgh and the city's 31st ward. The community is just minutes from downtown but enjoys plenty of green space, and frequently sees deer and wild turkey roaming around. Lincoln Place is the quintessential quiet, small-town rural neighborhood.
Residents love Lincoln Place for the friendly neighbors, close proximity to city amenities, great schools, and safety. With a population of about 3,500 residents, many describe Lincoln Place as being the "most suburban feeling neighborhood in the city." Locals feel safe here and they should because crime rates are significantly lower than the national average and the Pittsburgh average.
Lincoln Place earns the fifth spot on our list of the safest neighborhoods in Pittsburgh. The violent crimes per 100K people sit at 276 and property crime per capita is 356 for 2020.
6. Westwood
Violent Crimes Per 100K: 188
Property Crime Per 100K: 529
Population: 3,544
The Westwood neighborhood is situated in the Greater West End of Pittsburgh. It borders the city neighborhoods of Elliott, Ridgemont, Oakwood, Crafton Heights, and West End, along with the independent boroughs of Crafton and Green Tree. Westwood is a quiet residential community that is home to a wide variety of residents, and its architectural styles are an eclectic blend that spans many periods.
While the neighborhood isn't considered walkable in a traditional sense, it has a commercial district along Noblestown Road near the Poplar Street intersection. This area contains many amenities including a gas station, several fast food joints, a Rite Aid, Shop 'n Save, thrift store, Antney's Ice Cream etc. Westwood also features a large low-rise apartment zone dating back to the mid 20th century.
Westwood is often deemed by locals as the "crown jewel" of the West End. The local elementary school is one of the most esteemed neighborhood schools in the city and crime is very low. Westwood takes the sixth spot on our list of the safest neighborhoods in Pittsburgh. Violent crime per 100K people comes in at 188 and property crime is 529 for 2020.
7. Fairywood
Violent Crimes Per 100K: 332
Property Crime Per 100K: 534
Population: 1,249
Also located in Pittsburgh's West End, Fairywood is often associated with some pretty bad press. In the past, it was associated with two things: colossal ex-urban warehouses and exponentially high crime. However, a lot has changed since then. Though it is still inhabited by the likes of an Amazon Distribution Center and a Modcloth warehouse, the sum of Fairywood's residential area is now reduced to four or five streets with pre-war framed homes, split-levels, and Baby Boom-era pillboxes.
Fairywood also contains a former public housing project, Broadhead Manor, that has been reclaimed by nature and resulted in enormous negative space in the neighborhood. Over the years, many homes have been demolished and residents have moved away. Much of the community now consists of urban prairie.
Though there isn't much in the way of commercial amenities in Fairywood, its relatively low crime rates earn it a slot on our list. Based on statistics, Fairywood is considered the seventh safest neighborhood in Pittsburgh. Violent crimes per 100K people are 332 and property crime comes in at 534 for 2020, a far cry from what the crime once was in Fairywood.
8. Stanton Heights
Violent Crimes Per 100K: 133
Property Crime Per 100K: 764
Population: 4,599
Stanton Heights is a neighborhood of 4,599 residents that is found in the Pittsburgh eastern section. It is a quiet community with large single-family homes and some duplexes. Stanton Heights is directly east of the downtown area, offering convenient access to Liberty Avenue, Highland Park, and Butler Street shopping districts.
Until the mid-1950s, a large part of Stanton Heights was Stanton Heights Golf Course, the largest private course in Pittsburgh. In the years that followed, the land was built around the course and has the charm of a suburb, a community-driven nature, quiet streets with little to no traffic, and no commercial area. Though the neighborhood does not contain its own business district, residents have plenty of shopping options nearby. Grocery stores, pharmacies, hardware stores, dry cleaners, and the like can be found in the neighboring communities of Squirrel Hill, East Liberty, and Bloomfield.
Based on our calculations, Stanton Heights ranks eighth on our list of the safest neighborhoods in Pittsburgh. Its violent crime rate per 100K people is 133, while property crime per capita comes in at 764 for 2020.
9. North Oakland
Violent Crimes Per 100K: 139
Property Crime Per 100K: 807
Population: 9,383
North Oakland is a part of the larger Oakland neighborhood which also consists of Central Oakland, South Oakland, and West Oakland. The neighborhood as a whole is the city's healthcare and academic center, in addition to being one of Pittsburgh's major cultural hubs. North Oakland is loosely defined as the area between Neville and Bouquet Streets, encompassing all of Craig Street, and extending north to Polish Hill.
It is home to the Cathedral of Learning, the midsection of the University of Pittsburgh campus, the Craig Street business district, and the Schenley Farms Historic District. Housing in North Oakland is largely mid-rise condominiums and apartment buildings, with some large and unique single-family homes. Many of this area's residents are students, specifically of the medical variety, and young professionals. North Oakland is close proximity to many restaurants, bars, parks, and is overall a very youthful and energetic neighborhood.
With crime rates that are significantly lower than both the national average and city average, North Oakland earns its spot as the ninth safest neighborhood in Pittsburgh. Violent crimes per 100K people come in at 139 and property crime per capita is 807 for 2020.
10. Greenfield
Violent Crimes Per 100K: 230
Property Crime Per 100K: 718
Population: 7,858
Located southeast of downtown Pittsburgh, Greenfield rounds out our list of the safest neighborhoods in the city. It is a hilly, family-friendly community that offers spectacular views of the downtown skyline and the adjacent Schenley Park. Housing options include everything from Pittsburgh boxes and post-World War II ranch homes to Victorians.
Many of Greenfield's residents have lived here for many years, some for generations. It is generally quiet, with little traffic, friendly neighbors, wildlife, and plenty of green space for locals to enjoy. Greenfield's location also offers easy access to Pittsburgh's most active areas and is very walkable.
As a predominantly residential neighborhood, Greenfield boasts four basketball courts, three baseball diamonds, two soccer fields, two hockey rinks, and a swimming pool. It does, however, have two small business districts along Murray Avenue and Greenfield Avenue respectively.
To close out our list, Greenfield ranks tenth among the safest neighborhoods in Pittsburgh, Pennsylvania. Violent crimes per 100K people come in at 230 and property crime per capita is 718 for 2020.
Safest Neighborhoods in Pittsburgh for 2020
| | | | | |
| --- | --- | --- | --- | --- |
| Rank | Neighborhood | Population | Violent Crime (per 100K) | Property Crime (per 100K) |
| 1 | Ridgemont | 298 | 121 | 258 |
| 2 | Squirrel Hill North | 11,446 | 35 | 417 |
| 3 | East Carnegie | 607 | 208 | 296 |
| 4 | Swisshelm Park | 1,158 | 62 | 554 |
| 5 | Lincoln Place | 3,534 | 276 | 356 |
| 6 | Westwood | 3,544 | 188 | 529 |
| 7 | Fairywood | 1,249 | 332 | 534 |
| 8 | Stanton Heights | 4,599 | 133 | 764 |
| 9 | North Oakland | 9,383 | 139 | 807 |
| 10 | Greenfield | 7,858 | 230 | 718 |
Do You Need to Hire Movers?
Get free, zero-commitment quotes from pro contractors near you.
---
Related Questions
Is Pittsburgh safe?
Pittsburgh is not safe, and crime is higher in the city than 97% of the United States. There are 181 crimes per square foot in Pittsburgh, and property crime affects 1 in 34 residents. Violent crimes like assault, murder, and robbery affect 1 in 169 Pittsburgh residents.
What is the most dangerous neighborhood in Pittsburgh?
Northview Heights, East Hills, Strip District, and Sprill Hill are the most dangerous neighborhoods in Pittsburgh. Areas like Troy Hill, Perry South, and Middle Hill have high violent and property crime rates. Allentown is one of the most dangerous neighborhoods in Pittsburgh.
Wrapping It Up
When you're moving to a new area, the overall safety of the region should be on the top of your list of priorities. While Pittsburgh's crime rates are higher than national averages, it pales in comparison to violence in other populous cities. With that being said, just like anywhere else in the world, Pittsburgh does have neighborhoods that are less safe than others.
Finding a stable and secure place to settle down with your family is essential to both your peace of mind and wellbeing. Guided by statistics, our list of the top ten safest neighborhoods in Pittsburgh should aid you in your search and help you enjoy all the yinzer fun that this city has to offer.
Related Articles

Jessica Stone
Jessica considers herself a home improvement and design enthusiast. She grew up surrounded by constant home improvement projects and owes most of what she knows to helping her dad renovate her childhood home. Being a Los Angeles resident, Jessica spends a lot of her time looking for her next DIY project and sharing her love for home design.
More by Jessica Stone
Published December 5th, 2020 7:59 AM