211 Views
The Safest Neighborhoods In Fort Worth: 2022's Ultimate List
June 3rd, 2022 12:17 PM
Share
We're committed to finding, researching, and recommending the best products. We earn commissions from purchases you make using links in our articles. Learn more here
Fort Worth is a gem of a city in North Central Texas that boasts low crimes and a comfortable cost of living. Residents of 7 Forth Worth neighborhoods such as Arlington Heights, Crestwood, and Fairmount can say they live in the safest neighborhoods in the city. Whether it be the annual crime, violent crime rates, or property crime rates, let's take a look at the safest places to live in Fort Worth.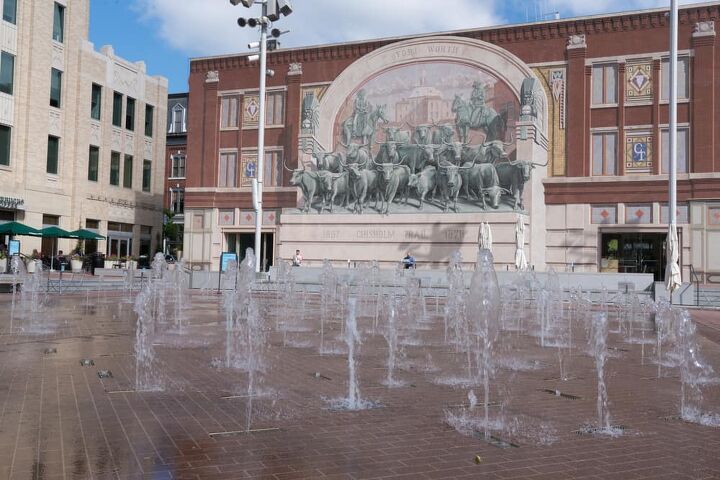 Fort Worth is a city in Northern Texas that is known for its unparalleled cuisine and historical rodeos. The city has been ranked as one of the best places to live in the United States, and it is easy to understand why. New residents move into the city all the time, so, what are the safest neighborhoods in Fort Worth.
The safest neighborhoods in Fort Worth are Downtown, Oak Grove, Fairmount, and Crestwood. Neighborhoods like Wedgewood and TCU-West Cliff are safer than other communities in Fort Worth. Arlington Heights is one of the most and safest neighborhoods in Fort Worth.
Fort Worth has an element of crime, but many of its communities are safe. This guide constitutes a neighborhood as safe if crime reports are relatively low compared to the population. Follow along as we explore the 7 most dangerous neighborhoods in Fort Worth.
Do You Need to Hire Movers?
Get free, zero-commitment quotes from pro contractors near you.
| | | | |
| --- | --- | --- | --- |
| Rank | Neighborhood | Population | Total crime vs. Nat. Avg. |
| 1 | Downtown | 25,684 | 40% lower |
| 2 | Oak Grove | 669 | 30% lower |
| 3 | Fairmount | 7,951 | 26% lower |
| 4 | Crestwood | 29,851 | 12% lower |
| 5 | TCU-West Cliff | 36,649 | 5% lower |
| 6 | Wedgewood | 86,351 | 34% higher |
| 7 | Arlington | 398,112 | 96% higher |
The fact is, while Fort Worth is known as a great place to live, the area has some of the highest violent crime rates in the country that should be avoided. Below, we listed 7 of the safest neighborhoods in the city that will make you forget these bad neighborhoods.
1. Downtown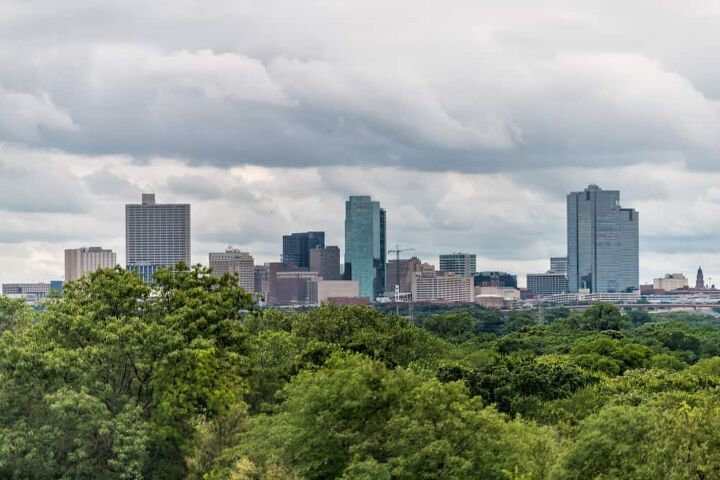 Population: 25,684
Median Home Price: $232,500
Average Rental Rate: $1,403
One of the first neighborhoods most people check first when planning to move to Fort Worth is Downtown. Well, this is where most things happen, so this shouldn't come as a surprise.
This area is full of some of the best restaurants, nightlife, and entertainment in the city. So, if you're someone who loves being active in their social life, this could be a great place for you.
Another reason people choose to live in this neighborhood is that the pricing of housing here is much less expensive than in other cities downtown in the country. If you're looking for a budget-friendly condominium, apartment, or even townhouse, you'll surely find a place for you here.
With over 25,000 residents, you can expect the Downtown to be vibrant and active. While there are a lot of shops, live music halls, restaurants, and events to go to in this neighborhood, it's also well-known for its cleanliness and safety.
2. Oak Grove
Population: 669
Median Home Price: $234,800
Average Rental Rate: $1,568
Another safe, welcoming neighborhood in Fort Worth is Oak Grove. This neighborhood has a high concentration of same-sex marriages, which is ahead of over 96% of the whole country's neighborhood.
This neighborhood has a great level of protection against criminals, which makes it a great choice for people looking for a safe place to live in Fort Worth. But other than that, it prides itself on its high standard of education.
Oak Grove largely features cozy homes that are extremely reasonably priced. This community dates back to 1922 and has persisted to develop throughout the years.
The community, Oak Grove establishes wisely assessed middle proportioned residential homes that are situated in the best reliable and friendly community that gradually appeals to customers to carry out remarkable living experiences.
3. Fairmount
Population: 7,951
Median Home Price: $321,294
Average Rental Rate: $1,395
The last on our list is Fairmount. This is the biggest historic neighborhood in the southwestern United States. But unlike what you'd expect from a bigger neighborhood, Fairmount is extremely safe.
Fairmount has Citizens on Patrol program that doesn't only invites people to act as lookouts and report suspicious situations to police but also shows clear results. Crime has dropped by over 60% since the program has begun.
Another reason to love this neighborhood is its proximity to downtown Fort Worth, TCU, and the hospital district. But then again, this neighborhood itself has a lot to offer, even beyond its restaurants and the renowned community garden.
4. Crestwood
Population: 29,851
Median Home Price: $499,000
Average Rental Rate: $1,050
While Crestwood is not the biggest neighborhood in Fort Worth, its size comes with an advantage. Crestwood has had a volunteer crime patrol to its name since the year 1988. So, any criminals are likely to be noticed and reported before any harm even comes to residents.
Crestwood attracts many families to live there for obvious reasons. There are many parks, playgrounds, and even baseball fields that are perfect for those with kids.
If you are looking for a neighborhood that can guarantee healthy activities, Crestwood is more than efficient. This neighborhood offers easy access to the biking and running provided by the Trinity Trails of the city.
5. TCU-West Cliff
Population: 36,649
Median Home Price: $238,436
Average Rental Rate: $1,537
Home to Texas Christian University (TCU), the TCU-Westcliff neighborhood is unsurprisingly a favorite area among college students and young professionals. Not only its proximity to major places of interest, but the neighborhood also offers budget-friendly housing opportunities.
Living here will get you close to some of the best museums, outdoor recreation, and sporting events in the city. That's why it's not surprising that TCU-Westcliff is a popular option among Fort Worth residents searching for an area that will give them a little bit of everything!
TCU-West Cliff comprises many different areas that offer a unique experience, whether you are looking for the activity around a college campus or a more isolated, family-friendly area, you can find it here. And while this is popular among youngsters, it also offers an ideal location for families and retirees.
6. Wedgewood
Population: 86,351
Median Home Price: $230,324
Average Rental Rate: $918
Fort Worth itself offers a lot of attractions and is a pretty safe place to live, but this southwestern neighborhood takes that quality to the next level. The neighborhood boasts two parks and the facilities to go in conjunction with them like soccer fields, tennis courts, and basketball courts.
Alternatively, you can go to a local library, which provides you with services such as storytime for preschoolers and different volunteer programs for both adults and teens. Regardless of your preference, Wedgwood can accommodate any family.
Most homes you'll find in Wedgwood are all brick with built-in garages and are ranch style design. Most homes have one story. There are no sidewalks through the neighborhood.
Most of the street names in the older part of Wedgwood start with the letter "W". That combined with the curving design of the area, can be quite confusing for the newcomers.
7. Arlington Heights
Population: 398,112
Median Home Price: $270,907
Average Rental Rate: $1,128
Check out Arlington Heights if you are looking to settle in a quieter part of Fort Worth. There are plenty of green spaces throughout Arlington Heights and it is far enough from the highway and congested traffic that it's quiet.
Arlington Heights is bound by Camp Bowie Boulevard to the west and north, Montgomery to the east, and Interstate 30 to the south. Most of the homes you will find in Arlington Heights were constructed in the 1920s and are of either a Tudor or Bungalow architectural style.
It's a well-maintained neighborhood with a lot of families, retirees, and young professionals. Property values here have soared in the past years because of its closeness to the Downtown, Cultural District, Camp Bowie Boulevard, and its location on Fort Worth's Westside, which makes it close to a lot of the most elite neighborhoods of the city.
Is Fort Worth a Safe City?
Fort Worth is an exceptionally large city located in the state of Texas. With a population of 895,008 people and 150 constituent neighborhoods, Fort Worth is the fifth-biggest community in the state. And just like any city, the crime here can be rampant.
Proportionate to Texas, Fort Worth has a crime rate that is higher compared to 90% of the cities and towns of all sizes in the state.
However, if you compare Fort Worth to other cities of the same size, this city actually has a crime rate that's markedly lower compared to the average. And if you base your judgment on the size, Fort Worth is actually safer.
Is Fort Worth Safer than Dallas?
Despite their proximity, they are vastly different places, though not to a great extent.
Fort Worth is a swiftly growing, up and coming city, but it's not yet similar to Dallas as a business center, except for some select industries. The performing arts opportunities are better in Dallas, although Fort Worth has exceptional art museums, actually better than in Dallas.
When it comes to crime, it's very subjective. Here's the comparison of violent crime and property crime of both cities as well as the national average.
Dallas

, TX

Fort Worth, TX

United States

Violent Crime

37

26.5

22.7

Property Crime

50.7

51.4

35.4
Most Dangerous Neighborhoods in Fort Worth
There is no such thing as a perfect neighborhood, but there are some that you should avoid. Fort Worth neighborhoods vary between violent areas and family communities.
Fort Worth ranks as one of the best places to live in the United States due to the entertainment and employment opportunities. However, you should avoid the 6 most dangerous neighborhoods in Fort Worth whether you are a visitor or a resident.
| | | | |
| --- | --- | --- | --- |
| Rank | Area | Population | Violent Crimes per 100k People |
| 1 | Southside | 56,682 | 907 |
| 2 | South East | 59,810 | 842 |
| 3 | Eastside | 95,072 | 683 |
| 4 | Northside | 44,752 | 660 |
| 5 | Northeast | 38,197 | 572 |
| 6 | Sycamore | 40,126 | 521 |
Do You Need to Hire Movers?
Get free, zero-commitment quotes from pro contractors near you.
Final Thoughts
While almost any neighborhood has its risks, it's possible to live in Fort Worth without worrying about your safety if you choose the right neighborhood. Fort Worth has different neighborhoods, which range from college communities to communities with a higher population of professionals.
On one hand, this city ranks as one of the best places to live in the country, thanks to many entertainment opportunities and its strong economic base. Hopefully, this article has enlightened you and given you ideas on what Fort Worth has to offer.
Related Articles
Cyril Balahadia
Coming from a family of woodcarvers, Cyril has always been fascinated with wooden interiors and home decorating. While she followed the path of writing as her career, her interests in home improvements still remain.
More by Cyril Balahadia
Published March 3rd, 2021 10:08 AM