573 Views
The 9 Safest Neighborhoods In Fayetteville, North Carolina
June 3rd, 2022 12:13 PM
Share
We're committed to finding, researching, and recommending the best products. We earn commissions from purchases you make using links in our articles. Learn more here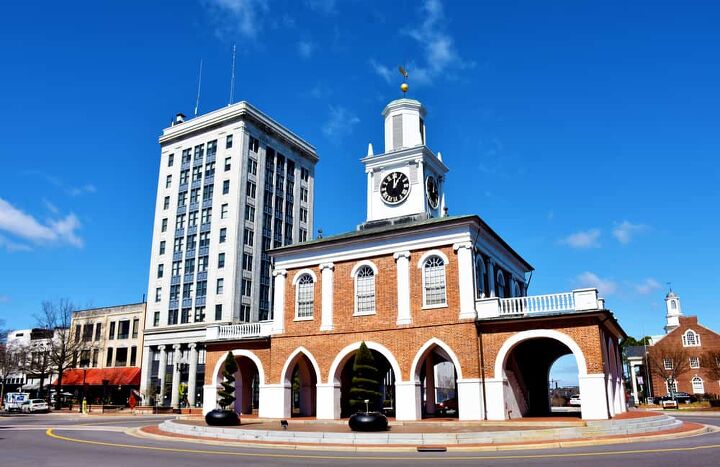 Just outside of Fort Bragg, one of the largest military installations in the entire world, sits the town of Fayetteville. With a population of over 210,000, much of the industry in the city surrounds the military base and catering to the many residents who live and work there.
Thinking of making the move to Fayetteville? There are some things you should know – especially about the neighborhoods. Arran Hills, Hope Mills, and Westover are some of the best neighborhoods you could choose for a variety of reasons, including cost of living, crime, and overall amenities. When moving to one of these neighborhoods in Fayetteville, you can expect a few things, including lots of green spaces, plenty of lakes for fishing, and a welcoming southern atmosphere.
Do You Need to Hire Movers?
Get free, zero-commitment quotes from pro contractors near you.
The Safest Neighborhoods in Fayetteville
You might think that Fayetteville being so close to a military installation would make it a safe place to live, but that isn't the case. With a crime index of 6, the city is just 6% safer than all US cities. Violent crime annually is over 1,800, and property crime tops 7,400 incidents a year. The chance of becoming a victim of a violent crime in Fayetteville is 1 in 115, over double the North Carolina average of 1 in 269.
Looking at these statistics, you might hesitate to move to Fayetteville at all! But not everywhere in the city is this dangerous. Many areas are full of law-abiding military families, or residents proud of their neighborhood and working to keep it safe.
Our top 9 safest neighborhoods in Fayetteville include:
Arran Hills
Arran Lakes West
Hope Mills
Eastover
Spring Lake
Westover
Rockfish Township
Gray's Creek
Carver's Creek
If you're moving to Fayetteville due to military relocation, a job opportunity, or for family, don't move without reading this list! If you want you and your family to stay safe, you need to make sure you're paying attention to where you're relocating, and what neighborhood you choose. There are some lovely parts of Fayetteville, but you need to know where to look.
The 9 Safest Neighborhoods in Fayetteville
1. Arran Hills
The Arran Hills neighborhood is located just outside of Arran Lake, and provides lots of outdoor activities for residents who want to walk around the lake, go fishing year-round, enjoy the view, and more. The neighborhood itself is very residential with most of the single-family houses are ranch-style and have decent-sized lots and mature trees. Many of the streets in their neighborhood do not have sidewalks, however.
There are a good number of apartments in this neighborhood for single professionals or those who aren't looking to purchase a full home. There are also several churches in this neighborhood, and a handful of shopping options – however, for extensive shopping outside of grocery needs, residents will need to leave their neighborhood. Residents report feeling very safe walking around their neighborhood at night, and it's located just minutes from Fort Bragg.
2. Arran Lakes West
Just northwest of Arran Hills is Arran Lakes West, a slightly larger neighborhood that is also based around Arran Lake. Just like with Arran Hills, the highlight of the area is the lake itself, which is great for outdoor recreation.
Just like Arran Hills, Arran Lakes West has a good mix of single-family homes and apartments, as well as an area of townhomes. It's the perfect area for families who are not looking to settle in Fayetteville permanently, but need more space. The vast majority of single-family homes in the area are ranches, and most streets do not have sidewalks. The dining options in Arran Lakes West aren't great, but there is a grocery store within the neighborhood itself.
Arran Lakes West is also home to Anderson Creek Club, an exclusive gated community with a golf course, pool, and other amenities. These new homes are highly sought after, and it is one of the safest places to live in the area.
3. Hope Mills
Just southwest of the Fayetteville Regional Airport is Hope Mills. A suburb of Fayetteville, this relatively small area has a lot to offer residents who are nervous about living in the city itself. The centerpiece is Hope Mills Lake, called the pond by residents, which has swimming, fishing, and kayaking.
Hope Mills has everything you need to go about your life, including shopping, dining, cafes, and bars. There is a good mix of single-family homes and apartments for residents to choose from, and it is close to the local airport, making it perfect for those who travel for work.
The only downside for some is that it is a 30-minute trip one-way to Fort Bragg. What you lose in commute time, though, you gain in safety and peace of mind. The tradeoff is worth it for many families.
4. Eastover
Just east of downtown Fayetteville is Eastover, a larger neighborhood that is mostly natural land, with some single-family housing and a handful of apartment choices. Single-family homes in Eastover normally have larger-than-average lots, and there is plenty of land to spread out and make it your own.
Schools in Eastover are generally well regarded, and it's a popular choice for families. The median household income in Eastover is $62,461, higher than the average for Fayetteville overall. Crime is less than half what the average is in Fayetteville as well, with the violent crime index at 76.5 and property crime at 63.2, with 100 being the safest.
5. Spring Lake
Bordering Fort Bragg to the northeast is Spring Lake, a great choice for residents working on base but looking to live outside of the busier Fayetteville city. Spring Lake has everything that most residents would want, including coffee shops, shopping, and dining, and a smaller town feel that much of Fayetteville lacks. It's just a few minutes to Fort Bragg, but much of the area is significantly safer overall.
The median household income in Spring Lake is lower than Fayetteville itself, at just $38,185. The majority of residents are single professionals and young families, and it has a very suburban feel. School systems are generally well-rated in the area as well, which makes it great for raising children.
6. Westover
Westover is one of the top neighborhoods within Fayetteville itself for those who are living outside of Fort Bragg and commuting every day. This is a relatively large neighborhood and comes a lot of ground, including the Cross Creek Mall and many dining destinations. It also has Lommond Lake, Persimmon Creek, and McFadyen Lake all within the neighborhood. If you love fishing, sitting by the water, or long walks, this is a great neighborhood for you.
There are numerous living options in their neighborhood, from lakefront condos to apartment complexes, single-family homes, and more. It is a very short drive to Fort Bragg, and not far from downtown Fayetteville. No matter where you're commuting, this is a good location within the city itself and ranks highly as far as safety goes.
Just like with much of the city, sidewalks are few and far between, so if residents want to go anywhere, a car is the best option.
7. Rockfish Township
South of downtown Fayetteville is Rockfish Township. Rockfish regularly ranks as the best place to live within the Fayetteville area and has a suburban, residential feel to it that many residents find appealing. If you're looking for nightlife and action, Rockville isn't it – but security and comfort? This might be for you.
There are lots of outdoor activities for families, including several parks and recreational activities. There are several bodies of water for swimming, fishing, and relaxing, as well as a lively downtown area with local shops and restaurants. The commute time can range to Fort Bragg, so it's worth it trying to stay on the north side of Rockfish if you work or travel to the base regularly.
8. Gray's Creek
The Gray's Creek neighborhood sits south of downtown Fayetteville and is about a 40-minute drive to Fort Bragg. If you're not moving to work on the base regularly, though, this neighborhood might be a great choice – or, if you don't mind a commute! Gray's Creek is mostly single-family homes on large lots and has a very sparse suburban feel. You're 'in the country', but not so far away from civilization that you don't know your neighbors, or it's a hassle to get to the local grocery store.
Unlike much of Fayetteville, there is a good mix of ranch-style and two-story homes, with a handful of townhomes or condo choices as well. There is a lot of green space and lots of shopping and dining within the neighborhood itself. It is only 15 minutes to downtown Fayetteville, and 10 to the local airport, Fayetteville Regional.
Homes are generally more expensive in Gray's Creek than the rest of Fayetteville at close to $255,000, something to keep in mind if you're looking to buy. It is also a very hot real estate market, so finding your dream house has become something of a race.
Do You Need to Hire Movers?
Get free, zero-commitment quotes from pro contractors near you.
9. Carvers Creek
With a median home value of $160,000, Carvers Creek is the perfect balance of safety and affordability for many residents. Carvers Creek is right up against the east side of Fort Bragg, and sits northeast to downtown Fayetteville, making it a great commuter's choice.
Like many neighborhoods we've looked at, Carvers Creek has a great number of outdoor activities available for residents who love being outside, including fishing and swimming in local lakes and ponds. There are also several parachute fields if you're looking for adventure and lots of shopping choices as you near the downtown Fayetteville area. Carvers Creek State Park is a relatively new park with over 4,000 acres of outdoor recreation, including hiking, horse trails, bike trails, and more.
School districts in Carvers Creek are highly regarded, and it's a popular neighborhood for families who are looking to live off-base, but want to be close enough for comfort and safety.

Mary Newman
Mary Newman thought that home improvement was all painting and putting down throw rugs... until she bought a fixer upper, and realized it's so much more. With a passion for helping others NOT make the mistakes she did, Mary seeks to always improve her home - and yours, too!
More by Mary Newman
Published March 23rd, 2021 3:10 PM