8 Views
What Are The 4 Safest Neighborhoods In Baltimore City?
December 2nd, 2021 1:01 PM
Share
We're committed to finding, researching, and recommending the best products. We earn commissions from purchases you make using links in our articles. Learn more here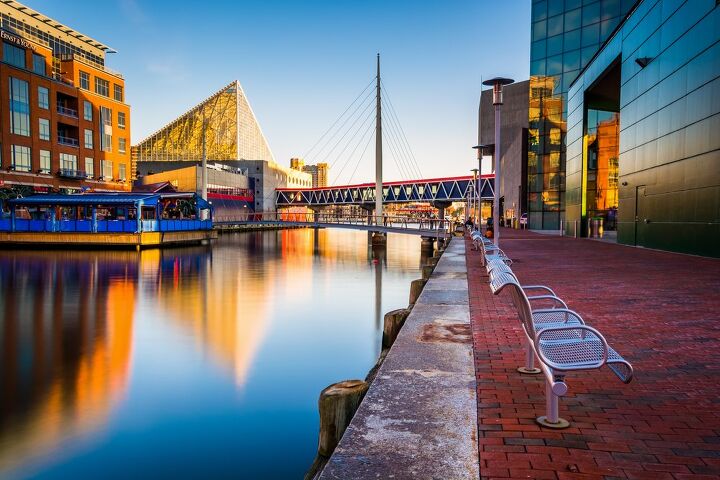 Located in the beautiful state of Maryland, Baltimore sits just off the Chesapeake Bay, and about an hour's drive north of Washington, D.C., or two hours south of Philadelphia. It is Maryland's most populous city and the largest independent city in the United States. Baltimore City has a population of more than 621,000 and a population density of 7,672 people per square mile.
One of the most popular reasons for those who move to Baltimore is its lower cost of living than the U.S. national average. Just keep in mind that Baltimore City has a bad reputation for crime-ridden areas because its violent crime rate spikes way higher than the national average. However, you can find wealthier and gentrified neighborhoods that are of much less concern.
The safest neighborhoods in Baltimore City, MD are Cheswolde Area, Chinquapin Park-Belvedere, Upper Northwood, and Inner Harbor. All of these neighborhoods have crime rates below the US average, high safety grades relative to other neighborhoods in Baltimore, and unemployment rates lower than the US average.
Do You Need to Hire Movers?
Get free, zero-commitment quotes from pro contractors near you.
4 Safest Neighborhoods in Baltimore City, MD
The U.S. News & World Report ranked Baltimore City as the 7th most dangerous metro area to live in out of 150 different U.S. metropolitan cities. However, crime in Baltimore is concentrated only in a few poverty-stricken, drug- and gang-ridden neighborhoods, rather than the entire city. If you're considering relocating to Baltimore, it would be good for you to get to know the safest neighborhoods before actually moving.
Finding the best places to live in Baltimore City is easier with our research based on reliable information and data, which includes crime, safety grade, employment, and other important metrics.
1. Cheswolde Area
Population: 12,433
Median household income: $65,849
Total crime per 100K: 1,238 (50% lower than the US average)
Unemployment rate: 3%
Crime Safety Grade: A-
Cheswolde is situated in Northwest Baltimore. It is a quiet, residential neighborhood made up of single-family homes with front and back yards and garden-style apartment complexes.
The Neighborhood
Cheswolde has a safety grade of A- with crime rates 50% lower than the US average. It is considered as the safest neighborhood in Baltimore. That said, Cheswolde median real estate price is around $340,000, which is more expensive than 49.2% of the neighborhoods in Maryland. Demand for the neighborhood is so high that it will be hard to look for a vacancy here..
Neighbors in the Cheswolde are upper-middle income earners with a higher income than 62.7% of the neighborhoods in America. Here, 57.2% of the working population is employed in executive, management, and professional occupations.
In addition to being inside the Baltimore Eruv, the neighborhood is within the service area for Hatzalah's emergency medical services and the Northwest Community Patrol. Therefore, the neighborhood is home to a large number of Jewish families who appreciate immediate access to synagogues and other resources.
What Residents Say
"It's safer than other neighborhoods. There's a lot I can do because I feel safe and secured."
"Could be better, but still pretty good. I don't go out much, though. But my neighborhood is pretty much okay."
2. Chinquapin Park-Belvedere
Population: 24,827
Median household income: $94,917
Total crime per 100K: 2,433 (2% lower than the US average)
Unemployment rate: 4%
Crime Safety Grade: D
Chinquapin Park-Belvedere is a community in North Baltimore with natural green space and segments of recreational area. Chinquapin Run, a 76-acre stream corridor, goes through the park that bounds the neighborhood on the east, from which it derives its name.
The Neighborhood
As one of the safest neighborhoods in Baltimore City, Chinquapin Park-Belvedere has crime rates 2% lower than the US average.
Almost 70% of the real estate is classified as row houses and attached homes. Compared to the Cheswolde area, Chinquapin Park-Belvedere real estate is more affordable. Hence, most of the residential real estate here is owner occupied.
Despite the abundance of row houses, this quiet community also offers single-family, detached homes and duplexes accompanied with well-maintained lawns. The neighbors are middle-income, with a majority of the working population (37.1%) consisting of executive, managerial, and professional occupations.
If you have African ancestry, you'll enjoy the neighborhood! Most residents of Chinquapin Park-Belvedere neighborhood commonly identify their ethnicity or ancestry as Sub-Saharan African (18.3%) and people of African ancestry (17.7%).
This area attracts many people because of its proximity to outdoor recreation, as well as accessible transportation, shopping, and entertainment.
What Residents Say
"It's a great community for families with children because it's a lot of kids to play with and quiet."
"Charming, safe, quiet neighborhood; an upper suburban feel with all of the amenities that city life has to offer."
3. Upper Northwood
Population: 20,729
Median household income: $50,794
Total crime per 100K: 2,428 (2% lower than the US average)
Unemployment rate: 8%
Crime Safety Grade: D
Northwood is located in North Baltimore. In addition to its rustic vibe, the quaint community has beautifully maintained single-family and semi-detached homes lining quiet streets covered in old-growth trees. The most desired areas tend to be in the upper parts of the Northwood neighborhood, while more affordable homes are in the south regions.
The Neighborhood
Upper Northwood crime rates are 61% lower than the Baltimore average and 2% lower than the US average. As such, it is also considered as one of the safest neighborhoods in Baltimore City.
Median house prices in Upper Northwood are much less expensive than the US median of $376,286. Because the area tends to have lower crime rates and higher quality of life, it is one of the best neighborhoods as judged by the real estate market. Demand for real estate in Upper Northwood is above average and real estate vacancy is only 5.0%. Thus, in the future, real estate in the neighborhood may have price increases or new constructions.
Upper Northwood is considered as one of the hidden gems of Baltimore City, tucked quietly between Loch Raven and The Alameda. Here, residents enjoy homeownership in a suburban setting while still being close to downtown.
If social gatherings are your cup of tea, you'll love the Northwood community! Its friendly and warm community welcomes new homeowners and residents with open arms. Neighbors also enjoy coming together for events like a wine and cheese social, a garden walk and plant sale, and an annual Oktoberfest party.
Another interesting thing about the neighborhood is it has a higher percentage of working residents who are employed by the government. Government workers represent 12.8% of the workforce in this neighborhood, compared to 96.2% of U.S. neighborhoods.
What Residents Say
"It is built into a hill with beautiful homes with some great architecture and history. Like most of Baltimore, crime can rear its ugly head, but thankfully, the community here is tight, diverse and very welcoming. Popsicle night, Cheese and wine and holiday parties are regular!"
"Beautiful and safe neighborhood in the city of Baltimore, featuring quiet streets curving through old-growth trees and consistent architectural features such as red-brick houses and slate roofs. Overall, I really, really, really love it!"
4. Inner Harbor
Population: 2,535
Median household income: $75,443
Total crime per 100K: 2,468 (1% lower than the US average)
Unemployment rate: 3%
Crime Safety Grade: D
In Baltimore, you can live in the popular Inner Harbor area without much worry because police regularly patrol this area. The Inner Harbor is a historic seaport, tourist attraction, and landmark of the city. In 2009, it earned the recognition from the Urban Land Institute as "the model for post-industrial waterfront redevelopment around the world."
The Neighborhood
Aside from the regular police patrol, low unemployment rate contributes to the safety in Inner Harbor which has crime rates lower than the US average. It is one of the safest neighborhoods in Baltimore City which you should not miss out on.
Do you like coastal settings? If so, this neighborhood may be to your liking. As its name suggests, Inner Harbor is a coastal neighborhood with amenities and recreational activities on the waterfront that are attractive to residents and visitors alike.
Inner Harbor is a vibrant and very much alive neighborhood, thanks to tourist attractions in the area. Some of the most popular destinations include The National Aquarium, Port Discovery, The Gallery, Little Italy, Maryland Science Center, USS Constellation and Harborplace. You will not be disappointed at the range of activities available, from hotels and restaurants to live music on the pier to ghost tours.
If you opt to live in Inner Harbor, you'll find highly educated neighbors. Here, 39.0% of the adults here earned a Master's degree, medical degree, Ph.D. or law degree. Also, executives, managers and professionals make up 80.6% of the workforce in Inner Harbor. For these reasons, this neighborhood really stands out as unique and kinda elite.
What Residents Say
"Neighborhood is clean and secured and has a good restaurant and different places to visit. l love it. "
"We are close to everything, can walk or bike or use bird/lime scooters to get around. Loved living here as a renter, but now that I've started a family and have a baby we are looking to move."
Do You Need to Hire Movers?
Get free, zero-commitment quotes from pro contractors near you.
Living in Baltimore City, MD
The right community for you depends on many factors. You should consider several things when deciding whether an area will fit your lifestyle or not. Low crime, a high safety rating, and a close-knit neighborhood culture are just a few of the things most people look for.
In Baltimore City, you'll find safety and security in Cheswolde Area, Chinquapin Park-Belvedere, Upper Northwood, and Inner Harbor. These are the safest neighborhoods in the city. Aside from being safe and secure, each neighborhood offers a distinct personality. We highly recommend a quick visit so you can get a feel of the city and pick the neighborhood that suits you and your lifestyle best.

Paige Hanawalt
Paige is an elementary school librarian with a passion for writing. Her hobbies include reading an exorbitant amount of fantasy, slowly teaching herself to draw, and home decor. While she isn't the most talented artist or interior designer, what she lacks in skill she more than makes up for in enthusiasm. When she's not curled up with a book, you can certainly find her curled over the keyboard.
More by Paige Hanawalt
Published November 10th, 2021 5:06 PM