191 Views
Rocking Chair Dimensions (with Drawings)
July 19th, 2021 2:53 PM
Share
We're committed to finding, researching, and recommending the best products. We earn commissions from purchases you make using links in our articles. Learn more here
Rocking chairs have long been associated with parenting because of the gentle back and forth motion. But, these chairs come in various styles and variations and can fit with many designs. Use this as a guide to choose the best rocking chair for your spaces.
Because of the wide variety of styles and types, rocking chairs can be several different sizes. On average, rocking chairs range from 37 to 45 inches tall and 26 to 30 inches wide. They can range from 32 to 37 inches deep.
What's the Average Size of a Rocking Chair?
Depending on the style, most rocking chairs will stand 37 to 45 inches tall. They have a width of 26 to 30 inches and a depth of 32 to 37 inches. Depending on the material, they can weigh anywhere from 15 to 45 pounds. Rocking chairs vary from standard chair dimensions, but they aren't overly cumbersome.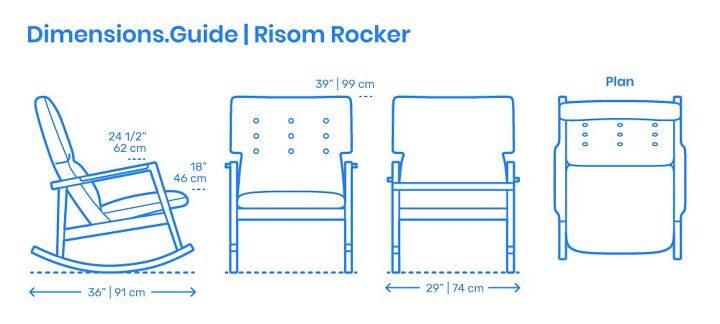 How Much Clearance Does a Rocking Chair Need?
When placing your rocking chair near other pieces of furniture or with other rocking chairs, be aware of the space.
Patio and porch rocking chairs should be two to three feet apart. You should also include enough space so that the rocking chair can rock back and forth without hitting anything. If your patio or porch is about 10 square feet, it can comfortably fit three to four rocking chairs.
You should also be aware of the height of the rocking chair. Shorter people will want a lower seat height, whereas taller people will prefer a higher seat height. On average, rocking chair seat heights range from 16 to 17.5 inches.
If you have a height of 5 feet to 5 feet 5 inches, a 16-inch seat height is best. For people who are 5 feet 6 inches to 5 feet 10 inches tall, a 16 to 17-inch seat height will suffice. For those taller, you will need a seat height of 17.5 inches.
How to Measure for a Custom-Made Rocking Chair
While standard-size rocking chairs may fit the average person, they aren't one-size-fits-all. When you take your own measurements into account, you can create a much more comfortable rocking experience. Getting a custom-made rocking chair can cradle your body and provide back pain relief, too.
To take your measurements for a rocking chair, follow the steps below.
Find a comfortable chair to take your measurements using a yardstick or tape measure. Then, remove your shoes for the floor to knee measurements. Before you get started, have a friend there to help measure with accuracy.
Step 1: Seat to the Top of Your Head
Measure from the seat of the chair to the top of your head. This measurement will allow for the correct placement of lumbar support and the headrest. This is important to ensure that the chair will be comfortable and support your lower back.
Step 2: Elbow to Bottom
Measure from your elbow to your bottom. This measurement will determine the location and attachment of the chair arms to the back slat side rails. Make sure to relax your shoulders before measuring fully.
Step 3: Elbow to the Base of the Fingers
Measure from your elbow to the base of your fingers, where they meet your palm, not your fingertips. This allows for the best armrest length.
Step 4: Back of Your Bottom to the Underside of the Knee
Measure from the back of your bottom to the underside of your knee. This measurement will determine the seat depth to support the bottom and legs fully.
Step 5: Back of the Knee to the Floor
Measure from the back of your knee to the floor to determine how high the front of the seat is off the ground. This is important to accommodate the length of your lower leg. Your foot should be flat on the floor when you take this measurement.
Step 6: Distance Between the Palms
Measure the distance between your palms with your shoulders relaxed and elbows bent 90 degrees. Your palms should face each other on the outside of your thighs.
Step 7: Hip Width
Measure across your lap while seated to determine your hip width. This will ensure that the seat of the rocking chair is a comfortable width.
Step 8: Width of Shoulder
Measure the outside edges of your shoulders across the front or back to determine shoulder width. This measurement will determine the width of the back slats of the rocking chair.
Step 9: Overall Height
Measure your overall height to determine the overall size of the chair.
Types of Rocking Chairs
The design of the rocking chair has come a long way since first being created. New functionalities and building methods have resulted in several different types of rocking chairs.
Here are the most popular types of rocking chair designs.
Traditional Rocking Chair
Traditional rocking chairs are what you associate with when you think of a rocking chair. It's characterized by curved legs that serve as the mechanism to rock the chair back and forth. This popular style is most durable but can be inflexible due to the large amount of floor space needed.
An average rocking chair is 37 to 45 inches tall, 26 to 30 inches wide, and 32 to 37 inches deep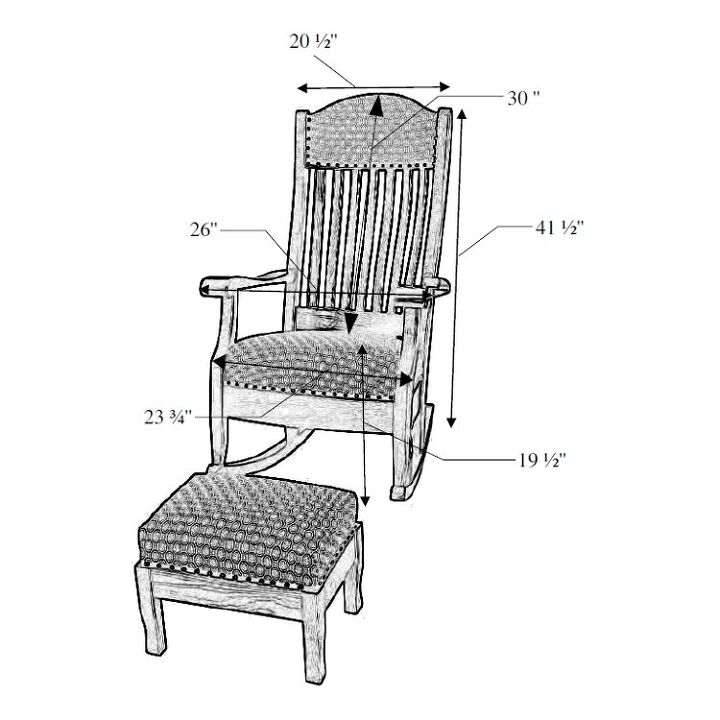 Glider Rocking Chair
Another popular rocking chair is the glider rocker. This chair uses levers and hinges that rock the chair back and forth on a flat plane. This is the opposite of the traditional rocking chair, which rocks on a traditional arc.
Glider-style chairs can cost a little more, but they are beneficial because they take up less space. These chairs are usually more comfortable, too.
Standard measurements for a glider rocker are 26 inches long, 25 inches wide, and 40 inches high. Seat dimensions are typically 20 inches wide by 18 inches deep.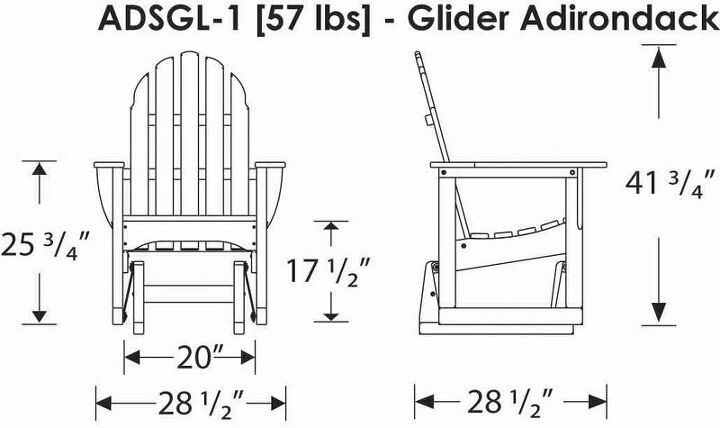 Spring Rocking Chair
Spring rocking chairs are a combination of a traditional rocking chair and a glider rocker. They rock back and forth like a classic rocking chair, but springs support the rocking motion.
The chair features more complicated mechanics, so most designers typically hide them beneath a box at the base. This prevents any accidents and adds to the aesthetic value. Spring rocking chairs usually have a width of 26 inches, depth of 25 inches, and height of 38 inches.
Swivel Rocking Chair
Swivel rocking chairs allow for rocking on more than one plane of motion. You can add this functionality to glider or spring rockers to increase functionality and comfort. Because of their complex design, they are more expensive than the typical rocker.
Because the swivel functionality can accompany several types of rocking chairs, their size does vary. An example of this is the swivel chair from Paddy O. This swivel rocker has a width of 22.9 inches, length of 21.9 inches, and height of 39.8 inches.
The seat height of the swivel rocking chair is 20 inches, and the arm height is 24.75 inches.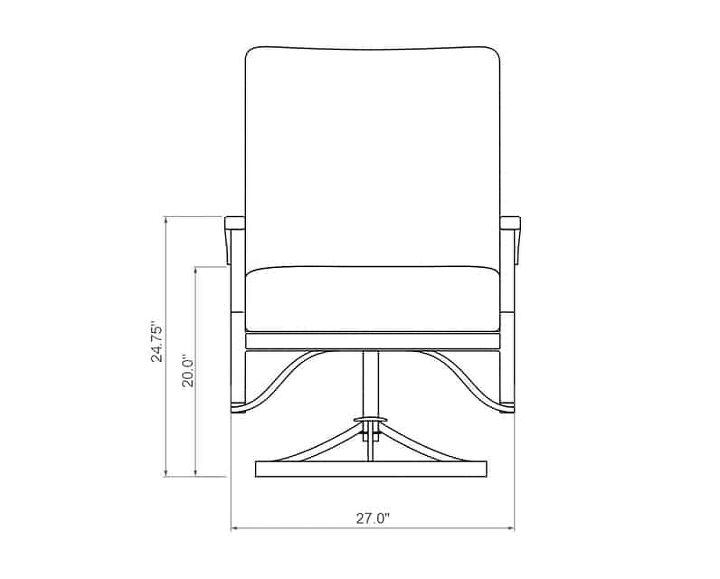 Reclining Rocking Chair
The reclining rocking chair has the same functionalities as the name implies, allowing you to rock and recline. There are 8 different types of recliners, and rocking chairs are one of the most comfortable.
However, you can't do rock and recline at the same time for safety's sake. This chair is popular for homeowners who prefer lounge chairs and like to rock.
Reclining rocking chairs measure 32 inches wide by 33.5 inches deep by 37.5 inches high. The seat depth is 19.5 inches; the seat height is 17.5 inches, the seat width is 16 inches. The arm height is 22 inches.
Antique Rocking Chair Designs
Historically, rocking chairs were assembled in America or England. While it can be difficult to tell them apart, there are some signs to look for.
American rocking chairs first appeared in the 1780s. These chairs are lightweight and have low-relief carvings. English rocking chairs first came about in the 1720s, but they are heavier than American rocking chairs and have high-relief carvings.
Many antique rocking chairs were made throughout the years, but these are the most common designs.
Bentwood Rocking Chair
Michael Thoney created bentwood rocking chairs in Austria during the 1800s. This design is known for plush cushions and swirling frames. The bentwood name comes from the process of heating wood segments and bending them into shape.
Folding Rocking Chair
The folding rocking chair design was first created in the 1870s. As the name suggests, the folding rocking chair's back collapses over the seat for easy transportation.
Boston Rocking Chair
Boston-style rocking chairs were created by the English furniture company Lambert Hitchcock. The rocking chair usually has a black oak frame and carved flowers. The seat curves up for better support when sitting.
Ladderback Rocking Chair
The ladderback design is what you associate with a classic rocking chair. It features a tall back and horizontal beams that keep you upright.
Pressed Back Rocking Chair
The pressed back rocking chair was popular from 1870 to 1920 featuring curved bars and a wide backing.
Wicker Rocking Chair
Wicker rocking chairs became popular during the Victorian age because you could customize them. People wove the wicker pieces to create a frame based on preferred thickness and shape.
Platform Rocking Chair
Platform rocking chairs were first made in 1888, came in various designs, and featured cushions and embroidery. These rockers move on a platform beneath it. This helps the chair tilt back and forth without sliding across the floor when rocking.
---
Related Questions
How long should the rockers be on a rocking chair?
The length of the rockers typically equals the horizontal distance from the top of the chair to the edge of the seat. You should measure the distance from the top of the chair back to the front edge of the seat. Lastly, add three inches.Rocking chair rockers should have a two-inch overhang at the rear of the rocker and one-inch in front.
Are there rocking chairs made for children?
There are a variety of styles and sizes of rocking chairs made especially for children. Children's rocking chairs typically come in three sizes: child, junior, and youth, but they can vary based on brand. The smallest rocking chair is child-size, measuring 17 inches wide by 18.5 inches in diameter by 23 inches tall. Junior-size rocking chairs measure 22 inches wide by 24 inches deep by 29.5 inches tall. A youth-size rocking chair measures 25.5 inches wide by 27.5 inches deep by 33.75 inches tall. 

Stacy Randall
Stacy Randall is a wife, mother, and freelance writer from NOLA that has always had a love for DIY projects, home organization, and making spaces beautiful. Together with her husband, she has been spending the last several years lovingly renovating her grandparent's former home, making it their own and learning a lot about life along the way.
More by Stacy Randall
Published July 2nd, 2021 11:07 AM