126 Views
Ridgid Vs. DEWALT: Which Brand Makes Better Tools?
August 6th, 2021 9:38 PM
Share
We're committed to finding, researching, and recommending the best products. We earn commissions from purchases you make using links in our articles. Learn more here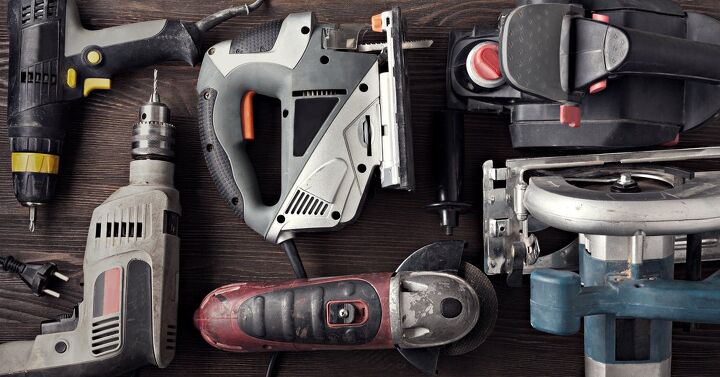 Deciding on the brand of tool that is best for you can be frustrating, particularly if you are fairly new to using power tools. Friends and family will likely have suggestions but finding the tools that best fit your needs takes time and experience, generally speaking.
When it comes to Ridgid and DeWalt, it can be important to know what the two have to offer. The two are generally comparable, but Ridgid offers a lifetime warranty as well as small details that tend to push it over the top. You can't go wrong with either, but Ridgid does have some features that make it slightly better.
Deciding on the Right Tools
At the end of the day, picking out the right tools for what we want means something different to each of us. For some, it can come down to handling. Others prefer ease of use. And some prefer greater versatility out of their tools.
So, keep that in mind when you are looking for the tool that is right for you. Yes, some features are infinitely more helpful than others, but it comes down to personal preference. If you have the opportunity, pick these tools up and handle them yourself. You will get a much better idea of what suits you and what does not.
Let's Go Back
Before we go into the details about these two tool manufacturers, it is important to know where they started, what they stand for, and where they currently sit in the market today. Some people simply want the tools, but others like to know more about the companies that are selling to them.
Both got their start back during the roaring twenties and they are actually from neighboring states: Ridgid in Ohio and DeWalt in Pennsylvania. Ridgid made its name with plumbing tools like pipe cutters, heavy pipe wrenches, pliers, and more.
DeWalt became famous for its stationary tools like the radial arm saw. They eventually became synonymous with some of the best and most popular tools on the market. Both companies have been purchased by much bigger conglomerates during their time – Ridgid by Emerson Electric and DeWalt by Stanley Black and Decker.
Both manufacturers currently produce a wide array of tools, most prominently things like drills and drivers.
What They're Know for: Ridgid Products
Ridgid is one of the most recognizable brand names in power tools and for good reason. They deliver in a number of areas, bringing customers back to their products time and again.
The first reason is that they have established a reputation for being trustworthy. When you think of Ridgid, you think of high performance and even higher quality. You won't find anything cheaply made by Ridgid.
They are also known for the ruggedness and reliability of their products. They are built to stand up to frequent use and will not break down without taking a serious pounding first. For those make a living using their tools, that can be a very important feature of any power tool.
Ridgid also delivers the power. They build their tools for professionals and are designed to deliver some of the best performances in their class no matter what the tool. With all the power, ease of handling, and a lifetime warranty, it is no secret why Ridgid is so popular.
What They're Known For: DeWalt Products
Just as Ridgid is known the planet over for quality tools, DeWalt may actually be a more recognizable name to amateur handymen everywhere. Ridgid has been around for nearly a century perfecting their tools along the way.
DeWalt delivers affordable products that are high-quality. Any handyman can attest to the value of getting quality and value while not breaking the bank to do so. DeWalt prides itself on building and providing quality tools no matter what the intended use and that is what each of their tools delivers.
Perhaps the coolest thing that DeWalt brings to the table is their Tool Connect system. Now, you can manage all of your DeWalt tools thanks to the Tool Connect system and wi-fi accessibility of each tool. This is great if you own a business and need to keep track of where your tools are and what they're being used for.
Lastly, DeWalt offers breakaway saw blades. This means that when the first section of the saw blade has been used, it can be snapped off and then use the fresh part of the blade to continue cutting. That gives extra life to saw blades that had not previously existed.
Cordless Drivers and Drills
As far as price point, DeWalt is actually a little cheaper than Ridgid. For builders and amateur handymen on a budget, that can be all that they need to know. There is also a feeling that DeWalt has performed slightly better overall as well.
DeWalt, for instance, has a quality grip. This makes it easier to handle and control in even the tightest of spaces. While both are on the bulky side, DeWalt comes in just a little lighter and helps with maneuverability and handling.
As far as the performance of the two drills, the differences are minor. Ridgid's batteries are a little easier to handle and get a little more life, but you would be hard-pressed to notice the difference unless you were truly looking for it.
Getting into the Details
While the general overview is usually enough to give you a good idea of what you're getting out of a specific drill/driver, getting into the details is where it matters.
The one thing that really stands out about Ridgid is that they offer a lifetime warranty versus DeWalt's three-year warranty. Having access to free replacement batteries and LED lights can really make the difference, especially if you are getting a ton of use out of your drill/driver.
LED Lighting
Both drill/drivers come equipped with an LED light to illuminate in the toughest and poorly lit areas. DeWalt has a much bright light on their drill/driver and it is in a more optimal position as well. Ridgid's LED light is at the base of the drill and can create a dimmer work area than the DeWalt.
When tilted up, the DeWalt can illuminate the work area by a substantial amount. That means never having to squint to see where you're working. On projects that require getting into tighter spaces, that can mean all the difference in the world.
Battery
This comes down to two things: life and ease of handling. Battery life is mostly interchangeable as both enjoy about the same work time. With working, fully charged batteries, you can get a few hours of work in before needing to charge again. Thankfully, both come with two batteries so you can just swap them out and keep going.
As far as ease of handling, the Ridgid is much easier to handle. It has a natural motion to equip the battery whereas the DeWalt drill can feel a bit awkward when installing the battery. This might not seem like a big deal, but when you are in need of a new battery and want to get working again, fumbling with the DeWalt battery can be frustrating.
Chuck
This one will come down to personal preference. The tightening of the DeWalt chuck, using a metal ratcheting chuck, can make some feel uncomfortable, primarily those without the proper experience handling drills.
That said, the Ridgid chuck is much easier and quicker to use, giving it the edge over DeWalt in that area. It allows for faster bit changing so that you can swap out for a different bit and keep going on the job at hand.
Combo Kits
If you don't have any tools to start with, a cordless combo kit can be a great introduction to cordless power tools. Old school types will tell you that you need to purchase individually so that you can get the best buy for each tool, but it really depends on what you're doing.
Cordless combo kits are great because they all share the same battery type and charger platform. That means no mixing up the batteries or charging stations. This alone can be far more convenient for using as opposed to separate tools.
These kits will generally come with things like an impact driver, drill, reciprocating saw, circular saw, LED light, some batteries, and a charging station. While there is still some debate about the useful ness of cordless circular saws, Ridgid manages to deliver greater precision and bite than the DeWalt counterpart.
DeWalt again gets high marks for the handling and ease of use, though Ridgid's batteries get higher marks for greater life. DeWalt's kits tend to be a bit more expensive than their counterpart but deliver greater precision, bite, and power than Ridgid.
The Verdict
When it comes down to Ridgid versus DeWalt, they are very much comparable. Minor differences here and there will come down to personal preference, but you can't go wrong with either product.
In the end, the lifetime warranty and cheaper price point is likely enough to give Ridgid the win.

Ryan Womeldorf
Ryan Womeldorf has more than a decade of experience writing. He loves to blog about construction, plumbing, and other home topics. Ryan also loves hockey and a lifelong Buffalo sports fan.
More by Ryan Womeldorf
Published August 3rd, 2020 2:37 AM