15 Views
What Are The Pros And Cons Of Living In Vermont?
January 3rd, 2022 11:47 AM
Share
We're committed to finding, researching, and recommending the best products. We earn commissions from purchases you make using links in our articles. Learn more here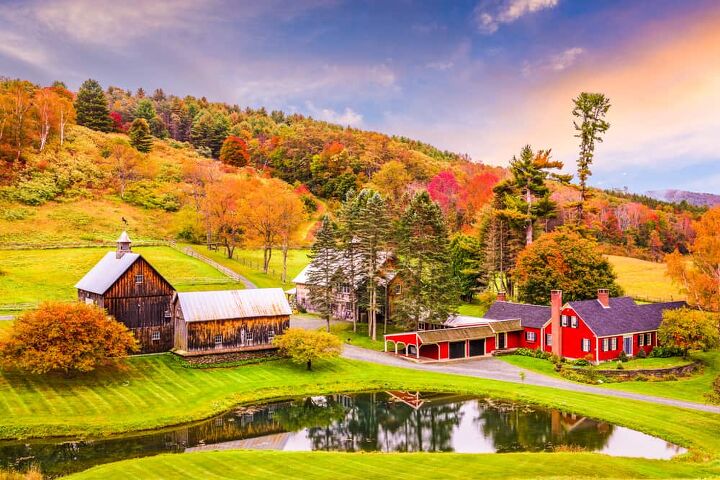 Vermont is the second smallest state population in the United States, with 626,230 people, behind Wyoming. While the most rural state, it's very liberal and boasts the second-highest percentage of women serving in the state legislature. Furthermore, Vermont was also the first state to enact legislation granting marriage to gay couples.
Vermont takes a simple approach to life while offering vast open spaces in a coastal-like community and quality transportation infrastructure. Additionally, Vermont residents are active in politics, but the downside is that they aren't always diverse. Furthermore, winters are harsh, the cost of living and renting is high, and the economy isn't the best.
If you're thinking of moving to Vermont, here are the pros and cons to consider.
Do You Need to Hire Movers?
Get free, zero-commitment quotes from pro contractors near you.
What Are The Pros of Living in Vermont?
The wide, open spaces in Vermont and coastal-like communities are great for those who love nature and the simple life. If you prefer politics to nature, Vermont offers a politically active scene. If transportation is important to you, you will appreciate the well-developed infrastructure for the state's residents who commute.
1. There Are Ample Open Spaces in Vermont to Enjoy.
Even if you live in one of the big cities of Vermont, you will still have room to stretch your legs and enjoy nature. Only the state of Wyoming follows Vermont when comparing population to the rest of the United States. Known as the Green Mountain State, there are hundreds of miles of open space, rivers, and lakes to enjoy.
2. Vermont Still Offers a Coastal Community.
Vermont may be a landlocked state, but residents can still enjoy an environment that replicates a coastal community. This is true if you live near Lake Champlain, where several small towns border its shore. The waterfalls, parks, and forests are always available to explore when you move to Vermont.
3. Vermont Has an Actively Engaged Political Community.
If you move to Vermont, expect politics to be involved in everyday conversation. Most people are engaged with the political system on some level. Furthermore, you won't find someone afraid to share their political views on any topic.
If you aren't used to political conversation, you may be uncomfortable at first. However, it is comforting to know that your neighbors are willing to stand up for what they believe in. Though politics can be divisive, Vermont has some exceptional locals who tend to be very helpful, respectful, and neighborly. Not only do they emphasize tolerance for others, they also have a knack for compromise and working together to yield positive results.
Party Affiliation Amongst Adults in Vermont

Political Affiliation
Percentage of Adults
Republican
4%
Democrat
88%
No Political Lean
8%
You may not share the same beliefs as your neighbor, but there is a strong emphasis on tolerance in Vermont.
4. Vermont Has a Simple Approach to Life.
The residents of Vermont take a simple approach to life. When driving on the highways of the state, you won't notice billboards or other promotional signs. The state legislature passed a law that banned these types of advertisements.
You'll also notice that there are not many malls or outlets. The state prefers supporting local farms and general store shopping. If you need a Walmart, you'll still be able to find it, but there isn't one on every corner.
5. Vermont Has a Well-Developed Transportation Infrastructure.
Vermont has several modes of public transportation available to its residents, and its infrastructure is well-developed. The Amtrak is available to those who live in Rutland, Vermont, and it runs directly into New York City. There are also two national highways that run through the city, as well.
If you have a vehicle, you can get most places in 10 minutes or less. Burlington has an occasional traffic problem, but it's nothing compared to what you would find in the average city. Plus, you mostly find these issues downtown, so if you avoid that area, you may miss them altogether.
If the train or bus isn't available, you can usually navigate smaller cities on a bicycle. Plus, there are always rideshares available.
Vermont Workers vs. United States Transportation Percentage by Type

Type
Vermont
United States
Drive Alone
75.4%
76.3%
Carpool
9.0%
9.0%
Public Transportation
0.9%
4.9%
Bicycle
1.3%
0.5%
Walking
5.2%
2.6%
Taxi, Motorcycle, Other
0.8%
1.3%
Work From Home
7.5%
5.3%
6. The State is Known for its Winter Sports.
From snowboarding and skiing to ice skating and ice fishing, there are tons of winter sports in Vermont. Considering the fact that the state gets quite a bit of snow, this makes sense. With more than 25 ski resorts, skiing is arguably the most popular winter sport to partake in in Vermont. While the winters are harsh, locals know how to take advantage of the fantastic slopes and scenery.
Some of the most notable ski resorts, located in the Western region of the state, are Jay, Stow, Stratton, and Killington. These areas trace along the Appalachian Mountains, extending nearly the entire length of the state. So, wherever you choose to settle in Vermont, you're never too far from some fantastic skiing opportunities.
What Are The Cons of Living in Vermont?
There are many benefits to living in Vermont, such as the open spaces, coastal communities, and simple approach to life. However, there are some disadvantages to living in Vermont, like the harsh winters and the lack of cultural diversity. Vermont also has a high cost of living, renting is expensive, and the economy is not the best.
1. Winters Are Harsh in Vermont.
Vermont is a beautiful state, where summers are cool, and the fall brings changing colors of leaves. Spring is pleasant if you can get past the fog and spring showers, but winter in Vermont can be harsh. There is snow, ice, and cold temperatures that can be a challenge to manage.
In January and February, don't expect the highs to go above freezing. There can be the occasional "warm" spell, but don't count on it. If you want to move here, be sure to invest in the expense of winter clothing.
Average Temperature in Vermont by Month

Month
High (°F)
Low (°F)
January
26.7°
9.3°
February
29.0°
10.9°
March
39.6°
21.8°
April
53.3°
33.6°
May
67.8°
45.2°
June
76.5°
54.7°
July
81.4°
59.8°
August
78.4°
58.1°
September
68.9°
49.9°
October
56.4°
38.9°
November
44.0°
30.3°
December
32.3°
17.3°
2. Vermont Has an Undesirable 'Mud Season'
Locals often make the joke that Vermont has a fifth season, known as mud season. This occurs after winter is over and when all the snow begins to melt. The melting process leads to an excessive amount of mud throughout Vermont. Mud season is brought on by the frozen ground and massive amounts of snow, then exacerbated by the spring rain.
This time of year causes the ground to be a muddy, soggy disaster from late March into early June. Vermont locals must invest in a good pair of waterproof boots and some even have mudrooms to take off their shoes and clean up before entering the house.
3. Vermont Has a High Cost of Living.
One of the most common questions that people ask when considering relocating to The Green Mountain State is: "Is living in Vermont affordable?" The cost of living in Vermont is higher in certain areas than in others. Depending on what you earn, income tax will be up to 9%. If you're a retiree, your Social Security income is also taxed, as well.
With 100 being the national average, the cost of living in Vermont is 95.2. So, while Vermont is slightly more affordable than the national average, it is not cheaper than many other places in the United States.
Cost of Living in Vermont

Cost of Living
Vermont
United States
Overall
95.2
100
Grocery
106.7
100
Health
107.7
100
Housing
88.5
100
Median Home Cost
$204,500
$231,200
Utilities
117.4
100
Transportation
77.9
100
Miscellaneous
100.6
100
4. Renting in Vermont Is Expensive.
The rental market in Vermont can be more expensive because the apartment and condo supply is lower. However, demands are high because of the presence of several colleges. During the average year, the monthly cost for rent is about 30% higher in Vermont than nationwide.
If you choose to live in a more metro area like Burlington, expect higher rent costs. However, if you want to move to a place with fewer people, like Montpelier, the costs may be less. Either way, when you find a rental that you like, grab it quickly because they go fast due to the demand.
Apartment Rental Averages per Month

Rental Property
Burlington
Montpelier
Vermont
United States
Studio
$1,250
$780
$722
$821
One-Bedroom
$1,400
$900
$872
$930
Two-Bedroom
$1,663
$1,200
$1,089
$1,148
Three-Bedroom
$2,175
$1,298
$1,414
$1,537
Four-Bedroom
$3,100
$1,577
$1,548
$1,791
5. Vermont Lacks Diversity.
When you move to Vermont, you will find that it is not culturally diverse. You will find some young people in the area due to the colleges; most people leave to pursue other opportunities. If you are looking for more culturally diverse cuisine, that will also be difficult to find.
Race and Ethnicity Averages

Race and Ethnicity
Average Population Percentage
White
93.0%
Black or African American
1.2%
American Indian and Alaskan Native
0.3%
Asian
1.7%
Native Hawaiian and Other Pacific Islanders
0.0%
Other Race / Two or More Races
1.9%
Hispanic or Latino (Of Any Race)
1.9%
There isn't much of a nightlife in Vermont, either. A significant percentage of the people that live in Vermont are older. However, there are some neighborhood bars if you're interested in a drink and engaging with the regulars.
Population of Vermont by Age

Age
Population Percentage
Under 5 Years Old
4.7%
5 – 17 Years Old
14.2%
18 – 24 Years Old
10.7%
25 – 34 Years Old
11.7%
35 – 54 Years Old
25.1%
55 – 64 Years Old
15.4%
65 Years and Over
18.2%
6. The Economy in Vermont Isn't the Best.
When you move to Vermont, you'll notice that some areas are thriving, but other places don't have many job opportunities. Like much of the United States's eastern seaboard, cities like Rutland have been hit hard by the opioid epidemic. Because of this, many households work seasonal jobs instead of full-time employment.
Before moving to Vermont, you'll want to make sure you can find a job in the area that interests you. You may have to do some research beforehand to ensure that your area has the best job opportunities.
---
Related Questions
What is the education system like in Vermont?
In Vermont, there are public and private schools as well as public and private colleges. Vermont is in the top five for the percentage of residents with high school diplomas, 91%. For undergraduate degrees and graduate degrees, Vermont places in the top 10 nationally for both.In Vermont, there are 183 public school districts, and 86,062 students split between 309 schools. The average classroom size is 11.8, lower than the national average, 16. The state spends about $12,800 per student.  
What is crime like in Vermont?
The crime medians for Vermont are lower than the national average across the board. Vermont is consistently ranked in the top five safest states in the country. Overall, there is little crime, both property and violent, in the state.Vermont's violent crime rate is 1.72 incidents for every 1,000 people, below the national rate of 4. Vermont's property crime rate is 12.83 incidents for every 1,000 people, and the national median is 24. Per square mile, there are 5 crimes in Vermont versus the national median, 31.1
Do You Need to Hire Movers?
Get free, zero-commitment quotes from pro contractors near you.
What Did We Learn?
If you appreciate lots of land, a coastline, and a simple approach to life, Vermont could be for you. The transportation infrastructure is well-developed, and the people are politically active. But don't let this deter you; residents of Vermont are always open to conversation, no matter what your beliefs are.
There are some disadvantages to living in Vermont; winters are harsh, so be prepared to weather the season and after. You will also need to devote monetary responsibilities to the season. This can be difficult as the cost of living and rental prices are already high, and the economy isn't great.
Vermont's pros and cons may not be for everyone, but it can be a good area for families. The schools are good, and the crime rates are low. The opportunities could be great in Vermont, and the residents are ready to welcome you.
Related Articles

Stacy Randall
Stacy Randall is a wife, mother, and freelance writer from NOLA that has always had a love for DIY projects, home organization, and making spaces beautiful. Together with her husband, she has been spending the last several years lovingly renovating her grandparent's former home, making it their own and learning a lot about life along the way.
More by Stacy Randall
Published January 1st, 2021 6:00 PM