28 Views
What Are the Pros And Cons Of Living In Oregon?
April 24th, 2021 4:27 PM
Share
We're committed to finding, researching, and recommending the best products. We earn commissions from purchases you make using links in our articles. Learn more here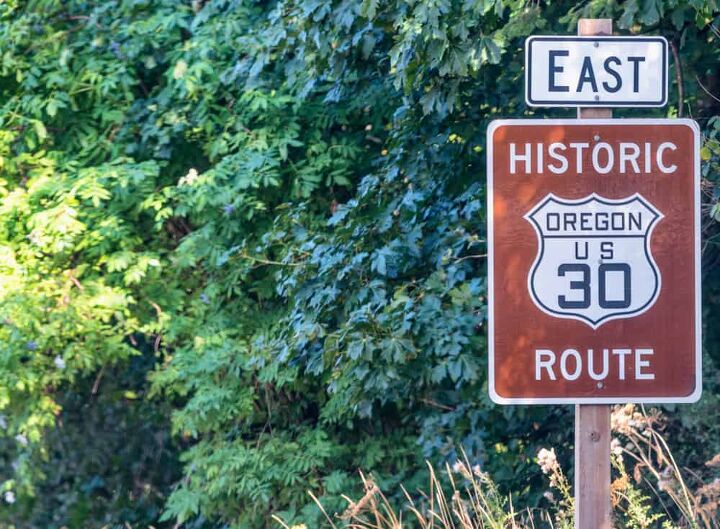 Oregon is one of the most expensive places to live in the United States. But, many also consider it to be one of the most beautiful, with striking natural and man-made wonders. Over 4.3 million people call The Beaver State home, but is it right for you?
Oregon boasts incredible sights, a fascinating wild-west history, and beautiful weather. But, it's also an expensive place to live with a hefty income tax rate. Still, depending on the city you call home, you could end up finding the best of both worlds.
If you can overlook the high cost of living and hefty tax burden, Oregon rewards you with lush natural splendor. Plus, it's a match made in Heaven for the outdoor enthusiast, but is it a practical place to live? To answer that question, you need to consider the pros and cons of living in Oregon.
Do You Need to Hire Movers?
Get free, zero-commitment quotes from pro contractors near you.
The Benefits of Living in Oregon
No sales tax, gorgeous scenery, and a strong economy are just a taste of Oregon's good points. Here's a look at the benefits of living in the Beaver State.
1. Oregon Doesn't Have Sales Tax
Wouldn't it be nice to buy something at the store and only pay the item's exact price? Well, in Oregon, you can do just that because the state doesn't charge a sales tax.
Oregon is one of only five states in the US that doesn't collect a sales tax. The other four states are Alaska, Delaware, Montana, and New Hampshire.
2. Oregon Residents Are Happier
In the recent 2019 Gallup-Sharecare poll, Oregon was toward the top of the list on the well-being index. In fact, Corvallis, OR, ranked in the top five for physical, financial, and overall well-being.
Overall, Oregon residents are happy with life in their state and claim it's one of the best places to live. In fact, the entire state came in at number 5 out of 50 in the Well-Being Index.
3. Oregon Has Stunning Natural Beauty
As you may have already guessed, Oregon abounds with stunning scenery, natural wonders, and incredible views. There are lush forests, impressive rock formations at Smith Rock State Park, rushing waterfalls, and the majestic Mount Hood.
Of particular note is Crater Lake, which rests in an actual volcanic crater and is surrounded by cliffs. The lake is crystal clear and awe-inspiring, as are many of the scenic landmarks throughout the state.
Consequently, Oregon residents are incredibly proud of their state's natural beauty, working hard to keep it pristine. Therefore, many residents opt to bike whenever possible, and you'll be hard-pressed to find any litter on the street.
4. Oregon Features a Great Mix of Interesting Cities
Oregon features a rich history full of wild-west excitement and tales of the Oregon Trail. This storied past comes through in the over 200 ghost towns that pepper the state. But, it's not all about the past; Oregon has many trendy cities worth visiting.
Jacksonville has been dubbed one of "America's Top 10 Coolest Small Towns" by Frommers. Oregon's most populous city, Portland, showcases a vibrant art scene, microbreweries, and a quirky flair.
Here's a glimpse at Oregon's 10 largest cities and just a few of the things that makes them so enticing.
| | | |
| --- | --- | --- |
| City | Population | Things to Do |
| Portland | 664,103 | International Rose Test Garden, Portland Japanese Garden, Washington Park, Pittock Mansion, Craft Breweries, Portland Art Museum |
| Salem | 179,944 | Oregon State Capitol, Enchanted Forest Theme Park, Salem's Riverfront Carousel, Riverfront Park, Honeywood Winery, Elsinore Theatre |
| Eugene | 178,329 | Cascades Raptor Center, Willamette River Bike Trail, University of Oregon, Mount Pisgah, Eugene Saturday Market, King Estate Winery |
| Hillsboro | 112,489 | Rice NW Museum of Rocks and Minerals, Roloff Farms, Rood Bridge Park, Oregon International Air Show, Jackson Bottom Wetlands Preserve |
| Gresham | 109,216 | Oxbow Regional Park, Mt. Hood Community College Planetarium, Gresham Japanese Garden, Zimmerman House Museum and Gardens |
| Bend | 105,418 | High Desert Museum, Tumalo Falls, Newberry National Volcanic Monument, Lava Lands Visitor Center, Mt. Bachelor Ski Area, Lava River Cave |
| Beaverton | 99,102 | Tualatin Hills Nature Park, Uptown Beer Co., Art on Broadway, Cinetopia Progress Ridge 14, Jenkins Estate, Cooper Mountain Nature Park |
| Medford | 84,397 | Rogue River, Upper and Lower Table Rock, DANCIN Vineyards, Natural Bridge Loop, Medford Rail Park, EdenVale Winery, Diamond Lake |
| Springfield | 64,717 | The Official Simpsons Mural, Dorris Ranch, Springfield Museum, Clearwater Park, Splash! at Lively Park, Helfrich River Outfitters |
| Corvallis | 61,027 | Corvallis Farmers' Market, William L. Finley National Wildlife Refuge, Oregon State University, Peavy Arboretum, Bald Hill Natural Area |
5. Oregon Is a Haven of Outdoor Recreation
You can't have all of these incredible natural wonders and not be a favorite of outdoor enthusiasts. How many places can you both ski and surf within days of each other? If you love outdoor recreation, then Oregon is one of the best places to be. You can hike, bike, explore lava caves, see glaciers, surf, ski the slopes, whitewater raft, and much more.
6. It's Legal to Use Recreational Cannabis
If you are so inclined, you can kick back at home and smoke it up free and clear. Oregon has fully legalized the use of recreational cannabis.
7. Oregon Has a Strong Economy
Oregon is the 6th fastest-growing state in the USA, which means an increasingly booming population. This increase tends to create more jobs, which in turn boosts the economy. Oregon's average annual income is about $75,000, which is roughly $10,000 more than the national average.
The Cons of Living in Oregon
1. Oregon Has a Slightly Higher Crime Rate
Of course, it varies based on the city, but overall, Oregon's crime rate is slightly higher than many other states. Oregon experiences roughly 11,966 violent crimes a year and 121,278 property crimes. Here's a glimpse at the crime rates in some of the largest cities in Oregon.
| | | |
| --- | --- | --- |
| Place | Violent Crime | Property Crime |
| Oregon Overall | 1 in 350 | 1 in 35 |
| Portland | 1 in 190 | 1 in 18 |
| Salem | 1 in 236 | 1 in 24 |
| Eugene | 1 in 254 | 1 in 31 |
| Hillsboro | 1 in 378 | 1 in 52 |
| Bend | 1 in 571 | 1 in 46 |
2. Oregon Has One of the Highest Income Tax Rates
Although one of Oregon's pros is no sales tax, unfortunately, the income tax burden is one of the nation's highest. It ranges from 5% to 9.9%, based on income.
3. Oregon's Cost of Living Is Higher Than Most States
Even though Oregon's average income is higher than that national average, the cost of living is also very high. With the exception of utilities and healthcare, pretty much everything costs more in Oregon. For example, Oregon's gas prices are roughly $2.58/gallon, compared to the national average of $2.19/gallon.
This higher cost of living is especially true when it comes to housing costs. Almost every major city in Oregon has a median home price well above the national average of $342,000. Additionally, most rents are also above the national median cost of $1,078.
| | | |
| --- | --- | --- |
| Place | Median Home Price | Median Monthly Rent (1BR) |
| Oregon | $356,636 | $1,530 |
| Portland | $464,971 | $1,395 |
| Salem | $304,192 | $998 |
| Eugene | $366,601 | $925 |
| Hillsboro | $391,545 | $1,363 |
| Gresham | $319,199 | $1,225 |
| Bend | $458,694 | $1,638 |
4. Students in Oregon Have Slightly Lower Test Scores
Students' test scores are lower than the national average, and there is a high teacher to student ratio. Still, more students in Oregon earn a high school diploma or college degree than the national average.
5. Health Care Quality in Oregon Is Slightly Lower Than Other States
Oregon doesn't fall in the bottom 10, but it isn't in the top 10 either for healthcare. According to the US Department of Health and Human Services National Healthcare Quality and Disparities Report, here's how Oregon's doing.
| | | |
| --- | --- | --- |
| Healthcare Feature | Performance | Trend |
| Patient Safety | Weak | Same |
| Person-Centered Care | Average | Slightly Improving |
| Care Coordination | Average | Declining |
| Effective Treatment | Average | Approaching Strong |
| Healthy Living | Average | Slightly Improving |
| Structural Access | Weak | Major Decline |
---
Related Questions
What are Oregon's college opportunities?
If you plan to pursue higher education in Oregon, you have many options, including both public and private universities. Some choices of public institutions are Oregon State University, the University of Oregon, and the Oregon Institute of Technology. For a private four-year college experience, there are Lewis and Clark College, George Fox University, and the University of Portland. There are also two-year programs like the public Blue Mountain Community College or the private American College of Healthcare Sciences. Of course, these are just a small sampling of the over 80 colleges and universities throughout the state.
What is Oregon's average cost of living compared to Washington?
Although Oregon has a high cost of living, it's less expensive than its neighboring state, Washington. When comparing Portland, Oregon to Seattle, Washington, Washington is roughly 31.7% more expensive. The biggest reason for this gap is the median home cost, which is almost $300,000 higher in Seattle.To look at it another way, consider this example. If you made $70,000 a year in Oregon, comparing apples to apples, you would make about $97,300 in Washington.
Do You Need to Hire Movers?
Get free, zero-commitment quotes from pro contractors near you.
What Did We Learn?
Overall, Oregon is a great place to live, especially if you love the great outdoors. However, you need to prepare for a higher cost of living, especially in certain cities like Portland and Bend.
Although the crime rate is slightly higher than the nation's average, and healthcare slightly lower, the differences aren't huge. Plus, Oregon residents appear very happy with their state, so it looks like the pros far outweigh the cons.
Related Articles

Stacy Randall
Stacy Randall is a wife, mother, and freelance writer from NOLA that has always had a love for DIY projects, home organization, and making spaces beautiful. Together with her husband, she has been spending the last several years lovingly renovating her grandparent's former home, making it their own and learning a lot about life along the way.
More by Stacy Randall
Published January 1st, 2021 6:00 PM