899 Views
20 Pros And Cons of Living In Maine (from a Real Resident)
February 1st, 2022 6:44 PM
Share
We're committed to finding, researching, and recommending the best products. We earn commissions from purchases you make using links in our articles. Learn more here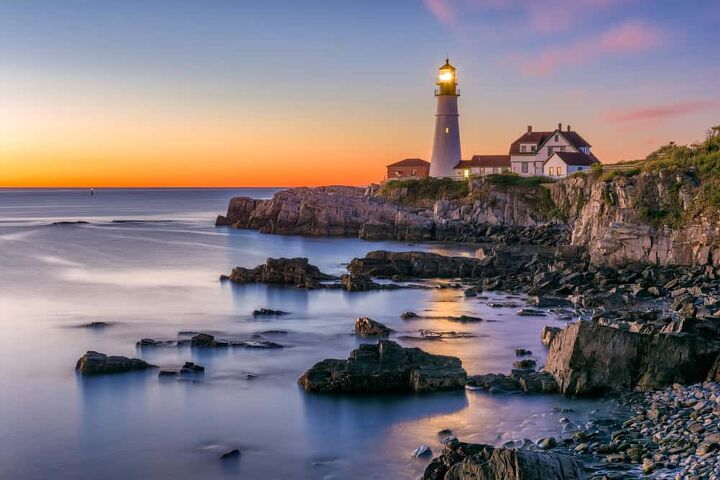 Maine is the northernmost state on the East Coast, and to a point, often is regarded as a cousin of Canada. There's no denying that living in Maine is a deep culture clash for most people in the Northeast and Mid-Atlantic, but that isn't always a bad thing. The state's lifestyle is actually pretty highly regarded. But, is it actually a good place for YOU to move to?
Maine is home to over 1,300,000 people and is known as the Pine Tree State. While forests almost completely cover the state, it's got much more than that to offer. Any Mariner in Maine will agree, as they provide over 90% of the nation's lobster supply.
Maine has fresh seafood, low employment rates, a beautiful coastline, and is a charming and safe place to live. The state can also pose some downsides as homeownership is expensive, winters are harsh, and there is minimal entertainment. Maine is also less diverse than other states and leans more towards retirees than younger people.
This super northern state might have a lot of pretty sights to see, but it's not for everyone. This guide will give you a better idea of what to expect when you decide to travel up here and call it home. If you're thinking of moving to Maine, here are the pros and cons to consider.
Do You Need to Hire Movers?
Get free, zero-commitment quotes from pro contractors near you.
Benefits of Living in Maine
Maine is abundant with fresh seafood and has a beautiful coastline. The employment rate is exceptionally low in a state full of hospitality and charm with little crime. Let's take a look at all the qualities that make Maine a worthwhile state to call home.
1. Maine Has Incredible Fresh Seafood
Maine is known for its abundance of fresh seafood. The state harvests about 40 million pounds of seafood a year while still maintaining the underwater ecosystem. 90% of lobster available for purchase in the United States comes from Maine.
Thanks to the state's proximity to the Atlantic Ocean, lobster isn't the only fresh seafood available in Maine. When in Maine, ample seafood options are available to you. Some of the best food comes from small dives and sometimes even straight off of the boat.
2. Maine Has a Very Low Unemployment Rate
Maine is close in distance to Boston, New York City, and other significant areas in New England. Because of this, it's easy to find a job in the state. The unemployment rate typically stays below 3%.
Occupational therapists and nurse practitioners are in high demand here as healthcare jobs are the most prevalent in the state. Most high-paying jobs in Maine are in the medical field, but there are also employment opportunities in software development and mechanics. Furthermore, Maine's minimum wage is $12 per hour compared to $7.25, which most other states offer.
Employment Industries in Maine by Percentage

Industry
Percentage of Population
Healthcare
17.2%
Retail
13.2%
Education
10.6%
Manufacturing
9.0%
Accommodation
7.0%
Construction
6.9%
If you live in Maine, you can make a decent living pursuing a job you love.
3. Maine Is Full of Hospitality and Charm
Maine has a level of hospitality and charm that isn't always prevalent in other states in New England. This could be because Maine is one of the oldest states in the country. While it isn't the same kind of charm found in the South, it's more laid back than other New England states.
In Maine, the people are casual and rarely in a hurry to get much done. With the abundance of forests, outdoor activities are always available; it's easy to love the state.
4. Maine Has a Beautiful Coastline
The coastline of Maine consists of over 5,000 miles of terrain to visit. You can explore these forests, and the cliffs are easy to enjoy. There are also offshore islands to visit.
You can view incredible sunrises in the mountains and see gorgeous sunsets over the Atlantic. There's always an isolated stretch of beach where you can decompress and listen to the waves. The coastline is one of the most beautiful areas in the United States, a big advantage to living in Maine.
5. Maine Is One of the Safest Places to Live in the United States
Maine is the place to live if you don't want to worry about letting your children go outside to play. Safety is paramount in this state, and some residents feel so comfortable that they don't lock their doors. Maine residents look out for one another, making the state one of the safest in the United States.
Maine vs. the United States Violent Crime Rate Per 1000

Location
Murder
Rape
Robbery
Assault
Maine
0.02
0.33
0.17
0.60
United States
0.05
0.43
0.86
2.47
6. Excellent Parks
Rolling mountains, placid streams, and plenty of forest trails? It's part of the package when you choose to live in Maine. This state is nicknamed the Pine State simply because there are so many trees and forests here. Many people find it hard to ignore the fresh smell of evergreens on fall days here.
Most people who come to Maine on vacation are blown away by how incredibly pretty it is. It's a unique charm that has a very "blast from the past" vibe that reminds people of simpler times. If that's the kind of thing you're into, then Maine is a perfect place to be.
7. No Traffic Issues
Maine is very rural, which means that there is no such thing as "rush hour" here. Finding parking is a cinch, even in the most populated parts of the state, too. With that said, there isn't much of a public transit system outside of Portland, which means that you will need to have a car here to get by.
8. Super Safe Streets
Many parents want to make sure their children grow up in a place without gangs or violence. In Maine, that kind of issue is never a concern. This is one of the safest states in the nation when it comes to both violent crime and property crime. Along with having a very active police force, Maine also tends to have towns where everyone knows everyone. Both factors make pulling off a crime pretty hard.
9. Relaxed Neighbors With Plenty of Space
If you have ever lived in a big city, then you already know how bad it can be to have a neighbor who gets all up in your business. Thankfully, this is not a thing that you have to worry about in Maine. Maybe it's the spread out lay of the land or just the culture in general, but people here are a "live and let live" type of people.
10. A Higher Minimum Wage
If there's one thing that workers will enjoy about Maine, it's the higher wages. Currently, Maine's minimum wage is a very respectable $12.75 per hour. This puts it at almost double the federal minimum wage of $7.25, and also makes it one of the better paying states in the union for people who work minimal wage jobs.
Cons of Living in Maine
The benefits are vast in Maine with the fresh seafood, ample job opportunities, charm, a beautiful coastline, and low crime rate. However, Maine does have some downsides, like the high cost of owning a home and the lack of young professionals. Harsh winters, little diversity, and scarce entertainment are also a disadvantage to living in Maine.
1. High Home Prices
If you want to move to Maine, you're going to pay for more than the average American does. The cost of a house is about $40,000 higher than the national average. If you prefer to rent, you can expect to pay about $1,900 a month.
Rental Averages in Maine Per Month

Rental Property
Maine
United States
Studio Apartment
$850
$821
One-Bedroom
$1,408
$1,216
Two-Bedroom
$1,610
$1,343
Three-Bedroom
$1,991
$2,000
If you want the best value in Maine, you should find a one-bedroom apartment in Augusta. This city in Maine is less expensive than others, and some places are as low as $600 per month. If you choose to live in cities like Warwick or Portland, rentals are more expensive, at least $1,200 per month.
2. Maine Favors Retirees Over Young Adults
If you're a young professional looking to move to Maine, you may be disappointed. The average person living in Maine is 44 years old. This could be due to the cost of living and the slower pace of life prevalent across the state.
Population of Maine by Age

Age
Population Percentage
Under 5 Years Old
4.8%
5 – 17 Years Old
14.3%
18 – 24 Years Old
8.3%
25 – 34 Years Old
11.7%
35 – 54 Years Old
25.8%
55 – 64 Years Old
15.7%
65 Years and Over
19.4%
If you're looking for a booming social scene to network with other young people, Maine isn't the state for you. Of course, if you're a retiree, then this particular point isn't a drawback at all.
3. Winters Are Harsh in Maine
If you like a warmer climate, Maine's weather is going to be difficult for you. The winters are cold, long, and harsh. In the summer months, there are few days of truly warm weather.
Considering how far up north Maine really is, it's not surprising that the state is prone to arctic blasts during the winter. High levels of snowfall and regularly low temperatures make Maine a nightmare during the winter months. The amount of snowfall a typical state in America gets is around 28 inches.
In the better parts of Maine (at least when it comes to snow) you can expect an average of 50 to 70 inches of snow. Instate, away from the coasts, that number is far higher. Most inland Maine winters will have between 90 to 110 inches per year. To make matters even worse, the average low temperature is going to be around 12 degrees Fahrenheit during the winter.
Average Temperature in Maine by Month

Month
High (°F)
Low (°F)
January
30.9°
12.5°
February
34.1°
15.6°
March
42.2°
25.2°
April
52.8°
34.7°
May
63.3°
44.2°
June
72.8°
52.9°
July
78.8°
58.6°
August
77.3°
57.2°
September
68.9°
48.5°
October
57.9°
37.4°
November
47.1°
29.5°
December
36.4°
18.7°
Some cities in Maine have an average temperature of 13 degrees Fahrenheit in December and January. In March, you can expect several feet of snow. Sometimes, the snow can even keep you in your home for several days because there's too much to manage.
4. Maine Doesn't Have Much Diversity
Over the years, not much has changed in Maine, and people do most things the same way they always have. There is not much diversity in Maine, which means that most people do the same things every day. Consequently, if you want ethnic cuisine, it's not readily available.
Race and Ethnicity Averages

Race and Ethnicity
Average Population Percentage
White
93.4%
Black or African American
1.3%
American Indian and Alaska Native
0.6%
Asian
1.1%
Native Hawaiian and Other Pacific Islanders
0.0%
Other Race / Two or More Races
2.0%
Hispanic or Latino (Of Any Race)
1.6%
5. No Entertainment Options
Don't get us wrong. Maine is a beautiful place that has its own unique retro charm, and if you love the outdoors, it's a perfect little Shangri-La. However, when it comes to commercial and paid entertainment, you're going to have a bad time. Maine doesn't really have a nightlife scene to speak of, nor does it have amusement parks or too many museums.
A lot of people find it hard to keep busy in Maine, and that means that it can get pretty dull here. While it's charming in its own right here, the truth is that it can feel outdated as a result of the lack of interesting things to do.
Check out our guide: Abandoned Places in Maine
6. Low Salaries
While the unemployment rate is pretty impressive, it's important to note that most of these jobs don't pay very well. Maine has a low average salary of $28,300 per person. This means that you will probably work for less than $15 per hour, which in turn, can make making ends meet a hard thing to do.
With that said, if you can secure a high-paying job before you move in, you will find the overall cost of living to be very generous. Moreover, if you have a dual-income home, it's going to be even easier to make ends meet.
7. Slow Internet
Due to infrastructure issues that plague the state, it's often hard to get reliable and speedy internet service. This is especially true if you live in a rural area. Even in areas of Portland, it's possible that you won't have the speeds that you are used to having in areas like New Jersey or Texas.
8. Not Much Food Diversity
While it's true that over 40 million pounds of seafood come from Maine every year, not every day is going to be a day you want to eat lobster. Unfortunately, most parts of Maine are fairly provincial when it comes to the nature of their
Exotic cuisines like pho and Ethiopian fare are not going to be available to most people who live here. As long as you stick to pizza, all-American fare, and seafood, you should be alright. If you're a foodie? Well, you'll probably be disappointed in most parts of the state.
9. Not Much To Do
Unless you are a huge fan of hiking and the great outdoors (which is fine, by the way), the truth is that you're going to have a hard time with entertainment. Few malls exist in Maine, and even fewer amusement parks. Fans of nightlife might have to go across the border to Canada before they can find something decent.
Needless to say, many people have a deep reliance on the local community if they want to get thrills in. It isn't for everyone, that's for sure.
10. Random Strange Laws
Maine is one of those states that is famous for its bizarre blue laws. These are laws that don't really make much sense, or are from a time long ago that don't quite make much sense. Unlike in most states, you can get fined for these laws, as they are occasionally enforced.
For example, you can get fined if you keep your Christmas lights up past January 14. Oh, and if you're in one particular town, you also can get penalized for parking in front of a Dunkin' Donuts. (We don't know how that law came about, and we don't really want to know.)
---
Related Questions
Is it expensive to live in Maine?
Maine is one of the many states that has a remarkably average cost of living across the board. A recent study showed that Maine scored a 96.5 on the cost of living scale, with 100 being the average score. This means that most of the expenses you'll incur in Maine will be slightly below the national average, but still within the range of what a typical price would be.
Do You Need to Hire Movers?
Get free, zero-commitment quotes from pro contractors near you.
What Did We Learn?
If you are older and want to live in a state with a small-town feel, Maine is the place for you. The laid-back way of life and easy access to the coastline are advantages that make Maine approachable. From the fresh seafood to the state's safety, there are multiple reasons to move to Maine.
Although there are some disadvantages to living in Maine if you're a young professional, there are ways to become assimilated. If you're concerned about affording the cost of living, there are multiple ways to enjoy the state without spending much. The state offers sites that are unlike anywhere else in the nation.
The pros and cons of Maine will require newcomers to embrace a different lifestyle than they're used to. However, if you're ready for a change, there are many opportunities to start a new life in Maine. The residents will welcome you and give you a taste of southern hospitality in New England.
Related Articles

Stacy Randall
Stacy Randall is a wife, mother, and freelance writer from NOLA that has always had a love for DIY projects, home organization, and making spaces beautiful. Together with her husband, she has been spending the last several years lovingly renovating her grandparent's former home, making it their own and learning a lot about life along the way.
More by Stacy Randall
Published February 23rd, 2021 9:20 AM