20 Views
What Are The Pros And Cons Of Living In Hawaii?
April 24th, 2021 4:22 PM
Share
We're committed to finding, researching, and recommending the best products. We earn commissions from purchases you make using links in our articles. Learn more here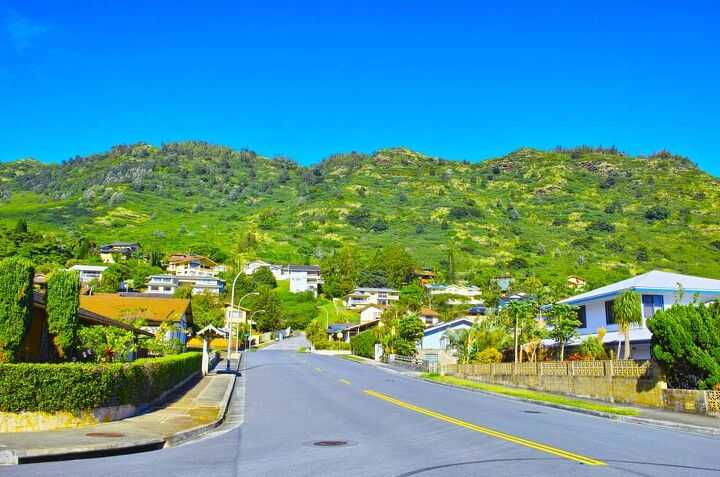 You can call it paradise, the Aloha State, or Hawaii, but 974,563 people call it home. Hawaii consists of several islands that are each unique in their own right as far as the benefits that they have to offer. Of course, you won't find anywhere to live that isn't without its flaws, and that applies to Hawaii.
Living in Hawaii means that you'll have access to beautiful weather, gorgeous beaches, and unforgettable wildlife. Unfortunately, crime is rampant in some parts of Hawaii, and the high cost of living fuels that. The tourism industry has helped build Hawaii to what it is, but the sea of tourists can be frustrating for residents.
Living in Hawaii doesn't always feel like paradise, but it certainly has its upsides. Let's take a look at the pros and cons of living in Hawaii.
Do You Need to Hire Movers?
Get free, zero-commitment quotes from pro contractors near you.
Benefits of Living In Hawaii
Living in Hawaii means that you'll encounter gorgeous and colorful plant-life, as well as clear water and beautiful beaches. The impeccable weather is simply the cherry on top of living in the Aloha State, and that's one of its main appeals. Follow along as we dive into some of the key benefits that residents of Hawaii are lucky to live with
1. Beautiful Beaches
You can't think of Hawaii without picturing the clear water and gorgeous beaches. Hawaii is home to over 100 beaches that are each unique and breathtaking in their own right. Kauai, Oahu, and Maui in particular are known for their amazing beaches.
There are 8 main islands in Hawaii that all sport many beaches of their own. Beaches are not the most desirable in months like December, but Hawaiians visit them all year. Similar to the cost of living in Florida, it is worth every penny to live in Hawaii just for the beaches alone.
2. Great Weather
Hawaiians don't experience the four seasons in the way that the east coast or Midwest does. Instead, you get idyllic and comfortable spring and summer-like weather all year, and that never gets old. It does not dip below 52 °F in Hawaii, and it rarely exceeds 95 °F making it comfortable year-round.
You may not get traditional snow in Hawaii, but it does snow ash occasionally. Hawaii is home to 4 active volcanoes, but eruptions are few and far between. Rainfall is rare in some areas of Hawaii, like Mauna Kea, and excessive in others, like Big Bog.
Rainfall can be as minuscule as 8" per year, or as excessive as 404" per year in windward mountains. Don't consider the rain to be a deterrent, however, as the rainfall in Hawaii gives way to lush greenery.
3. Entertainment
There is no shortage of fun times to be had in Hawaii, and much of that comes from museums. One of the best destinations in Hawaii is the Iolani Palace which costs $21.75 and $6.25 for children. Hawaii has an incredible history, and you can have fun learning about it at any of the many museums.
If you have an eye for astronomy, the Imiloa Astronomy Center of Hawaii is amazing and costs $12-$19. Free entertainment includes the Hawaii State Art Museum which is free for kids and adults alike. However, a lot of the best times you can have in Hawaii are entirely free of charge.
| | |
| --- | --- |
| Entertainment | Average Price |
| Iolani Palace | $21.75 (Adults) $6.25 (Kids) |
| Imiloa Astronomy Center of Hawaii | $19 (Adults) $12 (Kids) |
| Hawaii State Art Museum | Free |
The highest-rated beach in Hawaii is Waikiki Beach, and you can have a blast without spending a dime. If you enjoy hiking, you won't find many trails as unique as the Makapu'u Point Lighthouse Trail. With so much gorgeous nature surrounding you, having a good time in Hawaii doesn't always mean spending money.
4. Tourism Industry
While the influx of tourists can be annoying for residential Hawaiians, it creates a strong economy. The number one form of employment in Hawaii is working in the tourism industry. This includes travel agents, hotel and resort staff, and tour guides.
In 2010, there was a tourism boom in Hawaii that resulted in the creation of 150,000 more jobs. Last year, the state of Hawaii earned $2.07 billion in income directly from the tourism industry. There are only 974,563 people in Hawaii, and 216,000 of them have jobs related to tourism.
5. Beautiful Scenery
Aside from the 100 plus beaches, you can find in Hawaii, each corner of the unique state offers beauty. There are currently 50 state parks in Hawaii that each signifies different aspects of Hawaii's unique history and scenery. Not to mention, there are 5 national parks in Hawaii, such as the National Historic Trail, that are recognized for their unbeatable views.
Hawaii is notable for its tropical climate, and it contributes to the growth of wildlife exclusive to Hawaii. Plants native to Hawaii include the Plumeria, Heliconia, and the state flower, the Yellow Hibiscus. You don't have to travel far through Hawaii before catching a glimpse of these uniquely Hawaiian plants.
Downsides of Living In Hawaii
A state as seemingly perfect as Hawaii can't be without its faults, right? The cost of living in Hawaii is the state's biggest deterrent, and that begins with high housing costs. Let's closely examine some of the aspects of living in Hawaii that can be slightly off-putting.
1. High Housing Prices
It's a miracle that 56.2% of Hawaiians own their homes when you consider the high housing prices. The median home value in Hawaii is $678,200, and that comes with $2,607 in monthly ownership costs. Compared to the also high $1,745 average monthly rent, owning a home in Hawaii is difficult to afford.
You won't find utility bills higher than they are in Hawaii, and homeowners spend $608 per month between bills and repairs. Hawaii softens the blow by offering a 0.28% property tax rate, and that's the lowest in the United States. Even though rent is almost $900 less than monthly ownership costs, Hawaii's median rent is still far above the national average.
| | | |
| --- | --- | --- |
| Location | Median Home Value | Median Gross Rent |
| Hawaii | $678,200 | $1,745 |
| Florida | $215,300 | $1,175 |
| Texas | $172,500 | $1,045 |
| United States | $217,500 | $1,062 |
As you can expect, building a house in Hawaii is also expensive. Small family homes with simple plans generally cost $250 per square foot in construction costs. The one benefit of building a home in Hawaii is that it can generally appreciate in value quickly.
2. High Crime Rate
Crime is high in the Aloha State, and state politicians pin a lot of that on substance abuse problems. Sadly, there are high crime rates for both violent and property crimes in Hawaii. Crimes occur at a rate of 3,628 per 100,000 residents in Hawaii, and over 50% of residents feel at risk of robbery.
There were 1.2 million violent crimes in Hawaii in 2018 alone, and the trend has continued. For every 1,000 residents, there are 40 crimes in Hawaii, and the odds are not good. It's easiest to avoid crime in places like Mahaweli, Kilauea, and Mililani Town where crime is not as widespread.
Hawaii has many particularly dangerous cities, such as Kapaa, Kahului, and Napili-Honokowai. Each of the aforementioned cities is beautiful in its own right, but you are at high risk for crime. Even iconic staples of Hawaii, such as Honolulu face extreme crime rates, and danger is always present.
3. Bad Public Education System
In the United States, most states have public education systems that are run by municipalities and divided up. That is not the case for Hawaii, and that has led to the state developing a bad public education system. Many public schools in Hawaii lack the funding that they truly need, and that causing overcrowding and understaffing.
There are currently only 283 public schools in Hawaii, and elementary schools are well regarded. Public high schools are not received as well in Hawaii. The alternative is private education, but the average $12,672 per year tuition is a lot to take on as a parent.
If you have to send your kids to private high school, tuition costs soar to $15,483 per year. Despite some education problems, 91.1% of Hawaiians have graduated high school or beyond.
4. High Transportation Costs
Getting around Hawaii can be an expensive feat, and that's a downside of living in the Aloha State. Gasoline costs $3.45 per gallon or more in Hawaii, and trips to the pump are pricey. The average American driver uses 656 gallons of gasoline per year, and that can add up to $2,263 in Hawaii.
Full coverage car insurance is also expensive in Hawaii and averages $1,228 per year. Of course, premiums go up based on location, gender, and age which are all factors in Hawaii. Taking public transportation is the most affordable option in Hawaii if it is available near you.
| | |
| --- | --- |
| Transportation Cost | Average Price |
| Gasoline | $3.45 Per Gallon |
| Full Coverage Car Insurance | $1,228 Per Year |
| One-Way Bus Pass | $2.50 |
| Train Pass | $2.75 |
A single ride on the bus costs $2.50 for adults but states like Oahu offer month passes. Rail travel is new to some areas in Hawaii, and tickets can be found for $2.75 per rider. All in all, there are affordable transportation options, but driving is certainly no cheap feat in Hawaii.
Do You Need to Hire Movers?
Get free, zero-commitment quotes from pro contractors near you.
Summing It Up
Hawaii is a great place to live, but it is exorbitantly expensive. The price to pay for all of the beauty and entertainment at your disposal is a high cost of living. Similar to the cost of living in Salt Lake City, sometimes you have to pay a lot for a great climate.
Luckily, there are many employment opportunities for the strong tourism industry in Hawaii. All in all, living in Hawaii is worth the quality of life that it affords. If you can afford the high cost of living, making the move to Hawaii is something that you won't soon regret.
Related Articles

Nick Durante
Nick Durante is a professional writer with a primary focus on home improvement. When he is not writing about home improvement or taking on projects around the house, he likes to read and create art. He is always looking towards the newest trends in home improvement.
More by Nick Durante
Published January 1st, 2021 6:00 PM