108 Views
What Are The Pros And Cons Of Living In El Paso, TX?
July 30th, 2021 4:12 PM
Share
We're committed to finding, researching, and recommending the best products. We earn commissions from purchases you make using links in our articles. Learn more here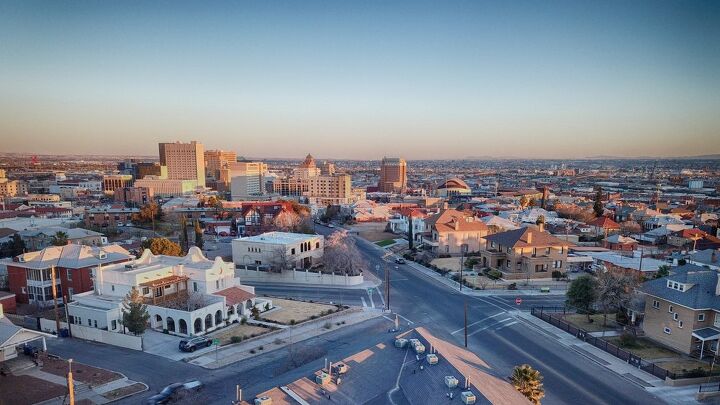 Texas is known for its wide variety of cultures, styles and people. It's Southern charm and economically booming cities bring in people from all over. Whether they are chasing a job, coming for education, or looking to start a family, they find the resources they need.
El Paso is located on the Southwestern border of the state. Translated, "El Paso" means, "the pass," and it is a direct pass as it sits right on the border of Mexico and the Rio Grande. The city is heavily guarded by border patrol and is home to the Fort Bliss Army Base.
El Paso is specifically known for its rich culture and historical landmarks. Located in the Franklin mountains, El Paso sits on the edge of the Texas and Mexico border. Because El Paso sees more sunshine than most other areas they have nicknamed it Sun City. The pros of living in El Paso include affordable housing, outdoor activities, low crime, and sunshine. The cons of the area can include heat index, isolated location, and traffic.
So let's look at El Paso and decide if this is the place for you!
Do You Need to Hire Movers?
Get free, zero-commitment quotes from pro contractors near you.
What Are The Pros Of Living In El Paso?
Whether you are moving due to military reasons, a job transfer, or just starting in a new area, let's dive into all of the pros El Paso has to offer you. There are several pros to living in El Paso which include: affordable living, an easy commute, outdoor activities, hiking and biking trails, festivals, culture, and the arts.
Affordable Living
El Paso is a densely populated area with close to 700 thousand residents living there. As I mentioned before, this is a large military area with Fort Bliss located here. Many people don't realize how large El Paso is as a city, it houses an abundance of industrial businesses, recreational activities, entertainment, and communities.
El Paso is known as having the lowest cost of living. It is so affordable that the average home ranges at $127K and rent ranges at $837 per month. Since it is so affordable, the majority of residents own their homes which bolsters the communities with people invested in their properties.
Easy Commute
Since everything is localized in one city, the commute to work is pretty short. Depending on where you live in proximity to your job, the times will vary. Since there are no other cities nearby your commute will be centralized. The average commute time is around 25 minutes max. Pretty good, right? That is something to look forward to when living in El Paso, everything is right there where you need it.
Outdoor Adventures
If you are an avid outdoor explorer or just enjoy some scenic views, El Paso has something for you. Located in the Franklin Mountains, there is an abundance of recreational activities to engage in while living in El Paso. For adventure seekers, El Paso has trail biking and rock climbing available for you. If you are a hiking fanatic and love to take a hike through a beautiful scenic view, El Paso trails like McKelligon Canyon road or Lost Dog Trail Loop are for you.
Scenic Trails You Can't Miss
El Paso has trails ranging from easy to difficult. This is measured by the number of steep hills, rocks or nature material, and the length of the trail. Some of the ways trails are categorized are, easy, intermediate, difficult, and expert. Below are a few trails with varying difficulty.
El Paso Tin Mines Trail – Easy
McKelligon Canyon Road – Easy
Aztec Cave Trail – Intermediate
Palisades Canyon Loop – Intermediate
Lazy Cow to Anthony Gap Trail – Intermediate
Lost Dog Trail Loop – Intermediate
If you aren't sure which type is best for you, I would start with the easy trails. If it seems like a breeze, move up to the moderate type trails.
Soaking In Sun City
While you are enjoying the outdoors, you can soak up the sun 302 days out of the year. Yes, you heard that right, El Paso gets an average of 302 sunny days, only leaving 63 days without the sun. I don't know about you, but I know my day is going to be great when I wake up to the beautiful sunrise and blue skies.
Festivals In El Paso You Don't Want To Miss
El Paso has 20 widely popular festivals…Yes, 20 festivals to look forward to! And this doesn't include the smaller festivals that are thrown year-round. Some major festivals include:
El Paso Ice Cream Festival
El Paso Lobster Festival
Sun City Craft Beer Fest
El Paso Downtown Street Festival
El Paso Sky Lantern Festival
Sun City Music Festival
Pridefest Street Festival
El Paso Balloon Fest
Halloween Farm Festival
El Paso Space Festival
These are just half of the 20 most popular festivals in El Paso, if these catch your eye, then you will love the remaining 10 festivals El Paso has. Also, be sure to check out all five farmers markets there. Located all around El Paso are five uniquely different farmers markets you need to try!
Culture And Arts
El Paso is known for its rich culture and history. From museums, to historical landmarks you will find cultures from Native American, American, Mexican, Spanish, and Western. This is what makes El Paso unique, the diversity it offers and how it has been preserved up until now.
On top of historical landmarks, El Paso offers a variety of art inspiration, and museums. Art has influenced El Paso tremendously over the years, taking communities, individuals, and history and turning it into visual inspiration and education for residents and visitors.
Rated The Fifth Safest Large City In America
Advisor Smith released a business and research study that claimed El Paso to be the fifth safest large city in America. The study took data from the FBI for over three thousand cities and compared violent and property crime. El Paso surpassed other major cities in Texas including Fort Worth, Dallas, Austin, and Houston.
What Are The Cons Of Living In El Paso?
While we talk about all of the best parts of El Paso, we will also be going over the cons of El Paso. This city is close to the border of Mexico, and there are border issues. Most of the issues involve only the migrant population and the border patrol which does not seem to affect the general population. However, it is something to be aware of.
On top of that, the summer heat can be brutal and traffic can be miserable during a commute. Keep reading to find out what the cons are for living in El Paso, TX.
Location To Other Areas
While El Paso is a beautifully crafted city, one of its cons is that it isn't in close proximity to any other city in the area. This is because El Paso sits in the corner of Texas, Mexico, and New Mexico. The closest cities are Albuquerque, NM and Lubbock, TX.
These are hundreds of miles away from El Paso, so taking a day trip would not be possible. If you enjoy being away from busy and loud cities, then it's a perfect fit. However, if you enjoy being able to travel on the weekend or a day trip to another city, this might not be the best fit for you.
Summers Can Be Brutal
Many who live here can vouch for the fact that between the months of May and September, it gets extremely hot. The heat at times can make it very hard to be outside for long periods of time. This makes outdoor activities such as hiking, biking, and festivals more challenging in these months. During this period, be sure you come prepared with water and light clothing.
Be Prepared For Traffic
El Paso is known as being the worst place for traffic and drivers. This isn't due to fast drivers but by drivers who are not paying attention and are taking actions that are unnecessary or dangerous. Commute hours known as rush hour are high traffic points in the day. Rush hour happens between 7 AM to 9 AM and 5 PM to 7 PM. These are the times to try and avoid this area as much as possible or be prepared for stop and go traffic.
Do You Need to Hire Movers?
Get free, zero-commitment quotes from pro contractors near you.
Our Final Take
If you enjoy a community of culture, mountain views, artistic touches, and lots of sunny days, El Paso is a great place! Even though it is miles away from any other city, and can get very hot, El Paso offers its own little oasis away from the rest. If you're looking for a great family focus community have a look at this great city in Texas.
Related Articles

Paige Hanawalt
Paige is an elementary school librarian with a passion for writing. Her hobbies include reading an exorbitant amount of fantasy, slowly teaching herself to draw, and home decor. While she isn't the most talented artist or interior designer, what she lacks in skill she more than makes up for in enthusiasm. When she's not curled up with a book, you can certainly find her curled over the keyboard.
More by Paige Hanawalt
Published June 30th, 2021 9:37 AM