64 Views
What Are The Pros And Cons Of Living In Colorado Springs?
April 24th, 2021 4:26 PM
Share
We're committed to finding, researching, and recommending the best products. We earn commissions from purchases you make using links in our articles. Learn more here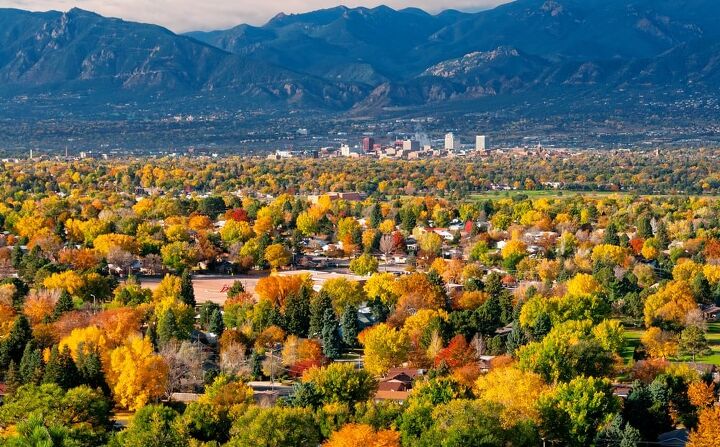 Colorado Springs is ranked the 4th best place to live in the U.S., and its calm lifestyle and surroundings are to thank. You will have a hard time finding a city with views, infrastructure, and culture as unique as Colorado Springs. Just as there are benefits of living in Colorado Springs, there are a few downsides as well.
Housing prices are low in Colorado Springs, but the cost of living is still quite high. The weather is comfortable, but heavy snows and poor road conditions lead to congested traffic. Luckily, Colorado Springs boasts a low crime rate, but sadly, the city has a high homelessness and unemployment rate.
Colorado Springs is mostly a great place to live with more benefits than downsides. Follow along as we take a look at the pros and cons of living in Colorado Springs.
Do You Need to Hire Movers?
Get free, zero-commitment quotes from pro contractors near you.
Benefits of Living In Colorado Springs
Low crime rates and housing prices make living in Colorado Springs an inviting idea. The economy is strong right now in Colorado Springs, and that brings many benefits along with it. Let's explore some of the key benefits of Colorado Springs living.
1. Low Housing Prices
Housing costs are above the national average in Colorado Springs, but they are low compared to Denver or Vail. The median home value in Colorado Springs is $269,800 and rent costs an average of $1,131 per month. Roughly 41% of the population of Colorado Springs rents their home, and the rest of the city is made up of homeowners.
Monthly ownership costs cost an average of $1,565 in Colorado Springs, and up to $450 of that is in bills. Mortgage payments are often $1,100 or more per month for Colorado Springs residents, but rates vary. Granted, housing costs have gone up by 9% in Colorado Springs, but there is still a wealth of affordable options.
| | | |
| --- | --- | --- |
| Location | Median Home Value | Average Rent |
| Colorado Springs | $269,800 | $1,131 |
| Denver | $390,600 | $1,311 |
| Vail | $773,700 | $1,597 |
| Boulder | $700,000 | $1,554 |
Builder-owners in Colorado Springs pay more for their homes, and construction costs $235 per square foot. Be sure to budget for property taxes, which costs an average of $1,862 for Colorado Springs homeowners.
2. Booming Economy
Colorado Springs has seen exponential growth in both its economy and the city's population. What makes Colorado Springs unique is that many of the businesses are locally owned. Right now, 92% of the businesses in Colorado Springs are small and or locally owned.
Just over 64% of Colorado Springs residents are employed, and that keeps the economy strong. Households earn a median income of $64,712 per year in Colorado Springs, and that is livable income. Single residents, however, earn an average of $34,076 per year, and that is livable, albeit somewhat low.
Last year, the employment market in Colorado Springs saw a 4.1% increase. There has been a decade-long population boom in Colorado Springs, and it goes hand in hand with the employment boom.
3. Small City Living
Sure, Colorado Springs is physically big as it covers 195 square miles, but it feels small. The city is spread out and its 478,221 residents are not crammed together. Colorado Springs has gorgeous beauty and mountains around it that never let the city feel like a traditional concrete jungle.
Compared to cities like Boulder or Denver, living in Colorado Springs is more akin to living in the suburbs. Even as the population has increased in the city, the steady expansion and placement of houses keeps Colorado Springs feeling small.
4. Great Weather
The weather in Colorado Springs is great, but maybe not if you don't personally like snow. Colorado Springs sees an average of 57" of snow each year, and that's more than double the U.S. average. January and December are when Colorado Springs is at its coldest with lows of 17 degrees Fahrenheit.
July is the hottest month of the year in Colorado Springs, but temperatures rarely exceed 84 degrees Fahrenheit. Cool weather is still possible in the spring and summer, and lows of 50-60 degrees Fahrenheit are common. No matter what time of the year it is, the weather is comfortable and manageable in Colorado Springs.
5. Low Crime Rate
You will never hear someone say that Colorado Springs is one of the most dangerous cities in Colorado. Colorado Springs has a low crime rate, and that means that you are safe within city limits. Of course, there are bad neighborhoods, such as Knob Hill, but the city is mostly safe.
There is a 1 in 180 chance of falling victim to a violent crime in Colorado Springs. Property crime, such as theft and burglary, is more common with a 1 in 30 chance. There are 95 crimes per square mile in Colorado Springs, but they are mostly relegated to theft.
| | | | |
| --- | --- | --- | --- |
| Location | Violent Crime | Property Crime | Total Crime |
| Colorado Springs | 5.55 Per 1,000 | 33.50 Per 1,000 | 39.05 Per 1,000 |
| Denver | 7.36 Per 1,000 | 37.31 Per 1,000 | 44.66 Per 1,000 |
Downsides of Living In Colorado Springs
Poor road conditions, a high cost of living, and a homeless epidemic are some of the downsides of living in Colorado Springs. Not only are roads congested and sometimes dangerous, but public transit is not a viable alternative in Colorado Springs. Let's take a look at some of the downsides of living in Colorado Springs.
1. Congested Traffic
Your morning commute in Colorado Springs just may be a source of stress to start the day off with. The views are gorgeous as you drive by, but the congested streets and highways are not. A recent 16.7% population growth likely has a lot to do with the slow-moving, jam-packed traffic.
The average commute time in Colorado Springs is 22 minutes, but it can often take longer than that. Weather is another huge factor responsible for unpredictable road conditions leading to heavy traffic. In Colorado Springs, winter weather can last as long as 8 months, and that often means snow-covered roads.
If your route involves one of the highways in Colorado Springs, try to leave early if possible. Currently, 64% of the 478,221 residents are in the workforce, and many of them are on the road. Not to mention, the many jobs in Colorado Springs means residents of surrounding cities often drive in and congest traffic.
2. High Homeless Population
Despite the homelessness rate dropping in Colorado Springs by nearly 30%, there is still a huge homeless population. Currently, there are 1,116 homeless people in Colorado Springs, and it is a sad affair. The poverty rate in Colorado Springs is 11.7%, and that contributes to the homeless population.
Luckily, Colorado Springs does a lot to help the homeless population, and there are several shelters available. Colorado Springs politicians do not quite know why the homeless population has decreased, but the trend will hopefully continue.
3. High Cost of Living
All of the benefits of living in Colorado Springs come at the expense of a high cost of living. Certain expenses, such as housing and rent prices, are low, but tax rates are high. The state income tax is 4.63%, and that bites a big chunk out of income.
Utilities rarely cost less than $150 per month for renters, but homeowners spend up to $450. Trips to the store can get pricey due to the 8.25% sales tax rate that makes purchases steep. You can get by on $348 per month on groceries as a single resident, but it can easily double if you have children.
There is great public schools in Colorado Springs, but private schools cost $11,767 per year on average. Sending your kids to private high school is more expensive and costs an average of $15,450 per year in Colorado Springs. Colorado Springs is not one of the cheapest places to live in Colorado, but it's not as pricey as Vail or Denver.
4. Bad Public Transportation
Colorado Springs does have public transportation, but it is not widely regarded as being effective. In fact, many Colorado Springs residents insist that owning a car is a must in the city. Due to how spread out Colorado Springs is, public transportation is slow-moving and lacks a far reach.
It's hard to reach the west end of Colorado Springs via public transit, and that is a problem for residents of the area. You are mostly in luck if you live in central or eastern Colorado Springs, as buses travel through them. If you live in a part of Colorado Springs that offers public transit, then hopefully you're able to take advantage of it and save money.
Do You Need to Hire Movers?
Get free, zero-commitment quotes from pro contractors near you.
What Did We Learn?
Colorado Springs is a great city with many pros and cons. Housing prices are reasonable but on the rise due to a population boom over the last decade. The gorgeous views Colorado Springs provides are a major benefit, but when the snow becomes too cumbersome it leads to poor driving conditions.
Public transportation is not far-reaching in Colorado Springs, and driving comes with traffic frustrations. Luckily, however, the crime rate is low and provides a sense of safety. Colorado Springs is a great place to live, and its downsides are worth it for the many benefits.
Related Articles

Nick Durante
Nick Durante is a professional writer with a primary focus on home improvement. When he is not writing about home improvement or taking on projects around the house, he likes to read and create art. He is always looking towards the newest trends in home improvement.
More by Nick Durante
Published January 1st, 2021 6:00 PM