99 Views
What Are The Pros And Cons Of Acacia Flooring?
October 16th, 2021 1:27 PM
Share
We're committed to finding, researching, and recommending the best products. We earn commissions from purchases you make using links in our articles. Learn more here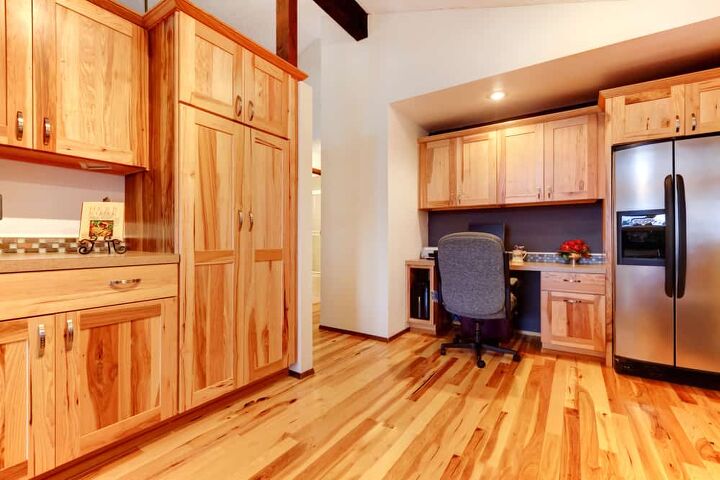 Acacia wood is an exotic type of hardwood flooring that many interior designers and homeowners have come to love in recent years. It has its own signature rustic appearance, and it's affordable. However, like all types of material, it has both pros and cons, which you need to understand before deciding on whether you want to install acacia wood flooring.
Acacia hardwood flooring comes in a variety of colors and plank sizes. Additionally, it's durable and can withstand high traffic and temperature changes. However, one major downside is that it's hard to get an exact color match, and defects are common with this type of wood.
This article will take you through the pros and cons of Acacia flooring to help you better understand whether this is a material that's right for you.
Do You Need to Hire a Flooring Contractor?
Get free, zero-commitment quotes from pro contractors near you.
What Is Acacia Wood?
Acacia is wood that is sourced from Acacia trees that are found in Asia, Africa, the Pacific Islands, and within certain parts of both North and South America. The wood from the Acacia trees and shrubs are great for building furniture, jewelry, and flooring that lasts a long time.
Australian Acacia
Almost all of the acacia species are from Australia, which gives it a natural fire-resistance. This is because it has to evolve and adapt to withstand the brush fires that frequent throughout Australia.
Several of the Australian native kinds of acacia that are great for flooring include:
Australian Blackwood
Raspberry Jam
Acacia Mangium
Guinea
Blackwood is among the most popular has it has a hardness rating of 1160. The Raspberry Jam has a hardness rating of 3100 and smells just like jam when it's cut. Finally, the Mangium, also known as the black wattle, has a rating of 3100 as well.
African Acacia
African Acacia trees are known for their unique color and their long thorns. One of the most popular types of acacia from Africa is the Camelthorn that's also known as the Giraffe Thorn. It's durable, and the hardness rating is 3680.
Hawaiian Acacia
Africa and Australia are the top two places for Acacia; however, Hawaii does have its own type called koa. The Koa wood is used to make houses and boats and is plentiful among the Hawaiian islands.
However, the Koa is expensive and the most desired woods in the world. The quality is impressive, and the hardness rating is 1,170.
Pros Of Acacia Hardwood Flooring
Let's take a look at some of the pros of having acacia hardwood flooring.
Variety Of Color Options
Comes In All Plank Sizes
This type of wood comes in all sorts of different plank sizes as well. No matter what size of floor you are trying to install this wood on, there is a size that's perfect for you. The best part about it is that the colors and textures aren't limited to specific sizes of planks.
High Durability
The main advantage of this wood is that it's exceptionally durable. Since it's natural, it does not wear and tear as easily as other types of wood when laid in a high traffic area. Regardless of how rough the foot traffic, you will not find any marks or dents in the wood.
Not to mention, the overall hardness on the Janka scale ranks at 2300 psi, which makes it 90% harder than carbonized bamboo! Also, it's 23% harder than hickory.
Natural Water And Pest Protection
The Acacia wood as a whole is coated with a natural wax as a means of protection against water and pests. When it is cut and used for flooring, that wax remains. Therefore, this adds to its overall durability and keeps it from rotting, warping, and swelling.
Universal Application And Availability
The best part about this wood, in our opinion, is its universal use. This floor is suitable for any environment, even if you have pets! If your pets have accidents once in a while, the wax coating will keep anything from absorbing into the wood. Furthermore, there will be no scratches from their claws, and the pet hair will be extremely easy to clean up.
Other things you can use acacia wood for include:
Stairs
Deck
Patio
Office
Bedroom
Basement
Bathroom
Wet room
Cabinets
Furniture
Also, the Acacia tree proliferates, so the wood is universally available in abundance.
Eco-Friendly
Of course, this is a natural wood, and therefore it makes it eco-friendly. If you want to do your part for the environment and help reduce water and air pollution, then this type of flooring is the way to go.
Low Cost And Minimal Maintenance
Acacia wood costs anywhere from $3.99 per square foot to $5.89 per square foot. Furthermore, it's not hard to keep up as it requires little maintenance to keep it in tip-top shape.
Easy Installation
This type of hardwood is specifically designed to be able to install easily. You don't have to nail it to the floor or use any type of unique adhesive with it. This makes it the perfect wood for any DIYer, regardless if you're a beginner or advanced, as it's extremely easy to work with.
What About The Cons Of Acacia Hardwood Flooring?
It would be too good to be true if we didn't let you know that there are some cons regarding this type of wood flooring. Below, we've listed a couple so you can figure out whether these are deal-breakers for you.
Difficult To Find The Exact Color
If you ended up building an additional room and needed the flooring to match, you may not find the exact same color unless you ordered extra wood in one shipment. However, that's not to say you can't stain it to look the same.
The contrasts of the flooring can also look different. However, some people like this because it adds a unique element to the design of your home. On the other hand, sometimes this is a make a break situation for people as well.
Defects Are Common
There are several defects that are common when it comes to acacia wood. We've mentioned the color variation and contrast issue. Additionally, this type of wood may be attacked by dead knot fillers as well as pests. While it has a natural pest deterrent, sometimes certain pests can get through that, such as ticks.
However, you can always counteract this issue by treating the wood with a non-toxic pesticide. Make sure it's able to be used for natural woods.
Other Things To Consider About Acacia Flooring
When you're deciding whether or not to purchase acacia flooring, there are a few things that you should take the time to think about.
Does it last long? Acacia hardwood flooring will last you a minimum of 50 years. The flooring usually comes with a 50-year warranty. If it doesn't, then you should question the supplier. Although, with good maintenance, this flooring will last you up to 75 years.
What is the maintenance like? Maintaining the acacia hardwood flooring is easy! If there's any dirt or dust on your floor, all you have to do is vacuum it up once in a while and set some mats near your entries to catch the dirt. You won't want to sweep it, as this can cake the dirt into the wax material.
Where can you install it? You can install acacia anywhere. It won't warp, fade, crack, or sustain any water damage when exposed to light rain. You can use it both indoor and outdoor for flooring or for furniture. You can quite literally use it anywhere. Some people have even used it to decorate their walls and outside of their homes.
Are there areas where it shouldn't be installed? If you live in an area where it rains a lot, you may not want to install it outdoors where it won't be covered.
What type of wood are you looking for? Even though acacia seems to be the perfect wood for the job, some people don't like it. If you're looking for something that you can get an exact color match for, then acacia is not for you. However, if you're looking for something durable, eco-friendly, and natural, then this would be a perfect choice!
Do You Need to Hire a Flooring Contractor?
Get free, zero-commitment quotes from pro contractors near you.
Wrapping It Up
Acacia is a sophisticated type of wood. It's great for all types of scenes, be it home flooring, hotels, restaurants, or offices. It's exceptionally smooth and comes in a variety of plank lengths, colors, and textures. IF you want to add some character to your home, acacia is the way to go.
When you're installing it, you don't need to refinish it or sand it down. It's perfect the way that it is. However, don't take our word for it! Do your research, weigh the pros and cons with your needs. You will need to figure out if this is indeed the best wood for you. However, we will say that the benefits far outweigh any of the negative aspects of this beautiful hardwood.

Heather Robbins
Heather is a passionate writer who loves anything DIY. Growing up, she learned everything from home repairs to design, and wants to share her tips with you. When she's not writing, she's usually hiking or searching for her next DIY project.
More by Heather Robbins
Published January 1st, 2021 6:00 PM