89 Views
How Much Does Pool Resurfacing Cost?
August 26th, 2021 4:05 PM
Share
We're committed to finding, researching, and recommending the best products. We earn commissions from purchases you make using links in our articles. Learn more here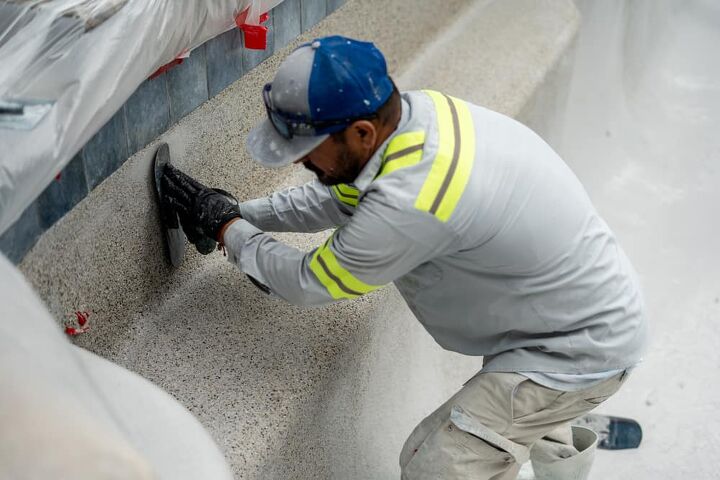 Swimming pools are just as relaxing and enjoyable as they are sometimes high maintenance. Maintenance and repairs are a part of owning a home with a pool, but unexpected damage means unexpected costs. Pool surfaces are susceptible to damage, and builder-owners are left wondering how much they'll have to spend this time.
The average cost to resurface a pool is $850 at an average of $5 per square foot. Homeowners spend $7,000 to resurface a fiberglass pool, $5,000 for a plaster pool, and $9,000 for a concrete pool. It costs $10 per square foot to resurface an aggregate pool and another $1,120 to paint a pool.
There are countless options for finishes, and resurfacing your pool is a chance to add character. Follow along and we'll explore the cost of resurfacing your pool and all of your options.
Do You a Need Pool, Spa, or Hot Tub Contractor?
Get free, zero-commitment quotes from pro contractors near you.
What Is Pool Resurfacing?
Pool resurfacing is when you repair and refinish the old surface of your swimming pool. Many pool surfaces are made of tile, aggregate, plaster, and pebble, and they each have different shelf lives.
Typically, the person you hire will sandblast the existing pool surface and removing the damaged finish. Once the prep work is out of the way, the professionals apply the surface finish that you chose.
Pool resurfacing is a labor-intensive project, and how long it takes depends on pool size. If your pool has to be drained and covered seasonally, it may increase the chance of cracks in your pool wall. Because of that, you should always check your pool walls and get it resurfaced as needed.
How Much Does Pool Resurfacing Cost?
Pool resurfacing costs as little as $2,000 and as much as $15,000 or more for large pools. The cost varies as much as it does because some pools are bigger than others. You can expect to pay roughly $5 per square foot for pool resurfacing.
However, pool size is not the only factor in pool resurfacing costs. There are several other important factors, and they all affect the final price, including:
Type of pool
Finish
Material
Painting
Labor
The type of pool that you have has a lot to do with how much you'll pay.
Resurfacing Fiberglass Pool Cost
Fiberglass pools are popular because of how easy they are to install and maintain. You still have to put work into fiberglass pools, and sometimes that means resurfacing. Most homeowners spend between $6,000 and $8,000 to resurface a fiberglass pool.
The only real difference between costs for fiberglass and concrete is that many builder-owners choose a paint finish for fiberglass. A paint finish typically costs $1,000-$2,000.
One selling point of fiberglass pools is that they can last 25 years, and some last longer. It is recommended that you resurface your fiberglass pool every 10 years.
Resurfacing Concrete Pool Cost
Concrete pools are similar to fiberglass pools and cost $6,000-$8,000 to resurface, on average. However, if your pool is only, say 400 square feet, resurfacing a concrete pool could cost $2,000 or less.
The main thing to consider with resurfacing a concrete pool is what kind of finish you want. Pebble has been the standard for many concrete pools for a long time, and it generally costs $8,000-$10,000.
Another common concrete pool resurfacing finish is plaster, and it rarely costs more than $5,000 total. Concrete pools are known for being sturdy, and they can last up to 40 years if you take care of them. You may have to resurface your concrete pool a few times in those 40 years, but it will be worth it.
Resurfacing Vinyl Liner Pool
Vinyl liners look great, and they add a calming sheen to your pool comparable to the ocean. However, when tragedy strikes and the vinyl surface is damaged, you must replace it. Most homeowners spend between $4,000 and $6,000 on replacing a vinyl pool liner.
Resurfacing a vinyl pool liner can cost as little as $1,200 however, and small repairs cost up to $500. If there are small cracks, blemishes, or tears in the vinyl liner, you may simply want to patch it. You are best off replacing it entirely if there is visible damage and tears throughout the liner.
Most vinyl pool liners can last up to 15 years, but they can get damaged easily before then. Before that time is up, though, you should expect your liner to fade and lose some of its sheen.
Pool Resurfacing Finishes
The finish is everything when it comes to resurfacing, and it can be a tough choice. No two finishes are alike, and they all have their own distinct look.
You are somewhat limited in your choice of finish based on what your pool's base and materials are. For example, a fiberglass pool can't usually take certain finishes like tile and pebble. However, a nice paint finish is perfect for a fiberglass pool and it compliments it.
| | | | | | | |
| --- | --- | --- | --- | --- | --- | --- |
| Finish | Cost Per Sq. Ft. | 400 Sq. Ft. | 500 Sq. Ft. | 650 Sq. Ft. | 800 Sq. Ft. | 1,000 Sq. Ft. |
| Tile | $25 | $10,000 | $12,500 | $16,250 | $20,000 | $25,000 |
| Pebble | $10 | $4,000 | $5,000 | $6,500 | $8,000 | $1,000 |
| Plaster | $7 | $2,800 | $3,500 | $4,550 | $5,600 | $7,000 |
| Aggregate | $5 | $2,000 | $2,500 | $3,250 | $4,000 | $5,000 |
| Paint | $1.60 | $640 | $800 | $1,040 | $1,280 | $1,600 |
Plaster and aggregate are the most affordable options for concrete pools. Aggregate comes in both smooth and rough varieties, and the former costs $1-$2 more per square foot often. Tile and pebble are a big investment, especially for large pools, but they look great and are quite popular.
Pool Plaster vs. Tile
Plaster and tile are both popular pool finishes, but they couldn't be more different. The most obvious difference is that tile usually costs at least $18 more per square foot than tile.
They have some things in common, however, as plaster and tile are both customizable. You can choose colors for either tile or plaster, and you can choose the character of your pool. Grey is one of the most common plaster finish colors, and blue tile is popular.
Durability matters, and plaster can last up to 25 years. Tile is less sturdy, and it usually lasts between 7 and 10 years. Plaster is a much more cost-effective finish for resurfacing your pool.
Pebble vs. Aggregate Finish
Aggregate may be half the price of pebble, but it is an equally attractive finish. Both aggregate and pebble are popular choices for builder-owners resurfacing their pool. At $5-$6 per square foot, aggregate offers affordable elegance.
Pebble, on the other hand, costs $10 per square foot, but it is worth it for the character it adds. If you use a Pebble Tec surface, you can get 20 years out of your finish. Aggregate can last close to 20 years, but it often needs resurfacing after 10 years.
Fiberglass Pool Resurfacing Paint
Resurfacing a fiberglass pool with paint is easy, and that is why some homeowners do it themselves. However, even if you hire out for the job, it only costs between $640 and $1,600 to resurface a fiberglass pool with paint.
The paint itself is quite cheap and painting a pool is less labor-intensive than other options. It still takes a few days to paint a fiberglass pool but shouldn't take more than 3 or 4.
Resurfacing paint for fiberglass pools is unique in that it strong and water-resistant. You can expect the paint to hold well for between 8 and 12 years, and then you'll need it repainted. When you compare resurfacing with paint to the other options, it is the cheapest and easiest one.
| | |
| --- | --- |
| Pool Finish | Duration |
| Plaster | 25 Years |
| Tile | 7-10 Years |
| Pebble | 20 Years |
| Aggregate | 10-20 Years |
| Paint | 8-12 Years |
Pool Resurfacing Labor Cost
The total cost for a pool resurfacing job includes the material, finish, and labor. Labor is almost always a large part of any work done on your home, and it adds up.
It is always wise to call around for multiple quotes for pool resurfacing, and everyone has a different rate. Labor costs vary widely, but many crews charge between $40 and $70 per hour. It can sometimes take a big crew, and you'll want to know how long resurfacing will take beforehand.
Pool resurfacing jobs rarely take more than 4 or 5 days. Labor costs are often on the cheaper end in southern or warm states, like Florida and North Carolina. Pool typically aren't as big in those states, but they are quite common, so work is cheaper.
---
Related Questions
How much does it cost to resurface a 10,000-gallon pool?
A 10,000 gallon is often 400-500 square feet, and it costs between $2,000 and $10,000. The most expensive option for a 10,000-gallon pool is tile, and the cheapest is paint for a fiberglass base.
How can you protect the pool surface?
The best way to protect your pool surface is to keep it full of water. The water against the material helps prevent the pool walls from growing cracks, and those cracks from spreading. If you live somewhere with the seasons, properly drain, and close your pool for the winter and keep it covered until spring.
How long does pool resurfacing take?
It usually only takes 4-5 days to resurface a pool. However, it can take longer if your pool is larger than 1,000-1,200 square feet. It can also take longer if you are resurfacing with tile or pebble, and if there is customization involved.
Who does pool resurfacing?
Most pool companies offer resurfacing services. If you have a service that maintains your pool, ask them if they do resurface and see about getting a quote. Some service technicians strictly work on the pumps and that aspect, but others are full contractors that can resurface your pool.
What happens if you don't resurface the pool?
If you don't resurface your pool, it can cause serious cracks and damage. The longer that you let cracks go untreated, the more water can escape through them and they'll get bigger. You also run into the problem of algae stains and loss of color if you have a colored surface finish, such as tile or plaster.
Do You a Need Pool, Spa, or Hot Tub Contractor?
Get free, zero-commitment quotes from pro contractors near you.
Summing It Up
It costs between $2,000 and $15,000 to resurface a pool. However, you could spend as little as $640 to paint a small fiberglass pool, and as much as $25,000 or more to tile a pool. The material that you choose has a lot to do with how much resurfacing will cost.
Pay attention to how long your particular finish is supposed to last for, because each one is different. The average shelf life before resurfacing needs to be done again is between 7 and 25 years, but you should check your pool for cracks and damage.
Get quotes based on different swimming pool technicians and contractors for labor and materials. Labor costs $40-$70 an hour, and it is included in the total cost of pool resurfacing. Choose a finish that you love and a contractor that you trust, and get your pool resurfaced.

Nick Durante
Nick Durante is a professional writer with a primary focus on home improvement. When he is not writing about home improvement or taking on projects around the house, he likes to read and create art. He is always looking towards the newest trends in home improvement.
More by Nick Durante
Published September 30th, 2020 10:57 AM