186 Views
2022 Pool Renovation Cost | Average Remodeling Rates
December 27th, 2021 1:33 PM
Share
We're committed to finding, researching, and recommending the best products. We earn commissions from purchases you make using links in our articles. Learn more here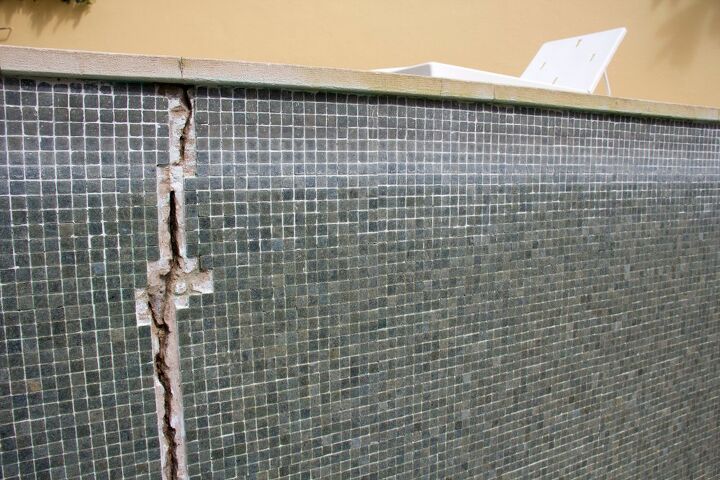 Many people buying an existing home put a backyard pool as one of their most wanted features. In many instances, the pool may be dated or in need of repairs. Bringing an existing pool back to pristine condition and making it a focal point rather than an eyesore can be challenging.
On average, pool repair costs as little as $4,500 for small cosmetic repairs to well over $12,000 to repair most extensive problems. To build a new 10' x 20' concrete pool, you can expect to spend at least $26,000. Remodeling a pool is often a better alternative than demolishing an existing pool to build another.
Much of the cost to renovate a pool depends on several factors. The extent of the repairs, the type of repair, and additional renovations all affect the final cost. Before you begin a pool renovation, learning a bit more about the cost of various renovations and repairs is to your advantage.
Do You a Need Pool, Spa, or Hot Tub Contractor?
Get free, zero-commitment quotes from pro contractors near you.
Cost of Repairs to a Backyard Pool
Type of Repair
Cost including Labor and Materials
Repairing cracks
$65 per linear foot
Vinyl pool liner replacement
$1,600 for a new pool liner

$1.750 labor

Re-tiling a Pool
$31,500 for materials

$18.00 per hour for labor

Re-grouting a tile pool
$3.00 per square foot
Re-coping a pool
$45.00 per linear foot
Replace pool steps
$2,300
Repair pool lighting systems
$1,000
Repair an in-ground skimmer
$1,500
Repair the chlorination or filtration system
$2,000
Cost to Add Features to Your Backyard Pool
| | |
| --- | --- |
| Feature | Cost to Add a Features |
| Water Features (waterfalls, fountains, etc.) | $1,175 |
| Slides | $1,500 |
| Diving Boards | $1,000 |
| Pool Fencing | $65 per linear foot |
| Resurfacing or adding a deck | $2,000 – $100,000 depending on the size, extent, and materials |
| Adding lighting to an existing pool | $1,200, not including labor |
| In-ground spill-over hot tub | $30,000 |
These figures are averages from national figures. Your pool renovation project may cost less or more than these averages based on the complexity, size, and materials you choose for your project.
Modernizing Your Existing Pool
Before starting your pool project, you should know what you want to accomplish and then establish a budget for your renovation project. Choosing the right additions to your existing pool can be a challenge depending on your overall budget. Some of the most popular pol renovations chosen by pool owners include:
Update or Add Pool Lighting – There are two types of lighting to consider. In-pool lighting can add a level of drama to your pool that is almost indescribable. Landscape lighting around your pool can have the same effect. Adding or upgrading pool lighting is more challenging than landscape lighting. The cost of updating existing pool lighting to LED lighting costs a little as $450. Adding lighting to a pool that doesn't have lights is much more expensive due to the need to make openings in the pool wall for the lights and running wiring under your existing pool deck. You can expect to pay upwards of $5,000 to add LED lighting to a pool with no underwater lights
Resurface your pool – Resurfacing can add a whole fresh look to your existing pool. Pool surfaces are available in a wide range of styles and materials. You can also add color to the resurfacing material for a much more durable finish than pool paint. Typically, resurfacing a pool will cost about $6,500 for an average size pool.
Add a Water Feature – You can change your pool's entire look and feel by adding a water feature. Water feature additions run from a waterfall to fountains and sprayers. There are downsides to water features. Adding a water feature often adds operating costs to your pool. More maintenance and more electricity costs are the usual culprits.
Make Your Pool More Efficient – If you are seriously considering upgrades to your pool, talk to a reliable pool professional about installing more energy-efficient pool equipment. Advances in technology in pool equipment such as pumps, filters, and heaters make operating a pool much more cost-effective. You may recoup some of the cost of the upgrades in future savings on operating costs.
Automate Your Pool – Consider putting technology into play with your pool maintenance. New automatic pool vacuums are available to ease your maintenance chores. Automatic pool covers that store and deploys themselves can help keep your pool sparkling. Many of these new automatic monitoring systems are controllable with your smartphone.
How About a Saltwater Pool – Many people are opting for saltwater pools for the benefits they bring. Saltwater pools require less maintenance and are cheaper to operate. There is less chlorine smell, and many people find the saltwater beneficial for skin conditions.
These are only a few of the ways you can modernize your existing pool and add value to your home. Upgrading a pool doesn't have to be budget-busting if done correctly. Finding a good contractor who specializes in swimming pool installation and renovation is a good idea.
Common Repairs You Can Make to your Pool
Everything eventually needs repairs, and an in-ground swimming pool is no exception. A good maintenance program can forestall many problems, but eventually, you will be face repairs to your pool. Planning and budgeting for these types of repairs are a part of owning an inground swimming pool.
Fixing Leaks
In-ground pools can develop leaks in various places. Most commonly, leaks occur where penetrations to the pool wall are made, such as skimmers, return water jets, and drains. Occasionally, a pool will crack and develop a leak.
Repairing these leak problems often means draining the pool to get access to the leak, repairing the leak, and then refilling the pool. On average, the cost of repairing a leak in your pool will run $1,650 plus the cost of draining and refilling the pool. In most locations, it will cost about $150 to refill an average-sized pool.
Pump Repairs
A failed water pump is the most common repair done to in-ground backyard pools. In most cases, your pool pump motor runs twenty-four hours a day every day of the year. In addition, the pump motor is subject to water, corrosive materials, and normal wear and tear.
Swimming pool pump motors come in various sizes and types depending on the size of the pool and other water features that it may serve. You can expect the average pool pump replacement to cost about $450. This cost can go up rapidly if your system requires additional plumbing repairs.
Skimmer Repair or Replacement
Damage to a pool skimmer can occur in many ways. Skimmers can also develop leaks that require prompt attention. If you have a skimmer that is leaking, have it repaired immediately.
In general, repairs to pool skimmers that suffer routine damage are not that expensive. Replacing skimmer baskets and tops is an easy repair. Typically, the cost of these parts is less than $100 and easily performed.
Leaking skimmers are another matter altogether. Replacing a leaking skimmer should be left to professional pool contractors. If a skimmer replacement is in order, you can expect the cost to run about $1,200.
Pool Heater Repair and Replacement
Enjoying a pool year-round requires the means to heat the water in the pool to a comfortable temperature. Pool heaters typically are either gas-fired or electrically operated. In either case, the pool heater requires the same types of routine maintenance as the rest of the pool equipment. In time, the pool heater will need replacement.
Repairs to pool heaters depend on the type of repair and the type of heater. In general, pool heater repairs average about $250. Replacement of a gas pool heater averages about $1,700 plus labor to make the replacement. Electric pool heater replacement runs about $1,000 plus installation.
Repairing or Replacing a Pool Filter
Pool filters come in several variations. Your pool may have a tank filter filled with sand or diatomaceous earth. Some smaller pools have canister-type filters that use a replaceable filter element. Regardless of the type, all swimming pool filters require maintenance and repair.
Tank-style filters can develop leaks or even crack. The tank contents may clog and eventually need replacement. In any case, your pool maintenance professional can give you the best advice. Typically, replacing a sand-style filter costs about $750. Repairing a pump filter to solve leak problems can cost as little as $150.
Replacing a Vinyl Pool Liner
Vinyl pool liners are popular in many parts of the country. The long life of vinyl pool liners, when properly maintained, makes them economical and effective. However, like almost anything else, vinyl pool liners do suffer damage and eventually require replacement.
Overall, repairing vinyl pool liners is a simple job. Repairing a tear or hole in a vinyl pool liner requires draining the pool, so refilling the pool is always a cost of repairing the vinyl liner. The repair itself may cost as little as $35 for a small repair kit. Larger repairs may require specialized equipment and can run as high as $350.
Replacing a vinyl pool liner depends in part on the size of the pool and the shape of the pool. In most cases, a replacement vinyl pool liner costs about $2,200. You must also budget for the cost to drain and refill the pool. If your pool has a vinyl liner and has below water connections, special equipment and training are necessary to make these connections. Hiring a professional installer will add cost to fitting the new vinyl pool liner.
Adding Water Features to your Pool
Many pool owners want to modernize the look of their in-ground pool by adding water features such as waterfalls, sprayers, bubblers, or even a spill-over hot tub. Typically, these kinds of upgrades require a professional pool contractor and are not homeowner projects. The scale and scope of the water feature determine the cost. On average, adding a water feature to your pool will cost Between $1,500 and $10,000.
Adding Pool Fencing
Pool fencing may be an upgrade you must include. Many locations have building codes that specify any pool to be enclosed by a fence meeting certain specifications. In addition, some homeowner's insurance policies require safety fencing around a home pool.
Pool fencing is available in a wide variety of styles, materials, and types. On average, a standard pool safety fence that meets most building codes and insurance requirements costs about $20 per linear foot.
If you opt for a more attractive style of fence, you can expect to pay more. For example, you can expect the following types of fencing and their approximate costs.
| | |
| --- | --- |
| Type or Style of Fencing | Approximate Cost per 100 Linear Feet |
| Mesh | $1,500 – $2,500 |
| Chain-link | $1,000 – $5,000 |
| Wood | $1,000 – $7,500 |
| Vinyl | $2,200 – $10,000 |
| Plexiglass or Lexan | $4,000 – $10,000+ |
| Wrought Iron Style/Ornamental Aluminum | $3,000 – $10,000 |
| Glass | $7,000 – $20,000+ |
Changing the Shape or Size of an In-ground Pool
Changing the size or shape of a pool is a large project. You are, effectively, demolishing your pool and building a new pool. Considering just some of the things that happen when you start changing an in-ground pool, you see the expense and time involved.
Demolition of the existing pool surround and other structures as well as parts of the pool itself
Removal of the demolition materials
Dirt work for the new pool shape or size
Re-plumbing the entire pool plus the expansion
Refinishing the entire pool
New decking or surround for the pool
New pump and filter installation to handle a larger pool
These add up to an expensive project. In general, expansions or re-configuration of existing pools costs $30,000 to $60,000. You can expect a pool renovation of this sort to be about the same as installing a new pool.
Pool Deck Tiling and Pavers
Many people opt for paying pavers or tile on their pool deck. These are great options and allow a wide variety of colors and styles that can give a pool a distinctive look. In general, if you opt for pavers, you have three choices.
| | |
| --- | --- |
| Style of Paver | Cost per square foot |
| Concrete Pavers | $5 to $10 per square foot |
| Brick Pavers | $5 to $25 per square foot |
| Stone Pavers | $5 t0 $40 per square foot. |
If you prefer the look for tile, you can expect to pay an average of $50 per square foot for the materials and labor to install the tile.
Other Pool Deck Finish Options
Don't limit yourself when you consider the finish for your pool deck. New methods and materials offer a much wider set of choices. Consider some of these alternatives for your pool deck.
Stamped Concrete
You can give your concrete pool deck a unique and distinctive look by stamping. Stamping is a process of adding a texture or pattern to the surface of the concrete before it sets. When properly done, a stamped concrete finish is as durable as a finished concrete surface. Typically, a standard stamped concrete pattern will cost about $12 per square foot.
Epoxy or Polymer Coatings
There are various coating products that you can apply to old existing concrete pool decks to give them a fresh new appearance. These coatings do require some specialized surface preparation of the existing concrete. There are so many possibilities for the look and colors that they defy listing. Typically, applying a polymer or epoxy coating to a pool deck costs about $5 per square foot.
Painting
If your concrete, wood, or paved pool deck is in good condition, but you want to update the look, painting may be an option. Painting is one option that many homeowners can undertake with excellent results. In general, painting your pool deck will cost about $3 per square foot.
Refurbish or Replace?
You should always consider whether to refurbish an old pool or replace it with a new pool. Replacement or refurbishment is a reasonable question and often boils down to a matter of economics.
A new pool installation typically costs on average $35,000. If you are considering demolishing an old pool to install a new pool, you must include the cost of removing the old pool. Typically, removing an old pool adds $4,000 to $16,000 to the cost. Based on these figures, unless your refurbishment plan costs more than $45,000, you are better off doing a refurbishment.
Do You a Need Pool, Spa, or Hot Tub Contractor?
Get free, zero-commitment quotes from pro contractors near you.
Updating Your Pool
In the end, the controlling factor in most in-ground pool renovations and repairs is the cost. Owning and operating an in-ground is not an inexpensive proposition. When the time comes, deciding on what renovations and updates you make to your pool are important to your enjoyment, the ongoing cost to operate and maintain your pool, and the value it adds to your home.
Related Guide

Dennis Howard
Dennis is a retired firefighter with an extensive background in construction, home improvement, and remodeling. He worked in the trades part-time while serving as an active firefighter. On his retirement, he started a remodeling and home repair business, which he ran for several years.
More by Dennis Howard
Published August 16th, 2021 8:44 AM