242 Views
Pier and Beam Foundation Repair Cost: 2022 Average Rates
December 19th, 2021 11:28 AM
Share
We're committed to finding, researching, and recommending the best products. We earn commissions from purchases you make using links in our articles. Learn more here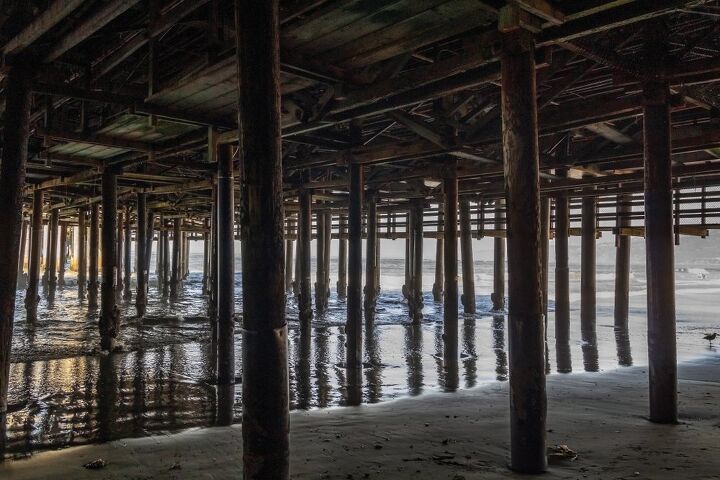 When a foundation settles or cracks, it can lead to major structural problems for your home. You don't have to tear your house down if your foundation develops issues, as there are ways to repair it. However, foundation repairs can be expensive, so find a contractor that is affordable and trustworthy.
Pier and beam foundation repair costs typically range from $4,000 to $6,500 based on the repair type. For example, if you are only re-shimming your pier and beam foundation, it can cost $2,500 to $3,500. The overall cost of the repair will depend on the square footage of the house.
In this article, we will discuss the pier and beam foundation as well as how much it costs to repair, and how that compares price-wise to other types of foundations and foundation repairs.
Do You Need a Foundation Contractor?
Get free, zero-commitment quotes from pro contractors near you.
Pier And Beam Foundation Costs
The most common issues associated with pier and beam foundations are wood decay and settling. Both are signals that the soil is shifting and responding to moisture. To remedy these problems, you may need to replace your wooden beams or add more piers.
The average cost to repair a pier and beam foundation ranges from $4,000 to $6,500. If the foundation needs to be re-shimmed, the cost would be $2,500 to $3,500, depending on the square footage. Re-shimming involves stacking steel pieces on top of one another until you've reached the necessary foundation height.
Cost For Installing New Piers
If you need to install new piers, the price will vary based on the number of piers and the type of pier. For example, steel piers can cost $950 to $1,600 per pier to install. Helical piers are steel shafts with round or square plates and cost $1,400 to $2,100 per pier to install.
Piling Cost by Type

System
Cost
Steel Pier
$950 – $1600
Helical Pier
$1400 – $2100
Drilled Pier
$700 – $950
Pressed Piling
$800 – $1350
Cable Lock
$1100 – $1250
Other Types Of Foundation Repairs and Costs
When you build foundations on clay or incorrectly compacted soil, or they are poorly maintained, it can lead to serious damage.
If you see signs of foundation damage like cracks in walls or doors that don't close, reach out to a professional. Failing to repair damaged foundations can cause the structure to become unrepairable, unsafe, and the house could become condemned.
Keep in mind that the longer you wait to repair foundation damage, the more expensive the repair can be.
Foundation Crack Repair Cost
If you notice that you have a cracked foundation, a repair will cost $250 to $800. If the crack is wider than ⅛-inch, there may be a structural problem. Contact a structural engineer about your options as the foundation could be sinking, or soil is inserting too much pressure.
Foundation cracks that do not affect the structure can be fixed relatively easily. You shouldn't ignore cracks because moisture can build up and lead to structural problems. Fixing a foundation crack involves injecting epoxy or polyurethane foam into the foundation.
If you find your foundation is wet or leaking, you should waterproof it.
Foundation Leak Repair Cost
Fixing a foundation leak can cost $2,000 to $7,000. A leak signals that there is a problem with the drainage or moisture around the home. Reach out to a professional to ask about waterproofing techniques.
Most contractors will suggest sealing the foundation. Sealing a foundation requires a contractor to excavate around the foundation, install new tile drains, and fill cracks with cement. The cost includes labor, time, and equipment.
Settling and Sinking Foundation Repair Cost
A settling or sinking foundation is a major issue that requires immediate attention. First, professionals should level the foundation to repair it. Contractors can restore the foundation to the correct height by raising it and securing it with piers or mudjacking.
Raising the house and securing it with piers can cost $1,000 to $3,000. Mudjacking can cost $500 to $1,300, which is noninvasive and a good solution for smaller slabs. The process involves pumping a grout mixture into the foundation ports to float the foundation up to the correct level.
Bowing Wall Repair Cost
Bowing walls are a sign of poor soil conditions caused by expansive clay or insufficient drainage. You can repair bowing basement walls by using carbon fiber or steel reinforcement strips. Each strip can cost $350 to $1,000 per strip.
Foundation Repair Costs By Material
The type of foundation you have will determine your repair options and the cost.
Concrete Slab Repair Cost
You can fix a concrete slab through mudjacking and sealing. However, some concrete slabs may need a different supporting structure. Concrete slabs work best in environments where the soil doesn't shift often.
Structural engineers sometimes recommend deeper or more secure foundations. If you need a new foundation, this could require having the house raised and removing the slab.
The average cost to raise a house ranges from $10,000 to $40,000. If you need to replace the foundation, that cost can range from $20,000 to $100,000.
Crawl Space Repair Cost
Moisture under your home can cause deterioration. Standing water can cause rotting posts, mold, mildew, and sagging floor joists. Standing water also creates a breeding ground for mosquitoes.
Crawl space foundation repair costs range from $2,000 to $8,000 and sometimes more if the issue is serious.
Repairing a crawl space consists of installing a drainage system, removing mold, repairing any dry rot, and strengthening or replacing joists. This can be an additional $1,500 to $15,000 in addition to repairing the foundation.
You might also want to consider crawl space encapsulation to help protect the area from future water damage.
Crawl Space Repair Breakdown of Costs

System
Cost
Ventilation
$1,400 – $2,300
Vapor Barriers
$0.05 – $1.50 per square foot
Dehumidifiers
$800 – $1,000
Crawl Space to Basement Conversion
$60,000 – $150,000
Sump Pump Installation
$650 – $1,900
Crawl Space Encapsulation
$5,500 (Average)
Cinder Block and Brick Repair Cost
Cinder block and brick foundation repair costs will vary based on the severity of the issue. Sometimes there are small cracks in the mortar that can allow moisture through. Other times, there are serious foundation repairs where the cinder blocks are separated, bowing, or sinking.
It's important to stabilize the foundation as soon as possible to prevent other issues. Contractors usually suggest using carbon fiber or steel reinforcements to stabilize the foundation. Mesh is applied to the wall with industrial epoxy and costs on average $5,000 to $10,000.
Basement Repair Cost
If your basement needs repairs, you'll often incur the highest repair costs. Basements can sink, settle, crack, leak, and bow and can often lead to other issues if not addressed quickly. In most cases, you'll need to waterproof the basement and reinforce the walls.
Underpinning involves installing piers underground to lift and support the concrete. Piers are then placed under the foundation and raised back into place to stabilize the foundation. Multiple piers are required to be placed at different points throughout the foundation.
Underpinning
Underpinning the basements costs $1,000 to $3,000 per pier. This is typically a more expensive repair as it requires raising the foundation, excavation, and installation of the piers. However, when this repair is done properly, it is a permanent solution even if the house settles or shifts more.
Foundation Costs by Square Foot

Foundation Type
Average Cost Per Square Foot
Average Total Cost
Monolithic Concrete Slab
$4 – $14
$5,200 – $13,000
Stem Wall Concrete Slab
$5 – $16
$7,000 – $21,000
Pier & Beam
$6 – $12
$8,000 – $15,000
Cinder Block Foundation
$9 – $12
$11,500 – $15,000
Crawl Space
$5 – $16
$7,000 – $21,000
Basement
$10 – $25
$10,000 – $30,000
Do You Need a Foundation Contractor?
Get free, zero-commitment quotes from pro contractors near you.
What Is A Pier And Beam Foundation?
A pier and beam foundation is an elevated wooden foundation that rests on concrete piers. The foundation is positioned 18 to 24 inches off the ground. The crawlspace under the house allows for easy access for foundation repair and wiring and plumbing.
When Is A Pier and Beam Foundation Necessary?
Pier and beam foundations are stable and preferable in some situations, such as areas where soil can expand and contract.
If your home is built on an uneven surface or into a hillside, pier and beam foundations are necessary. Pier and beam foundations are also preferred if you live in an area that often floods.
Does Homeowner's Insurance Cover Foundation Repair?
Whether or not your homeowner's insurance covers foundation repair will depend on the policy. Policies have a list of events in which they would cover foundation damage as well as events in which they wouldn't. For your homeowner's insurance to cover your foundation repair, it would have to be caused by an event that they accept.
Homeowner's policies typically cover damage by:
Lightning
Fire
Windstorm
Explosions
Volcanic eruptions
Collapse by weight of snow, ice, or sleet.
They also cover water damage from plumbing, heating, or air-condition overflow. Unfortunately, there are not common reasons for foundation damage.
Reasons For The Damage
More common reasons for foundation damage are natural settling, cracking, shrinking, pressure from tree roots, earthquakes, floods, or faulty construction. In most instances, your homeowner's insurance will not take responsibility and thus will not cover the repairs.
Of course, each policy and company is different, so do your research before deciding on homeowners insurance. If you live in an area prone to earthquakes or flooding you can purchase specific policies to cover these events.

Stacy Randall
Stacy Randall is a wife, mother, and freelance writer from NOLA that has always had a love for DIY projects, home organization, and making spaces beautiful. Together with her husband, she has been spending the last several years lovingly renovating her grandparent's former home, making it their own and learning a lot about life along the way.
More by Stacy Randall
Published May 13th, 2021 9:21 AM